Click to Access
AMOY MAGIC SITE from
OUTSIDE China


Click to Access Amoy Magic Site from
INSIDE China


TRAVEL LINKS


Xiamen

Gulangyu


Jimei

Tong'an


Jinmen

Zhangzhou


Quanzhou

Wuyi


#1Fujian Sites!


Fujian Foto Album


Books on Fujian


Readers'Letters


Ningde

Zhouning


Longyan

Sanming


Putian

Bridges


Travel Info,


Hakka Roundhouses


Travel Agents

MISC. LINKS


Amoy People!


Darwin Driving


Amoy Tigers


Chinese Inventions


Tibet in 80 Days


Amoy Vampires!


Dethroned!


Misc.Writings


Latest News


Lord of Opium


Back to Main Page


Copyright 2001-7 by Sue Brown & Dr. Bill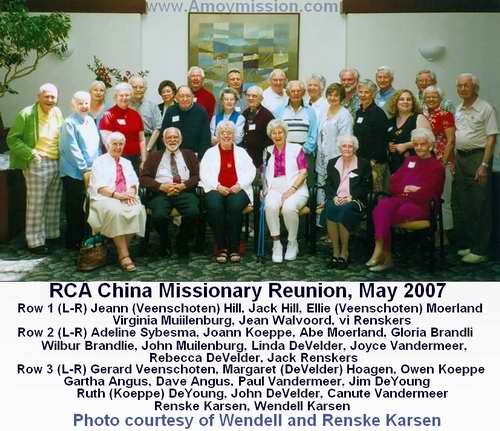 Note: Please click thumbnails for larger photos!!

Amoy Hill's Photos



Note: This photo of May, 2007 RCA China Missionary Reunion (from eWendell & Renske Karsen) shows some RCA folk are still around--and we need their help! Click here!





China's "1st" Protestant Church China's first Protestant Missionaries were in Taiwan from 1626-1662. None survived.

Until the first Opium War forced China open almost 200 years later, missionaries worked with Chinese in other Asian countries. Most of these "Overseas Chinese"' ancestors were from South Fujian, especially Quanzhou, so they spoke South Fujian dialect (aka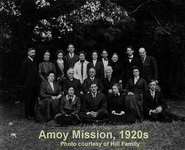 Amoy Dialect--much like Taiwan dialect). Missionaries learned Amoy Dialect, not Mandarin Chinese, so when China opened up, they headed to where they could speak the language--Amoy, in S. Fujian, start of ancient the Maritime Silk Route.

Contrary to popular history, most foreigners opposed the opium trade, and missionaries like Dr. John Otte made great efforts to suppress it. They also helped China modernizemedicine,education, music and arts, etc. Xiamen (mainly Gulangyu), was the "Cradle of Tropical Medicine," and the home of pioneering doctors like Patrick Manson, "Father of Tropical Medicine" (Gulangyu is called the "Cradle of Tropical Medicine") and Dr. Lin Qiaozhi, educators, musicians and artists, sports pioneers--you name it, our tiny island had a part in it.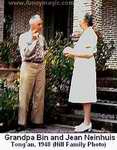 I wrote briefly about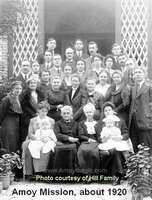 foreigners' contributions to Xiamen in some of my books, but recently officials have asked me to write more indepth accounts of their lives and work. But it is hard to find old books and records here in China as many were destroyed.

Providentially, just as I despaired of pulling this project together, I began receiving e-mails from people around the planet such as Joanne Finley, granddaughter of Dr. John Otte and daughter of Major Frank Otte, and Dr. Roger E. Koeppe, who was born in Gulangyu's Hope Hospital in 1922.

I am especially indebted to Joann and Jack Hill, whom we met in Florida in August, 2007, for their stories and dozens of photos! Joann was born in Hope Hospital on Gulangyu. Joann is the daughter of the Veenschotens, who served in Amoy (Zhangzhou- Chang Chow) from 1917 until 1951. After college, Joann returned to Xiamen in the 1940s with her physician husband and served in Tong'an until expelled in 1951.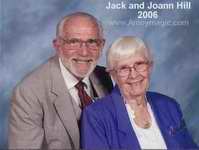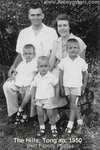 Jack and Joann introduced me to other fascinating folks like 96-year-young John Muilenburg, who taught at Xiamen University in 1947 (Read about him in "Charisma--The John Muilenburg Story: Minister, Missionary, Sailor," by Joan F. Miles). Thru the Hills I also learned about Robert Schuller's Uncle Henry Beltman, who served in Amoy (read "90 Years with Uncle Henry," by Henry Beltman), and Joseph Esther (refer to "This is the Way, Walk Ye In It," by Joseph Esther"). I am also thankful to Girard Veenschoten, M.D., for his fascinating vignettes of old Amoy.

Gerald F. De Jong's "The Reformed Church in China 1841-1952" was extremely valuable, but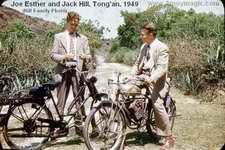 there were hundreds of others from many other denominations serving here. Can you help?

Please Help the "The Amoy Mission Project!"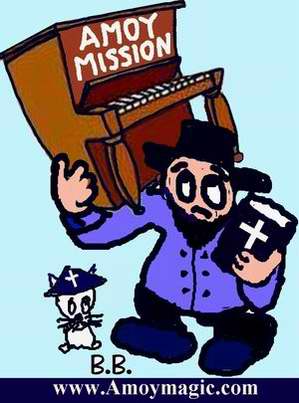 Please share any relevant biographical material and photos for the website and upcoming book. All text and photos will remain your property, and photos will be imprinted to prevent unauthorized use.

Thanks!





Dr. Bill Xiamen University MBA Center
E-mail: amoybill@gmail.com
Snail Mail: Dr. William Brown
Box 1288 Xiamen University, Xiamen, Fujian PRC 361005

TRAVEL LINKS

Favorite Fujian Sites

Fujian Foto Album

Xiamen

Gulangyu

Fujian Guides

Quanzhou

Z
hangzhou

Longyan

Wuyi Mtn

Ningde

Putian

Sanming

Zhouning

Taimu Mtn.

Roundhouses

Bridges

Jiangxi

Guilin

Order Books

Readers' Letters New: Amoy Vampires! Google Search

Click to E-mail


Readers'Letters
Last Updated: October 2007


Back to Top
Google Search
AMOY MISSION LINKS



A.M. Main Menu


RCA Miss'ry List


AmoyMission-1844-46
by G. Smith,1857


AmoyMission-1877


AmoyMission-1893


Abeel, David


Beltman


Boot Family


Broekema, Ruth


Bruce, Elizabeth


Burns, Wm.


Caldwells


DePree


Develder, Wally


Wally's Memoirs!


Douglas, Carstairs


Doty, Elihu


Duryea, Wm. Rankin


Esther,Joe & Marion


Green, Katherine


Gutzlaff, Karl


Hills,Jack & Joann
.

Hill's Photos.80+
..

Keith H.

Homeschool


Hofstras


Holkeboer, Tena


Holleman, M.D.


Hope Hospital


Johnston Bio


Joralmans


Karsen, W&R


Koeppes, Edwin&Eliz.


Kip, Leonard W.


Meer Wm. Vander


Morrison, Margaret


Muilenbergs


Nienhuis, Jean


Oltman, M.D.


Ostrum, Alvin


Otte,M.D.

Last Days


Platz, Jessie


Pohlman, W. J.


Poppen, H.& D.


Rapalje, Daniel


Renskers


Saunders_AEM


Talmage, J.V.N.


Talman, Dr.


Veenschotens
.

Henry V.

Stella V.
.

Girard V.


Veldman, J.


Voskuil, H & M


Walvoord


Warnshuis, A.L.


Zwemer, Nellie


Fuh-chau Cemetery


City of Springs
(Quanzhou, 1902!!)


XM Churches


Church History


Opium Wars


A.M. Bibliography


YMCA Volunteer!


XICF Fellowship


Temples


Mosques


Christ in Chinese
Artists' Eyes

DAILY LINKS


FAQs Questions?


Real Estate


Shopping

Maps


Bookstores


Trains

Busses


Car Rental


Hotels

News (CT)


Medical & Dental


Expat Groups


Maids

Phone #s
EDUCATION


Xiamen University


XIS(Int'l School)


Study Mandarin


CSP(China Studies)


Library

Museums


History
DINING

Tea Houses


Restaurants

Asian


Veggie

Junk Food


Chinese

Italian


International


Visas 4 aliens
RECREATION


Massage!


Beaches

Fly Kites


Sports

Boardwalk


Parks

Pets


Birdwatching


Kung Fu

Hiking


Music Events


Cinema


Festival&Culture


Humor&

Fun Fotos


BUSINESS


Doing Business


Jobs!(teach/work)


Hire Workers


Foreign Companies


CIFIT (Trade Fair)


MTS(Translation)



Back to Top