Click to Access
AMOY MAGIC SITE from
OUTSIDE China


Click to Access Amoy Magic Site from
INSIDE China


TRAVEL LINKS


Xiamen

Gulangyu


Jimei

Tong'an


Jinmen

Zhangzhou


Quanzhou

Wuyi


#1Fujian Sites!


Fujian Foto Album


Books on Fujian


Readers'Letters


Ningde

Zhouning


Longyan

Sanming


Putian

Bridges


Travel Info,


Hakka Roundhouses


Travel Agents

MISC. LINKS


Amoy People!


Darwin Driving


Amoy Tigers


Chinese Inventions


Tibet in 80 Days


Amoy Vampires!


Dethroned!


Misc.Writings


Latest News


Lord of Opium


Back to Main Page


Copyright 2001-7 by Sue Brown & Dr. Bill

Order Books

iE-mail


Note: Please click thumbnails for larger photos!!




Christ in Chinese Artists' Eyes
Rev. John Van Nest Talmage
J. V. N. TALMAGE, D. D., 1847-¡¯92. (Adapted from "Fifty Years in Amoy--the Story of the Amoy Mission," by Rev. Philip Wilson Pitcher, 1893).
Very modestly, yet so characteristic of the writer of the "Sketch of the Amoy Mission," China (1888), the author closes up the biographies of those whom he called the founders of the Amoy Mission with these words: "So there is no need in this paper to mention the names of those succeeding them."
As it was said of Dr. Abeel, so it could be said of Dr. Talmage: "The crowning beauty" of this man's life was "his humility." If Abeel and Duty and Pohlman laid solid and deep the foundations upon the bed-rock of sound orthodoxy, Dr. Talmage builded no less sagaciously, strongly and solidly thereon. For nearly the entire history of the Amoy Mission (up to 1892) he has watched and guarded sacredly the trust committed to his care. His faithfulness and wisdom and love are written ill indelible characters on dome and spire, on "walls and columns, on cornice and entablature, on chancel and nave of the structure we behold this day.

¡°When he was taken away, if it was not one of the great stones in the foundations, surely it was one of the strong pillars of the super-structure.

Dr. Talmage was born at Somerville, N. J., August 18th, 1819. Consecrated to God at his birth, he was early led to give his heart into His keeping. The name in old English used to be spelled Tollemache, and Dr. Talmage used to jokingly say he was a descendant of Telamachus.

"There was a pathetic scene fifty years ago in a New Jersey farm-house. A tender, loving, Christian mother was giving warm welcome to her son, who had just graduated from college with high honors (1842). Only a mother's heart can realize the joy and pride she felt in her boy, who had distinguished himself and done credit to the family name. He was her boy and inexpressibly dear to her. What then must have been her emotions when he told her, gently but firmly, that he had been led to consecrate his life to service for Christ in China. China was a long way off in those days, and its people hostile to missionaries; how could she bear to hear of her dearly beloved son going into peril even in such a cause. 'Oh, John!' she exclaimed. 'Maternal love had its way for a moment, and then the higher nature in her triumphed, and she said: 'I prayed to God for this, and He has answered. How can I object?' They were brave words, which no mother could have uttered but one in whom love of God held the highest place. They remind one of another mother who long ago heard with joy the blessings which would come to the world through the babe she held in her arms; but heard, too, that 'a sword should pierce through her own soul also.' With faith like that of Abraham, she would not withhold her son when God called for him." ("Christian Herald.")

Graduating from New Brunswick Seminary in 1845, he immediately offered himself to the Board of Foreign Missions of the Reformed (Dutch) Church, but on account of lack of finances, he was obliged to wait two years before he was commissioned. In the meantime, he served the Middle Church of Brooklyn.

In April, 1847, he sailed away for the far off coasts of China, where he arrived after a four months' voyage.

His life was one of ceaseless activity. "Preaching and teaching in the theological seminary, long tours into the interior, the preparation of books,¡± and sought by all foreigners and natives for counsel, direction and sympathy¡ªall made his life an intensely active and useful one. Chinese officials, the literati, merchants and common people, Europeans and Americans, not only confided in him, respected him and loved him, but held him in high honor for his eminent scholarship, his intellectual force and his Christian character. His home was always opened to all comers, and all received a kind and hospitable welcome. So whether they came seeking social enjoyment or the solution of some vexing problem, they found just what they sought-none ever sought in vain here. And up and down that extended coast line of China, perhaps there was not another home so well known as his.

He began his literary work early in his career and kept it up until the very end. Five years after his arrival he produced a primer (pp. 30, 1852). Next followed a first reader (pp. 17, 1853). In the same year (1853) he also made a translation of Burn's "Version of Pilgrim's Progress." Then followed translations of Luke¡¯s Gospel, all the Epistles to the Galatians, Ephesians and Philippians, and the epistles general of John and Peter. These translations were all rendered in Amoy Romanized colloquial-a system of writing the Chinese language (in use only the past thirty years) that has not only made it possible for old and young alike in that region to read and write, but has done more toward the spiritual enlightenment of that people than whole centuries of the old, but more literary, method could or can hope to accomp1ish.

He gave his best efforts toward the development and use of this Romanized colloquial, so all his works are in this style. Perhaps it made him appear less scholarly, and received less applause, but it brought light and knowledge to the very homes of thousands, who would never have had either without this system. That was all the reputation and applause that this man sought. He crowned his life-work (completing it at Bound Brook) with a work entitled "The Amoy Colloquial Dictionary"¡ªa scholarly work which will be of great service to all missionaries who may labor in that district, as well as to the native Christians of Amoy and Formosa.

Few indeed have been permitted to see how great things God hath' wrought, what changes have taken place, in their appointed lifetime, as was granted unto this good man. He went to Amoy in the first bloom of manhood, and from start to finish he threw into the work a consecrated zeal and a devoted enthusiasm. When he arrived in Amoy there were no churches, no schools, no Christian homes, no hospitals, and only three converts. When he left there were 2,000 converts, seventeen churches, and as many pastors under Presbyterian order alone, a theological seminary, a training school for women and boys' and girls' schools and hospitals scattered throughout that district.

In July, 1889, after a period of forty-two years of service, in consequence of an enfeebled and broken body, he was compelled to relinquish all active participation in his chosen work, and returned to the land of his birth, seeking rest and strength, with the expectation of thus being able to take up the work he so reluctantly had to leave.

Until the very last that star of hope never set. Even when he was fast sinking into the blessed rest, the last beams of that hope were faintly gleaming. He said then: "It seems now as though I may never get back to Amoy." It was still only "seeming"¡ªnot a settled fact with him. It shows how intently his heart was set on his life-work. And if there was one unfulfilled wish in his life, it was only this, that he might die and be buried among the people for whom he had given all¡ªhis best. But it was not to be. His work was done, fully and well done¡ªall done.

At Bound Brook, N. J., on the 19th of August, 1892, he fell asleep, and rests from his labors.

In that building in Somerville, N. J., where he was baptized and gave his heart to God, was his body taken on August 2nd. 1892, "for the services with which believing friends committed the precious dust to the earth in firm hope of a glorious resurrection."

Silently, yet gloriously, his sun went down behind the hills of time, and for many a day its splendor will adorn the skies before it has entirely set beyond our view¡ªits memory, never.
Mrs. Abby P. (Woodruff) Talmage, 1850-'62; Mrs. Mary E. (Van Deventer) Talmage, 1864¡ª. Rev. J. S. J oralman, 1855-'58; Mrs. Martha B. (Condit.) Joralman, 1855-'58.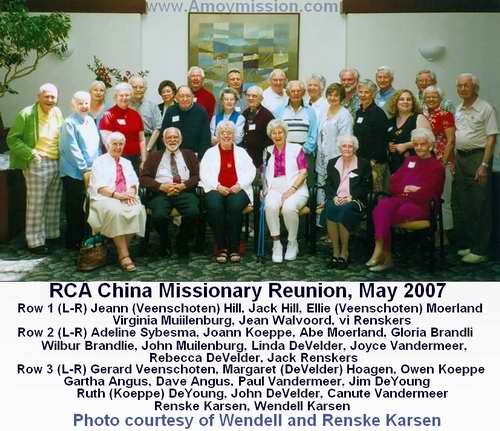 Note: This photo of the May, 2007 RCA China Missionary Reunion (courtesy of Wendell and Renske Karsen) show that some RCA folk are still around--and we need their help!
The John Otte Memorial on Gulangyu Islet finishes with, "This stone may crumble, his bones may become dust, but his character and deeds are imperishable." But too many characters and deeds will be forgotten if we don't record them while those who remember are still with us. Please E-mail to me stories and photos for the Amoy Mission site (and planned book) so present and future generations can appreciate the character and deeds of those who served in the Amoy Mission.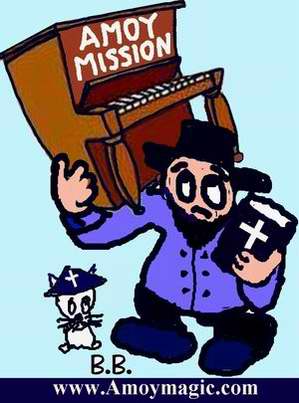 Dr. Bill Xiamen University MBA Center
E-mail: amoybill@gmail.com
Snail Mail: Dr. William Brown
Box 1288 Xiamen University, Xiamen, Fujian PRC 361005
TRAVEL LINKS

Favorite Fujian Sites

Fujian Foto Album

Xiamen

Gulangyu

Fujian Guides

Quanzhou

Z
hangzhou

Longyan

Wuyi Mtn

Ningde

Putian

Sanming

Zhouning

Taimu Mtn.

Roundhouses

Bridges

Jiangxi

Guilin

Order Books

Readers' Letters New: Amoy Vampires! Google Search

Click to E-mail


Readers'Letters
Last Updated: October 2007


Back to Top
Google Search
AMOY MISSION LINKS



A.M. Main Menu


RCA Miss'ry List


AmoyMission-1877


AmoyMission-1893


Abeel, David


Beltman


Boot Family


Broekema, Ruth


Bruce, Elizabeth


Burns, Wm.


Caldwells


DePree


Develder, Wally


Wally's Memoirs!


Douglas, Carstairs


Doty, Elihu


Duryea, Wm. Rankin


Esther,Joe & Marion


Green, Katherine


Gutzlaff, Karl


Hills,Jack & Joann
.

Hill's Photos.80+
..

Keith H.

Homeschool


Hofstras


Holkeboer, Tena


Holleman, M.D.


Hope Hospital


Johnston Bio


Joralmans


Karsen, W&R


Koeppes, Edwin&Eliz.


Kip, Leonard W.


Meer Wm. Vander


Morrison, Margaret


Muilenbergs


Neinhuis, Jean


Oltman, M.D.


Ostrum, Alvin


Otte,M.D.

Last Days


Platz, Jessie


Pohlman, W. J.


Poppen, H.& D.


Rapalje, Daniel


Renskers


Talmage, J.V.N.


Talman, Dr.


Veenschotens
.

Henry V.

Stella V.
.

Girard V.


Veldman, J.


Voskuil, H & M


Walvoord


Warnshuis, A.L.


Zwemer, Nellie


Fuh-chau Cemetery


City of Springs
(Quanzhou, 1902!!)


XM Churches


Church History


Opium Wars


A.M. Bibliography


YMCA Volunteer!


XICF Fellowship


Temples


Mosques


Christ in Chinese
Artists' Eyes

DAILY LINKS


FAQs Questions?


Real Estate


Shopping

Maps


Bookstores


Trains

Busses


Car Rental


Hotels

News (CT)


Medical & Dental


Expat Groups


Maids

Phone #s
EDUCATION


Xiamen University


XIS(Int'l School)


Study Mandarin


CSP(China Studies)


Library

Museums


History
DINING

Tea Houses


Restaurants

Asian


Veggie

Junk Food


Chinese

Italian


International


Visas 4 aliens
RECREATION


Massage!


Beaches

Fly Kites


Sports

Boardwalk


Parks

Pets


Birdwatching


Kung Fu

Hiking


Music Events


Cinema


Festival&Culture


Humor&

Fun Fotos


BUSINESS


Doing Business


Jobs!(teach/work)


Hire Workers


Foreign Companies


CIFIT (Trade Fair)


MTS(Translation)



Back to Top