Click to Access
AMOY MAGIC SITE from
OUTSIDE China


Click to Access Amoy Magic Site from
INSIDE China


TRAVEL LINKS


Xiamen

Gulangyu


Jimei

Tong'an


Jinmen

Zhangzhou


Quanzhou

Wuyi


#1Fujian Sites!


Fujian Foto Album


Books on Fujian


Readers'Letters


Ningde

Zhouning


Longyan

Sanming


Putian

Bridges


Travel Info,


Hakka Roundhouses


Travel Agents

MISC. LINKS


Amoy People!


Darwin Driving


Amoy Tigers


Chinese Inventions


Tibet in 80 Days


Amoy Vampires!


Dethroned!


Misc.Writings


Latest News


Lord of Opium


Back to Main Page


Copyright 2001-7 by Sue Brown & Dr. Bill

Note: Please click thumbnails for larger photos!!

Amoy Mission Main Page

Amoy

Mission in 187
7

Dr. John Otte

Hope Hospital
On April 28, 2008, Xiamen celebrated the 110th anniversary of Hope Hospital, which was started on Gulangyu Islet (Kulangsu) by Dr. John Otte of the American (Dutch) Reformed Mission (RCA). The city unveiled a new statue of Dr. Otte in front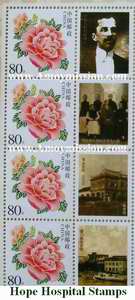 of the new hospital in nearby Jimei, and the post office issues a special series of Hope Hospital stamps, with Dr. Otte's photos on some!

I hope to add a history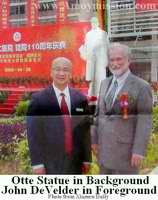 of Hope Hospital soon, but for now, please accept this excerpt from the Dr. John Otte pages, which I have adapted from one of my books, Discover Gulangyu.

Were You born at Hope Hospital? I have received e-mails from several people born at Hope in the 20s and 30s, including Joan Hill(May 15, 1923), Dr. Roger Koeppe,(May 2, 1922), Mr. John Anderson (whose parents married in the beautiful stone church in Fuzhou), etc. If you were born in Hope, please send us photos, and your story! Muchas Xie Xie! Dr. Bill
Hope Hospital (#82 Guxin Rd, Gulangyu) Dr. John Otte built Hope Hospital after returning from his U.S. furlough, and as with his first hospital, N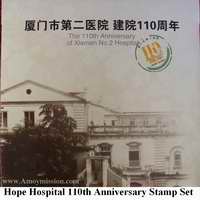 eerbosch (in Zhangzhou, birthplace of Lin Yutang), he both designed the hospital and helped build it himself.

Otte initially considered refurbishing the English Presbyterian Hospital, which was on ARM land and had closed in 1894, but repairs would have been too costly, and a foundation for a new building on the site would have required costly pilings. At the suggestion of the American Consul General, Otte selected a site at the base of Swallow Tail Mountain (Yanweishan Hezai).

While Chinese had opposed Otte's Sio-khe hospital, his opponents on Gulan-gyu were foreigners, who feared patients would bring disease to their exclusive international settlement.

The foreigners appealed all the way to Peking and Washington, D.C., but without success, and in the end Otte mollified them with the promise of special hospital rooms for foreigners and wealthy Chinese.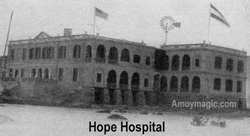 Otte described Hope Hospital, which opened April, 1898:
"Hope Hospital is a substantial two story brick structure, situated on the water's edge, and at high tide, surrounded on three sides by water. It con-tains a chapel, dining room, kitchen, two servants' rooms, office, dispensary, dark room for eye work, four student's rooms, and seven wards, in which are forty-five beds."
Back to top
Otte Raises the Roof!
Otte personally laid the hospital roof to ensure it was done right! He wrote,
"It took me two weeks of hard work, but finally it was all done and then I simply crowed. You ought to have seen me when at work. I was covered from head to foot with sticky asphalt. Even my baby, when she came with her mother one day to the hospital said, 'This is not my papa.'
"…Sometimes right in the midst of my work I would be called out on a serious case. Then I would hurriedly wash my hands in kerosene, change my clothes, and go to the case. Think of having to operate on the eye under such circumstances."

On the day of Hope's dedication, Otte laid the cornerstone for a women's hospital named after Queen ilhelmina because the initial $2,518 in funds and $800 for maintenance came mostly from Dutch supporters, who created the "Netherlands Society for Building and Maintaining Missionary Hospitals in China."

Hope's "first come, first served" policy meant that many patients spent the night on the street to make sure they received a coveted bamboo entry slip. In 1900, Otte had over 10,200 patient visits to the two hospitals, treated 1,206 in-patients, performed 631 operations and extracted 155 teeth.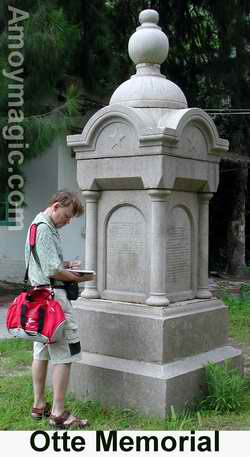 John Otte was keen on training Chinese in medicine, but only three students survived his severe examinations and hands-on practice for the first graduation in 1893. It was a tough program, but the waiting line of students never ended, and Otte's legacy of medical training continued even after his death, when Hope Hospital started South Fujian's first nursing school in 1926.

The Otte Memorial A busy man, Otte still found time to pursue architecture as well—but he contracted the plague from a patient and died in 1910. [Click here to read the very moving "Otte's Last Ten Days"].A monument erected by Otte's students was destroyed during the Cultural Revolution. The foundation and stone are now behind the former Pulmonary Hospital, which is just off the Gulangyu Ring Road past the U.S. Consulate. The inscription is in Dutch, English (barely legible), Chinese and Latin.

Hope Hospital was slated to be razed about 2005, but it is now being renovated and will be a museum. And not only does the Otte Memorial still stand but a new hospital in Jimei has a statue of Dr. Otte in front!
Please Help the "The Amoy Mission Project!"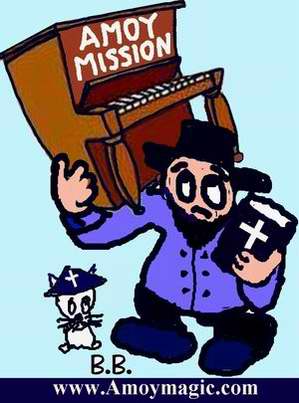 Please share any relevant biographical material and photos for the website and upcoming book. All text and photos will remain your property, and photos will be imprinted to prevent unauthorized use.
Thanks!
Dr. Bill Xiamen University MBA Center
E-mail: amoybill@gmail.com
Snail Mail: Dr. William Brown
Box 1288 Xiamen University, Xiamen, Fujian PRC 361005
TRAVEL LINKS

Favorite Fujian Sites

Fujian Foto Album

Xiamen

Gulangyu

Fujian Guides

Quanzhou

Z
hangzhou

Longyan

Wuyi Mtn

Ningde

Putian

Sanming

Zhouning

Taimu Mtn.

Roundhouses

Bridges

Jiangxi

Guilin

Order Books

Readers' Letters New: Amoy Vampires! Google Search

Click to E-mail


Readers'Letters
Last Updated: October 2007


Back to Top
Google Search
AMOY MISSION LINKS



A.M. Main Menu


RCA Miss'ry List


AmoyMission-1877


AmoyMission-1893


Abeel, David


Beltman


Boot Family


Broekema, Ruth


Bruce, Elizabeth


Burns, Wm.


Caldwells


DePree


Develder, Wally


Wally's Memoirs!


Douglas, Carstairs


Doty, Elihu


Duryea, Wm. Rankin


Esther,Joe & Marion


Green, Katherine


Gutzlaff, Karl


Hills,Jack & Joann
.

Hill's Photos.80+
..

Keith H.

Homeschool


Hofstras


Holkeboer, Tena


Holleman, M.D.


Hope Hospital


Johnston Bio


Joralmans


Karsen, W&R


Koeppes, Edwin&Eliz.


Kip, Leonard W.


Meer Wm. Vander


Morrison, Margaret


Muilenbergs


Neinhuis, Jean


Oltman, M.D.


Ostrum, Alvin


Otte,M.D.

Last Days


Platz, Jessie


Pohlman, W. J.


Poppen, H.& D.


Rapalje, Daniel


Renskers


Talmage, J.V.N.


Talman, Dr.


Veenschotens
.

Henry V.

Stella V.
.

Girard V.


Veldman, J.


Voskuil, H & M


Walvoord


Warnshuis, A.L.


Zwemer, Nellie


Fuh-chau Cemetery


City of Springs
(Quanzhou, 1902!!)


XM Churches


Church History


Opium Wars


A.M. Bibliography


YMCA Volunteer!


XICF Fellowship


Temples


Mosques


Christ in Chinese
Artists' Eyes

DAILY LINKS


FAQs Questions?


Real Estate


Shopping

Maps


Bookstores


Trains

Busses


Car Rental


Hotels

News (CT)


Medical & Dental


Expat Groups


Maids

Phone #s
EDUCATION


Xiamen University


XIS(Int'l School)


Study Mandarin


CSP(China Studies)


Library

Museums


History
DINING

Tea Houses


Restaurants

Asian


Veggie

Junk Food


Chinese

Italian


International


Visas 4 aliens
RECREATION


Massage!


Beaches

Fly Kites


Sports

Boardwalk


Parks

Pets


Birdwatching


Kung Fu

Hiking


Music Events


Cinema


Festival&Culture


Humor&

Fun Fotos


BUSINESS


Doing Business


Jobs!(teach/work)


Hire Workers


Foreign Companies


CIFIT (Trade Fair)


MTS(Translation)



Back to Top