AmoyMagic--Guide to Xiamen & Fujian

Copyright 2001-7 by Sue Brown & Dr. Bill

Order Books
Main Page
Business Links
Recreation Links
Google Search
E-mail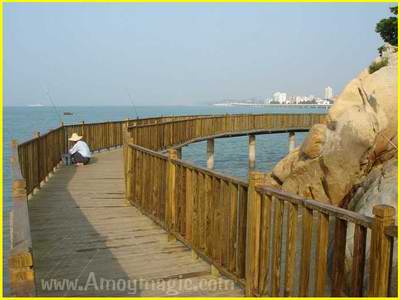 Advance to Xiamen Boardwalk!


Click Thumbnails for larger images.

Click for Amoy Boardwalk Photos by Mark Lee Krangle, Prof. of English at Xiamen University
One of my favorite childhood pastimes was playing the real estate trading game "Monopoly" and getting the card "Advance token to Boardwalk"--the most expensive and profitable property, based on Atlantic City, NJ's boardwalk. Of course, I usually ended up paying exhorbitant rent, not receiving it. Opened June 26, 1870, the world¡¯s first boardwalk is still the most famous, with 7.5km. of casinos, restaurants, stores and amusements. But while boardwalks seem to be springing up all over the planet (click here for more), the most beautiful boardwalk on the planet (and one of the longest) is right here in Xiamen!
Xiamen's scenic Island Ring Road is a 31km stretch of parks and attractions unlike anything else on the planet, but it was almost too big to enjoy except from afar, by bus or car (which as Chinese say is akin to "viewing flowers from horseback"; zouma kan hua; ×ßÂí¿´»¨). But our new boardwalk lets us appreciate our home's unique beauty, up close and personal.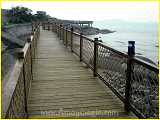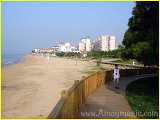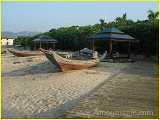 From Xiamen University beach it extends a good 5 km., past Huli Fort, Music Square, and numerous beaches, parks, and restaurants. Eventually it will extend to the International Exhibition Center, well over 10km away.
Back to Top AmoyMagic Guide to Xiamen and Fujian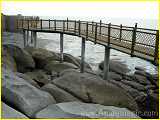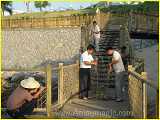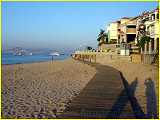 Some areas evoke images of the Mediterranean, with sprawling white villas fronting the blue sea. John Fischer claims one section reminds him of Monterey, California, as it rises on a steel frame over the sea to skirt wind-lashed trees clinging precariously to rocks. Still other sections are distinctly Chinese, with colorful S. F¨²ji¨¤n fishing boats anchored just offshore, and open-air traditional opera theaters.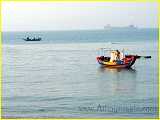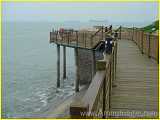 Xiamen boardwalk has quickly become our favorite escape, and my wife and I walk it not only every morning but many evenings as well, stopping only to rest in the small wooden pavilions, or to inspect some of the countless works of art.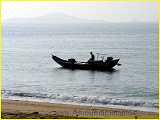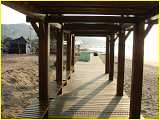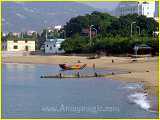 Eventually most of the walk will be lit up at night, but even now the ambient light level is such that my wife and I have walked it (though carefully) on starless, moonless nights.
Back to Top AmoyMagic Guide to Xiamen and Fujian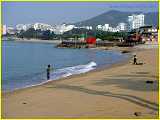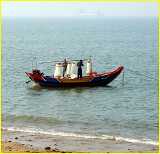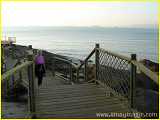 The boardwalk does have a few snags. For example, during the highest tides, such as we have during the mid-autumn festival, some sections are submerged. You¡¯d think the engineers could have asked a local fishermen how high the tides get! Most of the boardwalk is built of quality Dura-Guard pressure treated wood (from Virgnia, says Rod Ivall), but no wood can stand up to salt water long. I suspect they¡¯ll be raising some foundations soon¡ªor passing out snorkels! But all-in-all, I¡¯m amazed that Xiamen could conceive of, much less execute, such a delightful addition to our already picturesque Island. Back to Top AmoyMagic Guide to Xiamen and Fujian
So set your alarm to rise with the sun tomorrow and head straight for Boardwalk! (If only I could find Park Place for my car).
Xiamen Boardwalk Photos by Mark Lee Krangle, Prof. of English at Xiamen University (the girl in the photos is Suzi Yan)
New Jersey Boardwalks
Ocean City Boardwalk: 2.5 miles; numerous attractions, including a 140-foot Ferris Wheel; bumper cars, water rides, miniature golf courses, dining and shopping.
Lavalette: simple--sand and sea
Point Pleasant Beach: amusements, rides, food, aquarium
Seaside Heights: Food, amusements, rides--and ride back in time on a genuine Dentzel/Looff carousel with 1923 Wurlitzer organ
Seaside Park: undeveloped, but over a mile long; great for walking and jogging.
Wildwood Boardwalk: 2 miles long, has 5 amusement parks, numerous water parks and rides (more than Disneyland, it is said), restaurants, etc.
Coney Island, Brooklyn, New York: most famous for amusement parks; still has the Cyclone roller coaster and Wonder Wheel Ferris Wheel, as well as the New York Aquarium.
Santa Cruz Boardwalk, California: California's first amusement park, opened in 1907, and famous for the Looff Carousel.
Venice Beach Boardwalk, California: 2.5 km. famous for Muscle Beach.
Virginia Beach Boardwalk, Virginia: 3 mile boarwalk with amusements, dining, and sporting venues.
Long Beach Boardwalk, Washington: Boardwalk and Discovery Trail; only half a mile long but popular because of its interpretive displays, great views, and picnicking facilities.
Rehoboth Beach Boardwalk, Delaware: 1 mile of Dolle's Candyland, Funland Amusement, shops and restaurants.
Myrtle Beach Boardwalk, South Carolina: known for its amusement parks, theaters, restaurants and shops, as well as a 9,000 square foot glass butterfly pavilion, aquarium, Imax theater, and 2700-seat Palace Theater.
And on and on...!
Back to Top AmoyMagic Guide to Xiamen and Fujian
TRAVEL LINKS

Favorite Fujian Sites

Fujian Foto Album

Xiamen

Gulangyu

Fujian Guides

Quanzhou

Z
hangzhou

Longyan

Wuyi Mtn

Ningde

Putian

Sanming

Zhouning

Taimu Mtn.

Roundhouses

Bridges

Jiangxi

Guilin

Order Books

Readers' Letters

Click to E-mail


Readers'Letters

Last Updated: May 2007


Back to Top