AmoyMagic--Guide to Xiamen & Fujian

Copyright 2001-7 by Sue Brown & Dr. Bill

Order Books
Main Page
Business Links
Recreation Links
Google Search
E-mail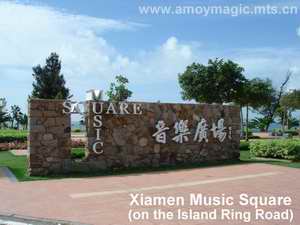 Xiamen Parks!

Click Links below for info on some of our dozens of beautiful parks (more added soon):
Click for Xiamen Boardwalk!
Click forIsland Ring Road's Music Square (solve the Music Square Challenge!)
Click for Huli Hill Fort (World's Largest Cannon, and more)

Click for Xiamen Botanical Garden
Click for Trish Boman's
The 10,000 Rock Botanical Garden
,
perched behind the Monument to Revolutionary Martyrs, has more rocks than you can find in our university cafeteria rice.
Below ground are dozens of caves, and strewn across picturesque hills are giant boulders with names like "Laughing Rock." When you've seen enough rock stars, stop and smell the roses, because there are even more flowers than rocks. You can spend days exploring beautifully landscaped trails, visiting the 20+ nurseries, and marveling over 4,000 kinds of tropical and subtropical plants, many found nowhere else on earth (or China either).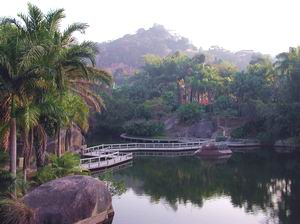 The gardens are reached most easily by taxi, but more adventurous souls hike over the mountain behind Xiada. Ascend the serpentine trail, a relic of Japanese occupation days, up the mountain past the "Heavenly Bestow Mineral Water Co.

Cross the bridge and continue past the sign that says "No foreigners beyond this sign." The trail eventually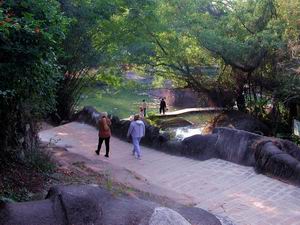 crosses the forested crest, where tigers roamed 60 years ago, and where not long ago they found a 30 foot reticulated python.

But fear not! Reticulated pythons are rarer than Monty Pythons , and fear us more than we fear them. Or so I'm told. But has anyone told them? Two hours north, in Koxinga's hometown of Nan An, a python ate a farmer and two kids (in separate sittings). I suspect the locals now find the 'snake fears man' story a bit hard to swallow.


Hong Shan Park
Take any bus from Xiada and get off just past the train tracks. After you've seen how people on the other side of the tracks live, visit Hong Shan Park, which has everything from a small Buddhist temple (for small Buddhists) to beautiful gardens, an old fashioned Carousel, and a Ferris Wheel, where for once you'll go in circles and not mind it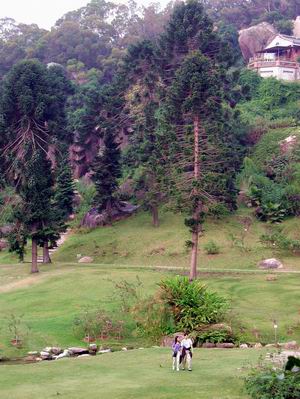 (though I've been told the Ferris Wheel has been down for awhile).

On a clear day, Hong Shan Park's Ferris Wheel, on the 125m peak, offers the best panoramic view of Xiamen. And on a rainy day, the peak's unique wind currents blow rain both vertically and horizontally, simultaneously, creating a unique phenomenon that locals have dubbed 'knitted rain.'
Zhongshan Park
(Sun Yat-sen Park) is on Zhongshan Road (where else?), just over the hill and past the new Cultural Palace (while it was being rebuilt we were temporarily without culture; in fact, Sue says I still don't have any).

Zhongshan Park visitors (free admission!) are greeted by Dr. Sun Yat-sen's statue, which bears his granddaughter's inscription, "The Great Democratic Revolutionary Pioneer Dr. Sun Yat-sen." I suspect she was biased, but so are 1.3 billion other Chinese. Every two-ox town in China has a ZhongShan Road – and obligatory Liberation Street, Si Ming ("Remember the Ming") Street, People's Street, deng deng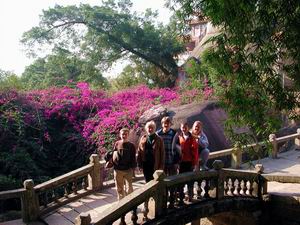 Bonnie Koenig said her kids especia
lly enjoy Zhongshan Park's bumper cars, but I get enough bumper car thrills just driving Toy Ota around Xiamen. Zhongshan also has nice rental rowboats. If you're afraid of being up a creek without a paddle , try the swan shaped fiberglass pedal boats (but avoid the hottest days lest your pedaling be to the tune of your swan song ). Enjoy numerous gardens, the flower exhibition hall, the bridges and pavilions, and drop by the small zoo, which has small hippos, lions, tigers, deng deng. You might also want to visit the park on holidays - especially on Lantern Festival (the 15th day of the first lunar month), when the park is thronged with special performers, displays, and exhibitions from all over the country. Folks travel from all over Fujian to see Zhongshan Park's Egret Island Lantern Show, the parades, the Dragon Lantern Dance, Lion Dance, deng deng.

In the wee hours of the morning, every park in China is full of folks 'shadow boxing.' They are exercising their Qi (life force) with TaiQi—one of the many styles of Kung Fu. I did Kung Fu in Taiwan—or it did me…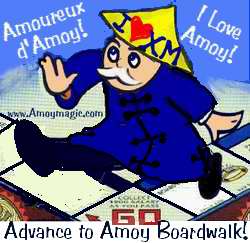 S

huzhuang Garden (Gulangyu Island) Shuzhuang Garden's-- "9 Bend 44 Bridge"-- snakes across the water at Garden like a befuddled bamboo viper. Shuzhuang (bean plantation) Garden was built by a Taiwanese businessman who moved here with his family during the Sino-Japanese War of 1894—1895. With all of the stone bridges and walkways zigzagging over the sea, Chinese say it is "a garden in the sea and a sea in the garden." After enjoying the delightful diversity of flowers and shrubs, sip tea in the tea house and enjoy the sea view, or enjoy the golden beach.

Open daily, 7am-8pm (except when it isn't).
Address: No. 45 Huangyan Rd., Gulangyu Phone: 206-3744
Website: http://www.shuzhuang.com.cn

Click to E-mail


Readers'Letters

Last Updated: May 2007


Back to Top