AmoyMagic--Guide to Xiamen & Fujian

Copyright 2001-7 by Sue Brown & Dr. Bill

Order Books
Main Page
Business Links
Recreation Links
Google Search
E-mail
"Mystic Quanzhou--City of Light"

(My 2nd Favorite Chinese City; Xiamen is 1st!).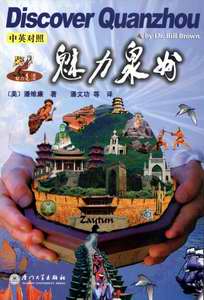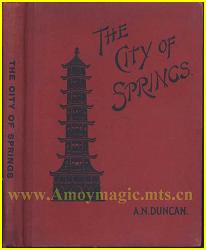 Click Here for Info on Quanzhou

"Mystic Quanzhou", by Dr. Bill, has 266 pages, with B&W and color photos, many by famous Fujian photographers like award-winning Zhu Qingfu and historian Hong Buren. Click Here to Order Online.


Click Here to see Quanzhou 100 years ago! (Scanned copy, "City of Springs," by Annie Duncan, 1902.

Contents of "Mystic Quanzhou--City of Light"
(Click Links for info combined from various books; more to be added)


Forward Quanzhou wins the 2003 Livcom Award in Holland!

ÖÐÎÄ


Chapter 1---Introduction


Chapter 2---Maritime Museum


Chapter 3---Downtown Zaytun

Quanzhou Marionettes


Chapter 4---The Outskirts

S. Shaolin Kungfu


Chapter 5---Quanzhou Parks (China's largest Taoist statue)


Chapter 6---Quanzhou Bridges (ancient biological engineering!)


Chapter 7---Hui'an (walled city, Hui'an maidens)


Chapter 8---Nan'an (Koxinga's home; start of Maritime Silk Route)


Chapter 9---Jinjiang & Shishi (home of Overseas Chinese like Jose Rizal)


Chapter 10--Anxi (Famous center for Oolong tea, Fujian's Potala Palaced, etc.)


Chapter 12--Dehua (One of China's two great ancient porcelain centers)


Chapter 13--Quanzhou Cuisine (famous Minnan - South Fujian Cuisine)


Chapter 14--Quanzhou Specialties (what to buy in Quanzhou)


Chapter 15--Hotels & Travel Agencies


Chapter 16--Emergency Phone Numbers


Supplement--Scott Ballantyne's Quanzhou Adventure


Bibliography
Back to Top AmoyMagic Guide to Xiamen and Fujian
Brief Intro to Marco Polo's Mythical Zayton (r
eputed to have been visited even by the Arab's Sinbad the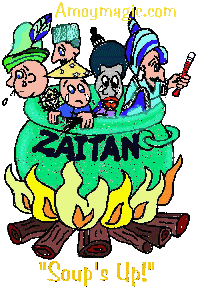 Sailor!)

Quanzhou ¨C Melting Pot of Asia! Quanzhou, not New York City, was our planet¡¯s first great melting pot¡ªand probably stirred by Tong ¡¯An firewalkers. Quanzhou was open to foreigners as never before or since. Laowai became Chinese citizens, intermarried, and held leadership positions even at the provincial level. It was good for both Laowai and Laonei. The Arab with Chinese citizenship who managed China¡¯s trade had such good guanxi (relationships) back in camel country that at one point his operation accounted for ? of China¡¯s entire revenue!
Back to Top AmoyMagic Guide to Xiamen and Fujian


Not surprisingly, the government appreciated its foreign experts, and conferred honors on them similar to those doled out today. Laowai and Laonei mixed freely, trading commodities, culture--even religions!

The Emperor actually financed foreign missionaries, helping them to build Muslim mosques and Franciscan Catholic cathedrals. Andrew of Perugia, the Franciscan Bishop of Quanzhou, wrote that the Emperor¡¯s budget for these ¡®cultural activities¡¯ exceeded the entire annual budget of some European countries.

Quanzhou ȪÖÝ China¡¯s first major international port was Guangzhou, to the south of Amoy, but merchants soon had enough of the corruption and wars, and moved to the more stable Quanzhou (which Marco Polo called Zaitan, and from which we get our word ¡°satin¡±). Zaitan boasted one of the world¡¯s best natural harbors. Better yet, it was closer to Hangzhou, the silk capital of China (though as you¡¯ll see in the supplement at the end of this chapter, Fujian¡¯s silk was as good or better!).
Over 1,000 years before Christ, the West valued Chinese silk more highly than gold. The poet Horace wrote of the silks from the legendary land of Seres (the Roman name for China), and the poet Lucan wrote of Cleopatra¡¯s ¡°white breasts¡­ revealed by the fabric ¡­ close-woven by the shuttle of the Seres.¡±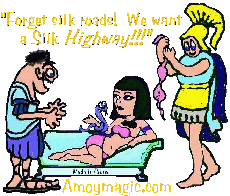 Back to Top AmoyMagic Guide to Xiamen & Fujian
Once Romans and Greeks got a glimpse of Cleopatra¡¯s undies , the demand for silk mushroomed. So did the silk supply, thanks to mythical Quanzhou, the starting point of the Maritime Silk Road, since one ship could carry as much silk as 700 cantankerous camels on the not-so-silky Silk Road of the Desert. (Fujian also produced excellent silk! See supplement at the end of this chapter).

By the mid 1300s, Quanzhou had 500,000 people of every race, creed and color imaginable. Historians wrote that ¡°100 large ships and numerous small ones¡± anchored in the harbour. Marco Polo, who sailed for home from Quanzhou, claimed it rivalled Alexandria Egypt as the planet¡¯s largest and busiest port.

Click to E-mail


Readers'Letters

Last Updated: May 2007


Back to Top