Click to Access
OUTSIDE China


Click to Access
INSIDE China


TRAVEL LINKS


Xiamen

Gulangyu


Jimei

Tong'an


Jinmen

Zhangzhou


Quanzhou

Wuyi


#1Fujian Sites!


Fujian Foto Album


Books on Fujian


Readers'Letters


Ningde

Zhouning


Longyan

Sanming


Putian

Bridges


Travel Info,


Hakka Roundhouses


Travel Agents

MISC. LINKS


Amoy People!


Darwin Driving


Amoy Tigers


Chinese Inventions


Tibet in 80 Days!


Dethroned!


Misc.Writings


Latest News


Lord of Opium


Back to Main Page
AmoyMagic--Guide to Xiamen & Fujian

Copyright 2001-7 by Sue Brown & Dr. Bill

Order Books


Main Page Business Links Recreation Links Google Search E-mail
Great Scott!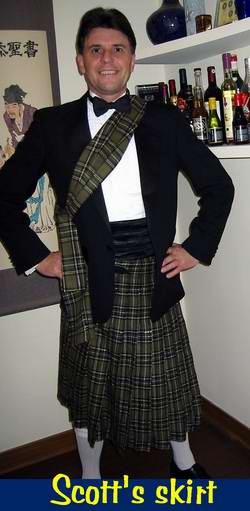 ...Intro (or Warning!) about Mr. Scott Ballantyne (formerly of Xiamen ABB)
This page's contents copyrighted 2004 by Scott Ballantyne


Scott's 1st Xiapu Adventure!

Scott's #4 Xiapu Adventure! 1996

Scott's 5th Xiapu Adventure!
Scott's Quanzhou Adventure!

Scott's Photos!
1st...Congratulations! Scott & Penny just had a daughter! Since Scott is Scottish and wears a kilt, I wonder if his daughter will be the ones to wear the pants in the family?
Click Here for Leona Photo #1 ... . Photo #2
Scott wrote: She was born at 4:22 on 14. 04. 2004 (lucky numbers 422042004). She weighed in at 2.8Kg (about 6 lbs) and was 47cm tall. So far no name - it's her bloody fault, she came 20 days later so she will have to wait for a name (probably the only time in a female's life when they are early).
They named her Leona. Scott said it was because the name sounded good in both Chinese & English, and went with Ballantyne. Leona Ballantyne--sounds good to me!
Mr. Scott Ballantyne, one of Xiamen's most colorful characters, and apparently as determined as I am to live out his remaining days on this enchanted island, has long raved about the joys of Xiapu. It has been a full two years since ABB Company's master salesman promised to write this story for me, but he didn't send it to me until a week before the book's deadline. But I can understand the delay.
Scott, after all, is from England, not America, and so he probably had a tough time composing an article in "standard English."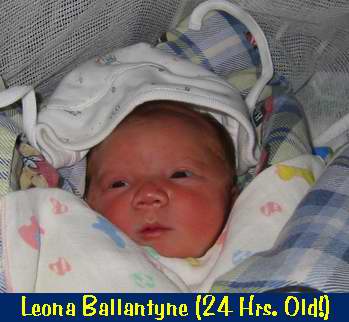 For example, the poor man still puts a "u" in "color." And on top of that he's Scottish. Though that's a comfort, because being from California I have a rather biased perception of men who wear skirts (or "kilts," as the Scots call them).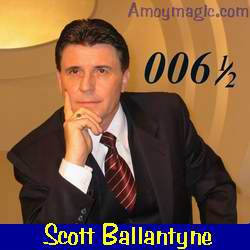 Not that anyone could mistake Scott for that kind of fellow. A former announcer for BBC, he sounds like and looks like a British lady's man (if this photo doesn't remind you of 007, he should at least get a rating of 006.5).
Fortunately, Scott finally settled down and married Penny, a beautiful Chinese lass, and left a lot of broken hearts in his wake.

Well, enough about ABB's Mr. Ballantyne. Here is Xiapu from the perspective of a true adventurer!


My Xiapu Adventure
By Scott Ballantyne, ABB, Xiamen
1995, Wednesday, 6th December. 9:55am. Xiamen Long Distance Bus Depot, Hubin Nan Lu.
I had been in Xiamen, or China – then, it was the same for me - for all of 14 weeks. Now, I felt confident enough to make my first solo journey; after all, I had learned how to say, 'Hello,' 'Thank you,' and 'One bottle of beer,' in Chinese (I had not yet learned how to ask for cold beer so I got whatever came!) I was standing with one of my favorite students, Catherine, whose job it was to make sure I got on the right bus to Xiapu, and not to London, and she was a great encouragement.
'The bus is a lot safer than it looks,' she assured me, with a half-smile.

The bus looked, from the outside, like it had seen a few thousand journeys too many. I was dreading the inside. I had an 18 hour trip in this thing before I got to Xiapu. I was regretting my adventurous nature, and I wasn't on the bus yet. It was one of those 'sleeper' buses – that meant that it had two tiers of reclining bed/seats, but not reclining enough to allow comfortable sleep.

As I stepped inside the bus, the first noticeable thing was the smell. I could not be sure if it was one one-week-old fish, or one-day-old vomit. After an hour of traveling, I realized it was probably both. The bus left at 10am prompt; by 11am, we had hardly got off the tiny island of Xiamen. It was not full, but the driver stopped every half-mile or so to try to tempt anyone standing even close to the side of the road to join us, for a long-negotiated fee, to Xiapu or any point in between.

Apart from the ill-fitting windows, the bus was more comfortable that I had expected. In Xiamen, it was a very clear, sunny day, but one of those rare days when the temperature drops below +10C. This day it plummeted, not dropped, below. We were heading north and into colder weather. By 6pm, eight hours later, we had reached Fuzhou. (Today, with the new highway, it takes only 3 hours!).
It was dark by the time we started to climb the winding mountain roads beyond Ningde on our way into the north-east corner of Fujian Province. As the bus climbed, the temperature dropped; as the bus climbed the windows slid backwards, and open. The freezing breeze chapped and dried my lips. When the bus found a bit of downhill, the windows slid forward and open, and the breeze bit at the back of my neck, making it stiff. I wrapped myself in everything I could find, including newspapers and orange peel, but to no avail.

When I got to Xiapu, I was scheduled to meet one Charles Etner, anthropologist from Stanford University, who had been studying in the area for 8 months. He had given me a piece of paper with some useful phrases in Chinese, like, 'Where is the W.C.?' (very useful); 'Why have we stopped?' (not that I would understand the answer) and 'Has the bus broken down?' (something I thought I could figure out for myself, but nonetheless alarming that he had thought to write it down, especially on these remote mountain roads with no light to be found other than from the myriad of clear stars). Another of his phrases was, 'Is this Xiapu bus depot?'

The bus stopped at 4 A.M. in the middle of a busy market street - and I mean busy. It looked nothing like a bus depot. I pointed continually at the phrase on my piece of paper, and the driver, and his assistant and his assistants' assistant's girlfriend nodded convincingly and spoke confusingly, all at the same time.

I hesitantly stepped off the bus and found myself in what appeared to be the main street (turned out to be the second main street), which had lots of people, all Chinese, going back and forth delivering & selling fruit and vegetables, river crabs and other swimming (or once-swimming) things. I later learned that the early morning scene was an everyday event as the peasants came down from the mountains to sell their wares to market vendors who resold them in town a few hours later.

Alone and bewildered and finding no-one who closely resembled the long-haired, six foot, anthropologist from Stanford University, I started to cry. Not really, but I think I was close.
Eventually, I felt a tug at my sleeve and turned to see an attractive Chinese woman, aged about 25. She was pulling me and saying 'Mr. Eye, Mr. Eye' and beckoned me to follow her. 'One of Diana's ladies,' I thought (for those not blessed with an education in the classics, please read, 'a lady of the night' for that last quote). As I looked around at the millions of Chinese who were staring at this rare site of a foreigner (the second that most of them had seen, the first for the rest), I noticed that they seemed to be encouraging me to co-operate with the lady. Well … she was pretty, so I followed her.
She took me, through the freezing morning, to a small street stall restaurant. I was seated beside two locals who were warding off the cold with heated alcohol – which they offered me, and I took, which is how I know it was heated and alcohol!

The owner of this street establishment, a large but friendly lady, proudly and ceremoniously placed a plate of mini-armadillos in front of me, which I think I was expected to eat. I couldn't imagine how to start on them – how do you eat an armadillo with your bare hands? I didn't even know if it was cooked. So she quickly and deftly showed me how to peel the food. It turned out to be what is now my favourite seafood – Sha Gu – (meaning, aunt of the prawn), but then it was dark, I was too cold to be paying attention, and I consumed bits that even Chinese turn their noses up at.

Half an hour later, Charles Etner, anthropologist, rescued me, which was a shame really as I was quite getting used to the armadillos as well as the two ladies in my company – we will not talk about the heated alcohol (known as Me Jiou). He apologized for his tardiness, drunken condition and for leaving me in the company of the pretty lady, who turned out to be the English Language teacher in the local Minority School. 'Lady of the Night?' Did I say that??

He then assured me that we would soon be tucked up, out of the cold, in his room, in which, for the occasion, he had left the heating on. He bundled me onto a manpowered tricycle taxi which spent 30 seconds on tarmac roads and 30 minutes on uneven, non-roads. Eventually, we arrived at Xiapu No 1 Minority School, where, in exchange for a bit of teaching, they gave Mr. Etner an old classroom with two single beds and a table – no toilet, no sink. AND NO HEATING. I was freezing.

'Where's the heating?' I asked.

'There,' he said, pointing at the naked 40 watt light bulb, 'I left it on to heat up the room.' I slept fully clothed that night, under about six blankets.

Charles, or Mr. Eye, as all around called him, had but three days left in Xiapu before returning to the USA, perhaps never to return to China. I stayed with him during those final days and watched him, and many others, cry as the bus left for Xiamen on his final afternoon there. He had spent a wonderful eight months in Xiapu and was very reluctant to leave. I had spent three days there and felt the same. Why? Because it is a beautiful place? Not at all. Quite simply, because of the wonderful, friendly, and the open people, who took us both into their hearts.

I returned to Xiapu many times and it changed my life. Xiapu gave me one of the most satisfying experiences of my life. And over ensuing visits, I was also able to dramatically, positively change the lives of many people there, and their descendants' lives. How?

You'll have to buy Bill Brown's next book to find that out, or wait until I write one.
Scott Ballantyne.
Click Here for Scott's Travelogue #4--Xiapu Revisited (1996)
Click Thumbnails below for larger images of Scott's photos (he has 1,000s!)
Back to Top AmoyMagic Guide to Xiamen and Fujian
TRAVEL LINKS

Favorite Fujian Sites

Fujian Foto Album

Xiamen

Gulangyu

Fujian Guides

Quanzhou

Z
hangzhou

Longyan

Wuyi Mtn

Ningde

Putian

Sanming

Zhouning

Taimu Mtn.

Roundhouses

Bridges

Jiangxi

Guilin

Order Books

Readers' Letters

Click to E-mail


Readers'Letters

Last Updated: May 2007


Back to Top


DAILY LINKS


FAQs Questions?


Real Estate


Shopping

Maps


Bookstores


Trains

Busses


Car Rental


Hotels

News (CT)


Medical & Dental


YMCA Volunteer!


XICF Fellowship


Churches


Expat Groups


Maids

Phone #s
EDUCATION


Xiamen University


XIS(Int'l School)


Study Mandarin


CSP(China Studies)


Library

Museums


History
DINING


Restaurants

Asian


Veggie

Junk Food


Chinese

Italian


International


Visas 4 aliens
RECREATION


Massage!


Beaches

Fly Kites


Sports

Boardwalk


Parks

Pets


Birdwatching


Kung Fu

Hiking


Music Events


Festival&Culture


Humor&

Fun Fotos


BUSINESS


Doing Business


Jobs!(teach/work)


Hire Workers


Foreign Companies


CIFIT (Trade Fair)


MTS(Translation)



Back to Top