Click to Access
OUTSIDE China


Click to Access
INSIDE China


TRAVEL LINKS


Xiamen

Gulangyu


Jimei

Tong'an


Jinmen

Zhangzhou


Quanzhou

Wuyi


#1Fujian Sites!


Fujian Foto Album


Books on Fujian


Readers'Letters


Ningde

Zhouning


Longyan

Sanming


Putian

Bridges


Travel Info,


Hakka Roundhouses


Travel Agents

MISC. LINKS


Amoy People!


Darwin Driving


Amoy Tigers


Chinese Inventions


Tibet in 80 Days!


Dethroned!


Misc.Writings


Latest News


Lord of Opium


Back to Main Page
AmoyMagic--Guide to Xiamen & Fujian

Copyright 2001-7 by Sue Brown & Dr. Bill

Order Books


Main Page Business Links Recreation Links Google Search E-mail


Boman's Bushwalks! (Xiamen Hikes)

..
Click Here to visit our Amoy Tiger Page!
Take a Hike! Fujian has lured Western naturalists since the 18th century. Our province is home to rare creatures like the majestic Amoy Tiger, which reaches 8' 7" in length, almost 400 pounds in weight, and is considered the ancestor of all tigers (and if he isn't, I sure wouldn't tell him so).

Amoy tigers are nearly extinct now, though some can be seen in a West Fujian reserve (where two cubs were born in September, 2002--and 4 more since then!

To learn about the magical powers of Amoy Tigers, or about the little foreign girl, Nancy, who found a tiger in her back yard on Gulangyu Islet, Click Here!)

Fujian also has butterflies and insects seen no where else in the world. But if insects bug you, then consider our snakes. We have king cobras, bamboo vipers, and reticulated pythons that reach 33 feet in length and have been known to eat farmers that didn't eat them first!

If you are like me, and think snakes are for the birds , then check out "Fowl Pursuits," our birdwatchers' page. Marc Mueller, a teacher at Xiamen Education College and a veteran bird watcher, has delighted in the many species of birds to be bound on our island (at least 174 varieties of Amoy feathered friends were identified by Western naturalists over 150 years ago).

Allow me to introduce you to Amoy's delightful birds and animals, but first let me introduce you to our guide--Trish Boman!
Back to top
Trish Boman, Bushwalker!

The perfect guide for Amoy's trails is veteran Aussie bushwalker, Trish Boman, who has kindly allowed me to print her delightful accounts of six of her perambulations about Amoy. I haven't tried them all myself; I get bushed just thinking of all that walking--but they're on my "2 Do List."
(All material below copyright 2003, 2004 by Trish Boman)
"My hometown is Brisbane, Queensland, Australia, though I was born in a smaller city, Rockhampton, beside a mountain range which inspired my first day long walk when I was about 14 (not that our mountains are anything to skite about on the world scale.)

"I am not a mountain-climber in the Everest sense, nor do I do any fancy rock-climbing, though I've abseiled and hauled myself on ropes and chains up volcanic cones, and even Uluru (Ayers Rock, in the centre of Australia).

"Brisbane is surrounded by other mountain ranges (referred to as "hills" by visitors to our fair city) variously covered with dry eucalyptus forests, or temperate rainforest. I especially love rainforest bushwalking and can deal with ticks, leeches, mud, and wait-a-while vines. I also lived in Cairns, in Queensland's far north, which has dense tropical rainforest. This really sparked off my love of bushwalking, beginning with trekking to pristine waterfalls, and swimming in fresh water creeks among the boulders and fresh-water crocodiles.

"In Xiamen, I found a like-minded person who began showing me around the Five Old Men Mountain behind Xiamen University, and from then on we would choose a different hill each week and go out and find a track to climb it. In Xiamen, many of the hills end in army bases, and have savage dogs and guards, so I've been turned away from several of them. I began to fear I'd be considered a particularly persistent spy who kept turning up in the wrong places!!"
Back to Top AmoyMagic Guide to Xiamen and Fujian
Insights on "Strine" (Aussie Slang)

After a futile browsing of the dictionary to decipher Trish's Aussie English, I e-mailed her. She responded as follows:
"I LOVE explaining "Strine" (Australian), so:
"…a chook is a chicken/hen, also used to fondly or cruelly chide someone: 'Silly old chook!' Also a common nickname mostly among men.
"'Skite' is to boast and a skite is a boaster. (Both noun and verb)
"'Wait-a-while vines' are rainforest vines with many barbs on long shoots that are sent out across the clearings. When you walk by, they catch on clothes, skin, hair and pull you up to 'wait a while'. The only way to escape is to back yourself out the way you got into it. It's pretty vicious stuff. Eventually they grow up to become lawyer cane, the kind teachers used to hit kids with.
"Congratulations for including some Australian slang in Amoy Magic. I feel our existence is acknowledged somehow."

(--more about Aussie English in the revised addition of Amoy Magic that is soon to be published)
Trish Boman's Bushwalk #1
Shangli (Half Day) Commencing from Shangli.
Take the number 20 bus to the end of the line at the Railway Workers' Sanitorium. . Walk out of the compound back across the small bridge you came over and there's a major road under construction to the left. Follow this road along, noting the eucalyptus and sally wattles that grow on the hillsides. In the early mornings there is a strong smell of the lemon-scented gum, giving a little Australian experience for those who know it. On the right, you may catch a glimpse of the long, snake-shaped reservoir whose administration buildings you pass on the right. (At the end of this reservoir there is a fork on the right which is covered in the final paragraph below.)
After about a kilometer from the starting point, with the city buildings in view ahead, there is a fork on the right leading uphill. A few hundred metres along it, there is a rustic stone gate on the right, with the characters: (Ban Ling Gong) in reverse order. This is a Daoist-style temple name, characterized by the word "gong", so it gives the appearance of leading to a Daoist temple above. Stone steps leading up through the trees wind away invitingly into the greenness.
Back to Top AmoyMagic Guide to Xiamen and Fujian
Follow the winding stepped path, which is accompanied by a set of Railway Department white posts equipped with red numbers, from about 41 up, until you reach a fair-sized Buddhist temple under construction. The only sign of the Daoist temple is a small shrine to the left, crowded with Daoist figurines whilst above it, a quite magnificent red brick Buddhist temple is being built. A magnificent view of the valley with the new road cutting through it can be enjoyed from the temple forecourt. The view extends as far as the city buildings and is filled with greenness. Military installations beam out from the opposite hill top.
Descending the steps from the temple, you can take another set of steps on the left which will lead back to the trench at a more southerly point. From here you can return to your original point and carry on to downtown Xiamen, or you can return to Shangli the way you came.
If you still feel energetic, return to the turn-off at the end of the reservoir, mentioned above. This fork is a connecting track to the main Xiamen Cross-Country Track (see Qianpu Walk). Along the way, you come to a rural dwelling, with chooks and dogs, and the dirt track going by it on the left leads to Dong Ping Shan, a main village in the heights of Xiamen. At the T-junction, turn right to go to the back of the Taiwan Village Park. At the next fork, be sure to turn left in a downhill direction, or you'll find yourself in an overgrown and fairly impassable track further on up the hill.
When you reach the Taiwan Village, you will probably be stopped by the workers whose job seems to be to look out for people getting in the "back door" of the Village, though if no one is around, you could try going for a little look-around. The gate-keeper will require you to exit via the nearest track which will bring you out in Huang Cuo Village. There's a restaurant down the road to the right, (the restaurant is on your left) and it boasts some comfy upstairs rooms with air conditioning, lounges and TV which will restore lost energies.
Once restored, keep going down the lovely tree-lined roadtowards the Huan Dao Lu and there's a bus stop just a little way to the left that will return you to Xiamen University or Hulishan Cannon Fort termini for your connections.
CHIEF ATTRACTIONS:
1. It seems the builders are constructing an excellent walkway along the creek below the new road, complete with artistic touches and cross-bridges. When finished this will keep traffic and walkers well apart.
2. The stone stairway to the temple is green and leafy with bird song, fresh smells and rustic appearance.
3. The viws from the Buddhist temple at the top of the stairs are especially spacious and green, facing down into the valley.
4. Because of links to the main Xiamen Cross-Country track, there are possibilities for full-day walks of varying lengths.
Back to Top AmoyMagic Guide to Xiamen and Fujian

Trish Boman's Bushwalk #2
Da Lun Shan, Tong An District.

This is an easy half day bus ride and stroll. Catch the Tong An number 18 bus at the railway station or any stop on the main road between Hulishan Paotai and Jimei. After about anhour's travel, get off in Tong An at the Fan Tian Temple stop. The entrance road to the temple is across the street a few yards on from the bus stop.
After reaching this township temple, which has no entrance fee, you can investigate the various worshiping activities in the different halls, gradually moving higher up the Da Lun Mountain. Finally there is a new, lavishly decorated temple building with a path leading up the hill on the right. You can also go the left, but the path is rougher. This path leads to the top of the mountain where there is a small resting pavilion witha view of the surrounding countryside. It's a peaceful little walk, leading past several typical graves in their horse-shoe shaped settings.

CHIEF ATTRACTIONS:
This is an insight into a non-touristy township temple. The locals are friendly and a little surprised to see visitors, but do not intrude. There are no beggars or fortune-tellers waiting to pounce on you.

1. The bus trip opens up the Xiamen experience by revealingan outlying district of the city.
Back to Top AmoyMagic Guide to Xiamen and Fujian
Trish Boman's Bushwalk #3
XianYue Mountain – Tianzhu Temple
Xianyue Mountain is one of Xiamen Island's larger range of hills, being a barrier between downtown and the Huli District. It offers a leisurely all-day, or a brisk half day outing. The use of a car to get to the temple can make the journey considerably shorter if time is limited. There are several ways to get to the temple, the easiest being up Qiaoyue Rd, which is an extension of the larger Lianyue Road which can be found at the farthest eastern point of YongDang Lake, crossing Hubin North Road. Buses 13, 31 and 33 also turn the corner of Lianyue and Xianyue Roads. The road can be climbed on foot, but there is an off-road shortcut where the road first turns to go up the mountain. There is a "no lighting fires in the forest" sign in Chinese by a lane which is the only indicator of the entrance to the road. Once you reach the top of this shortcut, you rejoin the vehicle road just below the temple. The temple area is a busy one, with an enormous construction site begun for a major new temple. The present ones are a mixture of makeshift and elderly buildings doing a brisk trade in ancestor worship with copious amounts of holy money going up in smoke. There's a map and plan of the new temple on display. Toilets are rudimentary, though there's a new one built but not open yet further up the hill.
If you want to continue on to the wonderfully constructed walk to the western end of the range, go on to the left (east) beyond the temple. There are several lookouts and trails leading off from the main track, including one which overlooks the city from an attractive pavilion. You'll also notice several "scientific experiments" among the trees, collecting insect samples and warning of poisonous contents. At the farthest point you'll come to an unsignposted collection of paths. To get down the mountain at this point, take the path on the right (Huli side) and you'll eventually emerge at a staircase at the back of a residential unit. Follow the road ahead, turn left and then right at a jeep training ground, and you'll find yourself out on a bypass road that goes under the Haicang Bridge approaches. The number 15 bus calls in just to your right and will take you all the way back through Xiamen city to Xiamen University.
CHIEF ATTRACTIONS:
1. This is one of the largest downtown hills, offering excellent views of both the city and port sides of the hill. It can keep you occupied for a whole leisurely day if you take some food and drink and occupy one of the small pavilions either at the temple or along the path towards the Dongdu end of the range.
2. This is a busy temple with many devotees carrying out traditional worship activities.
3. There are several side paths that can be explored if you have time.
Back to Top AmoyMagic Guide to Xiamen and Fujian
Trish Boman's Bushwalk #4
Foxtail Mountain (Huwei Shan)
Huwei Shan is a continuation of Xianyue Mountain on the western side of the Haicang Bridge approach. It is a relatively compact walk that could occupy a leisurely half-day and boasts a neatly developed lookout, toilets and picnic tables with a great view of the City Government buildings and beyond.

There are two main ways to this mountain: the walking path which begins from Feng Huang Villa grounds in Hubin Beilu, and the vehicular road that starts in Haishan Road, (off Dongdu Road, a block past beyond Hubin Beilu T-intersection) and ends at the TV Station via the Meteorological Station on the western part of the hill. Despite being for cars, it's quite a nice walk, and a walker can link up with the forest track that links up with Feng Huang Villa. To do this walk, you can catch bus 87 and get out in Hubin Beilu at the Xiamen City Administration Building stop.

If you prefer to keep off the vehicular road, then just stick to the walking path beginning from Feng Huang Villa grounds. The gate is about half a block from the City Government office building towards Dongdu (west). Check with the security guard and say you want to climb the mountain and it will be okay. Go straight ahead until the road curves around a couple of times and keep an eye out for the forest sign that marks an upward-leading set of stone steps. These steps will lead the vehicular road, but if you continue on across the other side, you come to a half-finished pavilion, and beyond that the road peters out at a worker's hut at the mountain top. Retrace your steps and instead of crossing the road, turn left on to it and take the stone pathway just a little way back down the road on the left. This will lead to the lookout and picnic area. The meteorological station is upwards from the picnic area while the exit is downhill. But you can return the way you came and go back to Feng Huang Villa and avoid the traffic.
Back to top
Trish Boman's Bushwalk #5
Nanputuo Temple and Five Old Men Mountain.

Besides being one of the major temples of Fujian, Nanputuo Temple also backs on to a very attractive and path-riddled mountain called Wulao Shan. Allow quite a lot of time for this walk, as it can also lead to a trek through to Xiamen University, Ten Thousand Stone Botanic Garden (Wanshi Zhiwuyuan) and link up with a number of other very interesting walks, probably too many for just one day. If you want to spend a half day, then just stick to Nanputuo's Wulao Shan and go back down OR walk through to the Botanic Gardens and come out at its entrance. This walk will be described first.
Back to Top AmoyMagic Guide to Xiamen and Fujian
Catch any bus that goes to Xiamen University, e.g., 1, 15,71, 45, etc. Nanputuo Temple is very visible as you arrive. Entering by the main entrance will cost 3 yuan, and you will pass by a number of very fine Meditation and Worship Halls usually a crowded area. Keep advancing towards the rear, and don't worry which route you take and there are many ways, all leading upwards. There are some signboards showing you where you are, but just keep taking any stairs that go UP and don't stray too far to the left or right edges, unless you want to explore the many fascinating pavilions, grottoes and lookouts that abound in this marvelous place. As you get higher, there are more lookouts, including one magnificent railed platform on top of a great boulder. Go on until after about half an hour of steady climbing on well-crafted stone steps, you reach the rest area at the top of Wulao Shan. There is a little refreshment stall there, as well as a gate for paying your entrance fee into the Botanic Gardens. It is possible to bypass this gate by heading off to the right of the summit but the track is not well developed and there are many forks to help you get lost. Unless you have local assistance, better to pay the money. This track goes down dale and up hill, crossing a concrete road that leads to an army base nestled among the many little peaks on this rugged and complex set of hills. Keep your eye open for the Cactus Garden, housed in a glass house. To the right of this, there is a back track that goes through another mountain, offering great views and joining up with another road that meets the Botanic Garden track in a different place. When you meet any track, keep taking left turns if you want to end up in the Gardens and not in the army base or eventually, Xiamen University, though these are well worth a visit, though perhaps on another day.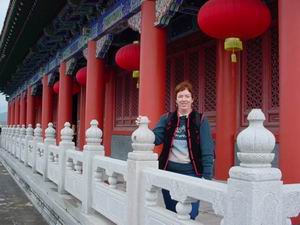 Back to top
I visited Film City on a Friday morning, along with about
three thousand primary school children and their teachers. This meant that along with the Forbidden City, Summer Palace, Nine Dragon Wall, Qing-Ming Street, and other old Beijing attractions, I became an extra object of fascination, with children rushing up to surround me and shout, "Hello, how are YOOUUU!"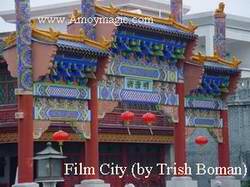 Apart from suffering unwanted celebrity status, it was a pleasant outing. The recreation of the Forbidden City is quite spacious and impressive, giving plenty of room to roam around and take photos in famous settings. Many buildings seem to be almost full-size - at least I couldn't tell the
difference, and it's a little far to run and check. The different Halls recreated there are now inhabited by photographers with their costumes and photos-for-a-fee stalls, including sedan chairs, and for an extra payment you can sit on the Emperor's throne.

Qing-Ming Street is a street setting, complete with advertisements on the walls for insect powders and beauty products, and there are a few amusements and souvenir stalls. Behind the street, if you can find the stairs at either end, there is a mini-Great Wall from which to view the entire scene. I could imagine myself as a movie director calling the shots for the street scene of a kung-fu film, with colourful beauties flirting with the local heroes in the bustling marketplace, while in the palace forecourt, mandarins bow and scrape before Dowager-Empress Cixi.

The whole park is extensive enough for a leisurely walk for several hours, but there is little else to do, and refreshments are minimal. Perhaps if a film was actually being shot, it could be really exciting, but otherwise it's a fairly peaceful interlude that lets the mind wander back to the old days of Beijing. Entrance fee is 25 yuan.
Back to Top AmoyMagic Guide to Xiamen and Fujian

More About Majestic Amoy Tigers!
Click Here for our "Amoy Tiger" Page!

Amoy Tigers (the following two paragraphs excerpted from "A Race of Green Ginger")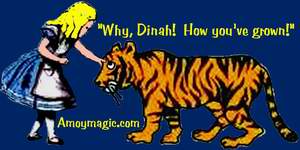 "Tigers possess magical qualities; their claws are talismen against devils, their bones and tendons potent medicine for healing and strength. They are sovereign because the Chinese discern the character for king on their foreheads…
"Two things in Fukien impressed Marco Polo: the beauty of the women and the size of its tigers…the Fukienese hunted tigers in the rock caves of the island's high spine. The conservative hunted in pairs; one took a flaring torch into the tiger's lair, walked on until the tiger's eyes reflected in its flame, then quickly stepped aside for his companion to spear or shoot. The modern-minded strapped electric lamps to their foreheads, and practised the hair-raising sport alone. There were still quite a lot of tigers on the island, the fishermen said, but their numbers were dwindling."
"A Race of Green Ginger, p. 68, 69

Little Nancy & the Tiger – a True Tale of Gulangyu!
"…It appears that little Nancy Theobald had run in from the garden crying that there was a tiger in the bamboo patch. For this she had been severely reprimanded by her mother, who believed that 'let's pretend' was the thin end of lying and deceit. But Nancy, whose busy imaginative life had already caused her parents some anxiety, insisted that she spoke nothing but sober truth. Mr. Theobald entered upon a scene of exhortation, tears and temper, masterfully to declare that he would deal with his child once and for all. 'Come and show me this tiger,' he had said to Nancy, giving his wife to understand that it was as simple as that.
"Nancy, delighted with unexpected parental support, hoping that the beast had not gone, led her father in all hasted to the bamboo and to the tiger, who lay asleep there…" "A Race of Green Ginger," p.94
Back to Top AmoyMagic Guide to Xiamen and Fujian
While I do pity their demise, I'm thankful that eight-foot Amoy Tigers no longer lurk to bushwhack bushwalkers. (One of my local friend's aunts was killed by a tiger in the 1960s!). The most dangerous thing you'll encounter nowadays in Amoy's hills is snakes (cobras, bamboo vipers), and that rarely. For the most part all we see is birds, blue-tailed lizards, chameleons and geckos (which I catch and turn loose in the house so they can eat mosquitoes), chameleons, and francolins (which I've seen in the woods with chicks, and which locals chase down for supper). But 150 years ago the hills were alive with exotic creatures like the ones recorded in the November 17, 1857 paper, A Few Remarks on the Fauna of Amoy. It was presented by H. Stevenson, Esquire, to the Literary and Scientific Society of Amoy. Here are the 'few remarks' (though edited to make them considerably fewer!).
Back to Top AmoyMagic Guide to Xiamen and Fujia
n
TRAVEL LINKS

Favorite Fujian Sites

Fujian Foto Album

Xiamen

Gulangyu

Fujian Guides

Quanzhou

Z
hangzhou

Longyan

Wuyi Mtn

Ningde

Putian

Sanming

Zhouning

Taimu Mtn.

Roundhouses

Bridges

Jiangxi

Guilin

Order Books

Readers' Letters

Click to E-mail


Readers'Letters

Last Updated: May 2007


Back to Top


DAILY LINKS


FAQs Questions?


Real Estate


Shopping

Maps


Bookstores


Trains

Busses


Hotels

News (CT)


Medical & Dental


YMCA Volunteer!


XICF Fellowship


Churches


Expat Groups


Maids

Phone #s
EDUCATION


Xiamen University


XIS(Int'l School)


Study Mandarin


CSP(China Studies)


Library

Museums


History
DINING


Restaurants

Asian


Veggie

Junk Food


Chinese

Italian


International


Visas 4 aliens
RECREATION


Massage!


Beaches

Fly Kites


Sports

Boardwalk


Parks

Pets


Birdwatching


Kung Fu

Hiking


Music Events


Festival&Culture


Humor&

Fun Fotos


BUSINESS


Doing Business


Jobs!(teach/work)


Hire Workers


Foreign Companies


CIFIT (Trade Fair)


MTS(Translation)



Back to Top