Click to Access
OUTSIDE China


Click to Access
INSIDE China


TRAVEL LINKS


Xiamen

Gulangyu


Jimei

Tong'an


Jinmen

Zhangzhou


Quanzhou

Wuyi


#1Fujian Sites!


Fujian Foto Album


Books on Fujian


Readers'Letters


Ningde

Zhouning


Longyan

Sanming


Putian

Bridges


Travel Info,


Hakka Roundhouses


Travel Agents

MISC. LINKS


Amoy People!


Darwin Driving


Amoy Tigers


Chinese Inventions


Tibet in 80 Days!


Dethroned!


Misc.Writings


Latest News


Lord of Opium


Back to Main Page
AmoyMagic--Guide to Xiamen & Fujian

Copyright 2001-7 by Sue Brown & Dr. Bill

Order Books
Main Page
Business Links
Recreation Links
Google Search
E-mail
Pet Shops/Vets

A new pet store with a resident vet is located on Xian Ye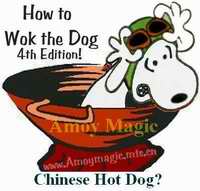 Lu (the road from Huli tunnel to Haichang bridge) and just opposite the entrance to "The Pinnacle". Very clean. (thanks to Scott Ballantyne for this info).
Can't cure it? Wok it!
Silica-Gel Based Cat Litter is available in Xiamen! The Pet Home has it. American brand "Litter Select" flat crystals, 8 lbs for 65 rmb. You may be able to get a VIP card if you ask them and that will give you a discount. This is the best cat litter! It will last up to 80 days, so it says on the bag, but it depends on the size of the cat. We have a very large cat and it will last about two months for us. There are two absorbant pads for under the crystals and the crystals control the odor.
Pet Home (Supplies and Veterinary care). It's a relief to find someone who can neuter a cat or spay a dog (we had to get a people doctor for our cat; poor thing was tied spread eagled to a chair while his manhood was diminished). But be prepared to pay! They told us it would cost about 80 Yuan, took a 300 Yuan deposit, and ended up charging over 500 Yuan for "complications," as well as very expensive supplements that apparently a Chinese cat cannot survive without!

But Pet Home has quality supplies for cats and dogs, and good vet care, in both Xiamen and Fuzhou. The Xiamen branch is just a five minute walk to the right of the Gulangyu Ferry (Xiamen side).
Address: Lujiang Blvd. Qianhao Market St. #7
Phone: 0592 210-7891
Fuzhou Branch: 0591 335-8514
Website: www.wj-pethome.com

Dogs and cats? The best selection of puppies and dogs (other than Cantonese restaurants) is at the shop on the roof of the antique shopping area in Bailuzhou (the Yuandang Lake area, near City Hall).
Ju Kou Street Aquarium offers an excellent selection and good service, and they deliver. It's just off Zhongshan Road, down Jukou Rd., the little side road to the left of the foreign languages bookstore and the DVD shop. Address: #17 Jukou St. Phone: 202-0880
For birds and fish, and beautifully crafted bird cages, try the shop behind Zhongshan Park. Also check out the nice aquarium supply across the street.

Click to E-mail


Readers'Letters

Last Updated: May 2007


Back to Top


DAILY LINKS


FAQs Questions?


Real Estate


Shopping

Maps


Bookstores


Trains

Busses


Car Rental


Hotels

News (CT)


Medical & Dental


YMCA Volunteer!


XICF Fellowship


Churches



Temples


Mosque


Expat Groups


Maids

Phone #s
EDUCATION


Xiamen University


XIS(Int'l School)


Study Mandarin


CSP(China Studies)


Library

Museums


History
DINING


Restaurants

Asian


Veggie

Junk Food


Chinese

Italian


International


Visas 4 aliens
RECREATION


Massage!


Beaches

Fly Kites


Sports

Boardwalk


Parks

Pets


Birdwatching


Kung Fu

Hiking


Music Events


Festival&Culture


Humor&

Fun Fotos


BUSINESS


Doing Business


Jobs!(teach/work)


Hire Workers


Foreign Companies


CIFIT (Trade Fair)


MTS(Translation)



Back to Top