AmoyMagic--Guide to Xiamen & Fujian

Copyright 2001-7 by Sue Brown & Dr. Bill

Order Books


Main Page Business Links Recreation Links Google Search E-mail




Housing in Xiamen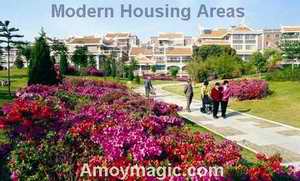 Xiamen's Laowai (foreigners) have many choices for housing, ranging from inexpensive apartments to luxurious seaside or mountaintop apartments. We love the seaside apartments in Zeng Cuo'an (on the island ring road past Xiamen University), which you can get for 400-500 USD monthly, and if you don't mind living in a village you can rent an entire 3 or 4-storey homes for only 5-600 USD monthly.

Many foreigners live in more luxurious (and costly) apartments on Yuandang Lagoon, near Marco Polo and convenient to Tutto Bene Italian Restaurant and Javaroma (finest hamburgers in town!). If your company's footing the bill, go for The Pinnacle near the Huli Tunnel, or Taiwan Villas (across from SM Mall and the Wal-Mart Supercenter).
Settling Down? Contact Orient Plus! Whether renting or buying you'll need reputable help to land the best location and deal . Get that help at Orient Plus, because Ms. Eunice Chen (Hu¨¢ng Ji¨¡l¨¬, »Æ¼ÎÁ¦) is the newcomer's best friend!
Eunice offers 1- or 2-day Newcomer Orientations, and will refer you to foreign language-speaking housing agents, explain where to find quality medical and dental care or K-12 education for the kids. If you want to explore the area, she can refer you to travel agencies and guides well-experienced with Laowai. Finally, her company,Orient Plus, also offers some of the most comprehensive "Business Services" on the island. (And no--we get no commission for referring her--but the gratitude from the many people she has helped is remuneration enough!).
Contact Orient-Plus. Tel: 5811891 13906028020
Fax: 581-1718 Add: Unit 1206 H¨£ixi¨¡ Bldg., H¨²b¨©n X¨© L¨´.
E-mail: Eunice.orientplus@gmail.com
Contact Xiao Zheng for Beachfront Rentals! We have many real estate agencies, including Century 21, but for private housing,especially near the beach, try Xi¨£o Zheng. Tel: 889-0841. He can help you find nice places near the Island Ring Road for 250 to 300 USD per month.
********************************************************************
We recently visited a Japanese family that just moved into a nice condo with a beautiful view! They are on the 29th floor, and their two bedrooms and living room have a spectacular view of the new suspension bridge. At night, the bridge and city all lit up is quite a breathtaking sight!
Their condo is just off of Xia He Lu in the Guang Ming Da Xia building. The address is 183 Dou Xi Road
Their 2 bedroom/2 bath plus maid's quarters/storage room is 2,000 rmb per month.
For more information call 222-9769 or 13906003566 and ask for
Miss Hou Yan Ni. She only speaks Chinese.
You might also contact Mr. Hugh Bing, though he's quite busy and not always easy to get hold of.
Mobile phone: 1360 691-9006 E-mail: Hughbing@hotmail.com

Click to E-mail


Readers'Letters

Last Updated: May 2007


Back to Top