AmoyMagic--Guide to Xiamen & Fujian

Copyright 2001-7 by Sue Brown & Dr. Bill

Order Books
Main Page
Business Links
Recreation Links
Google Search
E-mail
Amoy Magic--Guide to Xiamen &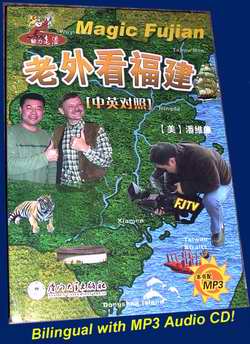 Fujian!
Copyright 2005 by Dr. Bill Brown, Xiamen University MBA Center
"Magic Fujian!" (Chinese/English parallel with MP3 Audio CD) Over 350 pages, with B&W and color photos
"Magic Fujian" was based on the 60 mini-episode "Laowai Kan Fujian" ("A Foreigner's Fujian") TV-series I wrote and filmed for Fujian Provincial TV.
Available in Xiamen bookstores (Try Nissi Bookstore) or Click Here to order online from the U.S. or Holland
Magic Fujian Contents
Preface by President of Fujian Media Group
Foreword by Dr. William N. Brown
Episode 1 San TongYi Jia [3 Links 1 Family]
Episode 2 Tan Kak Kee [Founder of Xiamen University]
Episode 3 Garden Island Vacation
Episode 4 Gulangyu, the Piano Island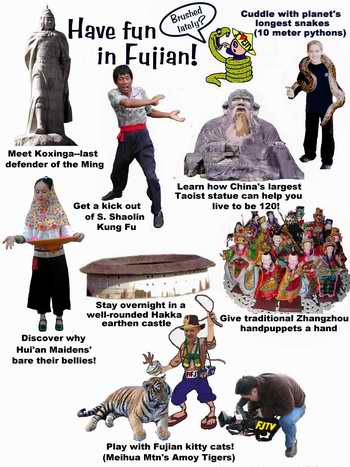 Episode 5 Xiamen Architecture
Episode 6 Xiamen¡¯s Economics, and CIFIT[China Intl Fair for Investment & Trade]
Supplementary Reading One Dethroned
Episode 7 Fabled Quanzhou¡ªthe Great Melting Pot
Episode 8 Quanzhou, Masters of the Sea
Episode 9 Zhenghe, the Great Admiral
Episode 10 Quanzhou, the Holy Land of Ancient China
Episode 11 Quanzhou, the Holy Land of Foreign Religions
Episode 12 Quanzhou Culture
Episode 13 The Walled City of Chongwu
Episode 14 Hui¡¯an Stonemasons & Hui¡¯an Maidens
Supplementary Reading Two Half the Sky---Get a Baomu
Episode 15 Zhangzhou¡ª¡°Land of Plenty¡±
Episode 16 Changtai, Xiamen¡¯s Backyard
Episode 17 Dongshan Island, Fujian¡¯s Hawaii
Episode 18 Koxinga, Liberator of Taiwan
Episode 19 Introduction to Ningde
Episode 20 Sandu¡¯ao, the World¡¯s Deepest Ice-free Harbor
Episode 21 Xiapu, a Holy Place
Episode 22 Yangjiaxi Bamboo Raft Rides
Episode 23 Taimu Mountain: Nature and Religion
Episode 24 Naturally Air-conditioned Zhouning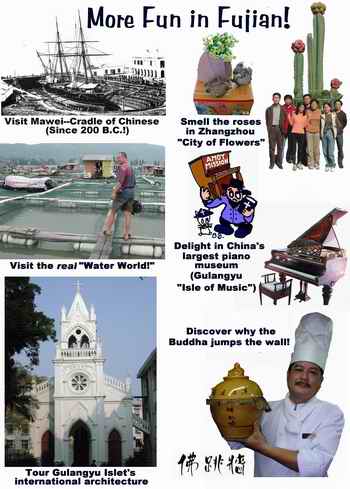 Episode 25 Zhouning Carp Village
Episode 26 Zhouning Granny Xu and Kung Fu Fighters
Episode 27 Nine Dragon Falls and Baishuiyang
Supplementary Reading Three Pew Perils
Episode 28 Fujian Bridges
Episode 29 Fuzhou, the Banyan City
Episode 30 Mawei, the Cradle of Chinese Seamanship
Supplementary Reading Four McChina
Episode 31 Fuzhou Food
Episode 32 Introduction to Wuyi Mountain
Episode 33 Wuyi Mountain¡ªFujian¡¯s ¡°Garden of Eden¡±
Episode 34 The origin of Min, Relic of the Han Town
Episode 35 Wuyi Tea, Soup for the Souls
Episode36 Introduction to Putian
Episode 37 Mazu, the Sea Goddess
Episode 38 Putian, City of Lychee
Episode 39 Xianyou ¨C Nine Carp Falls and Dream Praying
Episode 40 Xiamen International School
Supplementary Reading Five These are the Magi (Gift-giving in China)
Episode 41 Nanjing¡¯s Hakka Roundhouses
Episode 42 Yongding Roundhouses
Episode 43 The South China Tigers of Meihua Mountain
Episode 44 Liancheng¡¯s Guanzai Mountain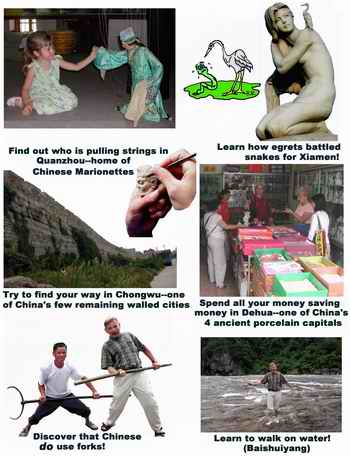 Episode 45 Changting¡ªthe Little Red Shanghai
Episode 46 Ancient Hakka Changting
Episode 47 Changting¡¯s Unusual Religious Sites
Episode 48 Tufang Village & Hakka Cuisine
Supplementary Reading Six Nights of the Round Table
Episode 49 Introduction to Sanming
Episode 50 Sanming, the Ancient Culture and Geshikao
Episode 51 Ancient Shaxian
Episode 52 Shaxian¡ªFujian¡¯s Gourmet City!
Episode 53 Mingxi, the Gem Capital of Fujian
Episode 54 Shibi¡ªHakka Homeland
Episode 55 Taining ¨C the Ming Dynasty House and the Gold Lake
Episode 56 Tea Capital of Anxi
Episode 57 Porcelain Capital of Dehua
Episode 58 A Yen for Yongtai
Episode 59 Fuzhou¡¯s Colonial Architecture
Episode 60 The Fujian of the Future!
Fascinating Fujian Destinations! (Outside Xiamen)
Mythical Zaytun (Quanzhou) Start of the Maritime Silk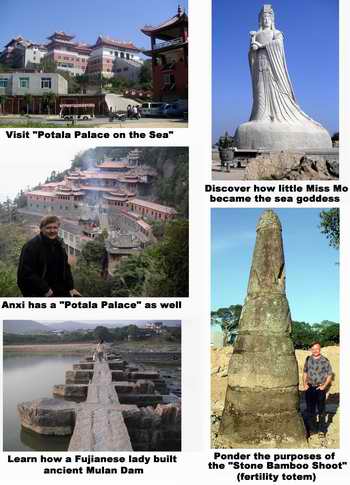 Road!
Quanzhou Marionettes
Fujian's Marvelous Wooden Bridges!
Zhangzhou Ancient City of Flowers
Hakka Roundhouses Unique earthen castles
Ningde Birthplaces of S. China Civilization?
Water World (Sandu'ao) Fishing Villages Upon the Sea!
Xiapu Rafting, Kukai's Temple (Japanese), Seafood, deng deng!
Zhouning (my favorite!) Zhouning Thumbnails Delightful place--China's largest waterfalls complex, Kungfu fighting highlanders, carp worshippers...
Wuyi Mountain Amazing historical, cultural and natural attractions

Fujian Foto Album!!!

An Intro to Fujian and How I Got Here
Extra Reading!
Want to learn Chinese? Click here to learn why I'm Mad About Mandarin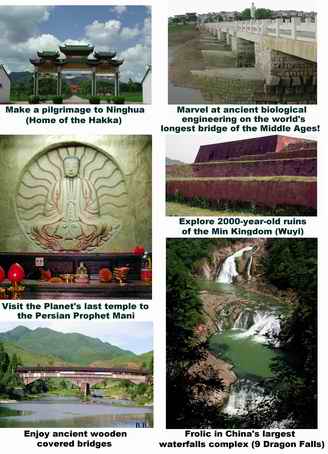 Click Here for Misc. articles on everything from Darwinian Driving to "Around China in 80 Days"
How and why did we Westerners open up Xiamen and Fujian to trade? You'll be glad the Chinese are such a forgiving people after you read my brief overview of
The Opium Wars
For more insights on Fujian, read these Travelogues by Scott Ballantyne! (Xiamen ABB)

Other Miscellaneous Writings on Chinese Subjects
Back to Top AmoyMagic Guide to Xiamen and Fujian
Return to Main Menu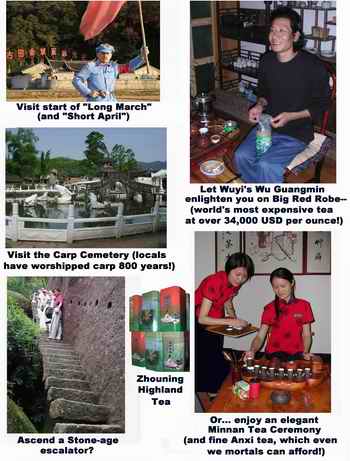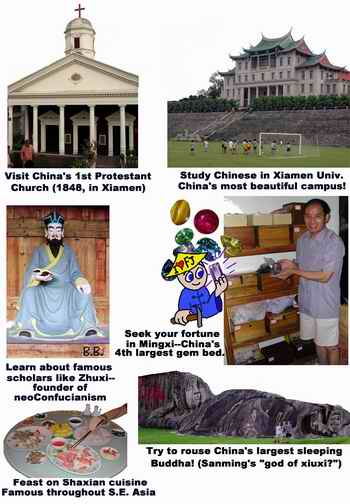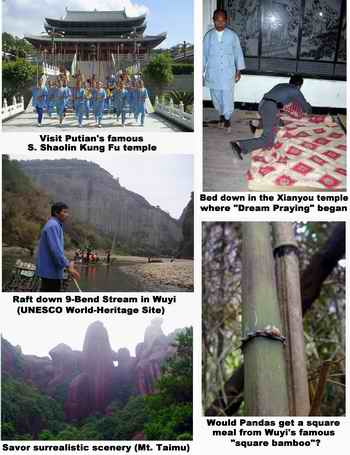 TRAVEL LINKS

Favorite Fujian Sites

Fujian Foto Album

Xiamen

Gulangyu

Fujian Guides

Quanzhou

Z
hangzhou

Longyan

Wuyi Mtn

Ningde

Putian

Sanming

Zhouning

Taimu Mtn.

Roundhouses

Bridges

Jiangxi

Guilin

Order Books

Readers' Letters

Click to E-mail


Readers'Letters

Last Updated: May 2007


Back to Top