Click to Access
OUTSIDE China


Click to Access
INSIDE China


TRAVEL LINKS


Xiamen

Gulangyu


Jimei

Tong'an


Jinmen

Zhangzhou


Quanzhou

Wuyi


#1Fujian Sites!


Fujian Foto Album


Books on Fujian


Readers'Letters


Ningde

Zhouning


Longyan

Sanming


Putian

Bridges


Travel Info,


Hakka Roundhouses


Travel Agents

MISC. LINKS


Amoy People!


Darwin Driving


Amoy Tigers


Chinese Inventions


Tibet in 80 Days!


Dethroned!


Misc.Writings


Latest News


Lord of Opium


Back to Main Page
AmoyMagic--Guide to Xiamen & Fujian

Copyright 2001-7 by Sue Brown & Dr. Bill

Order Books


Main Page Business Links Recreation Links Google Search E-mail




Ningde Main Page Xiapu Taimu Mtn.
Zhouning Zhouning Photo Album

The two lane road to Xiapu is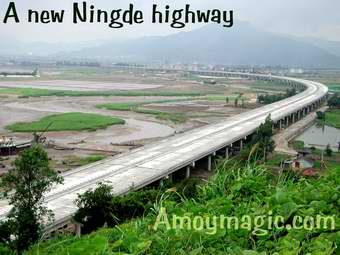 a ribbon of tar barely two lanes wide, and veers around mudflats and slithers across endless mountains, but great concrete pylons were being driven far out into the basin of the bay. A few years from now I'll be able to streak like an arrow high across valleys, marshes and fishponds on a new not-so-freeway (the 3-hour Xiamen to Fuzhou drive costs me over $60 USD in tolls!).

The Xiapu roads wound so tightly I feared I might meet myself coming the other way. Fields far below are covered with grape arbors, and tea bushes perch on mountains above.

Between tea and grapes they must really drink in the profits.
A sign in crimson characters said "??" (Xianquan: Celestial Spring). I almost drank of the Celestial Spring myself when a trucker came barreling down the middle of the road, hands on his horn. We'd have scraped each other if Toy Ota had a thicker paint job.
Back to top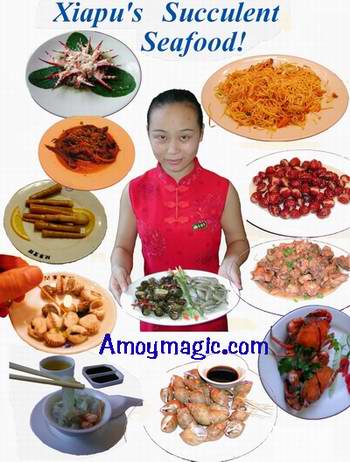 Of Mussels and Men Two Xiapu Foreign Affairs reps, whose job it is to insure foreigners don't have affairs, met me at Xiapu's "Run Slowly!" sign. I topped off Toy Ota at the China Petro, then topped off my tummy at the guesthouse restaurant. And I learned why longtime Xiamen resident Scott Ballantyne, from England, raves about Xiapu seafood. Read his essay (where you'll find why Scott wears a skirt).

Fish Noodles (Yumian) were my favorite dish. My host said, "These are all over Mindong but ours are best because we have the freshest seafood. Same goes for blood snails. You can find them from South Fujian to Dalian in the north, but Xiapu's are best."
"And Xiapu beauties are famous," the driver said. "It's because of the pure water and air and soil. Isn't this waitress beautiful?" He thrust her before me as if she were part of the menu; appetizer or entrée I wasn't sure. I asked if I could check her teeth but everyone just stared at me. I guess they'd never bought a horse before.
After the maiden came mussels, fish, two kinds of crab, deep fried seaweed, and mianrou (a tasty mix of shellfish and veggies). "The shellfish aren't so good today," my host apologized. "The typhoon yesterday stirred up the mud." As if I could tell!

As we evicted hundreds of hapless snails from their shells and ate to extermination a few dozen species of sea critters, I was given an intro to Xiapu's history. I was surprised to learn that backwater Xiapu, formerly Funing Fu, once administered the entire stretch of coast from Putian in the south to Zhejiang's Wenzhou in the north. A stone with ancient Chinese characters shows Xiapu is older than the hills. The Japanese bombing and the decline of sea commerce hastened Xiapu's decline, but like Ningde, Xiapu is counting on the Fuzhou—Wenzhou not-so-freeway to revitalize the economy.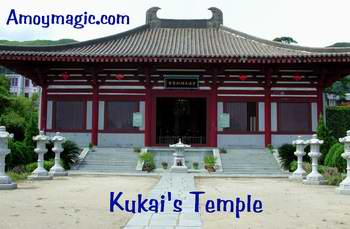 Back to top
Japanese Holy Land Kukai, the founder of Japanese Esoteric Buddhism, was rescued by Xiapu people after being shipwrecked here in 804 A.D.. He went on to study in the ancient capital of Chang' An (near present-day Xi'an) and returned to Japan to found yet another Buddhist sect, the Shingon Sect.

It's odd how celibate monks become so preoccupied with sects.

Today, Japanese pilgrims visit two or three times yearly, and some take home small sacks of sand as souvenirs. And it's obvious Japanese are the temple's primary patrons because everything has Japanese price tags. Kukai's wooden statue cost 430,000 Yuan. The embroidered pieces, brought from Japan in 1994, cost 200,000 RMB each. The gold-plated copper chandelier cost 210,000 RMB! I could have sold them a better fluorescent lamp for only half that.
Kukai was credited with miracles like creating springs for drought-stricken farmers—but this one has some basis to it. Shikoku's largest reservoir, which covers 3,600 hectares, was destroyed by a flood in 818. After repeated failures to repair it, Kukai was called in to direct its reconstruction because he was a native of the area. Legends say magic insured his rapid success where others had failed. In fact, his secret was great rapport with the common people, who trusted and loved the man who had abandoned his well off lifestyle to become an ascetic monk. It's ironic that nowadays so much is spent on his behalf.
After the nickel temple tour we headed further north to the bamboo rafting area, about an hour out of Xiapu. I followed a Xiapu government sedan at 90 to nothing over roads so bumpy that poor Toy Ota was airborne half the time. "We call these 'rubber roads,'" the Xiapu FAO rep said. "But Fujian is spending 7.7 billion Yuan on highways and tunnels."
"7.7 billion?" I asked. "That's more than I make in ten years."
Back to top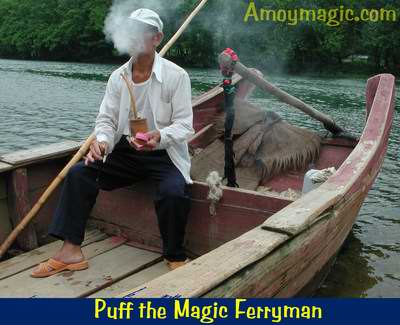 Ferry Man You can't beat Xiapu's bamboo rafts and banyans, but the highlight this time around was the pipe-smoking ferryman, Mr. Chen. In his 70s, he still works the river's ferry daily. Between trips, he puffs on his bamboo water pipe. For every puff he had to stuff the pipe with a pinch of green tobacco, cup it carefully to shield out the wind, and strike a match to it. But he was rewarded each time with a cloud of smoke any dragon would have envied. And though I detest cigarettes, his tobacco smoke had a pleasing aroma, like my dad's old cherry pipe tobacco.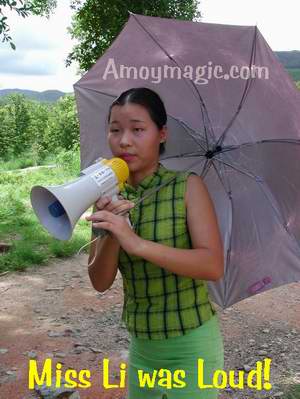 Xiapu River Rafting http://www.yangjiaxi.com.cn
Our Xiapu River Rafting guide, Miss Li, was armed with a purple umbrella to ward off the sun, and a megaphone that she kept aimed at my head, even though we were close enough she could have whispered her narrative (well, not that close, Susan Marie!).

Village boys doggedly trailed us as if on the scent of a ring-tailed coon, but I treed them rather than the other way around. Incurable hams, they happily posed for photos like monkeys, high in the grove of exotic banyan trees. I remarked on their bright eyes and clear complexions, and a grandpa said with no little pride, "Pure air, clean water."

"What about the soil?" I jibed.

"Of course! Lots of minerals, you know."

Maybe that accounts for Mindong folk's iron resolve.

We boarded the bamboo rafts and Miss Li stuck her megaphone in my face and said, "This became a 2nd class scenic area in August of '98."

I said, "I hope the rafts are 1st class because my swimming is not."

She ignored me, and performed the perfunctory Fujian tour guide's "Pure Water" lecture. "The river is pure mountain water! It's so clean you can drink it without boiling it first. It's very medicinal…"
"It looks muddy to me," I noted.

"The typhoon last week stirred it up," she said.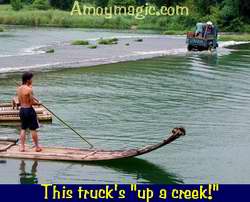 "Well, I could always pretend its coffee," I said.

Up a Creek! I never underestimate Chinese, but Xiapu truckers blew me away! They drove right up to the river's edge—and then kept going! They crossed it on a narrow dam that I'd have hesitated to walk across. I figured if they could pilot the river in trucks, I could trust them to get a bamboo raft upriver without dunking me.
Back to top
Pregnant Pythons & Crocodiles Wild loquats lined the riverbank. In season, five Yuan gets you all you can pick and eat, but no doggy bags . Miss Li was perched on the bamboo bench beside me, but she still stuck her megaphone in my ear and said, "The rocks, cliffs and hills all have names."

"Really?" I said. I explained I wasn't into rock but she rolled on.

"That hill behind 'turtle rock' is the golden ox," she said. (It was gray granite, not gold). "The rock to the left resembles a pregnant python sidesaddle on a crocodile. The rock on the cliff is like a mandarin's hat—or maybe a tomb. And there's a crying carp in that depression over there."
No wonder it was crying. Five Xiapu farmers, cane poles in hand, were angling for some of the great golden fish.

Our guide totally ignored a picturesque little waterfall, probably because it didn't remind her of anything. But it reminded me of our toilet in Xiamen, which runs 24 hours a day, all four seasons.
"That island over there is full of butterflies in August," said Miss Li.

"This is August," I said.

"It's the wrong time of August," Miss Li explained, and I think she upped her megaphone a notch out of sheer revenge.

Luny Calendar Maybe Miss Li meant the lunar calendar. Chinese can really throw us Laowai by switching back and forth, with no warning and heedless of the Geneva Convention, between Gregorian and Loony calendars. Someday I'll probably depart some place three weeks before I even get there.

"Leaves turn red and gold in autumn," Miss Li said. "And when Mandarin ducks arrive in December, we feast on mandarin duck rice, roasted mandarin duck, and mandarin duck pie, all washed down with mandarin duck wine."

The 1,000-year-old Guanyin Hall was just beyond Xiaping Yangcun hamlet, but the boatmen said, "We must turn back now. The typhoon stirred the waters too much. Just when I was really getting into Ms. Li's lecture.

The forest path to the parking lot was so neatly kept it reminded me of the orderly German forests where one expects the birds to chirp only on the hour, sharp. But this forest was not quiet. The cicadas were noisier than a Cantonese restaurant. I didn't even hear the card game until I was right on top of the 3 girls and 1 guy at a granite table beneath a pine tree. The man laughed as one girl placed her watch on the table. A wager? Further down the path, two young men played cards at another mossy stone table, but their hearts weren't in the game. They furtively watched the other fellow and his three female friends, and I wondered if they were scheming to join the party or fuming at being kicked out of it.

All too soon it was time to leave the beautiful places and people, young and old, of Xiapu. I will return.
Back to top

Laowai Exchange My Xiapu hosts handed me over to the Fuding folk so efficiently that I suspect they even got a receipt for me. And maybe they did. Over 1,000 years ago, the Chinese government gave foreign guests escorts, at government expense, not to keep an eye on them but to protect them. At each stage of the foreign friend's journey they were handed over to new hosts, and given a receipt—and heaven help any official who allowed a foreigner to come to harm!
With one Fuding official riding shotgun , Toy Ota tailed the Fuding car at breakneck speed towards Taimu Mountain. As we bounced violently I apologized to Toy Ota, though under my breath of course. It would not do to let my new passenger hear me conversing with my car. That's not Laowai. That's Laoweird.
Click Here for "My Xiapu Adventure!"
..........by Mr. Scott Ballantyne (Xiamen ABB)
Back to Top AmoyMagic Guide to Xiamen and Fujian

Click to E-mail


Readers'Letters

Last Updated: May 2007


Back to Top


DAILY LINKS


FAQs Questions?


Real Estate


Shopping

Maps


Bookstores


Trains

Busses


Car Rental


Hotels

News (CT)


Medical & Dental


YMCA Volunteer!


XICF Fellowship


Churches



Temples


Mosque


Expat Groups


Maids

Phone #s
EDUCATION


Xiamen University


XIS(Int'l School)


Study Mandarin


CSP(China Studies)


Library

Museums


History
DINING

Tea Houses


Restaurants

Asian


Veggie

Junk Food


Chinese

Italian


International


Visas 4 aliens
RECREATION


Massage!


Beaches

Fly Kites


Sports

Boardwalk


Parks

Pets


Birdwatching


Kung Fu

Hiking


Music Events


Cinema


Festival&Culture


Humor&

Fun Fotos


BUSINESS


Doing Business


Jobs!(teach/work)


Hire Workers


Foreign Companies


CIFIT (Trade Fair)


MTS(Translation)



Back to Top