AmoyMagic--Guide to Xiamen & Fujian

Copyright 2001-7 by Sue Brown & Dr. Bill

Order Books
Main Page
Business Links
Recreation Links
Google Search
E-mail

Planes, Trains and Buses
--Getting About in Amoy

Travel Links:

Bilingual Train Schedule

Bus Schedule

Car Rental

"Arcane Art of Mini-bussing" (packing us in!)

In & Out of Xiamen Cheap

Travel Services/Agents

Darwin Driving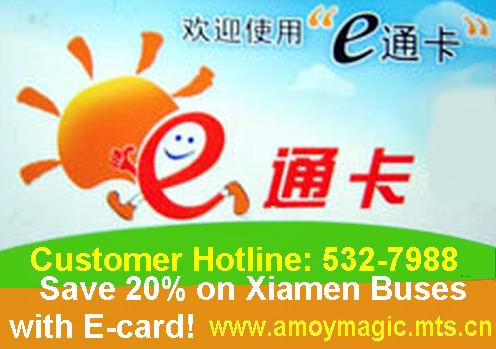 Note: our beloved Hong Kong<-->Xiamen Ferry is out of service (our favorite--we took this ferry between Hong Kong and Xiamen over 30 times!). The Gulangyu Ferry, by the way, runs every 15 minutes or so.


Cheapest way to and from Xiamen? From non-Asian countries without direct flights to Xiamen, fly to Hong Kong and take the 9 1/2 hour HK-Xiamen bus on the scenic freeway. The $40-50 USD Fare includes a 1/2 hour lunch in a nice hotel.
...Want Cheaper? Take a boat,a train or a bus to Shenzhen (neighbors Hong Kong); Shenzhen buses to Xiamen are cheaper, but the border crossing is a pain, and you must run the gauntlet of folks who'll grab your bags for you, despite your protests, lug them up and down steps, and then charge you a pretty penny (if you get your luggage back at all). One of my friends broke his leg when he fell down the steps chasing a man who'd taken his luggage. And the border's pickpockets are brazen. I suggest you avoid the Shenzhen border crossing (unless you take the HK--Shenzhen Ferry, which is fine).

Hong Kong--Xiamen bus tickets are available at many HK travel services.
Click Here for China Travel Service, Hong Kong.
You may book bus tickets in advance from Mangocity.com

Best Airport: Incheon, in Seoul! If you fly to Xiamen, we suggest going through our favorite airport--Seoul. Voted the planet's best airport, it has free internet, nice free lounges with couches for snoozing, etc--and you don't have to deal with checking luggage through customs in China or Hong Kong, and receiving the miniscule "Inter-Asia" luggage allowance.



Back to Top

Xiamen University Travel Service

(next to the univ. post office)
Tel: 218-3083 or 208-6267

C&D Travel (They speak English, and provide English guides, cars and drivers, etc.)

7/F Sealight Building Bldg. Xiamen, China 361001
Contact: Jeffrey Zhou or Stephen Chen
Tel: 592 2263857 2263859
Website: http://www.sino-trip.com


E-mail:jeff@sino-trip.com chw@sino-trip.com
MSN: jeff_599@hotmail.com amoychw99@hotmail.com

China Youth Travel Service

#65 Bai Lu Road Tel: 205-3188

Sino Pacific International Travel Co.

Bldg. D 4/F North Block.
Hongshan Building, N. 287 Siming S. Road Tel: 205-5648

China International Travel Service N. Hubin Road, Zhenxing Mansion, 15/F Tel: 505-1825 or 505-1822

CITS

2-3 Zhongshan Road Phone: 202-0658


*************************************************************


TRAVEL LINKS

Favorite Fujian Sites

Fujian Foto Album

Xiamen

Gulangyu

Fujian Guides

Quanzhou

Z
hangzhou

Longyan

Wuyi Mtn

Ningde

Putian

Sanming

Zhouning

Taimu Mtn.

Roundhouses

Bridges

Jiangxi

Guilin

Order Books

Readers' Letters

Click to E-mail


Readers'Letters

Last Updated: May 2007


Back to Top