Click to Access
OUTSIDE China


Click to Access
INSIDE China


TRAVEL LINKS


Xiamen

Gulangyu


Jimei

Tong'an


Jinmen

Zhangzhou


Quanzhou

Wuyi


#1Fujian Sites!


Fujian Foto Album


Books on Fujian


Readers'Letters


Ningde

Zhouning


Longyan

Sanming


Putian

Bridges


Travel Info,


Hakka Roundhouses


Travel Agents

MISC. LINKS


Amoy People!


Darwin Driving


Amoy Tigers


Chinese Inventions


Tibet in 80 Days!


Dethroned!


Misc.Writings


Latest News


Lord of Opium


Back to Main Page
AmoyMagic--Guide to Xiamen & Fujian

Copyright 2006 by Sue Brown & Dr. Bill

Hakka Photo Album Click pictures below for larger images

Hakka Earthen Fortresses (tulou)


Suggested Itinerary (there & back in onepiece)

(CIA Hakka Silo Scare)


Advantages of Earthen Architecture

Any visit to West Fujian must include the Hakka ("Guest People") earthen castles, which fascinate foreign and Chinese tourists, international architects, and even the Pentagon (Reagan and the CIA thought their spy satellites had revealed hundreds of missile silos).
I asked a Hakka if his satellite dish was for missiles. "No, no!" he said. "Television! Basketball!"
" "Just joking!" I said, but that joke bombed.


"…the only ones that are fairytale-like village buildings, shaped like a huge mushroom out of the ground, and a UFO dropped from the clouds."
Chinese Roundhouse Brochure


Most earthen castles are not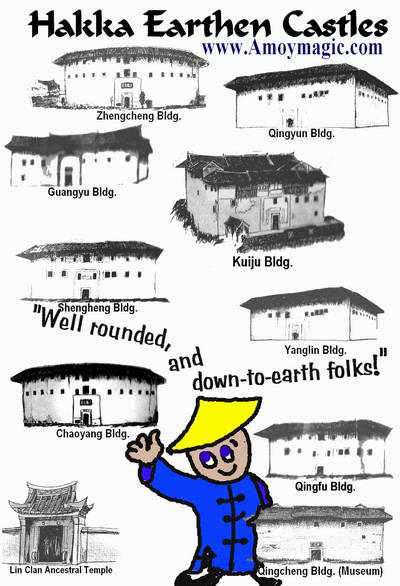 tourist traps. People really live and work here, and invariably, when you show up on their doorstep they will grin and say, "You've come! Have some tea!""

Many earthen houses are round. This not only keeps wives from cornering their husbands, but also helps fend off bandits and warlords, as well as their local "hosts", who did not always welcome the waves of Han Chinese immigrants who 1,000 years ago showed up from the Central Plains, said, "We're the 'Guest People,'" and never left.

If my guests stuck around 1,000 years, I'd shred the welcome mat.
Click for more Hakka History

Hakka Earthen Castles are inexpensive to build and maintain, last forever (some are over 1,000 years old), and are so aesthetic they appear to have sprung from the very earth itself.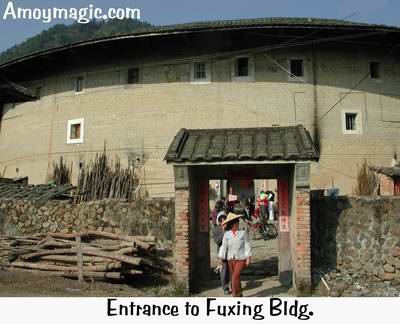 Earthen homes are rammed into shape, layer by layer, using a mix of raw earth, sand, lime, glutinous rice, and brown sugar, and reinforced with 'bones' of bamboo and wood. Only upper floors have outer windows, and the massive wooden gates are sheathed in iron.
The first floor is for cooking, eating, socializing, and working. Grains and grandparents are stored on the second floor. The spryer young folk live on the third and fourth floors. Central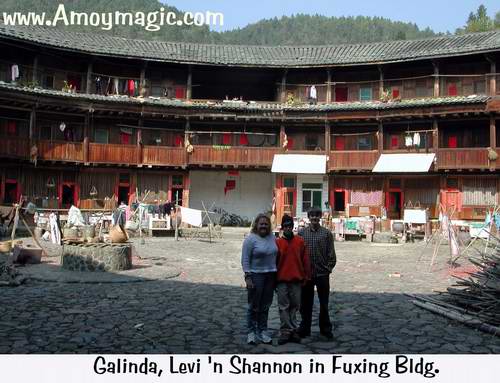 courtyards usually have a well, mill, threshing floor, ancestral hall—everything but a basketball court.
I've visited the Hakka houses at least 30 times. I love driving the winding road through Nanjing's lush valleys, and then visiting Yongding's earthen castles, and returning to Xiamen via the Longyan-Xiamen highway. The trip can be done in a one day 14 hour marathon, but it's easier on the body to spend a night in a roundhouse, and it gives you a chance to sample unique local mountain delicacies, some of which have quit moving.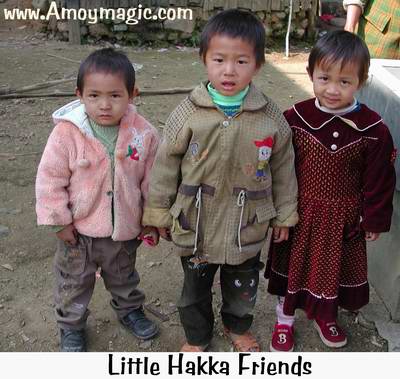 Only about 360 earthen castles are round nowadays. The other 4,000 are square. A complex of five castles built in the 1950s is said to represent the five stars of China's national flag. But my favorite roundhouse is Prosperity Castle (Fuxing Lou) in Nanjing's Chizhou Village.
Prosperity Castle (Fuxing Lou) was built in 1963 by the Xiao Clan. The three-story roundhouse has two outer rings. I asked how much the building cost to build. The wooden balconies, doors, and gates alone must have cost a fortune.
"Not a penny!" said the headman "It took 3 years to build, but the earth and wood were all local, and the Xia Clan provided the labor…But trees are protected now, so no more roundhouses."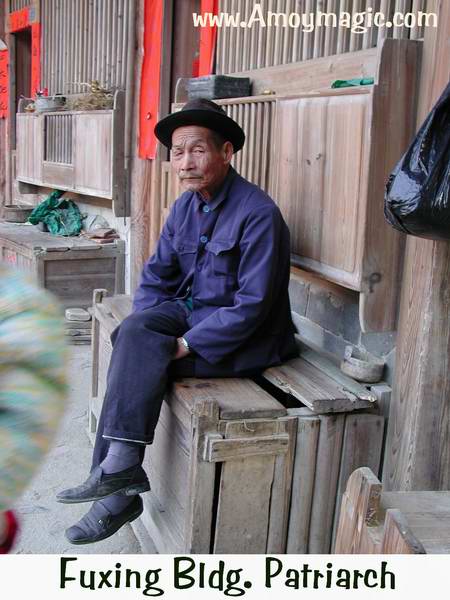 Many Generations Fuxing Lou is home to 4 generations of Xiao—about 214 people, from newborns to octogenarians. And like Chinese elsewhere, they greet you with, "You've come. Have some tea!"

I reciprocate by bringing bags of candy for the kids, who of course are too polite to accept it. So I have a granny divvy up the goodies (after she pockets a few pieces that she'll gum for the rest of the day).
American children often whine, "Dad, there's nothing to do!" But Fuxing Lou's children are never idle.

After school, pig-tailed girls sing and skip rope, and boys play pebble chess, hoop and stick, skip stones on the scummy duck pond, or pester calico cats that regard Laowai and Laonei alike with their patented air of regal indifference. Cats, worldwide, ignore the lesser human species unless we're too busy for them—in which case they're in our lap in an instant.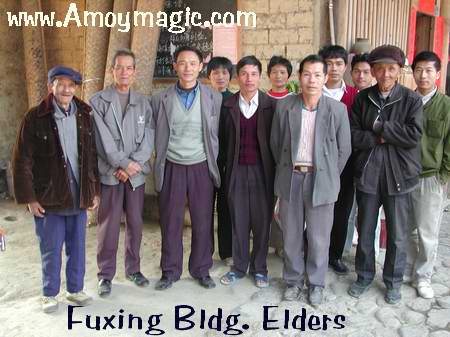 I've visited roundhouses at least a dozen times, and they were one of the first places I showed my sister, Galinda Fleming, when she visited China. She too fell in love with the people. But she wasn't overly keen on the outdoor toilet, which was just a hut with two planks over a ditch. Bu Yao Jin! No worries, mate! I'm not sure if they got it on film, though, when I helped make a TV documentary about village life, and drove the film crew in Toy Ota to Prosperity Castle. The cameraman asked where the WC was and I said, "Bu Yao Jin." No worries, mate! Step right this way!"
Hakkaland enchantments are endles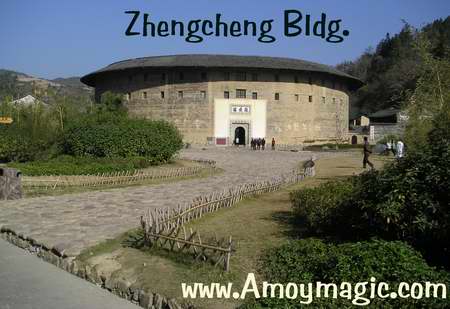 s, but I think the absolutely most beautiful scene is just 15 or 20 minutes west of Prosperity Castle. High on a curve, look down to the valley far below on the right and you'll see a cluster of over half a dozen round and square earthen buildings, as well as a green roofed ancestral temple.

If you're not up for the lovely but tiring traipse down the narrow path, a couple of hundred meters further, a road leads off the right and down into the valley, right to the roundhouse doors, and the inevitable chorus of, "You've come! Have some tea."

"Official" Tourist sites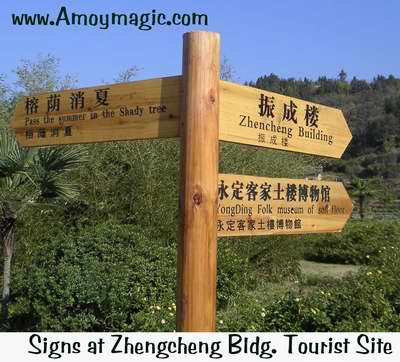 —Just for the record
Zhengcheng Castle is, officially at least, the #1 earthen attraction. It was built in Hukeng Town's Hongkeng Village in 1912, and has two concentric circles. The outer building has 48 rooms on each of four floors; the inner circle has 30 rooms on two floors. An ancestral hall with four massive granite pillars dominates the courtyard.

Chenqi Castle, in Guzhu Town's Gaotou Village, was built in 1709. This 5,300 sq. m. castle has 400 rooms, 3 gates, 2 wells, 400 people in 60 households, 14 cats, 37 kittens, and a few mutts who have miraculously escaped the wok. The outermost wall is 73m in diameter, four stories high, and has 72 rooms. The middle circle has two floors and 80 rooms. The inner circle has one floor and 32 rooms.
Extinguished ancestors hold court in the central ancestral hall.

Yijing Castle, in Gaobo Town's Shanya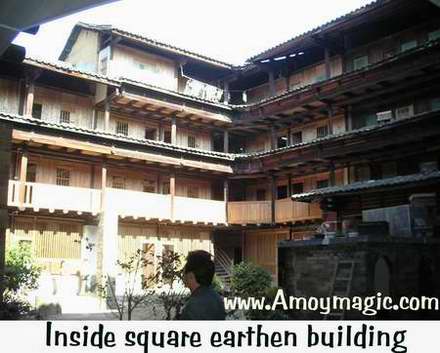 ng Village, was built in 1851, and has a 136m by 76m rectangular outer wall. The main tower in the rear is 5 ½ stories high, and the adjoining three buildings are 3 stories high. The castle has 280 rooms, 51 halls, two schools, and three flea-bitten dogs far too scrawny to stew.

"It was a hobbit-hole, and that means comfort." J.R.R.Tolkien, "The Hobbit."

Earthen architecture is gaining popularity worldwide.

Click Here to read about the advantages of Earthen Architecture
Zhengzheng Bldg. Hakka Cultural Village I used to take visitors only to the "real-life" earthen villages, and skipped the so-called tourist trap, but since the Yongding government created it's Hakka Cultural Village, I'v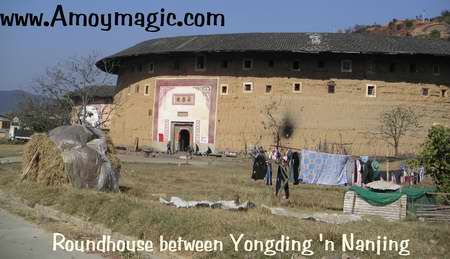 e changed my tune. They tore down much of the new, imappropriate architecture, and now the entire area is much like a Hakka Park. Even the W.C. (public toilet, for us Americans) is designed like a roundhouse! The professional tour guides at Zhengcheng building give excellent introductions to the history and culture behind the Hakka earthen buildings, and how they are built. And just outside the gate, locals Hakkas will off you inexpensive rooms for the night (only 40 Yuan a night--5$ USD, with private bath). It's worth spending a few days there!
A Bit of Hakka History The Hakka fled south to escape war and famine during the Qin Dynasty (221-206 BC), when Han general Ran Min slaughtered the Jie tribe because they had bigger noses. While Hakkas headed south, the nomad Huns fled west. Some Chinese scholars claim the Huns settled Hungary.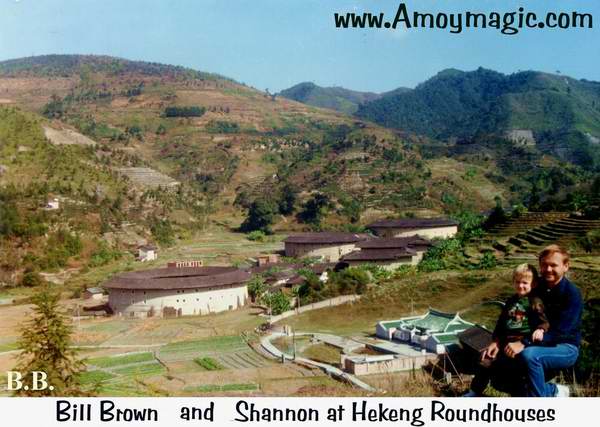 How ironic that Huns fleeing famine still went Hungary.

Hungry Huns have vanished, but industrious Hakka, who emphasized agriculture, self-sufficiency, and education, hang in there. Fiercely proud of their Han heritage, Hakkas are more meticulous than Mormons in keeping genealogical records. A Malaysian Hakka, Eng-Seng Teoh, claims to be a 149th generation descendant from the mythical Yellow Emperor! The Hakka may even have relatives in Japan.

Hakka Japan? About 219 B.C., Qin Dynasty Emperor Shi sent Xufu with 3000 boys and girls to obtain longevity pills from present day Kyushu, Japan. Either he never found the pills or he got a pirated batch, because Xufu died. His tomb is still in Japan, and the Yamato clan is his crew's descendants.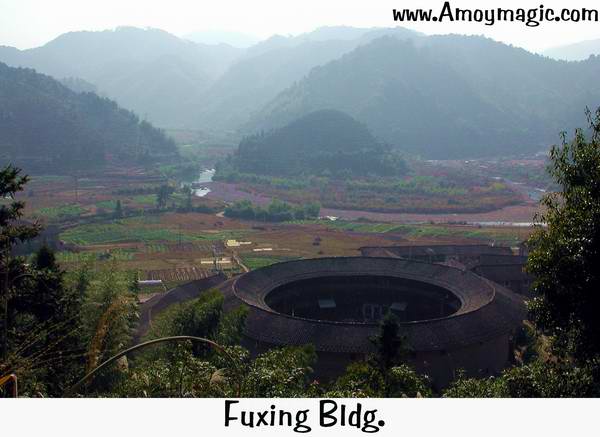 Xufu's arrival in Japan happened to coincide with Japan's evolution from hunting and fishing to a sophisticated civilization similar in many ways to the Qin Dynasty. Even today, every 50 years the Japanese celebrate the birth year of Shen Wu Tian Huang, the Father of Japan, who lived around Xufu's time. So who knows? Maybe even Japan was "Made in China!"

Linguists say Hakka resembles Japanese, and I agree. Both are unintelligible. And DNA tests show similarities between Japanese, Koreans and Hakkas. It is also said that Hakka and Japanese are alike in their stubbornness and adherence to tradition—though if stubbornness is a factor, my blond wife Susan Marie is Hakka, Japanese, or both.
Back to Top AmoyMagic Guide to Xiamen and Fujian


TRAVEL LINKS

Favorite Fujian Sites

Fujian Foto Album

Xiamen

Gulangyu

Fujian Guides

Quanzhou

Z
hangzhou

Longyan

Wuyi Mtn

Ningde

Putian

Sanming

Zhouning

Taimu Mtn.

Roundhouses

Bridges

Jiangxi

Guilin

Order Books

Readers' Letters

Click to E-mail


Readers'Letters

Last Updated: May 2007


Back to Top
Last Updated May 2008

DAILY LINKS


FAQs Questions?


Real Estate


Shopping

Maps


Bookstores


Trains

Busses


Car Rental


Hotels

News (CT)


Medical & Dental


YMCA Volunteer!


XICF Fellowship


Churches



Temples


Mosque


Expat Groups


Maids

Phone #s
EDUCATION


Xiamen University


XIS(Int'l School)


Study Mandarin


CSP(China Studies)


Library

Museums


History
DINING


Restaurants

Asian


Veggie

Junk Food


Chinese

Italian


International


Visas 4 aliens
RECREATION


Massage!


Beaches

Fly Kites


Sports

Boardwalk


Parks

Pets


Birdwatching


Kung Fu

Hiking


Music Events


Festival&Culture


Humor&

Fun Fotos


BUSINESS


Doing Business


Jobs!(teach/work)


Hire Workers


Foreign Companies


CIFIT (Trade Fair)


MTS(Translation)