AmoyMagic--Guide to Xiamen & Fujian


Copyright 2006 by Sue Brown & Dr. Bill, Xiamen Univ.

Join the AmoyMagic Forum




Advantages of Earthen Architecture (Hakka Earthen Architecture)
Click Photos for Larger Images


Hakka Round House Photo Album (the place and the people)


Suggested Itinerary (how to get there & back in 1 piece)


Hakka Missile Silos? Click Here for Reagan & the CIA's Silo Scare.
"It was a hobbit-hole, and that means comfort."
J.R.R.Tolkien, "The Hobbit."

Earthen architecture is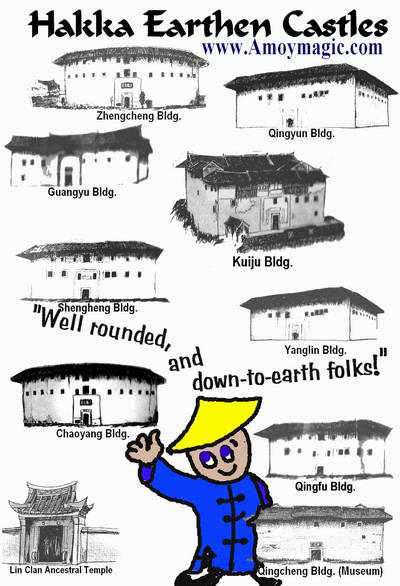 gaining popularity worldwide. Immensely practical and ecologically friendly, it is increasingly used in everything from humble homes to luxury mansions, hospitals, universities, churches, cathedrals, hotels, and holiday resorts like the 4 Star Kooralbyn Hotel Resort in Queensland, Australia.
Aesthetic Earthen buildings, whether Hakka castles or adobe homes in the U.S. Southwest, are aesthetic inside and out. They have a soothing texture and appearance, warm acoustics, and block outside sounds. The thick walls minimize temperature variations, so they are warm in winter and cool in summer. As Bilbo would have said of his hobbit hole, "It feels good."
"Green" Above all, durable and fire resistant rammed earth is a "green" technique—low cost to build and maintain. Rammed earth is recyclable, and uses only 1/700th the energy required for traditional brick firing (which is also highly polluting), and often comes from the building site, which cuts transportation costs. With new techniques to improve durability, water resistance, and strength, the way of the future may well be earthen architecture—even if we're dirt poor.

Forget to Leave? A tourist brochure warns that visitors to Hakka dwellings "greatly enjoy themselves so much as to forget to leave." So lest we forget to leave, or wear out our welcome with the "Guest People," let's head on to the site of the Eternally Radiant Gutian 1929 Conference, which fortunately is right off the 319 National Highway.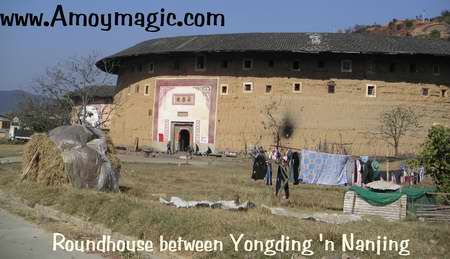 Zhengzheng Bldg. Hakka Cultural Village! I used to take visitors only to the "real-life" earthen villages, and skipped the so-called tourist trap, but since the Yongding government created it's Hakka Cultural Village, I've changed my tune. They tore down much of the new, imappropriate architecture, and now the entire area is much like a Hakka Park. Even the W.C. (public toilet, for us Americans) is designed like a roundhouse! The professional tour guides at Zhengcheng building give excellent introductions to the history and culture behind the Hakka earthen buildings, and how they are built. And just outside the gate, locals Hakkas will off you inexpensive rooms for the night (only 40 Yuan a night--5$ USD, with private bath). It's worth spending a few days there!
TRAVEL LINKS

Favorite Fujian Sites

Fujian Foto Album

Xiamen

Gulangyu

Fujian Guides

Quanzhou

Z
hangzhou

Longyan

Wuyi Mtn

Ningde

Putian

Sanming

Zhouning

Taimu Mtn.

Roundhouses

Bridges

Jiangxi

Guilin

Order Books

Readers' Letters

Click to E-mail


Readers'Letters

Last Updated: May 2007


Back to Top
Back to Top AmoyMagic Guide to Xiamen and Fujian
Last Updated October 2006