AmoyMagic--Guide to Xiamen & Fujian

Copyright 2001-7 by Sue Brown & Dr. Bill

Order Books
Main Page
Business Links
Recreation Links
Google Search
E-mail
Latest News!
"Break the Barriers" to perform in Xiamen from May 20th to 27th! Visit their site!

Click Here for "Nicoli Hits Xiamen Breakfast Tables!"
Xiamen Daily announces Chinese Version of "Amoy Magic!" now on shelves of less discerning Xiamen and Fujian bookstores! Or Order Online from Xiamen's Jehovah Nissi bookstore
Try Oliva--Fine European Cuisine!



Visit Lasagna--our favorite of Xiamen's 40+ Italian restaurants! (New dining room is on the harbor, facing Gulangyu. Click Here for info, pics).
World Choir Olympics 2006! Xiamen hosts the 4th World Choir Games from July 15 – 26, 2006. The organizers expect over 20,000 singers in over 400 choirs from all over the world, and I've already received many e-mails from participants asking such questions as,
"Does Xiamen have Western food?"
"Can I get money out of Chinese banks?"
"Can we drink the water?"

The answers to those three are Yes, Yes, and … yes (but only boiled or bottled water; otherwise this may be your last Choir Games).

The event was formerly called the Choir Olympics, but the Chinese Ministry of Culture demanded the name be changed to World Choir Games because they said the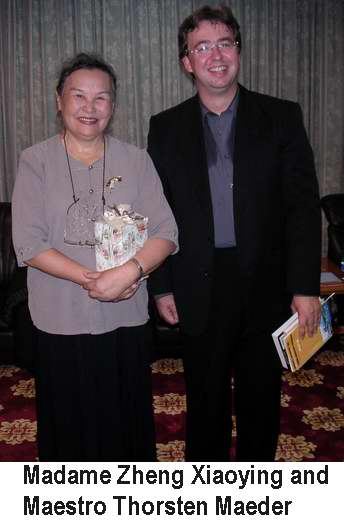 term "Olympics" is legally protected for the sponsors of the Olympic Games 2008 in China. The organizers assure us, however, that the events contents will not be changed in anyway.
The competitions are in 26 different categories. 1-15 are arranged according to age and voice; 16-26 are arranged according to the choir's music genre.
For more information, Click Here to visit the World Choir Olympics website.
TRAVEL LINKS

Favorite Fujian Sites

Fujian Foto Album

Xiamen

Gulangyu

Fujian Guides

Quanzhou

Z
hangzhou

Longyan

Wuyi Mtn

Ningde

Putian

Sanming

Zhouning

Taimu Mtn.

Roundhouses

Bridges

Jiangxi

Guilin

Order Books

Readers' Letters

Click to E-mail


Readers'Letters

Last Updated: May 2007


Back to Top