Click to Access
OUTSIDE China


Click to Access
INSIDE China


TRAVEL LINKS


Xiamen

Gulangyu


Jimei

Tong'an


Jinmen

Zhangzhou


Quanzhou

Wuyi


#1Fujian Sites!


Fujian Foto Album


Books on Fujian


Readers'Letters


Ningde

Zhouning


Longyan

Sanming


Putian

Bridges


Travel Info,


Hakka Roundhouses


Travel Agents

MISC. LINKS


Amoy People!


Darwin Driving


Amoy Tigers


Chinese Inventions


Tibet in 80 Days!


Dethroned!


Misc.Writings


Latest News


Lord of Opium


Back to Main Page
AmoyMagic--Guide to Xiamen & Fujian

Copyright 2001-7 by Sue Brown & Dr. Bill

Order Books
Main Page
Business Links
Recreation Links
Google Search
E-mail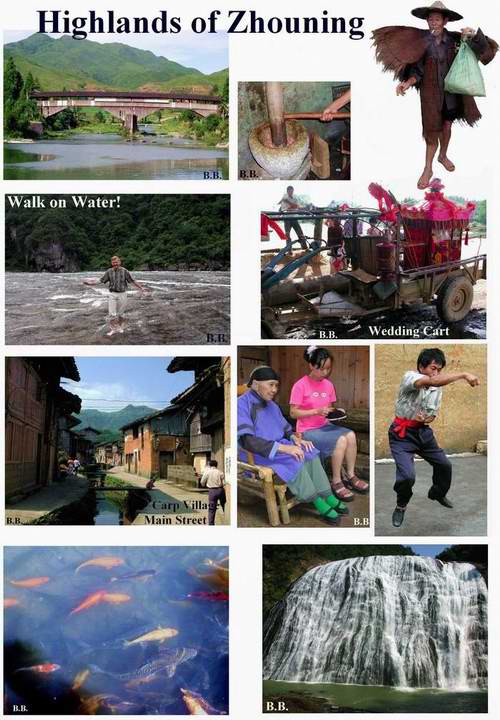 Zhouning--Home of China's Largest Waterfalls complex, Kung Fu Fighting Highlanders, Carp Worshippers, and the "walk-on-water" lake of Baishuiyang...
Ningde Pages: Ningde Main Page Xiapu Taimu Mtn.
Zhouning Zhouning Photo Album
Zhouning and King Carp

Zhouning's kung fu fighting highlanders don't wok fish but worship them, and bury their gilled gods in the village's Carp Cemetery!

This fishy state of affairs began after dozens of carp corpses tipped villagers off that wicked folk upstream had poisoned the water. That was 800 years ago and carps have been king ever since, and they're so cocksure of themselves that they'll eat sesame cakes right out of your hand.

But Zhouning is more than just fishy religions. It has some of China's most magnificent mountain scenery, and Nine Carp Falls, China's largest waterfalls complex. It also has the best summer weather in Fujian. With an 888-meter altitude, this "Naturally Air Conditioned City" (Tianran Kongtiao Cheng) is the highest in Fujian. So it's well worth the drive.

I've visited Zhouning several times, and it is now one of my favorite places in Fujian. Check it out! Read more in "AmoyMagic--Guide to Xiamen and Fujian" (p.251-254), or "Fujian Adventure" (p.314-359)!
Click here for photos of Zhouning.
Back to Top AmoyMagic Guide to Xiamen and Fujian
Getting to Zhouning....From the 104 Highway I turned west onto the 319 Road, just opposite the Zongde Town City Temple (which looks more like a Shanghai foreign tourist trap than a place of worship). The 319 snaked and slithered higher and higher into the lush, bamboo-blanketed mountains, giving me a marvelous view of the city below before cresting the summit and descending into a series of lush valleys. Like most Fujian roads it followed a river, but such a river! Naked youth frolicked in cool waters that sparkled and splashed in the sun like liquid agate of colors that might have inspired Joseph¡¯s Technicolor coat: bands of blue, purple, and green.

The 319 was so narrow and twisted that large vehicles were banned, but somehow a few trucks and buses got past the concrete barriers and careened around blind curves playing ¡°Hero Car¡± (the Chinese version of ¡°Chicken¡±¡ªa fowl sport no matter what you call it). Eventually we bottomed out into a broad valley with a small town that boasted no less than three large Catholic churches, their white crosses visible for miles. I provided the town¡¯s weekly entertainment when I bought adhesive tape in a shop to patch up my recorder, which had cracked open.
On a bridge, on the west side of town, my Fuding comrades handed me over to three smiling Zhouning officials. It looked like a prisoner exchange between East and West Berlin.

I didn¡¯t see if they got a receipt.

We set off westward and upward, maneuvering past construction that was doubling the width of the road. As we climbed high above valleys blanketed in endless rows of the local Fuyun (Cloud of Prosperity) #6 tea, my new friend briefed me on the wonders of Fujian¡¯s highest town.

When the concrete road vanished, replaced by a smooth ribbon of tar, my friend said, ¡°Welcome to Zhouning! Are roads are only tar because we are so far inland, and aren¡¯t as rich as Fu¡¯an.¡±
But if ¡°Millionaire¡¯s Row¡± is any indication, just give them time...

Click to E-mail


Readers'Letters

Last Updated: May 2007


Back to Top


DAILY LINKS


FAQs Questions?


Real Estate


Shopping

Maps


Bookstores


Trains

Busses


Car Rental


Hotels

News (CT)


Medical & Dental


YMCA Volunteer!


XICF Fellowship


Churches



Temples


Mosque


Expat Groups


Maids

Phone #s
EDUCATION


Xiamen University


XIS(Int'l School)


Study Mandarin


CSP(China Studies)


Library

Museums


History
DINING

Tea Houses


Restaurants

Asian


Veggie

Junk Food


Chinese

Italian


International


Visas 4 aliens
RECREATION


Massage!


Beaches

Fly Kites


Sports

Boardwalk


Parks

Pets


Birdwatching


Kung Fu

Hiking


Music Events


Cinema


Festival&Culture


Humor&

Fun Fotos


BUSINESS


Doing Business


Jobs!(teach/work)


Hire Workers


Foreign Companies


CIFIT (Trade Fair)


MTS(Translation)



Back to Top