AmoyMagic--Guide to Xiamen & Fujian

Copyright 2001-7 by Sue Brown & Dr. Bill

Order Books
Main Page
Business Links
Recreation Links
Google Search
E-mail
Click for Funny Fotos! (hilarious!)
Click for 10 Reasons there will be no Chinese President of U.S. anytime soon!)
Ming Dynasty Tales of Henpecked Hans
We Laowai and Laonei are more alike than we realize, and nothing brings it home better than these ancient Ming Dynasty tales of henpecked Hans. I hope Susan Marie doesn't read them….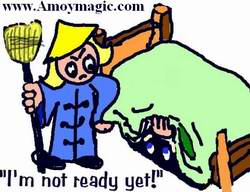 When I'm Ready!
After his wife had beaten him badly, a man crawled under his family bed. "Come out this instant!" his wife screamed.
"I am man enough to do as I please!" he said. "And I'll come out when I'm good and ready."
Till Death Do We Part
A number of henpecked men were holding an emergency meeting to discuss ways to regain their dignity. A bachelor prankster walked into their midst and said, "Your wives heard of this gathering and are all on their way here to deal with you." All but one panicked and dashed out the door.
"He's the only one with courage to stand up to his wife!" the bachelor exclaimed. But closer examination revealed he'd died of fright.
Grapes of Wrath
A magistrate asked his court clerk how he got the scratches on his face. The embarrassed clerk said, "Last night, I was walking in the yard, taking in the cool night air, when a grape trellis fell on me and scratched my face."
The magistrate declared, "Only a wife could do this. Have her brought here this instant."
But the magistrate's own wife had been hiding in the next room, and hearing this she stormed into the court. The terrified magistrate shouted, "Court's in recess! Clear the court! My own trellis is coming down!"
Ancient Doctor Tales!
Ancient Chinese had plenty of doctor jokes as well. Here are a few of my favorites.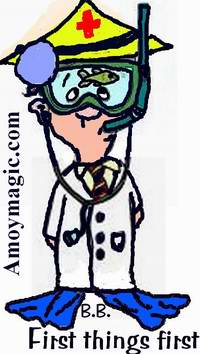 First Things First (Ming Dynasty Tale, 1368-1644)
A doctor was detained by the furious relatives of a patient he had killed with the wrong prescription, but he escaped by night and swam across a wide river to reach home. When he saw his son studying medical texts, he said, "Don't be in such a hurry to study medicine. First things first. And first, learn to swim."
Quack Compensation – A Qing Dynasty Tale (1644 -1912) When a quack doctor's treatment killed a family's son, he was forced to give them his own son. He lost his daughter in the same way. One day a man knocked on his door and asked his help. "Who's the patient?" the doctor asked.
"My wife."
The tearful doctor told his wife, "Sweetheart, I fear someone has taken a fancy to you."

Getting the Boot (Ming Dynasty Tale, 1368-1644)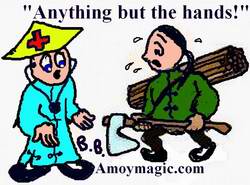 A heavily laden woodcutter stumbled into the local doctor on a narrow path. When the doctor drew back his fist to hit him, the woodcutter dropped to his knees and begged, "Please kick me instead."
A bystander asked, "Why would you rather him kick you?"
The terrified woodcutter replied, "Treatment by his hands would be much deadlier than with his feet!"

Religious Jokes Americans warn against "talking religion or politics," but ancient Chinese did not fear poking fun at either one--though this joke probably really bugged Buddhists...
Buddha's Bugs! (A Qing Dynasty Tale)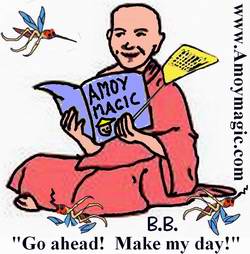 A Buddhist monk vowed to offer his blood to feed other living things, but after mosquitoes had bitten him for hours the itching got to him and he began swatting them with abandon.
"What happened to your vow?" asked a bystander.
The monk sighed. "Some of them have started coming back for seconds."

Ancient Political Jokes!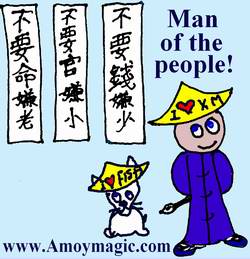 Man of the People (Chinese, not Americans, invented polical jokes!)
A newly appointed official decided to impress folks with his moral virtues by writing three phrases on the walls of his office:
1. Don't covet money.
2. Don't desire promotions.
3. Don't fear death.


A few days later some wit added two characters to the bottom of each:
1. in small quantities.
2. unless it's much higher than this one.
3. But I want to live as long as I can.
Gold Rats and Oxen (Ming Dynasty, 1368-1644)
On his birthday, an official's subordinates chipped in to give him a life-sized solid gold rat, since he was born in the year of the rat (each year of a twelve year cycle has a different animal). The official thanked them, then asked, "Did you know that my wife's birthday is coming up? She was born in the year of the ox."
More ancient Chinese humor? Read "Amoy Magic--Guide to Xiamen and Fujian!"
TRAVEL LINKS

Favorite Fujian Sites

Fujian Foto Album

Xiamen

Gulangyu

Fujian Guides

Quanzhou

Z
hangzhou

Longyan

Wuyi Mtn

Ningde

Putian

Sanming

Zhouning

Taimu Mtn.

Roundhouses

Bridges

Jiangxi

Guilin

Order Books

Readers' Letters

Click to E-mail


Readers'Letters

Last Updated: May 2007


Back to Top