AmoyMagic--Guide to Xiamen & Fujian

Copyright 2001-7 by Sue Brown & Dr. Bill

Order Books
Main Page
Business Links
Recreation Links
Google Search
E-mail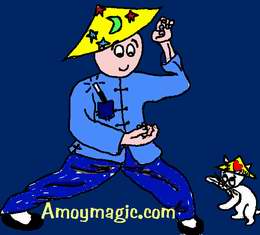 Getting your ki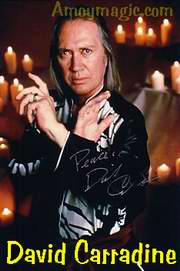 cks with Kungfu!
Feel the Force, Grasshopper!
My intro to Chinese philosophy was the '60s TV serial "Kung Fu," starring David Carradine. I was 22 before I discovered that he wasn't Chinese. I've still not quite forgiven Carradine for being Caucasian, but at least he helped pique my interest in China—and martial arts.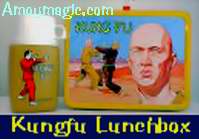 While I was a young airman in Taiwan I studied Kung Fu for 2 hours each evening with a bunch of bald Buddhist monks. I coveted a black belt, but advance came only by defeating students of higher levels, and the only belts I ever landed were to my poor bruised body.

There are over 100 different styles of martial arts (visit Zhouning and Putian!)using knives and spears, swords and clubs, deng deng. In addition, there are external styles, emphasizing strength, and internal kung fu, which stresses one's mind and one's life energy, or Qi.

In theory, as one ages one progresses from movement to stillness, from firmness to softness, and Qi becomes both more powerful and more focused than brute force. Or so I was told, but I was skeptical of the soft soap about soft force—until Master Lin put my doubts on ice with a 200 pound block of ice.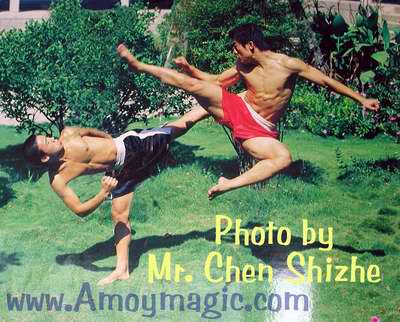 I often chuckled at Master Lin's roly-poly physique, which betrayed the fact that he moonlighted as a candy maker, but he could stand back to the wall and touch the wall above his head with his feet. And after he demonstrated the power of Qi, I quit chuckling altogether.

While Master Lin's students watched silently, Master Lin poised his hand, palm downward, about one inch above the giant block of ice, and concentrated. Then without warning, he slapped the ice and it shattered. I could not have duplicated the feat with a sledge hammer.

Pass the candy, Master Lin!

I no longer laughed about Qi. But I still don't think much of it as a self-defense technique. After all, what self-respecting enemy is going to lay on his back and wait half a minute while you lay your hand above his chest and charge up your Qi?

Note: Want to build up your own Qi? Read on…!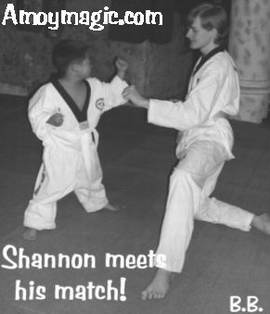 Kungfu Kicks in Xiamen! If you've ever wanted to master martial arts, Xiamen is the place to start! Southern Shaolin Kungfu originated in Fujian the jury is still out on whether in Fuqing, Putian, or Quanzhou).

Styles and weapons vary enormously, and it seems that each village boasts its own particular style, which is taught only to members of that village, with a certain clan's surname. For example, the unique Kungfu style of Zhouning (the carp village) is taught only to those surnamed Zheng.
What Style? With so many unique styles and variations, its tough to continue training if you move elsewhere in China, or return home. So one option is to study an internationally standardized style, like Korean Tae Kwondo. And fortunately, Xiamen has Karate masters as well.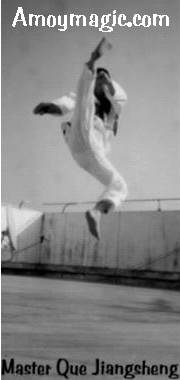 Master Que Jiansheng, a 7th degree black belt, teaches Shannon and friends. Born in poverty in Zhangzhou in 1963, his father died at age 5 and his mother moved to Taiwan. He studied Chinese martial arts, but fell in love with Karate, and is now zealously promoting the art in China. He has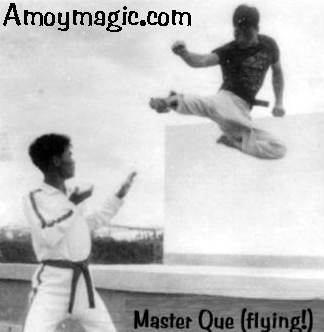 several locations in Xiamen, and very reasonable rates. Give him a call! Phone: 891-6169 Mobile: 13666080730


The Lady Instructor at City Trends (above the Mcdonalds on Xiahe Rd.) is very popular with foreigners. Check her out as well.
Chinese Kung Fu While you're in S. Fujian, you should also check out S. Shaolin Kung fu--especially since it originated here! Begin with the Shaolin Temple and Shaolin Museum in Quanzhou.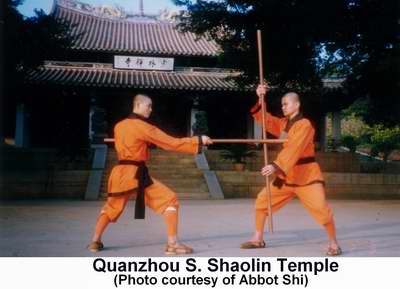 Quanzhou's Shaolin Temple, is behind the Sports Stadium at the very end of Zayton St. (Citong Rd.,on Dongyue Hill). It is exactly 1.1 km past the sign that says you only have 600 meters to go. I mentioned this to the abbot of the temple, and asked if it meant 600 meters if you climb straight up. He said, "No, Kungfu monks fly straight up!"


Quanzhou Southern Shaolin temple w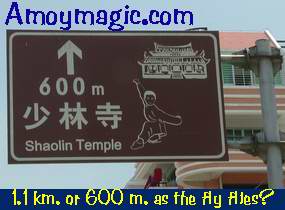 as built in the early Tang Dynasty by the monk Zhikong, who had moved here from the Songshan Shaolin Temple up north. The temple had its ups and downs and eventually was totally destroyed in 1763 A.D.. The Shaolin tradition continued to be taught in Congfu Temple (see below), but now that so many folks around the world are getting their kicks out of Kungfu, the Shaolin temple was recently rebuilt. Each year, thousands of Kungfu enthusiasts make pilgrimages to this Mecca for martial arts enthusiasts (and also visit the two local martial arts schools).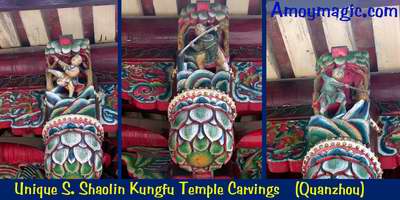 Kungfu Architecture Notice the trimmings and carvings under the temple eaves. Unlike other temples, they all depict Southern Shaolin monks in different fighting postures.

Abbot Shi Changding I'd have never imagined a 30-year-old like Master Shi Changding could be abbot of S. Shaolin Temple! (Costello, maybe, but not abbot). Since he began kungfu at age 13, Master Shi has made a name for himself, and helped put Quanzhou's S. Shaolin Temple back on the map.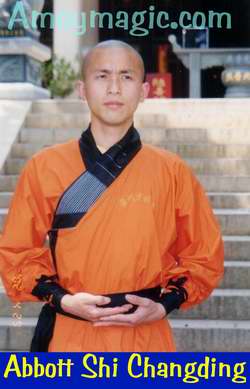 This young abbot is also a Wushu Colonel, assistant secretary-general of Quanzhou Wushu association, adviser to the France-Fujian martial arts association, and people's conference representative. He has also helped initiate many international exchange programs with martial arts groups and organizations throughout Asia, Europe and the Americas. Now Master Shi has set his sites on expanding the Southern Shaolin Complex.

Contact Master Shi at: Shaolin Temple, Dong Yue Mountain,
Quanzhou City, Fujian, P.R. of China,
362000 Phone: (0595)279-5119.

Getting to S. Shaolin Temple: Bus #7, #10, #11, #13, #19
Hours: 6:00 - 22:00 Phone: 279-5119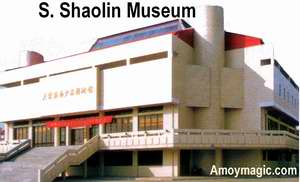 Also visit Quanzhou's S. Shaolin Museum!

piano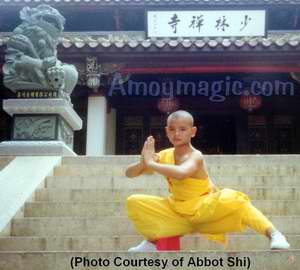 TRAVEL LINKS

Favorite Fujian Sites

Fujian Foto Album

Xiamen

Gulangyu

Fujian Guides

Quanzhou

Z
hangzhou

Longyan

Wuyi Mtn

Ningde

Putian

Sanming

Zhouning

Taimu Mtn.

Roundhouses

Bridges

Jiangxi

Guilin

Order Books

Readers' Letters

Click to E-mail


Readers'Letters

Last Updated: May 2007


Back to Top