Click to Access
OUTSIDE China


Click to Access
INSIDE China


TRAVEL LINKS


Xiamen

Gulangyu


Jimei

Tong'an


Jinmen

Zhangzhou


Quanzhou

Wuyi


#1Fujian Sites!


Fujian Foto Album


Books on Fujian


Readers'Letters


Ningde

Zhouning


Longyan

Sanming


Putian

Bridges


Travel Info,


Hakka Roundhouses


Travel Agents

MISC. LINKS


Amoy People!


Darwin Driving


Amoy Tigers


Chinese Inventions


Tibet in 80 Days!


Dethroned!


Misc.Writings


Latest News


Lord of Opium


Back to Main Page
AmoyMagic--Guide to Xiamen & Fujian

Copyright 2001-7 by Sue Brown & Dr. Bill

Order Books
Main Page
Business Links
Recreation Links
Google Search
E-mail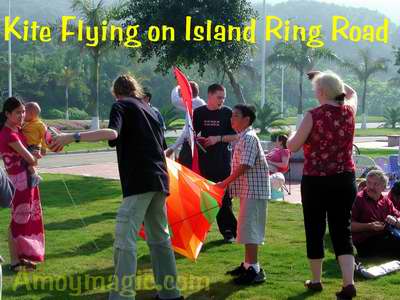 Go Fly a Kite!
If someone has told you to do just that, head for the beach, because offshore breezes make Xiamen's Ring Road the perfect place to take part in this ancient Chinese sport—or art, or science, it's all of the above.

I marvel at the kite adepts (like the local teenage American devil Caleb Parette) who with a flick of the wrist send silk dragons skywards, and then by subtly tugging on one of the control strings, cause it to perform dizzying acrobatics, diving so close to the ground that the ants and spiders duck, then soaring back into the skies. Personally, I'm happy just to get a kite up and keep it up; when my kite descends it's not with a kiss but a crash.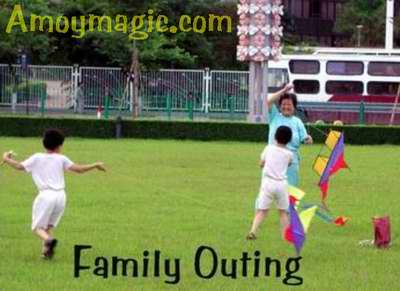 Kites, like just about everything else on this planet, were invited by the Chinese some few thousand and fifteen years ago. (Dr. Needham even lists kites as one of China's greatest scientific inventions). In 478 B.C. the Chinese philosopher Mo Zi spent 3 years making a wooden hawk that actually flew. Poor fellow. Were he around today he could just log on to www.pincle.kite.com and buy one of the delightful hi-tech fiber-glass spar and silk kites produced right here in Xiamen! (Pincle's Phone: 599-. E-mail: pincle-kite@pincle-kite.com).


In 200 B.C., General Han Xin flew a kite over a city he was besieging, and then measured the string to see how far he had to tunnel under the city to take them by surprise. Yet another general tied harps to kites, flew them over a city, and had his spies in the city spread the rumor that the waling from the heavens was from the gods,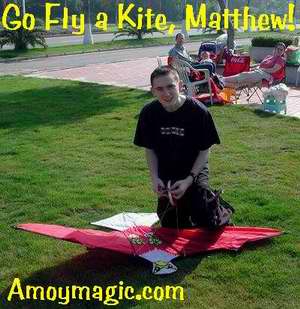 who were angry and would visit a bitter defeat upon them the next day. They of course fled in terror, totally unaware the enemy was just stringing them along (or feeding them a line, etc). This may have helped lead to the Chinese name of kites: fengzheng (wind musical instrument).

Kites were used to send signals, and very large kites allowed archers to rain arrows into fortified cities. Marco Polo wrote that Chinese sea captains tied folks to a kite and sent them aloft. If they stayed up, smooth sailing was ahead. If they wobbled or crashed, it was a bad omen and the ship delayed setting out. I'm not sure what they did for the poor fellow who came down with the kite; if it were me I'd be pretty up in the air about it.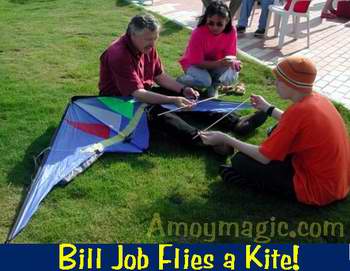 Chinese also believe that kite-flying can bring good luck—and the higher the kite, the better the luck. Personally, I'd have to be higher than a kite to believe that. But lucky or not, kite flying is fun. For me, it's like fishing with a sail instead of a hook, surfing invisible currents seeking to catch evasive updrafts.

Kite flying was banned during the Cultural Revolution, but in cities like Xiamen the beautiful sport is again catching on. I like watching the kite masters just outside the Mandarin Seaview (beside the Exhibition Center). Some of the kites soar so high they look as if they could land in Jinmen. Now there's a thought! If Taiwan and the mainland don't get the "Three Direct Links" worked out soon, maybe I'll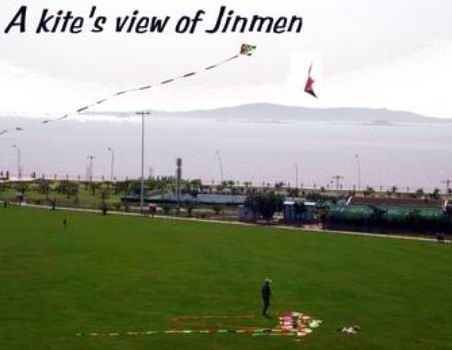 just take a kite back to Taiwan…
Back to Top AmoyMagic Guide to Xiamen and Fujian
Last Updated October 2006

TRAVEL LINKS

Favorite Fujian Sites

Fujian Foto Album

Xiamen

Gulangyu

Fujian Guides

Quanzhou

Z
hangzhou

Longyan

Wuyi Mtn

Ningde

Putian

Sanming

Zhouning

Taimu Mtn.

Roundhouses

Bridges

Jiangxi

Guilin

Order Books

Readers' Letters

Click to E-mail


Readers'Letters

Last Updated: May 2007


Back to Top


DAILY LINKS


FAQs Questions?


Real Estate


Shopping

Maps


Bookstores


Trains

Busses


Car Rental


Hotels

News (CT)


Medical & Dental


YMCA Volunteer!


XICF Fellowship


Churches


Expat Groups


Maids

Phone #s
EDUCATION


Xiamen University


XIS(Int'l School)


Study Mandarin


CSP(China Studies)


Library

Museums


History
DINING


Restaurants

Asian


Veggie

Junk Food


Chinese

Italian


International


Visas 4 aliens
RECREATION


Massage!


Beaches

Fly Kites


Sports

Boardwalk


Parks

Pets


Birdwatching


Kung Fu

Hiking


Music Events


Festival&Culture


Humor&

Fun Fotos


BUSINESS


Doing Business


Jobs!(teach/work)


Hire Workers


Foreign Companies


CIFIT (Trade Fair)


MTS(Translation)



Back to Top