Click to Access
OUTSIDE China


Click to Access
INSIDE China


TRAVEL LINKS


Xiamen

Gulangyu


Jimei

Tong'an


Jinmen

Zhangzhou


Quanzhou

Wuyi


#1Fujian Sites!


Fujian Foto Album


Books on Fujian


Readers'Letters


Ningde

Zhouning


Longyan

Sanming


Putian

Bridges


Travel Info,


Hakka Roundhouses


Travel Agents

MISC. LINKS


Amoy People!


Darwin Driving


Amoy Tigers


Chinese Inventions


Tibet in 80 Days!


Dethroned!


Misc.Writings


Latest News


Lord of Opium


Back to Main Page
AmoyMagic--Guide to Xiamen & Fujian

Copyright 2001-7 by Sue Brown & Dr. Bill

Order Books


Main Page Business Links Recreation Links Google Search E-mail




North to Ningde! (N.E. Fujian)




Ningde Pages: Ningde Main Page Xiapu Taimu Mtn.
Zhouning Zhouning Photo Album

Welcome to Ningde, land of Kung Fu fighters, carp worshippers, China's largest waterfalls complex, legendary seafood, deng deng. This underrated N.E. region of Fujian is now one of my favorite places.... I hope you enjoy it as well.
Country Roads Take Me Home—Please! A Chinese artist airily informed me, "I never take highways. They bypass the real China." I doubt the man has ever driven! I also enjoy country roads, but without the new freeways (which really should be called not-so-freeways because of the killer tolls), not even a cat would have enough lives to see all of Fujian's convoluted topography. Besides, you show me a good, flat country road anywhere in China and I'll show you a few hundred farmers using 2/3 of the highway to dry grain. ....
Until the 90s, roads were so poorly reinforced that landslide followed even a minor squall (or a major flock of birds with full bladders). Land is sliding less nowadays thanks to better roads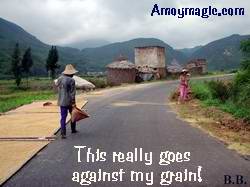 and armies of maintenance crews in International Orange safety vests.
Back to Top
Victoriasian Architecture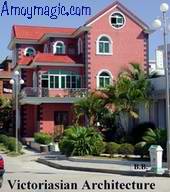 Villages have traditional Minnan homes of granite, with flat roofs and verandas lined with potted bougainvillea, azalea, hibiscus, and pepper plants. But the newly rich boast magnificent 3- and 4-story homes with towers and turrets galore. Some "Chinese Victorian" homes (Victoriasian?) have a distinct Dr. Seuss flavor, and are clad in tiles of every color, from classic Chinese blues and greens to pastel yellows, reds and pinks. But unlike traditional homes, with land at a premium the new homes are going up, not out (some families have 7 story homes!).
Back to Top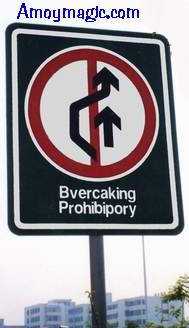 Signs Of the Times China's unique English road signs help keep boredom at bay. Far too often, signs warn, "Toll 500 meters ahead. Run Slowly Please." I guess they even charge joggers. But my favorite is the "Bvercaking Prohibipory"sign on Guangzhou's Shantou-Shenzhen Expressway. It means "No passing" ("Overtaking Prohibited").

The same speed limit sign may read: 30 kph, 40 kph, 50 kph, 60 kph, or 70kph—five speeds for five varieties of vehicles, and all five species simultaneously jostling along one or two lanes.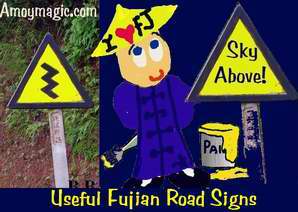 "Curve Ahead" signs can really throw you for a curve . In vertical Fujian, which has neither flat land nor straight roads, they are about as informative as "Sky Above" or "Ground Below."
Fuzzy Dice & Disney Americans have decorated their cars with everything from fuzzy dice and dingleballs in the 50s to stuffed animals today. For Chinese, however, status is a pair of gaudy red and gold plastic tissue boxes, and embroidered throw cushions piled high in the rear window—maybe to show they have a cushy job. The epitome is a row of plush Snow White and the Seven Dwarfs dangling above the pillows and tissue boxes.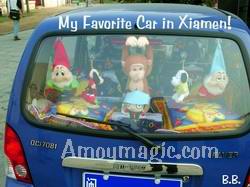 Backseat Buddhas Chinese, like laowai, have fetishes to ward off accidents. Catholics may count on St. Christopher medals, but Chinese increasingly swear by color photos of Chairman Mao, who is thought to be better than Buddha at preventing car crunches. As one taxi driver informed me, "Buddha never drove."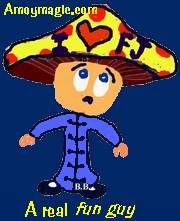 Fungus Among Us A field of peasants in pointy hats, bending over their rice, reminded me of an odd species of mushroom. Closer observation revealed that some peasants did move, but maybe mushrooms move as well. Evolutionists say people evolved from fungi, which are closer to animals than they are to plants. That may explain why some of us are such fun guys.
Back to Top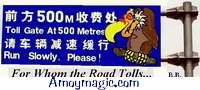 For Whom the Road Tolls Stylized black birds adorn the entrance to "Lightning Strikes Rock" tunnel, just south of Fuzhou. Given the high tolls, they're probably buzzards, because tolls are everywhere on Fujian's "not-so-free-way." But five minutes off the not-so-freeway I was mired in a Fuzhou traffic jam created by road construction and complicated by a road emperor, hand upon his horn, forging down the wrong lane. Already I yearned nostalgically for the pricey but peaceful toll road! From now on, my motto is, "Bu Yao Jin! Better the buzzard!"
Back to Top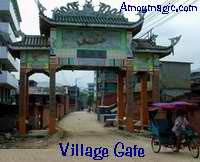 Gates Given the Chinese' love for great walls, it's no wonder they love great gates and arches. And the bigger and more ornate the better. The most extreme gate may be the Napoleonic monstrosity at Dongshan Island's 10 "Billion Dollar Village." But my favorite gate is a Ningde village's humble arch of two bamboo strips, from which dangles a piece of wood on which the name has been daubed in graceful strokes. No brag, just fact.

Back to Top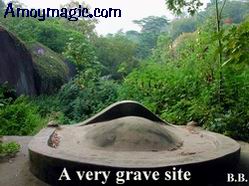 A Very Grave Site Tucked into a lonely valley just south of the Luoyan exit was a modern cemetery—rare now that China encourages cremation. With a larger population of dead folk than any nation on earth, it's hard to find a propitious place to plant extinguished ancestors. In 1912, Rev. Pitcher wrote:
"China is one big graveyard, you can never get away from the graves. They are in the dooryards, on the hilltops, along the highways and hedges, everywhere. Look where you will, rarely will your vision be unobstructed by a tomb of some kind."
Wind and Water A Fujianese solemnly informed me that 72 bright spots on a NASA photograph of China turned out to be Han Dynasty tombs chosen because of their excellent fengshui. "Even modern science proves fengshui!" she enthused.

Chinese often invest vast sums in fengshui ("wind and water"), because a propitious location for tombs, homes, even office buildings, is an investment that yields automatic peace and prosperity.
Fengshui is methodical and mechanical, depending not on the good or ill will of the deceased but upon where they are planted, and how...
Gone to Pot Since some folk don't give decent warning before dying, the first burial site is often hastily selected. If months or years down the road the family encounters misfortunes, or even lack of good fortune, they assume the fengshui 'failed,' dig up the bones, and place them in an earthen jar under a rock or tree until they can be replanted in a more strategic location—in theory. In practice, the jars often become the eternal resting place for folks like the bony inhabitants of clay pots on the hill by our apartment. But on the bright side, if earthen architecture is comforting for the living, why not a clay pot for those who are not?

I'm sure my own demise will not be a jarring experience if Susan Marie simply stores my ashes away in a convenient coffee jar. But not decaffeinated.
Back to Top


Ningde--a Favorite Corner of Fujian Remote Ningde, home of the She minority, turned out to be one of my favorite corners of Fujian. Ningde boasts the Nine Dragon Falls (they really do have a thing about "nine"), China's largest waterfall complex, as well as the otherworldly Taimu Mountain, the fine beaches of Xiapu, and the 'Walk on Water' lake of baishuiyang, with its mandarin ducks and rhesus monkeys. But the #1 attraction is the people, and with 3.14 million of them, you won't escape Ningde without making some friends for life.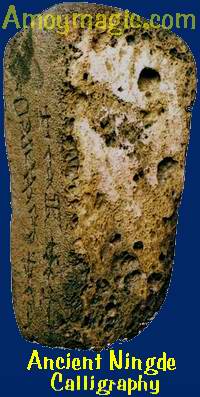 Birthplace of South China Civilization? Ningde has fully 1/3 of Fujian's coastline (878 km!) and 344 islands and islets. Sandu'ao, the world's deepest ice-free harbor, was Fujian's center of trade and culture, and home to businesses from a dozen nations until Japanese bombers twice razed the place to the ground in the 1930s.

Jiaocheng District's Huotong Mountain is touted as the birthplace of south China civilization, and the Ming Emperor Yongle designated it "Number One Mountain Under Heaven."

Wenma County was established in 282 A.D., and quickly made a name for itself with such luminaries as Xue Lingzhi (683-756), Fujian's first Jinshi (successful candidate in ancient China's highest imperial examinations), the Song Dynasty poet Lu You, and the philosopher Zhu Xi. Japanese revered Ningde almost as much as the Chinese because it was here that Kukai, founder of Esoteric Japanese Buddhism, was rescued from a shipwreck when he arrived in China seeking the Buddhist scriptures.

She Minority Village An article on Ningde's "primitive folk customs" described the She's unique bamboo architecture, colorful costumes, dances, and antiphonal singing. Alas… I never saw any of this! The only photos I have of She costumes were loaned to me by Zhu Qing Fu.

Most She have been Sinocized, thanks to well-meaning attempts to deliver them from dire poverty. Traditional She bamboo architecture is vanishing, and the time and expense of traditional costume is justified only on special holidays—if then. My only hope the "Model She Minority Village."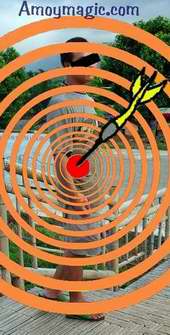 "Model She Minority Village" A Ningde brochure claims everyone from China's Premier to "Friends from Home and Abroad" love Ningde's mock She Village. I wasn't so impressed. The bamboo lodges and bridges were attractive, but the attendants lounged about lazily, showing signs of life only when I got out my camera. "No photos!" Eventually a youth started unlocking the brass She padlocks, but the boss rushed up, blessed him out, told us there was nothing to see, and then demanded we buy tickets.
"Why buy tickets if there is nothing to see?" I asked. And so I wouldn't come away empty handed, I quickly took his photo, and put it to good use--as a dart board!

Just past the mock She village at the end of the road, on the right, was a genuine She house. And about the only way to catch She in native costume is to visit on the big March 3rd She festival.
Ahhh! But Ningde's seafood more than made up for the She debacle!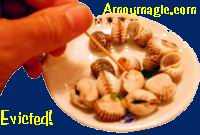 Sea Slugs and Blood Snails Given Ningde's endless coastline, it's no wonder seafood is a staple. An official said that Ningde cuisine has such variety that it takes at least 3 days to savor even the most common tastes, aromas, and colors.

We feasted on winter melon soup and sea slugs, and my hosts explained why the fish's head and tail are reserved for honored guests. And as always I explained I have no honor and was quite happy for them to feast on the fish lips, gills, eyeballs and brains. No lips, just chips—with some catsup.

My companions enthusiastically evicted hapless snails from their shells with deftly wielded toothpicks. Bright blood gushed forth, and my hosts gushed, "It's an art! Cook too long and the blood dries up; not long enough and you can't open them… And our snails are 'pearl' snails—the perfect size. Lots of flesh, lots of blood. Too bad that fakes from other places are giving Er Du a bad name."

After bloody snails came fresh asparagus. A century ago, Chinese refused to touch asparagus, which seems odd, since Chinese eat everything edible and prescribe the rest as medicine.

The bamboo shoots were as tender as fruit, and an endless variety of dried meats and veggies was followed by straw mushrooms and black mushrooms and fungi (for evolutionists with cannibalistic bents ). My loved the hotel specialty—a large, thin pancake made with onions, pumpkin powder, eggs, lotus powder, shrimp, sweet potato powder, peanut chunks, deng deng. Ningde folk also enjoy Fuzhou's flat, round sesame breads with holes in the middle, which 600 years ago were hung around soldiers' necks on string so they could eat on the go. So Chinese even invented fast food.

My hosts raved loudest and longest about the local vinegar, made from sticky rice. "The older and more sour, the better!" they exclaimed. But personally I'd go easy on the vinegar if I were them. In Chinese, "Eating Vinegar" connotes a spouse's unfaithfulness, or something like that.

Dessert was Ningde Longyans (Dragon Eye Fruit). "Last of the season, and the best!" I was told. But days later a Fuding official scoffed. "They're the best only because there's nothing else left that late in the year!".....

Burst My Bubble Like many hotels in China, the Mindong Hotel supplied bubble bath, even though the bathroom had only a shower, no tub. Maybe you're supposed to pour it on your head and dance under the nozzle. After a hot bubble shower, I flicked on the TV to find Richard Marx singing, "Right Here Waiting for You." I think it's a song about queuing up in government offices. Star Sports had a soccer game, and the local channel was nonstop commercials touting lotions that guaranteed perfect, long black hair, creams that bleached skin pure white overnight, and teas that guaranteed a weight loss of 30 pounds in 30 days, with no expenditure of effort but a considerable expenditure of cash. ....... In sum, the programming was enough to put anyone to sleep.

My sweet dreams were dashed at dawn by an outlandish cacophony of honking horns, bike bells, and the shouting of vendors and vendees from a nearby veggie market. I jammed my wax earplugs so tightly they threatened to come out my nose, but no respite, so I crawled out of bed, dressed, and strolled through the hotel courtyard.

The distant hills were so lush they reminded me of Hawaii (as would the beaches I saw later). But Hawaiians don't wake the dead until at least after lunch, and Ningde's beauty was lost on me until I recorded it in retrospect 12 hours later. My head and heart were beside themselves, but as Americans say, "The way to a man's heart is through his stomach," so I made a beeline for breakfast.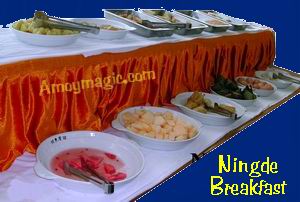 Chinese Breakfast. By noon, I can slurp sea slug soup, evict blood clams, and even enjoy jellyfish and sea worms (with a dash of Tabasco ). But fresh out of bed I don't want congee and carp lips. I need toast, bacon, eggs and coffee.

Mindong Hotel's breakfast buffet did have eggs—or what was left of them. I'm told that the gelatinous black and green "Century Eggs" are pickled in horse urine, and I believe it. They smell like ammonia. I just heard that women's estrogen pills are made from horse urine. Maybe they should just eat Chinese Century Eggs. (They're not bad when sliced and added to rice porridge, with peanuts and dried minnows.)

My hostess noticed my distress and forever endeared herself to me by ordering coffee. But it had at least four times more sugar than coffee (the only way many Chinese can stomach it). I asked for black coffee and got a beverage blacker than a black hole, with so much caffeine that I was fortified and ready to tackle every creature laid out on the buffet table.

I feasted on steamed buns stuffed with veggies and assorted carcasses, dried minnows (heads staring sadly at me), bitter melon, strips of lamb stomach, sliced carrots and cucumbers, pig intestines, cookies and cakes, watermelon, Hami melon from Xinjiang, and soft tofu in soy sauce. After sampling half of the 30+ entrees, I was buzzing with caffeine and MSG, and ready to take on Water World.
Water World Sandu'ao Island has been open to outside trade since the Tang Dynasty, but because of its proximity to Taiwan, and the presence of the People's Navy, it is now off limits to us foreign devils. So it was a treat to be given a tour of the island and the "fishing villages on the sea."
Click Here to Read About Water World! (Sandu'ao Island)

Click to E-mail


Readers'Letters

Last Updated: May 2007


Back to Top


DAILY LINKS


FAQs Questions?


Real Estate


Shopping

Maps


Bookstores


Trains

Busses


Car Rental


Hotels

News (CT)


Medical & Dental


YMCA Volunteer!


XICF Fellowship


Churches



Temples


Mosque


Expat Groups


Maids

Phone #s
EDUCATION


Xiamen University


XIS(Int'l School)


Study Mandarin


CSP(China Studies)


Library

Museums


History
DINING


Restaurants

Asian


Veggie

Junk Food


Chinese

Italian


International


Visas 4 aliens
RECREATION


Massage!


Beaches

Fly Kites


Sports

Boardwalk


Parks

Pets


Birdwatching


Kung Fu

Hiking


Music Events


Festival&Culture


Humor&

Fun Fotos


BUSINESS


Doing Business


Jobs!(teach/work)


Hire Workers


Foreign Companies


CIFIT (Trade Fair)


MTS(Translation)



Back to Top