Click to Access
OUTSIDE China


Click to Access
INSIDE China


TRAVEL LINKS


Xiamen

Gulangyu


Jimei

Tong'an


Jinmen

Zhangzhou


Quanzhou

Wuyi


#1Fujian Sites!


Fujian Foto Album


Books on Fujian


Readers'Letters


Ningde

Zhouning


Longyan

Sanming


Putian

Bridges


Travel Info,


Hakka Roundhouses


Travel Agents

MISC. LINKS


Amoy People!


Darwin Driving


Amoy Tigers


Chinese Inventions


Tibet in 80 Days!


Dethroned!


Misc.Writings


Latest News


Lord of Opium


Back to Main Page
AmoyMagic--Guide to Xiamen & Fujian

Copyright 2001-7 by Sue Brown & Dr. Bill

Order Books
Main Page
Business Links
Recreation Links
Google Search
E-mail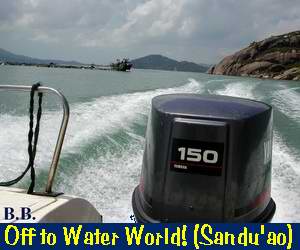 Water World (Sandu'ao, in N.E. Fujian's Ningde)




Click for Xiapu (Japanese Holy Land)


Click for Zhouning (Carp Worshippers)

Sandu'ao Island has been open to outside trade since the Tang Dynasty, but because of its proximity to Taiwan, and the presence of the People's Navy, it is now off limits to us foreign devils. So it was a treat to be given a tour of the island and the "fishing villages on the sea."

East of Feiluan fishing village we paid 230 yuan (a full month's wages for locals) for a roundtrip ticket to Sandu'ao on a small boat with a Yamaha 150 outboard motor. The placid bay was so vast it appeared to be open ocean. Almost entirely landlocked, it is the world's deepest ice-free harbor. It also gets deeper as the years pass--rather like America's national debt.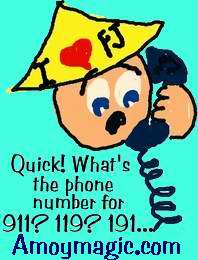 911 or 119? The floating fishing villages' inhabitants need never set foot on land. They have their own floating restaurants and stores, and their own emergency phone numbers. (In China, of course, 911 is dialed 119, and 411 is dialed 114. It's probably the principle of the thing).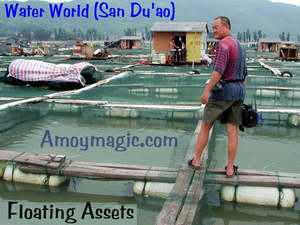 I marveled that the villages stayed afloat. They seemed little more than wood and tarpaper shacks on bamboo and wire frames fastened to Styrofoam. Lots of floating assets here (good liquidity, I imagine).
Long Arm Fortunately, nary a typh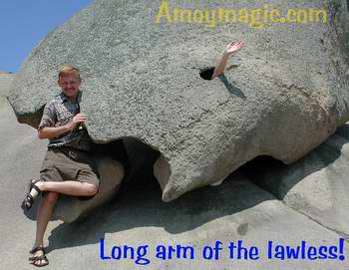 oon was in site as we plowed across placid waters to DouMao Island, which is named after a rock resembling an ancient Chinese magistrate's hat. The big attraction, besides the rock that resembles a giant peach (it was the pits) was a boulder with a hole in it. Tourists stand on one side while someone hidden within sticks their arm out the small hole, making it appear they have a longer arm than the law.

A colorful character in preliberation era military fatigues and a bamboo hat waved a sickle at us and demanded money, but a wizened little granny lugging a basket of mineral water bottles ran him off. "He's a little off," my rescuer said. "And the sickle's dull."

Spanish Catholic Church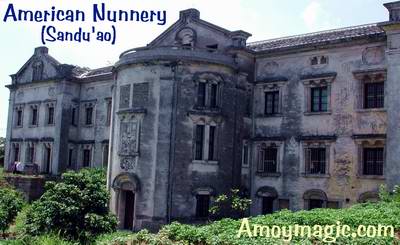 Eventually my guide helped me escape the endless rounds of "Ganbei!" (Dry Glass!) and led me to the Catholic church and the old American nunnery, two of the few structures that survived the Japanese' bombing in the 1930s. Sanduo never quite recovered. The island had 30,000 people in the 1940s, but only 20,000 today, and life's not easy. One couple on main street (the only street) was stuffing beizis (Chinese blankets) with the lining picked out of soiled jackets that had probably been recycled from the Long March or the Short April. For this couple's sake, I hope Ningde achieves its ambitious goals.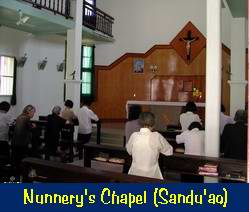 The Spanish style stone church has a rectory on the left and an old chapel. The American nunnery behind the church is now the "Tianlao Yuan" (Heaven's Garden for the Elderly). An ancient nun gave us a tour of the rooms and the courtyard, which had a marble fountain (dry), tired shrubs, and pots of dusty flowers.

A small chapel to the left had a large crucifix in front, and the side walls had ten scenes from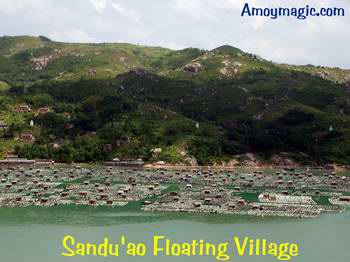 Christ's life, with crosses above each of them. A dozen elderly ladies and a couple of girls chanted prayers that reminded me somewhat of Buddhist chants. Maybe Catholics will someday develop their own versions of the electronic Buddhist chant boxes found in Chinese restaurants, stores and homes.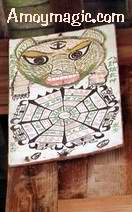 When I asked to take photographs, the nun asked, "Are you Catholic?"
"I'm Christian," I hedged.
She chewed on this, then said, "We'll make an exception this time."
As I snapped a couple of quick shots, heads shot up as if the supplicants had seen the glory of heaven flash before them.
We retraced our steps to the village below, where I heard dozens of women chanting in a newly tiled three-story home. Catholics, I was told, gather in many homes throughout the day to pray, and no wonder—there is plenty of competition. Just across the street a hand drawn Taoist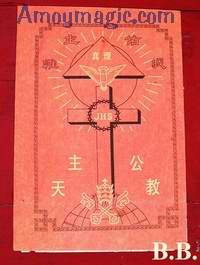 symbol was pasted above the wooden door. It had the traditional 8 points, with some creature in the middle. I was told it was either a dog, cat, lion or unicorn. (And probably edible.) But the Catholics were not to be outdone. They pasted paper crosses on the lintels, and Pope John Paul II posters in the courtyards.

My Buddhist guide said she also worships Taoist gods when its more convenient. And she confided that she was of the She minority, "But I don't wear traditional clothes," she explained. "One set costs 300 to 400 Yuan. And it takes hours to put up my hair."

Foreign Devils and Chinese Devils A shopkeeper yelled, "Look, a foreign devil!"
"How are you, Chinese devil!" I said. It usually gets a laugh—but not this time.
"There are no Chinese devils! You foreigners did the evil, not us!"
I was stunned. Chinese rarely come on this way. But I was hot and tired, and I retorted, though calmly, "Which evil? We've done many."
The man was taken aback. He said, "The opium wars, the burning of the Summer Palace, the--"
"—All evil, I admit," I interrupted. "But they were 150 years ago. Neither I nor my immediate ancestors were involved. Should I curse your generation for the Cultural Revolution? That was quite devilish too!"
The man gaped at me, mouth opening and closing like a doomed carp facing a Cantonese chef's cleaver, and I regretted my smart mouth. Chinese rarely come on that way to foreigners, and I'd have done well to heed Proverbs' advice, "A soft answer turns away wrath. "
Yet even as I remonstrated myself, the man smiled and said, "I never thought of it that way." I heaved a sigh of relief. He invited me in for tea, we had a good chat, and I ended the day one friend richer.

We all have so much to learn. Chinese and foreigners alike would be a lot better off if we abandoned our tenacious stereotypes and generalizations, which are more contagious than mumps or chicken pox—and sometimes just as fatal. I've gradually learned that all generalizations are false.
Except for the one I just made.
Click here for Xiapu (Japanese Holy Land!)

Click to E-mail


Readers'Letters

Last Updated: May 2007


Back to Top


DAILY LINKS


FAQs Questions?


Real Estate


Shopping

Maps


Bookstores


Trains

Busses


Car Rental


Hotels

News (CT)


Medical & Dental


YMCA Volunteer!


XICF Fellowship


Churches



Temples


Mosque


Expat Groups


Maids

Phone #s
EDUCATION


Xiamen University


XIS(Int'l School)


Study Mandarin


CSP(China Studies)


Library

Museums


History
DINING


Restaurants

Asian


Veggie

Junk Food


Chinese

Italian


International


Visas 4 aliens
RECREATION


Massage!


Beaches

Fly Kites


Sports

Boardwalk


Parks

Pets


Birdwatching


Kung Fu

Hiking


Music Events


Festival&Culture


Humor&

Fun Fotos


BUSINESS


Doing Business


Jobs!(teach/work)


Hire Workers


Foreign Companies


CIFIT (Trade Fair)


MTS(Translation)



Back to Top