AmoyMagic--Guide to Xiamen & Fujian

Copyright 2001-7 by Sue Brown & Dr. Bill

Order Books
Main Page
Business Links
Recreation Links
Google Search
E-mail
Chinese Inventions!

Pi and Ice Cream
"Necessity is the mother of invention" explains why Chinese

have come up with everything from exact pi to ice cream. The age-old struggle for survival on limited arable land has forced China's teeming millions to be both pragmatic and innovative. And they're still innovating today.


In a remote Shandong Province town, we came across a poor mayor's version of a modern street sweeper. A handmade tractor lugged an iron and wood contraption from which whirled a dozen handmade straw brooms. And it worked. That poor hamlet's main street (it's only street) was spotless.


Peasant or urbanite, Chinese are resourceful, resilient, and persistent, and if Cathay's future even remotely mirrors her past, we can expect some marvels in the coming century – particularly in commerce.
...The 1,000 mile Grand Canal, earth's longest manmade waterway, led Chinese to invent suspension bridges, canal locks, and the segmental arch.
And China's canals and rivers, not Twain's Mississippi, hosted the first paddlewheel ships, so Chinese merchants never had to worry about being up a creek without a paddle.


Venetian blinds came from China, not Venice. Pasta originated in China, not Italy, as did the use of coal for cooking it. Speaking of fuel, Chinese invented deep drilling for natural gas and salt.
Chinese invented the rotary crank, the waterwheel-driven bellows in steel smelting, and the seismograph.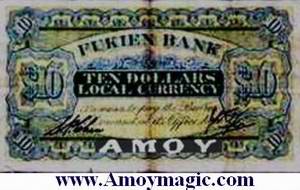 Given their penchant for paperwork, it is no surprise that Chinese invented paper, as well as paper money. (The note on the right was printed in Amoy).
Our planet's first newspaper, the Peking News, ran from A.D. 363 to 1935. (Chinese reporters may well have been the first to fight deadlines, thanks to mechanical clocks which originated not in Europe but in Tang Dynasty China).


While we're on a roll on paper, over 1,000 years ago, Imperial behinds luxuriated in 4" squares of perfumed paper—the world's first TP! (toilet paper)—though a famous poet warned against using paper which had writing on it. (For more on Chinese TP and potties, see "Dethroned"). And they probably did their business while court musicians serenaded them on a two-stringed ErHu—the world's first violin.


Chinese, not Gutenberg , first printed with movable type. And contrary to Britannica CD, the first greeting cards were not European Valentine cards but Chinese New Year cards, invented centuries earlier by noblemen tired of too many New Year visits.


Another lesson for Britannica: it wasn't the French in 1783 who first used parachutes, but Chinese acrobats way back in 1306.


And if you think Laowai Life in Amoy is sometimes a zoo , there's good reason. China invented zoos way back in 1150 B.C.


While my Nordic ancestors huddled in bark shelters and caves and cowered at moon-devouring eclipses, Chinese plotted the courses of sun, moon and stars. Records of solar and lunar eclipses are found on bones and tortoise shells dating from the Shang Dynasty, over 3,015 years ago, and Chinese astronomers recorded every one of Halley's Comet's 27 appearances over the past 2,100 years.


Chinese came up with both the decimal system and binomial mathematics, and about 1500 years ago, the mathemagician Zu Chongzhi calculated the ratio of a circle's circumference to its diameter to be 3.1415926.


Last but by all means least, Chinese invented 'zero,' which is really handy in Xiamen, now that her GDP has so many zeroes behind it.
TRAVEL LINKS

Favorite Fujian Sites

Fujian Foto Album

Xiamen

Gulangyu

Fujian Guides

Quanzhou

Z
hangzhou

Longyan

Wuyi Mtn

Ningde

Putian

Sanming

Zhouning

Taimu Mtn.

Roundhouses

Bridges

Jiangxi

Guilin

Order Books

Readers' Letters

Click to E-mail


Readers'Letters

Last Updated: May 2007


Back to Top