AmoyMagic--Guide to Xiamen & Fujian

Copyright 2001-7 by Sue Brown & Dr. Bill

Order Books
Main Page
Business Links
Recreation Links
Google Search
E-mail
Getting Down to Business
"
Everyone lives by selling something."
Robert Louis Stevenson
Commerce, not Conquer
We Laowai are fortunate that Chinese have always emphasized commerce over conquering. For centuries, Chinese merchants sailed the seven seas in the world's most advanced ships. They were virtually unsinkable, thanks to innovative watertight compartments, but China could have easily sunk the barbarians' boats with such Chinese inventions as gunpowder, rockets, and cannon, and finished off survivors with innovative crossbows....
More Chinese inventions? click here!
Back to Top
Xiamen—China's Mother Lode
Chinese pragmatism is still alive and well, making the Middle Kingdom a gold mine for entrepreneurial Laowai. And Xiamen Special Economic Zone (SEZ), the Gateway to China, is becoming the mother lode—for many r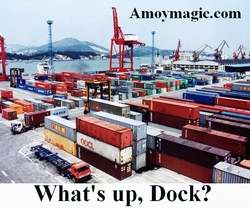 easons:
1. Natural and Situational Assets The best overall weather in China, combined with one of the world's best natural deep-water harbors, has helped rank Xiamen's 81 berth port in China's top ten (#7 in China, #40 worldwide). We handled over 27 million tons of cargo in 2,002 (half of which my wife bought in Xiamen's new shopping centers). Xiamen is a natural port of call for ships linking over 60 ports in 40 countries—315 voyages each month!
Back to Top
But land's the limit on a small gem like Xiamen, so we've invested almost 3 billion Yuan on the Haicang Suspension Bridge to connect Xiamen Island and the new 100 sq. km. Haicang Investment Zone (which a century ago, Dr. Sun Yat-sen envisioned as an "Oriental Mega-Port"). Stretching 1,108 meters across Xiamen Harbor, Haicang is the second longest suspension bridge of its type in the world.
Haicang's natural port extends along 26 km. of coastline, and for 5.5 kilometers the average depth is over 10 meters. A bay extending 3 nautical miles, and a string of offshore islands that act as a natural breakwater, create an ideal haven for ships. Back in Dr. Sun's day, America's "Mobil" consortium and Britain's "Asia" had invested in Haicang and were using it as a petroleum transfer station and marine refueling base, but only now are Haicang, and Xiamen, becoming the super-port that Dr. Sun dreamed of—attracting even ships from Taiwan, now that direct shipping has resumed. (I'm still hoping for the day that passengers can just hop a boat back to Taiwan).
Back to Top
Xiamen's extensive natural harbor, combined with her strategic proximity to Kong Kong and Taiwan province (a mere 100 miles as the fly flies ) makes Xiamen the natural gateway for overseas Chinese and others seeking to stake a claim in China. But just in case the slow boat to China isn't fast enough, Xiamen also has one of China's top airports, Xiamen Gaoqi International Airport. Over 22 airlines handle 400 flights a week to 89 domestic and international destinations, including Singapore, Penang, Kuala Lumpur, Manila and Jakarta. We also have direct cargo flights to cities in China, Hong Kong, Taiwan, Singapore, Nagoya of Japan, and Chicago. And planes landing at Xiamen's new airport are a far cry from the four that landed in Xiamen Bay way back in 1924—on the first round the world flight.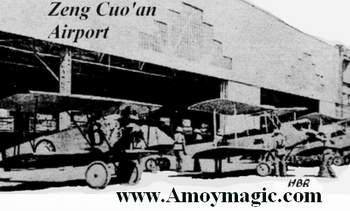 Round the World—and China Too! .....On April 6th, 1924, 3 years before Lindbergh crossed the Atlantic, four specially built Douglas World Cruisers took off for an around the world flight. They must have had more layovers than a cheap Korean Air flight at Christmas because it took two full months to reach Amoy.

On June 7th, they flew from Shanghai and landed in Amoy Harbor, refueled at the Standard Oil depot, dined with the American consul, and flew out the next day. Fortunately, modern planes no longer land in Xiamen bay.
At least, not intentionally.
2. Social and Cultural Assets ......Gumption, more than geography, explains why over 350,000 overseas Chinese (and 70% of Taiwanese) now trace their ancestry back to coastal South Fujian. It took unusual gumption for tradition-bound Xiamen peasants to cut their ancestral apron strings and sail to every corner of the globe in search of work. Most of them toiled at menial labor, but many of them saved every penny, peso, and peseta to build industrial empires that even today exert great global influence. (I was not surprised when Time Magazine reported that overseas Chinese, not Tokyo, wield the greatest economic power in Asia today).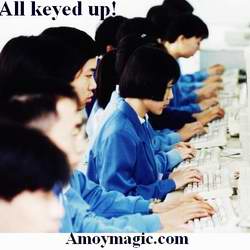 Most Chinese, of course, stayed behind in Xiamen. Maybe the prospect of capital punishment dampened their pioneering spirit. But they did not lack drive and initiative. They simply redirected it, and having proved themselves adept in the rice fields, they're now going to town in the fields of industry, making Xiamen uniquely blessed by an abundance of highly motivated and qualified laborers, both skilled and unskilled.
3. Education in Xiamen .....At least 10% of Xiamen's urban residents have higher education, thanks to 120 scientific research institutes, 8 universities and colleges, 12 poly-technics—and Xiamen University's excellent MBA program! (Phone: 218-6441). For Chinese website, click here!
.......E-mail, click here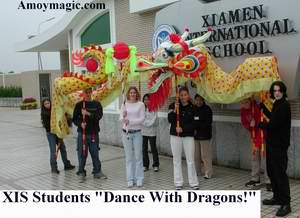 Xiamen International School ( http://www.xischina.com/ ) is a godsend for those with Lil' Laowai running about. XIS offers comprehensive education from grades 1 – 12 (a trump card that has helped win firms like Dell, General Electric, Linde, deng deng). And when you're little ones start spouting unintelligibly in Mandarin, don't panic. You can always sign up for full and part-time language courses in Xiamen University's Overseas Correspondence College, which offers study in everything from anthropology to acupuncture (for more details on OCC, turn to page 51).
4. Economic and political .....Xiamen, as an SEZ, has been granted Provincial level authority and autonomy in economic administration and local legislative power. This gives Xiamen's leadership unprecedented flexibility in guiding the development of this 1,516 sq. km. district, and insuring the best business environment for both domestic and foreign enterprises in Xiamen.
When we stepped off the slow boat to China in '88, Xiamen was a dirty backwater town with inadequate and unreliable water, frequent power outages, heavy pollution, and abysmal infrastructure. The only tall building in town was the harbor's Seaview Building, and foreign enterprises were not coming but going. But Xiamen did an about face after the arrival of Mayor Hong Yong Shi, who like Teddy Roosevelt "speaks softly but carries a big stick."

Our mushrooming skyline has prompted son Shannon to say, "Xiamen is now like a little Hong Kong." Fortunately, Xiamen has also retained its distinctive colonial architecture, which draws droves of Laowai and Laonei alike.....
Current Events .....In the early '90s, electrical blackouts were almost routine. When we had power, it could drop to 160 volts when a neighbor half a block away fired up an electric teakettle, and surge up to 280 volts when they unplugged it. We used to fry more computers and printers than fish and vegetables. But power is no longer a current problem, thanks to Songyu Power Plant's two 300,000 KW generators, which supplement our Fujian Electric reserves (Xiamen also has three reserve power plants).

Giving Us a Line .....Phone service has improved too. In 1989, I made only two phone calls, across campus. Neither got through. But now we have direct dial service to 1800 Chinese cities and over 210 countries or regions. And no more $500 U.S. deposit and 3 year wait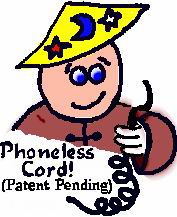 for a phone. Now its about $100, and installation is often same-day. In less than a decade, we've gone from tin-can phones to having two phones at home, plus cell phones, fax, internet, e-mail... We're so well connected that I sometimes long for the peace of yesteryear.
Maybe I can buy a phoneless cord?
Dependable water supplies means we no longer have to catch water from mountain runoffs behind Xiamen University. Xiamen's daily water capacity is 915,000 tons, which according to official sources is adequate to the year 2,005. .........So in 2,006, it's back to the mountain runoffs?

Xiamen's really cooking nowadays, thanks to dependable sources of natural gas and propane—and every other kind of gas, from oxygen to nitrogen, argon, carbon dioxide, hydrogen, coal gas and flatulence. Pass the beans?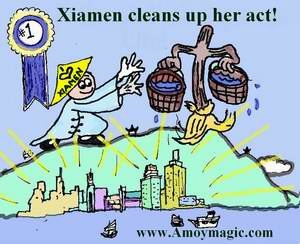 An Apple a Day? ...... Zhongshan Hospital has a "Laowai Clinic," and the Lifeline Clinic has foreign doctors and English-speaking staff. But our 1300 medical facilities may have less business now that Xiamen has cleaned up her act.
Xiamen Cleans Up Her Act! .......Back in 1990, Xiamen was less than pristine. Her streets and sidewalks were covered with litter, and a film of black coal soot coated much of our town, and our lungs as well. Mary Poppins might see romance in coal-black, but it's a different kettle of soot in real life. But someone must have heard that "Cleanliness is next to Godliness," because by the mid '90s, Beijing had recognized Xiamen as the cleanest city in China, with the purest air. Xiamen has received awards like "National Sanitary City," "National Garden City" and "Model City for Environmental Protection." Over the past 20 years, Xiamen ranked #1 in economic growth—and also #2 in environmental sustainability!

To avoid what it calls the West's 'pollution before solution' model of development, Xiamen's core guideline has been:
"No projects that create severe pollution are admitted into Xiamen. The municipality's unremitting policy has been that Xiamen should not sacrifice its environment for economic prosperity."

Talk is cheap, but Xiamen puts her money where her mouth is. Since 1997, investment in environmental protection has equaled 3% of Xiamen's GNP. The biggest payoff is seen at Yuandang Lagoon......
Read more about Xiamen, and her business opportunities, in "Amoy Magic--Guide to Xiamen and Fujian."
TRAVEL LINKS

Favorite Fujian Sites

Fujian Foto Album

Xiamen

Gulangyu

Fujian Guides

Quanzhou

Z
hangzhou

Longyan

Wuyi Mtn

Ningde

Putian

Sanming

Zhouning

Taimu Mtn.

Roundhouses

Bridges

Jiangxi

Guilin

Order Books

Readers' Letters

Click to E-mail


Readers'Letters

Last Updated: May 2007


Back to Top