AmoyMagic--Guide to Xiamen & Fujian

Copyright 2001-7 by Sue Brown & Dr. Bill

Order Books
Main Page
Business Links
Recreation Links
Google Search
E-mail
International Livcom Awards! ...3 Cities, 4 Golds!
2002, Stuttgart, Germany: Xiamen Gets the Gold Medal!
2003, Aperdoorn, Holland: Quanzhou Gets the Gold Medal and Gold Medal for Heritage Management!
2005, La Caruna, Spain: Shanghai Songjiang Gets the Gold Medal!

Click Here for Chinese Version of this page
In 2002, I was honored to give the powerpoint presentatioin for Xiamen in the LivCom Competition (Formerly Nations in Bloom) in Stuttgart, Germany, and I was honored again in 2003 to give the presentation for our neighbor, Quanzhou, in Aperdoorn, Holland. And both cities not only got the gold but Quanzhou also received the Heritage Management Award! And then, in November 2005 in La Caruna, I gave the presentation for Shanghai, Songjiang--and they too got the Gold! (Six out of seven American cities did not even make it to the finals, so this is no easy competition!).

Over 40 cities from around the world made it to the finals in 2002, and Xiamen had some stiff competition—Chicago, Phoenix Arizona (which came in second in 2001 and was ready to win in 2002), and Hangzhou. And in 2003 Quanzhou had to compete with cities like The Hague and Seattle. But Xiamen and Quanzhou both got the gold--and with good reason.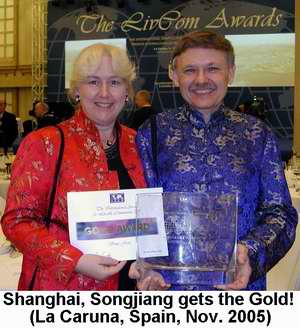 Our competitors, especially Hangzhou and Seattle, had many strong points, but in the final polishing of our presentation we focused on the one aspect that no city could possibly best Xiamen at—the speed and comprehensiveness of Xiamen's transformation. Over the past 20 years, Xiamen was China's #1 city in economic growth, and #2 in environmental sustainability—an incredible combination. And we basically started from scratch!

Over 1,000 years ago, Xiamen was part of Quanzhou, the start of the Silk Road of the Sea, and prospered. But the Japanese razed us in World War II, and the government put no money into Fujian Province, or Xiamen, until the early 80s because this coastal area was a buffer zone against the former military threat of Taiwan. When we moved to Xiamen in 1988, electricity was off several days a week, water was off for days at a time, roads were potholed, or dirt, the city itself was dirty and grimy with soot. And within 15 years, Xiamen became China's cleanest city! Xiamen was first to give air quality reports via the media, one of the first to adopt international standards in quality and pollution control—Xiamen, in short, pioneered many areas in China.

I've loved Xiamen since we arrived in 1988, but only after helping put together the LivCom presentation did I understand the full magnitude of Xiamen's accomplishments. And when I gave the presentation in Stuttgart, I was both honored and proud to be a "Xiamenese." And when Xiamen beat everyone to get the gold medal in this "Oscar of Environmental Communities," I was in 7th heaven! Imagine my delight when Quanzhou also got the gold in 2003--plus the Heritagfe Management award.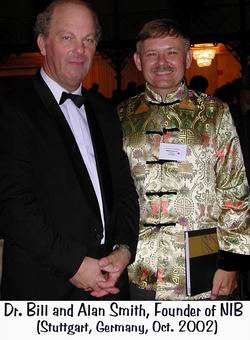 Many thanks to the peoples of Xiamen and Quanzhou (my second favorite city in China) for allowing me to participate in LivCom. And a special thanks to the founder of LivCom, Mr. Alan Smith, who has since become a dear friend. Mr. Smith wrote the introduction to LivCom that I enclose below especially for the last issue of Amoy Magic!
The International Awards for Liveable Communities (formerly "Nations in Bloom") By Mr. Alan Smith, Founder and Director
Despite the possible interpretations of the name Nations in Bloom [hence the change to LivCom--International Awards for Livable Communities], it is NOT a flower show, but a unique international initiative concerned with all aspects of the local environment.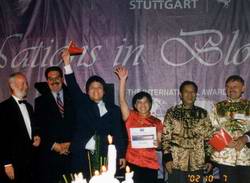 The objective of LivCom is the improvement in the quality of life through the creation of livable, viable communities, encouraged through international exchange of best practice. The international media has named LivCom as the International Benchmark for management of the local environment.

Reasons for Creating LivCom:
There is a long history of international meetings attended by world leaders and experts that have sought to reach agreement on environmental issues. But despite these meetings good intentions, too often the outcomes have been diluted to enable acceptance in many different political cultures. In the end, they often have little real impact on real communities.
There is no way of imposing penalties when countries break from previously made agreements, and there is no lasting ongoing commitment. The USA walked away from the Kyote Agreement because the previously agreed terms of this agreement did not suit the current Administration's political and financial aspirations.
Increasingly, local communities have sought to improve their environment, but have not had the essential network through which they could seek and exchange the best international practice.
LivCom was created to involve the main partners in the management of the local environment, including local politicians, local experts and the community.
Management:
LivCom is managed by a non profit-distributing Company that is a UK Registered Charity. LivCom is endorsed by the United Nations Environment Program.
Participation:
LivCom was piloted in 1996 and launched internationally in 1997. Each year new countries are represented in the Competition. Over 50 countries are now in the LivCom family.
Structure:
Participants compete in five Population Categories.
Communities are required to submit a 4,000 word report, which an international Panel of Judges assess against five criteria: Enhancement of the Landscape, Heritage Management, Use of environmentally Sensitive Practices, Community Involvement, and Planning for the Future.
The Judges invite a number of communities from each Population Category to compete in the Final, where they are required to make a verbal Presentation supported by slides and a video. Following the Presentation, communities face a series of questions from the Judges. The Judges then assess each community against the above criteria.
Benefits:
The writing of the Initial Report is a self-audit process, and highlights to municipal authorities both what the community is doing and is not doing. This initial Report has often been used as the basis for a community's long-term plan.
Management of the environment has more international implications than possibly any other community responsibility. No community faces unique challenges, and no community has all the answers. It is essential that anyone responsible for environmental management maintain an awareness of how communities in other parts of the world respond to similar challenges.
Environmental challenges have no national or cultural borders. LivCom is non political and therefore offers the only opportunity for communities to meet other communities from all parts of the world that are seeking an improved local environment.
There are many examples of communities meeting through LivCom that have formed agreements to exchange best practice, to exchange technical visits, or work together to address a common challenge. These partnerships have produced accelerated technical advances and significant financial savings.
The community has never before been better informed, had a greater desire to become involved, or had greater expectations regarding the improvement of their local environment. This increases the pressure on those responsible for the local environment to seek out international best practices.
LivCom is the only initiative through which communities can become aware of international best practices.
For full details, visit http://www.livcomawards.com For Registration Forms and general enquiries, please contact info@livcomawards.com, or phone +44 118 946 1680. Closing date for annual competitions is May 31st.
LivCom, Globe House, Crispin Close, Caversham
Reading, Berkshire, RG4 7JS, England
Tel/Fax: +44 (0)1189461680

Click to E-mail


Readers'Letters

Last Updated: May 2007


Back to Top