Click to Access
OUTSIDE China


Click to Access
INSIDE China


TRAVEL LINKS


Xiamen

Gulangyu


Jimei

Tong'an


Jinmen

Zhangzhou


Quanzhou

Wuyi


#1Fujian Sites!


Fujian Foto Album


Books on Fujian


Readers'Letters


Ningde

Zhouning


Longyan

Sanming


Putian

Bridges


Travel Info,


Hakka Roundhouses


Travel Agents

MISC. LINKS


Amoy People!


Darwin Driving


Amoy Tigers


Chinese Inventions


Tibet in 80 Days!


Dethroned!


Misc.Writings


Latest News


Lord of Opium


Back to Main Page
AmoyMagic--Guide to Xiamen & Fujian

Copyright 2001-7 by Sue Brown & Dr. Bill

Order Books
Main Page
Business Links
Recreation Links
Google Search
E-mail
Xiamen Music Square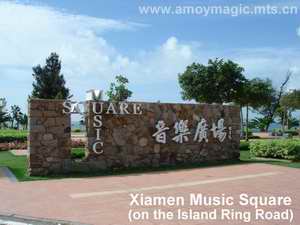 !

Click Here to Solve the Music Square Challenge!

The "Isle of Music Does it Again!"
Xiamen Philharmonic Orchestra's celebrated conductor, Madame Zheng Xiaoying, planned a National Day concert in 2005 on Xiamen's new beachfront Music Square, but as Common Talk's Daisy wrote, typhoon Long Wang "blew away the chance." (We did face the music, but not like we'd expected).
Finally, on May 4 and 5, 2006, dwelle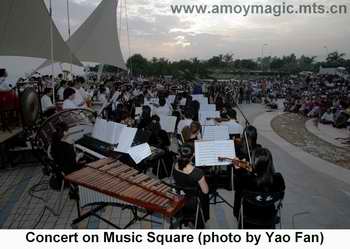 rs of the "Isle of Music" enjoyed the free concert, "Symphony of Mountain and Ocean." Excerpts from eastern and western orchestral classics included Strauss's Blue Danube, Bizet's Carmen, and Lu Gang Temple Fair (based on Fujian's Gezai opera). Click Here to read more in Daisy's May 10, 2006 article on the Common Talk website

Solve the Music Square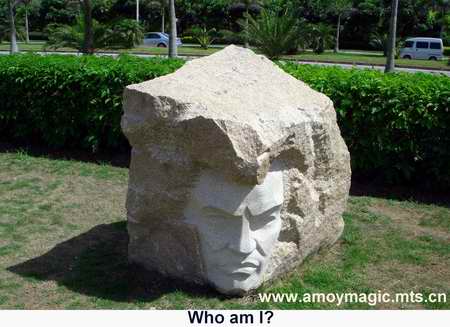 Challenge!
The dozens of sculptures, each with bilingual engravings, introduce over 50 famous Chinese and foreign composers.

Question 1: Which two composers listed below are not represented in the Music Square?
Question 2: Which two monuments show the wrong date of death?
Albeniz, Isaac, 1860-1909, Spain
Bach, Johann, Sebastian, 1685-1750, Germany
Bartok, Bela, 1881-1945, Hungary
Beethoven, Ludwig Von, 1770-1827, Germany
Berlioz, Louis-Hector, 1803-1869, France
Bizet, Georges, 1838-1875, France
Brahms, Johannes, 1833-1897, Germany
Chopin, Frederic Francois, 1810-1849, France (Polish-born)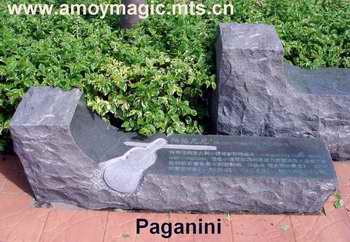 Debussy, Claude Achille, 1862-1918, France
Dvorak, Antonin, 1841-1904, Czechoslovakia
Elgar, Sir Edward William, 1857-1934, England
Franck, Cesar Auguste, 1822-1890, France
Gershwin, George, 1898-1937, United States
Glinka, Mikhail Ivanovitch, 1804-1857, Russia
Gluck, Christoph Willibald, 1714-1787, Germany
Gounad, Charles Francois, 1818-1893, France
Grieg, Edvard Hagarup, 1843-1907, Norway
Handel, George Frederick, 1685-1759, Germany
Haydn, Franz Joseph, 1732-1809, Austria
Mahler, Gustav, 1860-1911, Austria
Mendelssohn, Felix, 1809-1847, Germany
Mozart, Wolfgang Amadeus, 1756-1791, Austria
Mussorgsky, Modest Petrovitch, 1839-1881, Russia
Paganini, Niccolo, 1782-1840, Italy
Prokofiev, Sergei Sergeyevich, 1891-1953, Russia
Puccini, Giacomo, 1858-1924, Italy
Rachmaninoff, Sergei Vasilievich, 1873, 1945, USSR
Ravel, Maurice Joseph, 1875-1937, France
Rossini, Gioacchino Antonio, 1792-1868, Italy
Schubert, Franz, 1797-1828, Austria
Schuman, Robert, 1810-1956, Germany
Shostakovitch, Dimitrievitch, 1906-1975, USSR
Smetana, Bedrich, 1824-1884, Czechoslovakia
Strauss, Johann, 1825-1899, Austria
Strauss, Richard, 1864-1949, Germany
Verdi, Giuseppe, 1813-1901, Italy
Vivaldi, Antonio, 1678-1741, Italy
Wagner, Richard, 1813-1883, Germany
Weber, Carl Maria Friedrich Ernst von, 1786-1826, Germany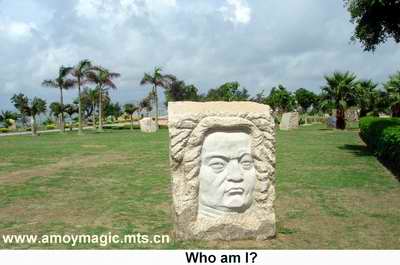 "A good traveler is one who does not know where he is going to, and a perfect traveler does not know where he came from." Lin Yutang
Back to top
Other Fascinating Fujian Destinations! (Outside Xiamen)
Mythical Zaytun (Quanzhou) Start of the Maritime Silk Road!
......... Quanzhou Marionettes
Fujian's Marvelous Wooden Bridges!
Zhangzhou Ancient City of Flowers
Hakka Roundhouses Unique earthen castles
Ningde Birthplaces of S. China Civilization?
Water World (Sandu'ao) Fishing Villages Upon the Sea!
Xiapu Rafting, Kukai's Temple (Japanese), Seafood, deng deng!
Zhouning (my favorite!) Zhouning Thumbnails Delightful place--China's largest waterfalls complex, Kungfu fighting highlanders, carp worshippers...
Wuyi Mountain Amazing historical, cultural and natural attractions
TRAVEL LINKS

Favorite Fujian Sites

Fujian Foto Album

Xiamen

Gulangyu

Fujian Guides

Quanzhou

Z
hangzhou

Longyan

Wuyi Mtn

Ningde

Putian

Sanming

Zhouning

Taimu Mtn.

Roundhouses

Bridges

Jiangxi

Guilin

Order Books

Readers' Letters

Click to E-mail


Readers'Letters

Last Updated: May 2007


Back to Top


DAILY LINKS


FAQs Questions?


Real Estate


Shopping

Maps


Bookstores


Trains

Busses


Car Rental


Hotels

News (CT)


Medical & Dental


YMCA Volunteer!


XICF Fellowship


Churches



Temples


Mosque


Expat Groups


Maids

Phone #s
EDUCATION


Xiamen University


XIS(Int'l School)


Study Mandarin


CSP(China Studies)


Library

Museums


History
DINING


Restaurants

Asian


Veggie

Junk Food


Chinese

Italian


International


Visas 4 aliens
RECREATION


Massage!


Beaches

Fly Kites


Sports

Boardwalk


Parks

Pets


Birdwatching


Kung Fu

Hiking


Music Events


Festival&Culture


Humor&

Fun Fotos


BUSINESS


Doing Business


Jobs!(teach/work)


Hire Workers


Foreign Companies


CIFIT (Trade Fair)


MTS(Translation)



Back to Top