AmoyMagic--Guide to Xiamen & Fujian

Copyright 2001-7 by Sue Brown & Dr. Bill

Order Books


Main Page Business Links Recreation Links Google Search E-mail




Click for Xiamen Boardwalk
Click for Ring Road's Music Square (solve the Music Square Challenge!)


Click for Trish Boman's


Click for Huli Hill Fort (World's Largest Cannon, and more)

The 10,000 Rock Botanical Garden (W¨¤nsh¨ª Zh¨¬w¨´yu¨¢n ÍòʯֲÎïÔ°), has more rocks than our university cafeteria rice, and beautifully landscaped trails winding amongst 20+ nurseries with over 5,300 kinds of tropical and subtropical plants, many found nowhere else on earth (or China either).

The first of its kind in China, and China¡¯s 1st ISO-authenticated garden, this delightful botanical oasis was opened in 1960 right in downtown Xi¨¤m¨¦n, and covers 2.27 square kilometers (none are actually square).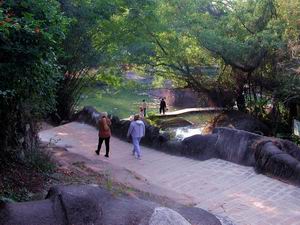 Koxinga stationed some of his troops in this area, and often came here to read, as did many other great men, evidently. The granite boulders throughout the garden are graced with ancient men of letters¡¯ calligraphic inscriptions (ancient graffiti sanctified by age).

Giant boulders with names like ¡°Laughing Rock¡± (T¨¤ip¨ªng Sh¨ªxi¨¤o̫ƽʯЦ) are strewn across the picturesque hills. Below ground are dozens of ¡°caves¡± (Chinese call any space between two rocks a cave).
Back to Top AmoyMagic Guide to Xiamen and Fujian

My favorite sites include: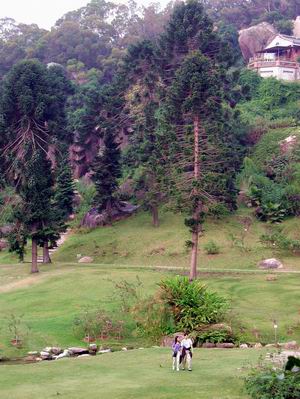 W¨¤nsh¨ª Lake (W¨¤nsh¨ªh¨² Íòʯºþ), a reservoir built in 1952.
Spring & Autumn Bridge (Ch¨±nqi¨² Qi¨¢o ´ºÇïÇÅ) connects the Bamboo Path and the Palm Garden.
Conifer Garden: over 80 species of pines, cypress and firs, including sequoia (found only in California and Central China) and gingko, which Chinese claim have been around 2 billion years. (They¡¯d know, I guess).
The Bamboo Path is my personal favorite. Chinese have long said, ¡°Better no meat than no bamboo,¡± because bamboo has well over 1,000 uses, and China has over 200 of the world¡¯s 1000 species of bamboo. In North F¨²ji¨¤n you can even find a rare square bamboo! (They should feed square bamboo to pandas; they¡¯d be sure to get a square meal).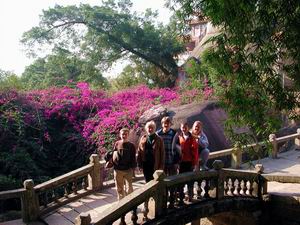 Also visit the Rose Garden, Palm Garden, the 1,000m2 Flower Exhibition Hall (over 1000 species of flowers), and the Araucaria Lawn, which has a camphor tree planted by D¨¨ng Xi¨£op¨ªng. Turn to the Religion chapter for an introduction to the many temples, and the story behind the legend, ¡°No wife and no monkey.¡±
The Botanical Garden is free before 7 AM, making it perfect for daily morning exercises.

Botanical Garden Temples
Tiger Stream Temple (H¨³x¨© Y¨¢n S¨¬ »¢ÏªÑÒË is on the west side of Drunk Immortal Mtn. (Zu¨¬xi¨¡n Mtn. (×íÏÉ ÑÒ), near the Botanical Garden. It¡¯s said a tiger lived in one of the caves, so the stone ¡°Immortals¡¯ Bridge¡± (ÏÉÈËÇÅ) is also called ¡°Cross the Tiger Bridge¡± ("¶É»¢ÇÅ ). The area¡¯s known for its ancient calligraphic inscriptions on boulders (but what Chinese boulders don¡¯t have calligraphy?).
Back to Top AmoyMagic Guide to Xiamen and Fujian
Tiger Stream Night Moon (H¨³x¨© Y¨¨yu¨¨ »¢ÏªÒ¹ÔÂ) Locals say that on the 15th of the Lunar month, the moon shining upon the clay Buddhist figurines and the clay tiger makes them appear to come alive, and on the evening of Mid-autumn Festival, thousands of pilgrims vie to be the first to watch the moon work its magic.
Add: H¨²yu¨¢n L¨´, near Botanical Garden. Tel: 2021732
Tiger Stream Vegetarian Restaurant »¢ÏªÑÒËÂËØ²Í¹Ý Tel: 2121799
W¨¤n Sh¨ªli¨¢n Temple (W¨¤n Sh¨ªli¨¢n S¨¬ÍòʯÁ«ËÂ) in the Botanical Garden, was built in the late Ming Dynasty by General Sh¨©l¨¤ng. The gate has a pair of antithetical couplets written by the famous Master H¨®ngy¨© (ºëÒ»·¨Ê¦).
Border of Heaven Temple (Ti¨¡nji¨¨ S¨¬ Ìì½çËÂ), also in the Botanical Garden, is famous for its morning bell, (Ti¨¡nji¨¨ Xi¨£ozh¨­ngÌì½çÏþÖÓ) which is poetically described as ¡°Dawn Bell Ringing from Heaven¡¯s Border.¡± Ti¨¡nji¨¨ is also famous for the saying story of Ti¨¡nji¨¦ Learner and the common Xi¨¤m¨¦n saying, ¡°No wife, no monkey¡± (see ¡°Xi¨¤m¨¦n Legends chapter).
The botanical garden¡¯s other temples include include Crag in the Clouds Temple (Y¨²nzh¨­ngy¨¢n S¨¬ÔÆÖÐÑÒËÂ), Pacific Crag Temple (T¨¤ip¨ªngy¨¢n S¨¬Ì«Æ½ÑÒËÂ), White Deer Cave Temple (B¨£il¨´d¨°ng S¨¬ °×¹¶´ËÂ), Purple Cloud Crag Temple (Z¨«y¨²ny¨¢n S¨¬ ×ÏÔÆÑÒËÂ), Purple Bamboo Grove Temple (Z¨«zh¨²l¨ªn ×ÏÖñÁÖËÂ), Immortal Crag Temple, ÍòÊÙÑÒËÂ) and Sweet Dew Temple (G¨¡nl¨´ S¨¬ ¸Ê¶ËÂ). The South F¨²ji¨¤n Buddhist College¡¯s nunnery is in the Purple Bamboo Grove Temple.
Back to Top AmoyMagic Guide to Xiamen and Fujian

Getting There: Take bus #17, or a taxi. The garden is opposite the Martyr¡¯s Memorial (Xi¨¤m¨¦n Li¨¨sh¨¬ L¨ªngyu¨¢n ÏÃÃÅÁÒÊ¿ÁêÔ° and the Wan Peony Hotel, about 5 minutes from the Xi¨¤m¨¦n City Hotel (just outside the tunnel from XMU). But more adventurous souls hike over the mountains above XMU¡¯s Lover¡¯s Lake...

Ascend the serpentine trail, a relic of Japanese occupation days, past ¡°Heavenly Bestow Mineral Water Co. Cross the bridge and continue past the sign that says ¡°No foreigners beyond this sign.¡± The trail eventually crosses the forested crest, where tigers roamed 60 years ago, and where not long ago they found a 30 foot reticulated python.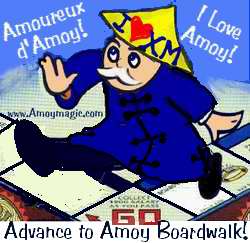 But fear not! Reticulated pythons are rarer than Monty Pythons, and fear us more than we fear them. Or so I¡¯m told. But has anyone told them? Two hours north, in Koxinga¡¯s hometown of Nan An, a python ate a farmer and two kids (in separate sittings). I suspect the locals now find the ¡®snake fears man¡¯ story a bit hard to swallow.

Click to E-mail


Readers'Letters

Last Updated: May 2007


Back to Top