Click to Access
AMOY MAGIC SITE from
OUTSIDE China


Click to Access Amoy Magic Site from
INSIDE China


TRAVEL LINKS


Xiamen

Gulangyu


Jimei

Tong'an


Jinmen

Zhangzhou


Quanzhou

Wuyi


#1Fujian Sites!


Fujian Foto Album


Books on Fujian


Readers'Letters


Ningde

Zhouning


Longyan

Sanming


Putian

Bridges


Travel Info,


Hakka Roundhouses


Travel Agents

MISC. LINKS


Amoy People!


Darwin Driving


Amoy Tigers


Chinese Inventions


Tibet in 80 Days


Amoy Vampires!


Dethroned!


Misc.Writings


Latest News


Lord of Opium


Back to Main Page


Copyright 2001-7 by Sue Brown & Dr. Bill

Order Books

iE-mail


Note: Please click thumbnails for larger photos!!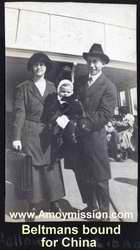 Amoy Hill's PhotosAmoy Mission in 1877

Henry and Sara Beltman
Amoy Mission, 1920-1928 (Click thumbs for larger photos)

In 1984, Robert Schuller Ministires published "90 Years with Uncle Henry,¡± because Henry Beltman was Schuller's uncle! When Dr. Schuller visited China in October and early November, 2006, he visited Xiamen, spoke at Xiamen University, and sought out the church Uncle Henry started. (BTW, Xiamen's 45th church was finished in May, 2008; neighboring Quanzhou has almost 200). Chinese versions of Schuller's books have been published in China. You can buy them in Xiamen at Jehovah Nissi Bookstore.
Related Links:

Dr. Schuller's China Tour.

Hour of Power in Beijing


A Schuller Sermon mentioning Uncle Henry as "father" of Crystal Cathedral.


"90 Years" is hard to find; the Hills gave me their copy. Now that Schuller Ministries has a renewed interest in China, perhaps they'll reprint it? In the meantime, below are Amoy-related excerpts from "Uncle Henry." Enjoy!
Blessings, Dr. Bill

Excerpts from "90 Years with Uncle Henry"
Copyright 1984 by Robert Schuller Ministries, Garden Grove California

Chapter 16 ¡°First Impressions of Amoy Language Boys¡¯School


pp.66, 67¡°It was an interesting experience to see the Chinese coolies competing with each other to take our luggage and help us in our last journey to the island of Kulangsu. The Poppens lived in a large house on the shore. A long granite slab jetty extended into the harbor. The water was at ebb tide. The Amoy harbor has a tide of over 20 feet. It was a short trip from steamer to jetty on a small sampan loaded with luggage and three persons. I was a bit concerned about the heavy load in so small a boat on a treacherous deep-water harbor. Amoy harbor is one of the large deep-water harbors of the world. I was given my first lesson in traveling on a small boat with an extra heavy load. I was not supposed to be alarmed. I was merely to sit still and watch.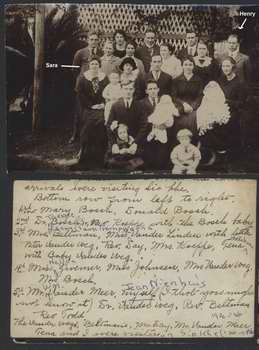 ¡°It was Sunday morning when we landed. We had a hearty breakfast with the Poppens. Mrs. Poppen and Sara Helene were sisters....¡±
"...The language study was most interesting yet not easy. It was not like a Latin language. It had no grammar. It demanded practice of tones and memorizing words and phrases. It did not have an alphabet. It was a pictorial language of thousands of characters¡­.¡±
TRAVELING SHOES
pp.67, 68 ¡°Four weeks after arrival, Mr. Poppen asked me to accompany him on one of his evangelistic tours into the country to visit the churches and mission stations in the district assigned to his supervision. Sincere there were no roads on which we could use vehicles, it was a journey on foot. It was a journey of some twenty days, traveling some 300 miles, and living on Chinese food, and spending the nights in rooms provided by the church or mission stations. We carried a small amount of food in one of our luggage baskets, and our required clothing in another basket. Each of us had two baskets weighing not over sixty pounds. These burdens were to be carried by Chinese coolies, called burden-bearers. These men traveled with us from village to village. At times we traveled as much as twenty miles per day, over hills and down into the valleys and up again to the hills. The roads were mostly two or three feet wide paths. The climing of the hills was made easier by having granite steps placed firmly on the paths. These steps were adjusted in height and distance to the size of the Chinese. They were mostly 5 feet 2 inches or 5 feet 3 inches; we were both six feet tall. This made hill climbing and going down not too easy for us.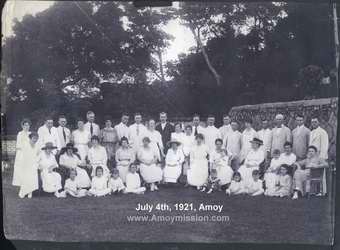 ¡°Another thing I learned on this first trip was that my strong American walking shoes were no match for the Chinese grass sandals. My shoes were new when we began our trip. When we ended, the shoes were not worth repairing. My next trips were to be made in grass sandals. I had to have some extra large ones made. The price per pair of sandals was about 30 Chinese pennies. A pair of sandals would give me a minimum of 600 miles. When walking in sandals, it was easy to stop by a stream and cool one¡¯s feet and feel refreshed. I never traveled there again wearing shoes.¡±
p.69 BRITISH missionaries. ¡°All the missionaries who entered India, or any of the near-east countries, or the Arab lands had to promise not to speak against Great Britian [sic]. Britian rule the world in a strange sort of manner. The missionaries to these lands entered by the grace of His Majesty or Her Majesty, the King or Queen of Great Britian.¡±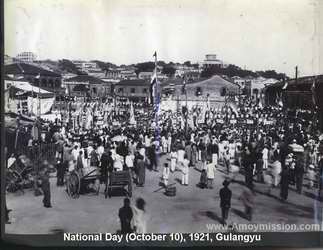 SCHOOL -THRIVE UNDER LOCALS [See "Pioneering Education]
p.69 ¡°My first assignment during our second year of language study was a boys¡¯ school. It was an elementary school, directly across the narrow walk in front of our house. I had charge of this school for the next five years. The school thrived during these five years, due to giving the control of the school to the local Chinese. The principal and all the teachers were Christians, and I felt they were well qualified to take control of the school. I kept long-distance control. When the student body increased, I asked local Chinese to help build a larger dormitory and a larger dining room for which the local Chinese paid. My error was that I did not ask permission for this move from our local missionary personnel and was severely reprimanded. This was not the last such reprimand because of the need for progress. I felt that the Book of Acts taught us that churches and their schools should become self-governing, self-propagating and self-sustaining. This idea was not all acceptable by missionaries and their boards from 1920-1926. But I enjoyed the boys¡¯ school.¡±
Chapter 17 Talmage College (pp. 70,71)
¡°I had had no experience in architectural work nor building, but during my third through my sixth years in China, I was the leading real-estate buyer, architect and builder.
¡°The mission had a small college on the island of Kulangsu on an acre campus. It was necessary to move this college. Of course opposition arose. To live in Kulangsu was to live in a thriving, rich, wealthy community, and in touch with the whole world. Kulangsu was an island in the middle of the large Amoy harbor. It had a walk around the island which measured five miles. Many rich people lived there. They had acquired their riches in the Philippines, Dutch East Indies and Rangoon. It was estimated that four million Amoy-speaking Chinese lived in those sections of the Far East. They were successful business people. Having become wealthy, they returned to live on Kulangsu Island, protected by international treaties. Amoy was one of the larger harbors that was controlled by the British. Life was safe on this island, but our school was being crowded out of its campus.
¡°It was decided to move Talmage College to Changchow, where the mission had determined we were to live during our first term of service¡ªsix or seven years."
Note: Please send me Beltman-related text or photos
to add to the site. And I have old photos of the Beltmans I will upload when I have time.


Further Reading: Beltman, Henry, "Emancipation of Chinese Womanhood," Christian Intelligencer, September 1, 1926, p. 561
Help the "The Amoy Mission Project!"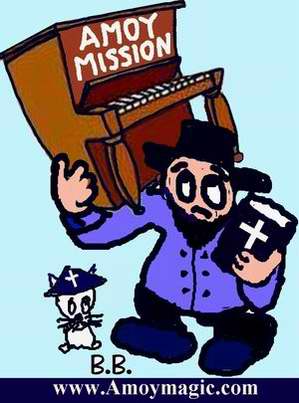 Please share any relevant biographical material and photos for the website and upcoming book. All text and photos will remain your property, and photos will be imprinted to prevent unauthorized use.
Thanks!
Dr. Bill Xiamen University MBA Center
E-mail: amoybill@gmail.com
Snail Mail: Dr. William Brown
Box 1288 Xiamen University, Xiamen, Fujian PRC 361005
TRAVEL LINKS

Favorite Fujian Sites

Fujian Foto Album

Xiamen

Gulangyu

Fujian Guides

Quanzhou

Z
hangzhou

Longyan

Wuyi Mtn

Ningde

Putian

Sanming

Zhouning

Taimu Mtn.

Roundhouses

Bridges

Jiangxi

Guilin

Order Books

Readers' Letters New: Amoy Vampires! Google Search

Click to E-mail


Readers'Letters
Last Updated: October 2007


Back to Top
Google Search
AMOY MISSION LINKS



A.M. Main Menu


RCA Miss'ry List


AmoyMission-1877


AmoyMission-1893


Abeel, David


Beltman


Boot Family


Broekema, Ruth


Bruce, Elizabeth


Burns, Wm.


Caldwells


DePree


Develder, Wally


Wally's Memoirs!


Douglas, Carstairs


Doty, Elihu


Duryea, Wm. Rankin


Esther,Joe & Marion


Green, Katherine


Hills,Jack & Joann
.

Hill's Photos.80+
..

Keith H.

Homeschool


Hofstras


Holkeboer, Tena


Holleman, M.D.


Hope Hospital


Johnston Bio


Joralmans


Karsen, W&R


Koeppes, Edwin&Eliz.


Kip, Leonard W.


Meer Wm. Vander


Morrison, Margaret


Muilenbergs


Neinhuis, Jean


Oltman, M.D.


Ostrum, Alvin


Otte,M.D.

Last Days


Platz, Jessie


Pohlman, W. J.


Poppen, H.& D.


Rapalje, Daniel


Renskers


Talmage, J.V.N.


Talman, Dr.


Veenschotens
.

Henry V.

Stella V.
.

Girard V.


Veldman, J.


Voskuil, H & M


Walvoord


Warnshuis, A.L.


Zwemer, Nellie


Fuh-chau Cemetery


City of Springs
(Quanzhou, 1902!!)


XM Churches


Church History


Opium Wars


A.M. Bibliography


YMCA Volunteer!


XICF Fellowship


Temples


Mosques


Christ in Chinese
Artists' Eyes

DAILY LINKS


FAQs Questions?


Real Estate


Shopping

Maps


Bookstores


Trains

Busses


Car Rental


Hotels

News (CT)


Medical & Dental


Expat Groups


Maids

Phone #s
EDUCATION


Xiamen University


XIS(Int'l School)


Study Mandarin


CSP(China Studies)


Library

Museums


History
DINING

Tea Houses


Restaurants

Asian


Veggie

Junk Food


Chinese

Italian


International


Visas 4 aliens
RECREATION


Massage!


Beaches

Fly Kites


Sports

Boardwalk


Parks

Pets


Birdwatching


Kung Fu

Hiking


Music Events


Cinema


Festival&Culture


Humor&

Fun Fotos


BUSINESS


Doing Business


Jobs!(teach/work)


Hire Workers


Foreign Companies


CIFIT (Trade Fair)


MTS(Translation)



Back to Top