Click to Access
AMOY MAGIC SITE from
OUTSIDE China


Click to Access Amoy Magic Site from
INSIDE China


TRAVEL LINKS


Xiamen

Gulangyu


Jimei

Tong'an


Jinmen

Zhangzhou


Quanzhou

Wuyi


#1Fujian Sites!


Fujian Foto Album


Books on Fujian


Readers'Letters


Ningde

Zhouning


Longyan

Sanming


Putian

Bridges


Travel Info,


Hakka Roundhouses


Travel Agents

MISC. LINKS


Amoy People!


Darwin Driving


Amoy Tigers


Chinese Inventions


Tibet in 80 Days


Amoy Vampires!


Dethroned!


Misc.Writings


Latest News


Lord of Opium


Back to Main Page


Copyright 2001-7 by Sue Brown & Dr. Bill

Order Books

iE-mail


Note: Please click thumbnails for larger photos!!




Amoy Hill's Photos
Amoy Mission in 187
7

Amoy Mission in 1893

W. J. POHLMAN, 1844-'49.
From Pitcher, Philip Wilson, ¡°Fifty Years in Amoy, a History of the Amoy Mission,¡± Reformed Church of America Board of Publication, NY, 1893 Click Here for full text.
Mr. Pohlman was born in Albany, N. Y., February 17th, 1812. Leaving the parental roof when he was twelve years of age, his young and inexperienced life came in contact with severe and so great temptations that he was nearly swept from the moorings of his faith and piety, instilled into his heart by his faithful parents.

For four years he was tossed about upon the billows of temptation and sin, conviction and relapses, good resolutions and broken vows, "the struggles between a tempting world and a tempting adversary on the one hand, and a conscience breathing dismay and terror on the other." But at last the good conquered, and his conversion was sudden and almost as vivid as Paul's on his way to Damascus; and, as in Paul's case, he was chosen of God to carry the Gospel to the Gentiles far away from his home land. His joy over the assurance of full redemption, his praise over redeeming love, he could scarcely frame in words-so full was his heart. This change occurred at Geneva, N. Y., in 1828, where he was living with a sister, to whose loving, sisterly devotion and patience his conversion was due (so far as human agency can work). Soon after he decided to study for the ministry, and at twenty entered the junior class at Rutger's College, 1834. Subsequently graduating from the New Brunswick Seminary (1837), he was ordained by the Classis of Albany, April 18th, 1838. His attention to the heathen world was probably first called by hearing a returned missionary from the Sandwich Islands preach shortly after his conversion. He was deeply impressed. This impression was intensified by an address delivered before the students of the College, February, 1833, by Rev. Dr. Wisner, Secretary of the A. B. C.F. M.

"From this time his mind was not at rest until the beginning of the next year, when, after many trials and conflicts, arising partly from a distrust of his own qualifications and partly from reluctance of near friends, especially of his aged parents, to part with him, he came deliberately to the determination that he would devote his life to foreign missions; and from that hour everything else was made subordinate and subservient to the accomplishment of this one grand object"; and his consecrated and devoted spirit is breathed forth on the pages of a letter he forwarded to the A. B. C. F. M.

"Time has only served to strengthen the decision which was calmly and dispassionately made. After repeated reviews of the same, I am confirmed and settled. I cannot now doubt for a moment; mine was not a rush or a hasty conclusion. If there are no contrary indications, I mnst go; I cannot stay. Receive me under your care as a candidate for the missionary service; I wish to be enlisted for life. If in your view I can be of any service, I lay my all at your feet. Silver and gold have I none, but such as I have give I thee. Send me abroad to publish glad tidings to the idol-serving nations. Send me to the most desert part of all the howling wilderness of heathenism, to the most barbarous climes, or to more civilized regions. Send me to the millions of pagans, to the followers of the false prophet, to the Jews or the Gentiles, to Catholics or Protestants. Send me, in fine, wherever God opens an effectual door. Send me, for the necessity is laid upon me; yea, woe is unto me if I preach not the Gospel to the perishing heathen." (Manual Reformed Church, etc.)

He was accepted, but before he departed he was employed by the Board of Foreign Missions of the Reformed (Dutch) Church (then acting in concert with the A. B. C. F . M.), visiting the churches, and several thousand dollars were raised, as well as much enthusiasm aroused in the behalf of missions, through his earnest appeals.

Mr. Pohlman, with his wife (a sister of Dr. Jolin Scudder, of Indian fame), left for their mission field on the 25th of May, 1838. Like his brethren who had preceded him at Amoy, his labors began elsewhere, having first visited Java, Singapore and Borneo. He arrived in Amoy in company with Mr. Doty, June 24th, 1844.

Through his solicitations and influence among friends at home, money was secured for the erection of the first church building of Amoy January, 1849, at the cost of $3,000, now occupied by the members of the First Church, Amoy. This was the first church erected in China, exclusively used for Chinese worship. Thus, the temple stands an honor to this man and a monument to his faith and zeal.

He was cut off in the midst of his years and not permitted to witness this crowning act of his life in its full completion; for it was while on a voyage from Hong-Kong, whence he had gone to procure lamps for the edifice, that he lost his life at sea.

"He set out to return to Amoy on the 2d of January (1849) in the schooner Omega. On the morning of the 5th or 6th the vessel struck, in a fearful gale, near Breakers' Point, about half way between Hong-Kong and Amoy." All on board perished save one, either at the hands of the pirates who infested those shores, or by the overwhelming waters. The people at Amoy were waiting for Pohlman's return, when they expected to dedicate the new structure. His funeral service and the dedication exercises were held at one and the same time, February 11th, 1'849.

Mrs. Theodosia R. (Scudder) Pohlman, 1844-'45¡± (Died; buried at Amoy, China)

Read more about Pohlman in
Corwin, Edward Tanjore, D.D. ¡°A Manual of the Reformed Church in America (Formerly Reformed Dutch Church), 1628-1902, New Brunswick, New Jersey, 1902.

Please Help the "The Amoy Mission Project!"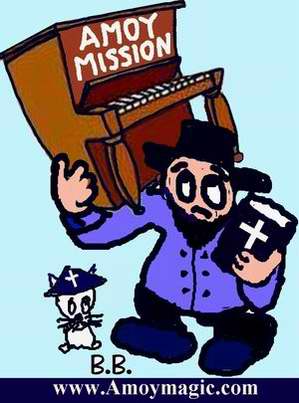 Please share any relevant biographical material and photos for the website and upcoming book. All text and photos will remain your property, and photos will be imprinted to prevent unauthorized use.
Thanks!
Dr. Bill Xiamen University MBA Center
E-mail: amoybill@gmail.com
Snail Mail: Dr. William Brown
Box 1288 Xiamen University, Xiamen, Fujian PRC 361005
TRAVEL LINKS

Favorite Fujian Sites

Fujian Foto Album

Xiamen

Gulangyu

Fujian Guides

Quanzhou

Z
hangzhou

Longyan

Wuyi Mtn

Ningde

Putian

Sanming

Zhouning

Taimu Mtn.

Roundhouses

Bridges

Jiangxi

Guilin

Order Books

Readers' Letters New: Amoy Vampires! Google Search

Click to E-mail


Readers'Letters
Last Updated: October 2007


Back to Top
Google Search
AMOY MISSION LINKS



A.M. Main Menu


RCA Miss'ry List


AmoyMission-1877


AmoyMission-1893


Abeel, David


Beltman


Boot Family


Broekema, Ruth


Bruce, Elizabeth


Burns, Wm.


Caldwells


DePree


Develder, Wally


Wally's Memoirs!


Douglas, Carstairs


Doty, Elihu


Duryea, Wm. Rankin


Esther,Joe & Marion


Green, Katherine


Gutzlaff, Karl


Hills,Jack & Joann
.

Hill's Photos.80+
..

Keith H.

Homeschool


Hofstras


Holkeboer, Tena


Holleman, M.D.


Hope Hospital


Johnston Bio


Joralmans


Karsen, W&R


Koeppes, Edwin&Eliz.


Kip, Leonard W.


Meer Wm. Vander


Morrison, Margaret


Muilenbergs


Neinhuis, Jean


Oltman, M.D.


Ostrum, Alvin


Otte,M.D.

Last Days


Platz, Jessie


Pohlman, W. J.


Poppen, H.& D.


Rapalje, Daniel


Renskers


Talmage, J.V.N.


Talman, Dr.


Veenschotens
.

Henry V.

Stella V.
.

Girard V.


Veldman, J.


Voskuil, H & M


Walvoord


Warnshuis, A.L.


Zwemer, Nellie


Fuh-chau Cemetery


City of Springs
(Quanzhou, 1902!!)


XM Churches


Church History


Opium Wars


A.M. Bibliography


YMCA Volunteer!


XICF Fellowship


Temples


Mosques


Christ in Chinese
Artists' Eyes

DAILY LINKS


FAQs Questions?


Real Estate


Shopping

Maps


Bookstores


Trains

Busses


Car Rental


Hotels

News (CT)


Medical & Dental


Expat Groups


Maids

Phone #s
EDUCATION


Xiamen University


XIS(Int'l School)


Study Mandarin


CSP(China Studies)


Library

Museums


History
DINING

Tea Houses


Restaurants

Asian


Veggie

Junk Food


Chinese

Italian


International


Visas 4 aliens
RECREATION


Massage!


Beaches

Fly Kites


Sports

Boardwalk


Parks

Pets


Birdwatching


Kung Fu

Hiking


Music Events


Cinema


Festival&Culture


Humor&

Fun Fotos


BUSINESS


Doing Business


Jobs!(teach/work)


Hire Workers


Foreign Companies


CIFIT (Trade Fair)


MTS(Translation)



Back to Top