Click to Access
AMOYMAGIC SITE from
OUTSIDE China


Click to Access AmoyMagic Site from
INSIDE China


TRAVEL LINKS


Xiamen

Gulangyu


Jimei

Tong'an


Jinmen

Zhangzhou


Quanzhou

Wuyi


#1Fujian Sites!


Fujian Foto Album


Books on Fujian


Readers'Letters


Ningde

Zhouning


Longyan

Sanming


Putian

Bridges


Travel Info,


Hakka Roundhouses


Travel Agents

MISC. LINKS


Amoy People!


Darwin Driving


Amoy Tigers


Chinese Inventions


Tibet in 80 Days


Amoy Vampires!


Dethroned!


Misc.Writings


Latest News


Lord of Opium


Back to Main Page
Copyright 2001-7 by Sue Brown & Dr. Bill

Order Books

Amoy Mission Main Page
Google Search
E-mail
Rev. Leonard William Kip
Amoy Missionary 1861 to 1898
Green-wood Cemetery in Brooklyn has the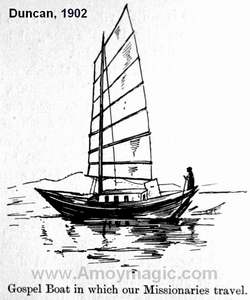 tombstone of Rev. Leonard W. D. D.Kip (10 Nov. 1837 - 27 Feb. 1901). It reads, "For 37 years a missionary in Amoy, China".
Kip had one of the longest tenures of any Amoy missionary, and was one of five missionaries who strongly advocated cooperation between Reformed missionaries and those of the English Presbyterian mission and, later, the London Missionary Society. But the missionaries desire to cooperate on the field was met with strong resistance from home headquarters. The Reformed Church's General Synod argued that their past success was due to "unflinching and unfaltering adherence to our doctrines our customs, our usages, and our liberal and wise Constitution," and warned against, "flashes of enthusiasm and "improvised measures of administration." (De Jong, p. 71).The debate raged until, finally, five Reformed missionaries [Leonard Kip, Augustus Blauvelt, Alvin Ostrom, Daniel Rapalje, and Elihu Doty] signed a letter saying that either their views be respected or they be replaced by other missionaries who shared the home office' view. In the end the missionaries of these three denomiations were allowed to cooperate, and this no doubt contributed to the Amoy Mission's unusual success.
Kip's wife, Helen, was also active, often accompanying her husband on trips into the interior, and teaching in schools (she ran the girls' school on Gulangyu while Mary Talmage was on furlough in America), giving geography classes to students in the Amoy Boys' Schools, as well as running women's meetings in two Amoy churches. (De Jong, p.123). Helen Kip was also the one who, in 1866, in Amoy's Second Church, started to tackle illiteracy amongst women by teaching them to read Romanized scripts. This was so successful that Mary Talmadge adopted the same approach at Amoy's First Church. (De Jong, p.129) And as if she wasn't busy enough already, Helen also helped out at the hospital!
Gospel Boats The Greenwich Reformed Church of New York City contributed to the contstruction of two "gospel ships," one of which was named the Greenwich. Rev. Leonard William Kip described this 'gospel ship' in a letter from Amoy dated August 6, 1863, to the Reverend Philip Pelts, secretary of the Board of Foreign Missions, Kip wrote:
Our new boat has been completed, and has been in running order for several weeks. A week ago Saturday I made my first trip in her up to Chioh-be [located about fifteen miles from Amoy on the lower estuary]. She is a good size, about 28 feet long, and sails very well. She is both safer and much more comfortable than our old boat. The cabin is comparatively spacious. Though only seven feet abeam, it is large enough for our purposes. It has two births, eath 2 feet wide, which are so low that they may also be used to sit on, and a table. Being high enough to stand upright in, you will see that it is possible to live in her quite comfortably for a day or two. And since we cannot always get decent lodgings on shore, this becomes a great consideration"
[Christian Intelligencer, November 26, 1863, p.189; quoted in De Jong]
Back to Top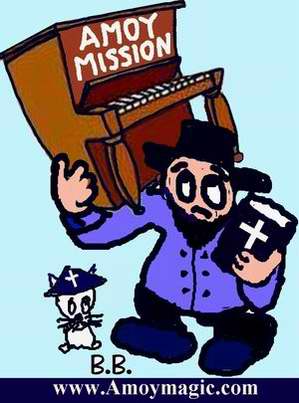 Please Help the "The Amoy Mission Project!" Please share any relevant biographical material and photos for the website and upcoming book, or consider helping with the costs of the site and research materials. All text and photos will remain your property, and photos will be imprinted to prevent unauthorized use.

Thanks!





Dr. Bill Xiamen University MBA Center
E-mail: amoybill@gmail.com
Snail Mail: Dr. William Brown
Box 1288 Xiamen University, Xiamen, Fujian PRC 361005

Click to E-mail


Readers'Letters
Last Updated: October 2007


Back to Top
Google Search
AMOY MISSION LINKS



A.M. Main Menu


RCA Miss'ry List


AmoyMission-1877


AmoyMission-1893


Abeel, David


Beltman


Boot Family


Broekema, Ruth


Bruce, Elizabeth


Burns, Wm.


Caldwells


DePree


Develder, Wally


Wally's Memoirs!


Douglas, Carstairs


Doty, Elihu


Duryea, Wm. Rankin


Esther,Joe & Marion


Green, Katherine


Gutzlaff, Karl


Hills,Jack & Joann
.

Hill's Photos.80+
..

Keith H.

Homeschool


Hofstras


Holkeboer, Tena


Holleman, M.D.


Hope Hospital


Johnston Bio


Joralmans


Karsen, W&R


Koeppes, Edwin&Eliz.


Kip, Leonard W.


Meer Wm. Vander


Morrison, Margaret


Muilenbergs


Neinhuis, Jean


Oltman, M.D.


Ostrum, Alvin


Otte,M.D.

Last Days


Platz, Jessie


Pohlman, W. J.


Poppen, H.& D.


Rapalje, Daniel


Renskers


Talmage, J.V.N.


Talman, Dr.


Veenschotens
.

Henry V.

Stella V.
.

Girard V.


Veldman, J.


Voskuil, H & M


Walvoord


Warnshuis, A.L.


Zwemer, Nellie


Fuh-chau Cemetery


City of Springs
(Quanzhou, 1902!!)


XM Churches


Church History


Opium Wars


A.M. Bibliography


YMCA Volunteer!


XICF Fellowship


Temples


Mosques


Christ in Chinese
Artists' Eyes

DAILY LINKS


FAQs Questions?


Real Estate


Shopping

Maps


Bookstores


Trains

Busses


Car Rental


Hotels

News (CT)


Medical & Dental


Expat Groups


Maids

Phone #s
EDUCATION


Xiamen University


XIS(Int'l School)


Study Mandarin


CSP(China Studies)


Library

Museums


History
DINING

Tea Houses


Restaurants

Asian


Veggie

Junk Food


Chinese

Italian


International


Visas 4 aliens
RECREATION


Massage!


Beaches

Fly Kites


Sports

Boardwalk


Parks

Pets


Birdwatching


Kung Fu

Hiking


Music Events


Cinema


Festival&Culture


Humor&

Fun Fotos


BUSINESS


Doing Business


Jobs!(teach/work)


Hire Workers


Foreign Companies


CIFIT (Trade Fair)


MTS(Translation)



Back to Top