Click to Access
AMOYMAGICSITE from
OUTSIDE China


Click to Access AmoyMagic Site from
INSIDE China


TRAVEL LINKS


Xiamen

Gulangyu


Jimei

Tong'an


Jinmen

Zhangzhou


Quanzhou

Wuyi


#1Fujian Sites!


Fujian Foto Album


Books on Fujian


Readers'Letters


Ningde

Zhouning


Longyan

Sanming


Putian

Bridges


Travel Info,


Hakka Roundhouses


Travel Agents

MISC. LINKS


Amoy People!


Darwin Driving


Amoy Tigers


Chinese Inventions


Tibet in 80 Days


Amoy Vampires!


Dethroned!


Misc.Writings


Latest News


Lord of Opium


Back to Main Page
Copyright 2001-7 by Sue Brown & Dr. Bill

Order Books

Main Page
Business Links
E-mail
Keith Hill --
Master Instrument Maker
(Click images for larger photos)

Forward:
Keith Hill,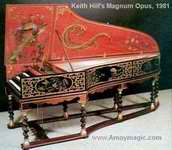 an internationally renowned musical instrument maker, is the son of Jack and Joann Hill, who lived in Amoy from the 1940s to 1950. Joann's parents, Henry and Stella, served as RCA missionaries in Amoy from 1917-1951, and Joann was born in Hope Hospital on Gulangyu, grew up here, and returned in the 1940s with her physician husband, Jack, and children. Keith, who was born in his parent's Tong'an home on May 8, 1948, is now considering a venture to create quality musical instruments in Amoy. Given that Xiamen is now called the Isle of Music, and has produced over 100 famous musicians, I think it would be a match made in heaven.
Below is one of Keith's Letters.
Visit Keith's website.
for more info.
Click Here for an indepth article about Keith.
Keith Hill writes... My work in the instrument making business has been to spend that last 33 years researching the approach used by the instrument makers from Europe in the 17th, 18th, and 19th centuries. Over the years I have developed an extremely clear "picture" of how they thought about sound such that they could produce one great sounding instrument after another. Most of my work falls on "deaf" ears in the US and in Europe, in terms of interest in the results of my experiments from other instrument makers. As the saying goes: "A prophet is not without honor, except in his own country." I thought that perhaps there are businessmen in China who would wish to benefit from the application of the acoustical technology that I have worked out to improve their standing in the musical world but also to provide really good sounding instruments to musicians, most of whom are not exactly wealthy...especially here in the US, at prices that are affordable.
If you have visited my website, you will see that my range of instrument making is rather extensive including harpsichords, clavichords, fortepianos (both 5 and 6 1/2 octave sizes for Mozart through Schumann and early Brahms), guitars, lutes and violins. I also have worked out the acoustical technology for reproducing the sound of the great organs from the 17th century in Holland and Northern Germany.
To come to this knowledge and understanding about acoustics, I and my wife Marianne, and amazing musical scientist, also did extensive research in the area of how the human brain processes heard experiences in order to figure out exactly how the musicians must have played in that time such that the instrument makers would have puzzled out how to build musical instruments that do such a wonderful job of supporting their musical demands of their instruments. You can read the results of our research in the article we wrote on the Craft of Musical Communication found at our website: musicalratio.com.
I really look forward to seeing photos of Tong An and the landscape surrounding it.
I will let my parents know of your warm greetings. Thanks.
Cheers,
Keith
Keith Hill Instrument Maker
10332-M52
Manchester, MI 48158
Back to Top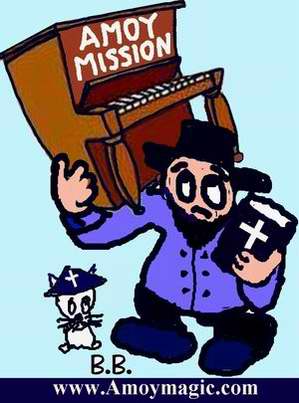 P

lease Help the "The Amoy Mission Project!" Please share any relevant biographical material and photos for the website and upcoming book, or consider helping with the costs of the site and research materials. All text and photos will remain your property, and photos will be imprinted to prevent unauthorized use.

Thanks!

Dr. Bill Xiamen University MBA Center
E-mail: amoybill@gmail.com
Snail Mail: Dr. William Brown
Box 1288 Xiamen University, Xiamen, Fujian PRC 361005

Click to E-mail


Readers'Letters
Last Updated: October 2007


Back to Top
Google Search
AMOY MISSION LINKS



A.M. Main Menu


RCA Miss'ry List


AmoyMission-1877


AmoyMission-1893


Abeel, David


Beltman


Boot Family


Broekema, Ruth


Bruce, Elizabeth


Burns, Wm.


Caldwells


DePree


Develder, Wally


Wally's Memoirs!


Douglas, Carstairs


Doty, Elihu


Duryea, Wm. Rankin


Esther,Joe & Marion


Green, Katherine


Gutzlaff, Karl


Hills,Jack & Joann
.

Hill's Photos.80+
..

Keith H.

Homeschool


Hofstras


Holkeboer, Tena


Holleman, M.D.


Hope Hospital


Johnston Bio


Joralmans


Karsen, W&R


Koeppes, Edwin&Eliz.


Kip, Leonard W.


Meer Wm. Vander


Morrison, Margaret


Muilenbergs


Neinhuis, Jean


Oltman, M.D.


Ostrum, Alvin


Otte,M.D.

Last Days


Platz, Jessie


Pohlman, W. J.


Poppen, H.& D.


Rapalje, Daniel


Renskers


Talmage, J.V.N.


Talman, Dr.


Veenschotens
.

Henry V.

Stella V.
.

Girard V.


Veldman, J.


Voskuil, H & M


Walvoord


Warnshuis, A.L.


Zwemer, Nellie


Fuh-chau Cemetery


City of Springs
(Quanzhou, 1902!!)


XM Churches


Church History


Opium Wars


A.M. Bibliography


YMCA Volunteer!


XICF Fellowship


Temples


Mosques


Christ in Chinese
Artists' Eyes

DAILY LINKS


FAQs Questions?


Real Estate


Shopping

Maps


Bookstores


Trains

Busses


Car Rental


Hotels

News (CT)


Medical & Dental


Expat Groups


Maids

Phone #s
EDUCATION


Xiamen University


XIS(Int'l School)


Study Mandarin


CSP(China Studies)


Library

Museums


History
DINING

Tea Houses


Restaurants

Asian


Veggie

Junk Food


Chinese

Italian


International


Visas 4 aliens
RECREATION


Massage!


Beaches

Fly Kites


Sports

Boardwalk


Parks

Pets


Birdwatching


Kung Fu

Hiking


Music Events


Cinema


Festival&Culture


Humor&

Fun Fotos


BUSINESS


Doing Business


Jobs!(teach/work)


Hire Workers


Foreign Companies


CIFIT (Trade Fair)


MTS(Translation)



Back to Top