Click to Access
AMOY MAGIC SITE from
OUTSIDE China


Click to Access Amoy Magic Site from
INSIDE China


TRAVEL LINKS


Xiamen

Gulangyu


Jimei

Tong'an


Jinmen

Zhangzhou


Quanzhou

Wuyi


#1Fujian Sites!


Fujian Foto Album


Books on Fujian


Readers'Letters


Ningde

Zhouning


Longyan

Sanming


Putian

Bridges


Travel Info,


Hakka Roundhouses


Travel Agents

MISC. LINKS


Amoy People!


Darwin Driving


Amoy Tigers


Chinese Inventions


Tibet in 80 Days


Amoy Vampires!


Dethroned!


Misc.Writings


Latest News


Lord of Opium


Back to Main Page


Copyright 2001-7 by Sue Brown & Dr. Bill

Order Books

iE-mail


Note: Please click thumbnails for larger photos!!




Amoy Hill Family Photo Album





DAVID ABEEL--Father of Amoy Mission
Thanks to Richard Anderson, descendant of David Abeel, for photos of Abeel and the grave (some of which he has posted at www.findagrave.com)


Excerpts from Abeel's Memoirs
¡°Scarcely had the smoke from the battleships of the British fleet, that captured Amoy on the 27th of August 1841, cleared from the horizon when Rev. David Abeel [yabeli, ÑÅÙÂÀí] landed on these shores,¡ªsix months before the signing of the Nankin treaty. Rev. Wm. J. Boone, Bishop of the American Episcopal Church arrived at the same time, but as we shall see presently he remained here one or two years only. They were the first Protestant missionaries in Amoy.¡±
¡°In and about Amoy,¡± Rev. Philip Wilson Pitcher, 1912, p.299

David Abeel was born June 12, 1804, in New Brunswick, New Jersey, and died in Albany, New York, on Sept. 4, 1848, but within his short 42 years he not only pioneered the Amoy Mission, which led to building China's first Protestant church and the most successful mission, but also pioneered women's education in the East. This was no small feat because in China, women and girls were not expected to think, much less be educated (read the rather amusing account of how difficult it was to "teach Chinese girls to think").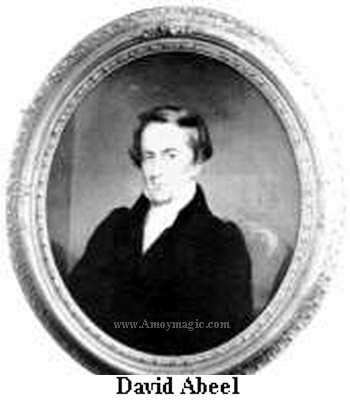 The Society for Promoting Female Education in China, India and the East was founded 25 July 1834. It began with Abeel'svisit to England, and his appeal for women missionaries to work with Chinese women. By 1838 the name was shortened to Society for Promoting Female Education in the East, and was often simply referred to as the Female Education Society.
Below is a short biography written by Rev. Fagg for The Chinese Recorder, and reprinted in the June, 1895 edition of "The Mission Field."
David Abeel, Missionary to China
By Rev. Fagg in THE MISSION FIELD June 1895.
A Chinese house under a wide~spreading banyan on the island of Kolangsu, opposite Amoy, still stands a landmark of the labors of godly David Abeel. He was the first foreign missionary sent out by the American Reformed Church, and was the pioneer of the Amoy mission.
He was born June 12th, 1804, at New Brunswick, New Jersey, and at the age of nineteen entered New Brunswick Theological Seminary. It was not long before the question forced itself upon him, "Where shall be my sphere of labor?" Near his home was a grove where he made a bower to which he resorted for prayer and meditation. There he heard the voice of the Lord calling him to the regions beyond. He was at that time the only surviving son of his parents. They were advanced in years. To go to a foreign land in those days signified to most men life-long exile. Under these circumstances it is not strange that he found it difficult to come to a decision.
Finally, in September, I829, after a pastorate at Athens, N. Y. of two and a half years, he received a call from the American Seamen's Friend Society to undertake work on behalf of seamen at Canton. About the same time the American Board extended a call to Dr. Elijah Coleman Bridgman, then a student at Andover, to proceed by the same ship to China. Abeel was given three days to decide whether he would accompany him. He had decided within the next twenty-four hours,
The ship Roman, in which Abeel and Bridgman sailed, was owned by D. W. C. Olyphant, a distinguished Christian merchant and friend of missions. It was in response to his earnest efforts that these first American missionaries were sent out. He gave them free passage and promised to provide them a home free of cost for a year after their arrival. After a year of service, under the Seamen's
Friend Society at Canton, Abeel joined the American Board.
He was forthwith commissioned to make an exploring tour to Malacca, Siam, Java, and the other larger islands of the East Indies. He was to ascertain the character of the people, their number, their their religion, and the practicability of establishing missions among them. He visited Batavia, Singapore and Bangkok, and spent a year in Siam.
But failing health compelled him in May, 1833, to take ship for England. Whi1e¡ªin London in 1934, Dr. Abeel was instrumental in organizing the Women¡¯s Missionary Society, called ¡°Te Society for Female Education in the East.¡± The first appeal was drawn up by him, and the profits of his ¡°Missionary Narrative¡± were devoted to its support.
His extraordinary piety impressed people wherever he went. A lady in London says: ¡°There was nothing austere, narrow-minded or extravagant in his religion. There was a beautiful symmetry, a holiness, refinement and tenderness about it which struck the most ungodly. Though so weak physically that he scarcely expected to reach America he addressed a meeting in Exeter Hall and challenged young men in the colleges to join the missionary ranks." Said he, with unusual energy, "And who has given you a dispensation to remain at home when the whole world is calling,so loudly for assistance?¡±
Arriving in America Dr. Abeel made a missionary tour through nearly all the Reformed Churches in New Yorkand New Jersey. He addressed Congregational Churches in the principal cities of New England. His appeals to the students at Andover, Princeton and New Brunswick were a bugle-call to many a young man to join the Lord¡¯s advance-guard in the distant East.
He once more set sail for Canton in the autumn of 1838, and arrived at Canton on the eve of the first war between England and China. The universal unrest made direct missionary work impossible. The American Board commissioned him to make another voyage of investigation through the East Indies, and during his absence the treaty of 1842, which declared Amoy one of the five open ports, was signed. Amoy was no sooner opened than Dr. Abeel hastened thither. He arrived there February 23, 1842. Though he had but a limited knowledge of the Amoy dialect he began work immediately. Throngs of curious onlookers, as well as interested bearers, crowded the little worship room from dawn to dark. The courtesies of the highest officials were extended to him.
In 1844 Messrs. Pohlman and Elihu Doty, from
the Borneo mission, joined him as co-laborers. But he was not to enjoy their fellowship very long. Disease was making deeper and deeper inroads upon his .constitution. He had but barely entered upon the realization of many hopes and prayers, in working for the Chinese in China, when the summons came to lay down his armor. He labored faithfully to the very last, and his work was not in vain. The first two converts at Amoy, baptized in 1846, ascribed their earliest impressions to his preaching. In January, 1845, he sailed for New York, ¡°doubtful,¡± as he says, ¡°which home I shall reach first.¡± He survived a little over a year, dying at Albany, New York, September 4th, 1846.
J.G. Fagg in ¡°The Chinese Recorder.

Note: Abeel is buried in Green-Wood Cemetery, Brooklyn, Kings County, New York. The photo was provided by Richard Anderson, Abeel's descendant.
Click Here for excerpts from Abeel's Memoirs
Please Help the "The Amoy Mission Project!"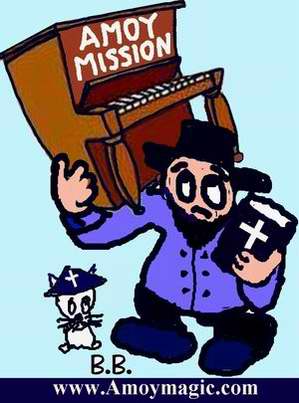 Please share any relevant biographical material and photos for the website and upcoming book, or consider helping with the costs of the site and research materials. All text and photos will remain your property, and photos will be imprinted to prevent unauthorized use.
Thanks!
Dr. Bill Xiamen University MBA Center
E-mail: amoybill@gmail.com
Snail Mail: Dr. William Brown
Box 1288 Xiamen University, Xiamen, Fujian PRC 361005
TRAVEL LINKS

Favorite Fujian Sites

Fujian Foto Album

Xiamen

Gulangyu

Fujian Guides

Quanzhou

Z
hangzhou

Longyan

Wuyi Mtn

Ningde

Putian

Sanming

Zhouning

Taimu Mtn.

Roundhouses

Bridges

Jiangxi

Guilin

Order Books

Readers' Letters New: Amoy Vampires! Google Search

Click to E-mail


Readers'Letters
Last Updated: October 2007


Back to Top
Google Search
AMOY MISSION LINKS



A.M. Main Menu


RCA Miss'ry List


AmoyMission-1877


AmoyMission-1893


Abeel, David


Beltman


Boot Family


Broekema, Ruth


Bruce, Elizabeth


Burns, Wm.


Caldwells


DePree


Develder, Wally


Wally's Memoirs!


Douglas, Carstairs


Doty, Elihu


Duryea, Wm. Rankin


Esther,Joe & Marion


Green, Katherine


Hills,Jack & Joann
.

Hill's Photos.80+
..

Keith H.

Homeschool


Hofstras


Holkeboer, Tena


Holleman, M.D.


Hope Hospital


Johnston Bio


Joralmans


Karsen, W&R


Koeppes, Edwin&Eliz.


Kip, Leonard W.


Meer Wm. Vander


Morrison, Margaret


Muilenbergs


Neinhuis, Jean


Oltman, M.D.


Ostrum, Alvin


Otte,M.D.

Last Days


Platz, Jessie


Pohlman, W. J.


Poppen, H.& D.


Rapalje, Daniel


Renskers


Talmage, J.V.N.


Talman, Dr.


Veenschotens
.

Henry V.

Stella V.
.

Girard V.


Veldman, J.


Voskuil, H & M


Walvoord


Warnshuis, A.L.


Zwemer, Nellie


Fuh-chau Cemetery


City of Springs
(Quanzhou, 1902!!)


XM Churches


Church History


Opium Wars


A.M. Bibliography


YMCA Volunteer!


XICF Fellowship


Temples


Mosques


Christ in Chinese
Artists' Eyes

DAILY LINKS


FAQs Questions?


Real Estate


Shopping

Maps


Bookstores


Trains

Busses


Car Rental


Hotels

News (CT)


Medical & Dental


Expat Groups


Maids

Phone #s
EDUCATION


Xiamen University


XIS(Int'l School)


Study Mandarin


CSP(China Studies)


Library

Museums


History
DINING

Tea Houses


Restaurants

Asian


Veggie

Junk Food


Chinese

Italian


International


Visas 4 aliens
RECREATION


Massage!


Beaches

Fly Kites


Sports

Boardwalk


Parks

Pets


Birdwatching


Kung Fu

Hiking


Music Events


Cinema


Festival&Culture


Humor&

Fun Fotos


BUSINESS


Doing Business


Jobs!(teach/work)


Hire Workers


Foreign Companies


CIFIT (Trade Fair)


MTS(Translation)



Back to Top