Click to Access
AMOY MAGIC SITE from
OUTSIDE China


Click to Access Amoy Magic Site from
INSIDE China


TRAVEL LINKS


Xiamen

Gulangyu


Jimei

Tong'an


Jinmen

Zhangzhou


Quanzhou

Wuyi


#1Fujian Sites!


Fujian Foto Album


Books on Fujian


Readers'Letters


Ningde

Zhouning


Longyan

Sanming


Putian

Bridges


Travel Info,


Hakka Roundhouses


Travel Agents

MISC. LINKS


Amoy People!


Darwin Driving


Amoy Tigers


Chinese Inventions


Tibet in 80 Days


Amoy Vampires!


Dethroned!


Misc.Writings


Latest News


Lord of Opium


Back to Main Page


Copyright 2001-7 by Sue Brown & Dr. Bill

Order Books

iE-mail


Note: Please click thumbnails for larger photos!!





THE AMOY MISSION -- Part 1


BY THE REV. WM. RANKIN DURYEA, D.D. 1877
(Scanned and edited April 1st, 2008, by Bill Brown, Xiamen University)
Note: It took me a couple of years to find this! I searched abebooks.com but found only a 40-page photocopy at "Book Look" (they list it several times, at different prices, up to $70). I finally found that it was in my copy of Sangster, Mrs. Margaret E., Ed., ¡°A Manual of the Missions of the Reformed (Dutch) Church in America,¡± Board of Publication of the Reformed Church in America, New York, 1877, pp.170-209 I hope it is useful to you--and saves you a lot of time and $70!
Part 1 Part 2 Part 3 Amoy Mission: Woman in China

THE land of China has excited, for centuries, the highest interest among Christian nations. Its situation, its immense population, the organization of its government, and its long preservation, arrest the thought of every student. Its knowledge of the different branches of science, and its development in the useful arts, humble our Western pride. The use of the mariner's compass, of gunpowder, of the thread of the silkworm, was common in China long before Christian nations had learned their value. Travelers through "Cathay," in the Middle Ages, brought back reports which were deemed almost fabulous, of the wealth, intelligence and order which prevailed. There was the great wall on the Northern border, thirteen hundred miles in length, and thirty feet in height, on whose top six horsemen could ride abreast.

There were the numberless "pagodas," or heathen temples, the must famous being that of Nanking, which was faced with porcelain of various tints, and rose to a height of two hundred and sixty-one feet, and consisted of nine stories. Each story was ornamented according to Chinese taste, with lanterns, pictures, images and pithy proverbs. Each story had a landing place, where was a window from which an agreeable and extensive view could be taken of the city, the river and the distant country. The numerous bells jingled in every passing breeze, and on festival nights, all the lanterns were lighted.

This pagoda, after standing sixteen centuries, was destroyed by the rebels in 1858. It was built in the middle of the third century, by the reigning Emperor, as a monument to his mother's memory; but it was also a temple of idolatry, tilled from base to top with idol gods.

There was the majestic river, the Yang-tse-kiang, flowing for three thousand miles, and crowded with the traffic of scores and hundreds of cities. Within these swarming marts of business, rose costly homes amid the lower buildings and bazaars, while stately palaces were filled with princely officials, whose pride manifested itself in pretensions far above those of the haughtiest courts of Europe.

Modern travel has confirmed the truth of many of the narratives which were once received as fanciful. China is, indeed, a land tilled with a wonderful civilization; but a civilization which seems to have reached its limit centuries ago, and from that date to be unprogressive. Thus fossilized, it strikes the mind with astonishment. We look forward, for instance, to intelligence in all our rulers, as greatly to be desired; for centuries literary eminence has been in China the only path to official position.

Below the princely order, every ruler of the land must pass an examination of his attainments in knowledge, the "five classics," the "four sacred books," and Chinese history, giving the subjects. Great halls in Peking, the Northern capital, receive the students from universities and schools, who submit themselves to these tests year by year. This intelligence has undoubtedly made the Government strong and enduring, but it has not saved it from becoming corrupt and cruel almost beyond expression. The accompanying picture gives an accurate representation of the interior of a Confucian temple in Peking. In the matter of religion, China is in the deepest darkness. Its teachers have never developed the people in love to God and fellow men. Indifference to all that is spiritual seems a national characteristic. Long before Jesus came to earth, Confucius and Lao-tse left systems of morality, which have been studied by millions of the higher classes. Their doctrines, after the lapse of twenty-five hundred years, are seen as producing nothing in the life of their followers which is really noble and pure. The Buddhist religion is followed by the masses of the Empire; a religion which is a round of forms', and which holds out the promise of annihilation as its last reward.
Part 1 Part 2 Part 3 Amoy Mission: Woman in China

Back to The Amoy Mission Project

Please Help the "The Amoy Mission Project!"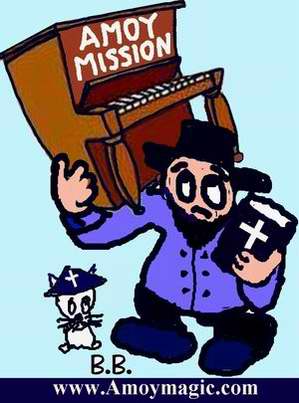 Please share any relevant biographical material and photos for the website and upcoming book, or consider helping with the costs of the site and research materials. All text and photos will remain your property, and photos will be imprinted to prevent unauthorized use.
Thanks!
Dr. Bill Xiamen University MBA Center
E-mail: amoybill@gmail.com
Snail Mail: Dr. William Brown
Box 1288 Xiamen University, Xiamen, Fujian PRC 361005
TRAVEL LINKS

Favorite Fujian Sites

Fujian Foto Album

Xiamen

Gulangyu

Fujian Guides

Quanzhou

Z
hangzhou

Longyan

Wuyi Mtn

Ningde

Putian

Sanming

Zhouning

Taimu Mtn.

Roundhouses

Bridges

Jiangxi

Guilin

Order Books

Readers' Letters New: Amoy Vampires! Google Search

Click to E-mail


Readers'Letters
Last Updated: October 2007


Back to Top
Google Search
AMOY MISSION LINKS



A.M. Main Menu


RCA Miss'ry List


AmoyMission-1877


AmoyMission-1893


Abeel, David


Beltman


Boot Family


Broekema, Ruth


Bruce, Elizabeth


Burns, Wm.


Caldwells


DePree


Develder, Wally


Wally's Memoirs!


Douglas, Carstairs


Doty, Elihu


Duryea, Wm. Rankin


Esther,Joe & Marion


Green, Katherine


Gutzlaff, Karl


Hills,Jack & Joann
.

Hill's Photos.80+
..

Keith H.

Homeschool


Hofstras


Holkeboer, Tena


Holleman, M.D.


Hope Hospital


Johnston Bio


Joralmans


Karsen, W&R


Koeppes, Edwin&Eliz.


Kip, Leonard W.


Meer Wm. Vander


Morrison, Margaret


Muilenbergs


Neinhuis, Jean


Oltman, M.D.


Ostrum, Alvin


Otte,M.D.

Last Days


Platz, Jessie


Pohlman, W. J.


Poppen, H.& D.


Rapalje, Daniel


Renskers


Talmage, J.V.N.


Talman, Dr.


Veenschotens
.

Henry V.

Stella V.
.

Girard V.


Veldman, J.


Voskuil, H & M


Walvoord


Warnshuis, A.L.


Zwemer, Nellie


Fuh-chau Cemetery


City of Springs
(Quanzhou, 1902!!)


XM Churches


Church History


Opium Wars


A.M. Bibliography


YMCA Volunteer!


XICF Fellowship


Temples


Mosques


Christ in Chinese
Artists' Eyes

DAILY LINKS


FAQs Questions?


Real Estate


Shopping

Maps


Bookstores


Trains

Busses


Car Rental


Hotels

News (CT)


Medical & Dental


Expat Groups


Maids

Phone #s
EDUCATION


Xiamen University


XIS(Int'l School)


Study Mandarin


CSP(China Studies)


Library

Museums


History
DINING

Tea Houses


Restaurants

Asian


Veggie

Junk Food


Chinese

Italian


International


Visas 4 aliens
RECREATION


Massage!


Beaches

Fly Kites


Sports

Boardwalk


Parks

Pets


Birdwatching


Kung Fu

Hiking


Music Events


Cinema


Festival&Culture


Humor&

Fun Fotos


BUSINESS


Doing Business


Jobs!(teach/work)


Hire Workers


Foreign Companies


CIFIT (Trade Fair)


MTS(Translation)



Back to Top