Click to Access
AMOY MAGIC SITE from
OUTSIDE China


Click to Access Amoy Magic Site from
INSIDE China


TRAVEL LINKS


Xiamen

Gulangyu


Jimei

Tong'an


Jinmen

Zhangzhou


Quanzhou

Wuyi


#1Fujian Sites!


Fujian Foto Album


Books on Fujian


Readers'Letters


Ningde

Zhouning


Longyan

Sanming


Putian

Bridges


Travel Info,


Hakka Roundhouses


Travel Agents

MISC. LINKS


Amoy People!


Darwin Driving


Amoy Tigers


Chinese Inventions


Tibet in 80 Days


Amoy Vampires!


Dethroned!


Misc.Writings


Latest News


Lord of Opium


Back to Main Page
Copyright 2001-7 by Sue Brown & Dr. Bill

Order Books


Main Page Business Links Recreation Links Google Search E-mail




This page's material was written by Ms. Joann Hill, Henry's daughter. Stella helped give Amoy its reputation as the "Isle of Music!"




Also see Amoy Vignettes by Dr. Girard Veenschoten:


My Story

Veenschoten Memorial

Dad's Practicality

Ah Beng

Our Amoy Animals

Chinese New Year Related:

Hill Family

Hill Photos

Click images for larger photos
Stella Girard Veenschoten
(1892 -1962)
RCA Missionary from 1917-1958; in Amoy from 1917-1951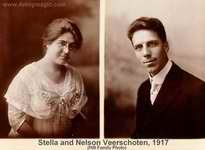 Stella Elda Girard was born March 14,1892. She was raised in Pigeon Michigan, of working class parents. Har mother, of English stock, a was staunch member of the Methodist Church. Her father, a French Canadian and Roman Catholic, worked for the Pere Marquette Railroad. At an early age she showed an intense interest in music. By the age of thirteen she was teaching piano to pay for her own instrument and her piano lessons. Using free rail passes she traveled to study music with teachers in Bay City and Saginaw. After high school Stella moved with her parents to Holland, Michigan where she was active in the Methodist Church serving as soprano soloist in the church choir. She continued teaching piano. She also played piano for the silent movies at the local theater and sang at weddings and funerals. (Joann Hill daughter, story to Beth Marcus Nov.1989 )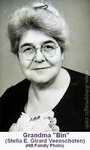 During his student days at Western Theological Seminary in Holland Michigan, Nelson (H. M. Veenschoten) got to know Stella when he ¡°janitored¡± at the Methodist Church and heard her sing in their choir. Following his graduation from seminary in May 1917, Stella Girard married newly ordained Rev. H M Veenschoten. After three months of speaking in RCA congregations as well as getting to know Nelson¡¯s relatives in Iowa, the couple left for China as career missionaries of the Reformed Church. Their three children, Girard,Elin and Joann were all born in the Hope and Wilhelmina Mission Hospital at Kulangsu [Gulangyu] Amoy[Xiamen], Fukien Province, China.
Following two years of language study, the Veenschotens were assigned to Changchow [Zhangzhou] where Stella became involved in the music programs of various local churches and the girls and boys elementary mission schools. This latter involvement soon shifted to Talmage College, a high school for boys, and to Chin-Tek, a high school for girls, where she had major responsibility for the music program for many years.


Stella spent much time arranging music for all male or female voices for the Glee clubs in those schools and mixed choral works. Many of her students participated in Church choirs as well as performed in musical programs which she produced. She gave private voice and keyboard lessons to promising students and faculty members.
One of her students, Tan Sun-Hua, was coached by Stella for the London Royal College of Music examinations and won a music scholarship to the University of Shanghai. Later Sun-Hua served as director of music for the Christian Radio Broadcasting Company in Hong Kong.
Stella became a resource person for all church choirs in Changchow, and for several in Amoy as well. She conducted combined choirs on a number of occasions. During the thirties Stella served as consultant working very closely with Miss Tena Holkeboer at the Iok -Tek Girls Middle School in Kulangsu [Gulangyu] Amoy developing a strong music curriculum. Near the end of the thirties she commuted regularly between Changchow and Kulangsu¡ªa distance of thirty miles¡ªto teach and coach students. The trip by bus and launch was rough and long, necessitating a stay of several days at Iok -Tek each week. In addition to private lessons Stella prepared the students for concerts and the performance of operettas at the school.
Largely as a result of her ministry in music, church music came of age in South Fukien [Fujian], especially in the large towns and cities, principally through the students and choirs she had trained. Her students moved throughout southeast Asia taking with them Stella¡¯ s vision of ministry in music for the church. Several of her students were missionary children, all of whom came to love music. Some became church soloists or choir directors and one became a professional musician.
In 1951 all Christian missionaries were forced to leave mainland China as a result of the Communist takeover. The Veenschotens moved to the Philippines, one of the countries where Amoy Christians had migrated. There she found many of her former students active in school and church music. Thus she was able to continue the ministry of music in the Philippines in schools and churches, but primarily as music director for Amoy Chinese Temple Time broadcasts She arranged hymns for male quartets and worked with Chinese young people training and directing, singing and playing for the radio broadcasts.
After the Communists took over mainland China, the Amoy speaking Chinese congregations in the Philippines were no longer able to get new hymnals. A group of Christians from the Chinese United Evangelical Church in Manila decided to print copies locally. Those of the group who were involved in that congregation¡¯s music program were also working with Mrs. Veenschoten on other music projects. They asked her to serve as music editor for the 1955 Revised Edition of the Amoy Chinese Hymnal. She revised the musical notation, searched out tune and author sources, and made other changes such as rewriting some hymns in lower keys for easier singing.
Stella Veenschoten had no reference library at her disposal. All she had was an extensive collection of hymnbooks. It was not unusual to find her working intently at her piano surrounded by books in the early morning hours. The work of authenticating sources was arduous and time consuming, but for this missionary it was a labor of love and a measure of the dedication she had given for forty years to spread the gospel among the Amoy Chinese people.
After the Veenschotens retired from missionary service in 1957, they returned to Manila for an additional year in order to hand over the Amoy Chinese Temple Time broadcast responsibilities to a group of young Chinese Christians who had earlier been working extensively with them. Immediately after their return to the United States in 1958, they lived for a time in Baldwin, Michigan where their son Girard was in medical practice. A few years later they moved to Byron Center. Michigan to be near their daughter Elin. These were family years, providing opportunities for time with their grandchildren.
Stella died on August 14, 1962 ten days after their daughter Joann and her husband Dr. Jack Hill and children returned to Michigan on furlough from Cebu, Philippines. Stella had a long life of service to Christ and his church, and loving influence in the lives of her children and grandchildren.
Ms. Joann Hill, 2007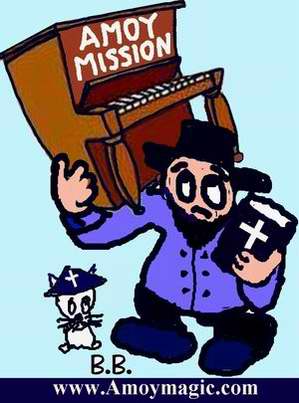 Please Help the "The Amoy Mission Project!" Please share any relevant biographical material and photos for the website and upcoming book, or consider helping with the costs of the site and research materials. All text and photos will remain your property, and photos will be imprinted to prevent unauthorized use.

Thanks!





Dr. Bill Xiamen University MBA Center
E-mail: amoybill@gmail.com
Snail Mail: Dr. William Brown
Box 1288 Xiamen University, Xiamen, Fujian PRC 361005

Click to E-mail


Readers'Letters
Last Updated: October 2007


Back to Top
Google Search
You really clicked "China?" :) Back to Top
AMOY MISSION LINKS



A.M. Main Menu


RCA Miss'ry List


AmoyMission-1877


AmoyMission-1893


Abeel, David


Beltman


Boot Family


Broekema, Ruth


Bruce, Elizabeth


Burns, Wm.


Caldwells


DePree


Develder, Wally


Wally's Memoirs!


Douglas, Carstairs


Doty, Elihu


Duryea, Wm. Rankin


Esther,Joe & Marion


Green, Katherine


Gutzlaff, Karl


Hills,Jack & Joann
.

Hill's Photos.80+
..

Keith H.

Homeschool


Hofstras


Holkeboer, Tena


Holleman, M.D.


Hope Hospital


Johnston Bio


Joralmans


Karsen, W&R


Koeppes, Edwin&Eliz.


Kip, Leonard W.


Meer Wm. Vander


Morrison, Margaret


Muilenbergs


Neinhuis, Jean


Oltman, M.D.


Ostrum, Alvin


Otte,M.D.

Last Days


Platz, Jessie


Pohlman, W. J.


Poppen, H.& D.


Rapalje, Daniel


Renskers


Talmage, J.V.N.


Talman, Dr.


Veenschotens
.

Henry V.

Stella V.
.

Girard V.


Veldman, J.


Voskuil, H & M


Walvoord


Warnshuis, A.L.


Zwemer, Nellie


Fuh-chau Cemetery


City of Springs
(Quanzhou, 1902!!)


XM Churches


Church History


Opium Wars


A.M. Bibliography


YMCA Volunteer!


XICF Fellowship


Temples


Mosques


Christ in Chinese
Artists' Eyes

DAILY LINKS


FAQs Questions?


Real Estate


Shopping

Maps


Bookstores


Trains

Busses


Car Rental


Hotels

News (CT)


Medical & Dental


Expat Groups


Maids

Phone #s
EDUCATION


Xiamen University


XIS(Int'l School)


Study Mandarin


CSP(China Studies)


Library

Museums


History
DINING

Tea Houses


Restaurants

Asian


Veggie

Junk Food


Chinese

Italian


International


Visas 4 aliens
RECREATION


Massage!


Beaches

Fly Kites


Sports

Boardwalk


Parks

Pets


Birdwatching


Kung Fu

Hiking


Music Events


Cinema


Festival&Culture


Humor&

Fun Fotos


BUSINESS


Doing Business


Jobs!(teach/work)


Hire Workers


Foreign Companies


CIFIT (Trade Fair)


MTS(Translation)



Back to Top