Click to Access
AMOYMAGICSITE from
OUTSIDE China


Click to Access AmoyMagic Site from
INSIDE China


TRAVEL LINKS


Xiamen

Gulangyu


Jimei

Tong'an


Jinmen

Zhangzhou


Quanzhou

Wuyi


#1Fujian Sites!


Fujian Foto Album


Books on Fujian


Readers'Letters


Ningde

Zhouning


Longyan

Sanming


Putian

Bridges


Travel Info,


Hakka Roundhouses


Travel Agents

MISC. LINKS


Amoy People!


Darwin Driving


Amoy Tigers


Chinese Inventions


Tibet in 80 Days


Amoy Vampires!


Dethroned!


Misc.Writings


Latest News


Lord of Opium


Back to Main Page
Copyright 2001-7 by Sue Brown & Dr. Bill

Order Books

Amoy Mission Main Page
Google Search
E-mail

Also see Amoy Vignettes by Dr. Girard Veenschoten:


My Story

Veenschoten Memorial

Dad's Practicality

Ah Beng


Our Amoy Animals

Chinese New Year Related:

Hill Family

Hill Photos
Click images for larger photos
Henry Michael (van) Veenschoten
February 4, 1892 ¨C July 9, 1974
RCA Missionary 1917-1958; in Amoy from 1917 - 1951
by Joann Hill, daughter
He was my father. Most everybody called him ¡°Nelson¡± or ¡°Mr
Bin¡±, but he was my Daddy and that¡¯s what I called him. My earliest memories of him were times when I climbed into his lap snuggling against his chest so that both he and I could see the stick figures he drew as bible stories unfolded in the telling -- Joseph and his eleven brothers (each lined up across the page), the man in bed with his wife and all his children, when a neighbor pounds on his door in the middle of the night wanting food, and many many others.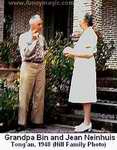 Still later, when l could really hang on while riding in back on his bike, he took me along while he ran errands or visited Chinese colleagues and friends down town on the main streets of Changchow, As an ordained missionary of the Reformed Church, he used this city as the base for his ministry among the up-country churches So, when he was home between trips, I spent many hours with him. Later, after I graduated from a tricycle to a bike and he taught me how to ride it, we rode along together as he went about his business in town.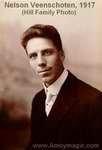 My dad was born in(or near) Boyden, Souix County, Iowa and was named Henry after his recently deceased father¡ª as was the custom in those days, and even though there was already a Henry among his brothers. Thus he was the youngest of five bothers and two sisters. Effie, the oldest, was ready to be married by the time he was born. His father was a farmer and son of immigrants from the district of Veenschoten in the Netherlands. His mother, too, was the daughter of parents who had also migrated from the Netherlands because of religious persecution. These immigrant families crossed their new homeland by prairie schooner to settle in Souix County, Iowa.
Raised in a home by mother of strong Reformed /¡®Calvinist faith, Nelson loved books, and learning. He graduated from the Academy (Reformed Church) in Orange City, Iowa going on to Hope College and Western Seminary, both Reformed Church institutions. Along the way he learned to read music and plav the piano (it is said that his grandfather built an organ). Known for his brisk sense of humor and punning wit Nelson edited the Humor Column of the Hope College Student Anchor. He was fond of telling how, when others asked him how he came by all his fresh new jokes, he went back to the very oldest copies and resurrected many of those jokes! To the end of his life he enjoyed telling jokes and cracking puns, looking slyly around to see if anybody had caught it, and grinning hugely when we all groaned appreciatively. In our family he was the epitome of the ¡®reaction solicitor¡± and by the time we came along had perfected it well! He enjoyed life and was always ready to laugh in enjoyment with others, but never at their expense.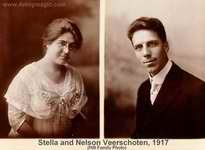 His was a joyous faith in a loving Father-God and how he loved to sing it out. Actually he had a good baritone voice but in Chinese church services he usually sang the melody to help lead the singing. That high voice tended to be a bit pinched, but one chinese said when asking him to sing a so1o: ¡°You have such a good voice, you sing so loud !¡±
Actually my father was a deep theological thinker, always reading to enlarge his understanding and insights into the mind of God. Eager to share his faith but always at a level compatible with his listener¡ªa great gift ! Perhaps when I as an adult, had an opportunity to talk with him he had already become very skilled. Nevertheless I appreciated that he never talked down to me, though he was very precise in his vocabulary which was extensive. Another one of his loves ¡ª words and their derivations and meanings.
My father never stopped studying even after he had passed his Amoy language examinations. I can remember the language teachers who sat together with him as he pursued a more comprehensive understanding of the Amoy dialect and more lately, of Mandarin, the national dialect of China and quite different from the local Amoy. I can remember marveling at his mastery of the Amoy dialect when I heard him pray publicly during a Sunday service. I, who tended to be quite critical of intonation and flow, could not tell that it was not a chinese national at prayer (except that I knew the timbre of his voice). He worked for years, after he retired, on a new more comprehensive Romanized Amoy Chinese - English Dictionary As I recall, when be died be had gotten through the first three or four letters of the alphabet. It is too bad he did not finish it because It would be of real help to the children of Overseas Chinese Christians who cling to their mother tongue for expressing their faith - but their children don¡¯t know enough Chinese character and have to read hymns and scripture in the Romanized versions.
My father loved my mother in many ways: with warn affection, gentle and affirming, and with great respect for her mind and musical gifts. They met while my mother, Stella Girard was the lead soprano in the Methodist Church choir during the time he served as janitor at the church. They were married May 31st, 1917. That summer they visited many churches before leavng for South China as career missionaries under the Board of Foreign Missions of the Reformed Church in America.
They operated as a team in a companionate marriage long before that concept became popular. Recognizing the exceptional musical gifts my mother brought to her missionary ministry in music, early on in his missionary career he insisted that the family had to be based Iin a city or town where she would have scope and outlet for her craft. As a result, for years he spent many more weeks out in the maintains walking from church to church than he did in ChangChow - often four weeks out of five. Initially he had been assigned to a very small up-country station where he would be much closer to his work as moderator of a group of rural churches. I remember one instance when he came home with an infected heel from wearing the woven grass sandals he used on the mud trails between villages. It had to be lanced by a local doctor friend and Dad was laid up for a while recuperating. One of the few instances that I can remember his being laid up, except for bouts of malaria now and then. It gave my mother a chance to practice her not inconsiderable medical/nursing skills.
Ms. Joann Hill, 2007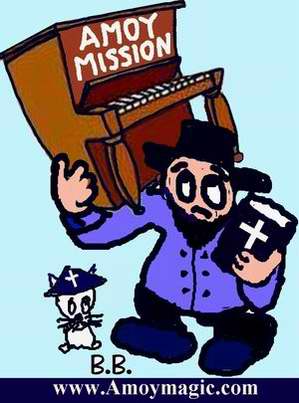 lease Help the "The Amoy Mission Project!" Please share any relevant biographical material and photos for the website and upcoming book, or consider helping with the costs of the site and research materials. All text and photos will remain your property, and photos will be imprinted to prevent unauthorized use.

Thanks!

Click to E-mail


Readers'Letters
Last Updated: October 2007


Back to Top
Google Search
AMOY MISSION LINKS



A.M. Main Menu


RCA Miss'ry List


AmoyMission-1877


AmoyMission-1893


Abeel, David


Beltman


Boot Family


Broekema, Ruth


Bruce, Elizabeth


Burns, Wm.


Caldwells


DePree


Develder, Wally


Wally's Memoirs!


Douglas, Carstairs


Doty, Elihu


Duryea, Wm. Rankin


Esther,Joe & Marion


Green, Katherine


Gutzlaff, Karl


Hills,Jack & Joann
.

Hill's Photos.80+
..

Keith H.

Homeschool


Hofstras


Holkeboer, Tena


Holleman, M.D.


Hope Hospital


Johnston Bio


Joralmans


Karsen, W&R


Koeppes, Edwin&Eliz.


Kip, Leonard W.


Meer Wm. Vander


Morrison, Margaret


Muilenbergs


Neinhuis, Jean


Oltman, M.D.


Ostrum, Alvin


Otte,M.D.

Last Days


Platz, Jessie


Pohlman, W. J.


Poppen, H.& D.


Rapalje, Daniel


Renskers


Talmage, J.V.N.


Talman, Dr.


Veenschotens
.

Henry V.

Stella V.
.

Girard V.


Veldman, J.


Voskuil, H & M


Walvoord


Warnshuis, A.L.


Zwemer, Nellie


Fuh-chau Cemetery


City of Springs
(Quanzhou, 1902!!)


XM Churches


Church History


Opium Wars


A.M. Bibliography


YMCA Volunteer!


XICF Fellowship


Temples


Mosques


Christ in Chinese
Artists' Eyes

DAILY LINKS


FAQs Questions?


Real Estate


Shopping

Maps


Bookstores


Trains

Busses


Car Rental


Hotels

News (CT)


Medical & Dental


Expat Groups


Maids

Phone #s
EDUCATION


Xiamen University


XIS(Int'l School)


Study Mandarin


CSP(China Studies)


Library

Museums


History
DINING

Tea Houses


Restaurants

Asian


Veggie

Junk Food


Chinese

Italian


International


Visas 4 aliens
RECREATION


Massage!


Beaches

Fly Kites


Sports

Boardwalk


Parks

Pets


Birdwatching


Kung Fu

Hiking


Music Events


Cinema


Festival&Culture


Humor&

Fun Fotos


BUSINESS


Doing Business


Jobs!(teach/work)


Hire Workers


Foreign Companies


CIFIT (Trade Fair)


MTS(Translation)



Back to Top