Copyright 2001-7 by Sue Brown & Dr. Bill

Order Books


Amoy Mission Main Page Amoy Magic (Guide to Xiamen) Main Page iE-mail


Note: Please click thumbnails for larger photos

Clarence Holleman, M.D.


"Medical Experiences Over 20 Years in China"(a lecture by Holleman)



Clarence Holleman (1890-1973), a pioneering missionary doctor and humanitarian, was born in Springfield Missouri and served with the Reformed Church of America in Fujian [Fukien] Province between 1919 and 1950--except for a few years when he left Amoy after the Japanese occupation.

Leng-na Hospital [John Gerardus Fagg Memorial Hospital]. The Leng-na residents raised $2,000 of their own money to build a hospital but plans for this hospital and the Elizabeth Blauvelt Memorial Hospital (where Dr. Jack Hill served) were delayed because of the lack of doctors. Gerald F. De Jong wrote,



"This problem was alleviated in 1919 with the arrival of Dr. Matthijs Vandeweg at Tong-an and Dr. Clarence Holleman at Leng-na. Both men began their healing labors at their assigned places even before the hospitals were completed. Holleman, in particular, lost no time in getting to his destination--arriving at Leng-na only twelve days after setting foot in China. A limited amount of medical supplies were kindly provided by Hope Hospital. With these supplies and "bars of soap and plenty of hot water," as Holleman put it, he began his work. Since he was still unacquainted with the language, he had to work through an interpreter. In 1920, Dr. Bosch, then serving at Neerbosch [built by Otte], dispatched one of his Chinese assistants to help him."


. "Until the Long-na hospital was completed in early 1922, biweekly dispensary days were held in an old Chinese ancestral hall. Here Holleman treated about 3,000 patients in 1920 and slightly more than 4,000 in 1921. Two small rooms and a hall were fitted out with boards and saw horses and used as beds to accommodate patients whose conditions were too severe to be sent home.


(The Reformed Church in China 1842-1951, p.239; see A.M. Bibliography).


Click for Holleman's lecture on his 20 years of medical work.




Hope Hospital's Restoration Dr. Holleman returned to Xiamen after the

Japanese' defeat, and was the last director of Hope Hospital, which Dr. John Otte had built on Gulangyu Islet. Holleman rebuilt the hospital, which the Japanese had ransacked. Holleman was well qualified to do so; like Dr. John Otte, over the years Clarence had been plumber, carpenter, brick layer...

De Jong wrote of Hope Hospital's post-war restoration:


"Medical work at the hospitals got back on track a little more slowly than education. Rehabilitating Hope-Wihelmina Hospital, for example, proved to be a major undertaking. Few buildings experienced as much damage at the hands of the occupying Japanese as did this venerable institution that had done so much for the Chinese people. It received not only structural damage but had been stripped of almost everything that was movable, including medical equipment and supplies, furniture, electrical wiring, and plumbing fixtures as well as windows and doors.
"In keeping with Clarence Holleman's past practice (a result perhaps of his Calvinist and small-town upbringing in South Dakota), he was determined that the hospital's restoration take place without financial help from the Board of Foreign Missions. It was primarily through his efforts that $100,00 (U.S. currency) was coolected from local Chinese and those living abroad. Another $75,000 worth of equipment and supplies were acquired from various relief organizations, including UNRRA and several Red Cross groups.
"But progress was slow...." (De Jong, 1992, pp. 309-311).



[Hope Hospital, by the way, was to be razed in the early 2000s but is now being renovated and will become a museum]

Dr. Holleman's wife, Ruth Eleanor Vanden Berg Holleman,opened a school for women (Amoy was home of many pioneers in women's education), and during the war she and Alma Vander Meer taught music classes on Gulangyu. The Hollemans left China in 1949, spent a few years in the U.S. in private practice, and in 1957 they moved to Taiwan where Clarence became Hospital Superintendent of Mackay Memorial Hospital in Taipei. Under his leadership that hospital improved its services and made plans for a new hospital building. Clarence retired in 1960.

Joanne and Jack Hill have provided me with transcripts of one of his medical lectures (given in January 1942) that give insights into the humanity, compassion and medical skills of this remarkable man. He also had a keen sense of humor, as you'll discover in the "Monkey Story" when he laments a monkey making more money than he did for delivering a baby!

I also have an account of Dr. Holleman's escape from capture by the Reds, which I will discretely refrain from posting... But in closing, here's another humorous story from Dr. Holleman.

Ringing Ears "I remember a patient who had malaria. He was given sufficient quinine for five days. However, acting on the assumption that if a little medicine was good, a lot would be better, he took five days' supply all in one dose. The next day I asked him how he was feeling. He replied, 'That medicine was wonderful. I took it all at once and now my ears are ringing and I can hardly stand up!'" (Christian Intelligencer, June 1960, p.13, quoted in De Jong, 1992).





Click Here for Dr. Holleman's 1942 lecture, "Medical Experiences Over 20 Years in China"

Please Help the "The Amoy Mission Project!" Please share any relevant biographical material and photos for the website and upcoming book, or consider helping with the costs of the site and research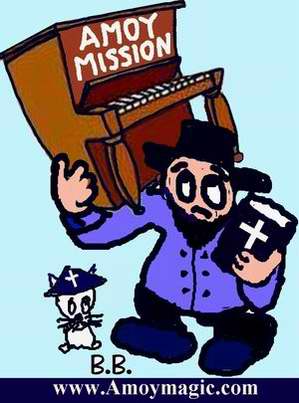 materials. All text and photos will remain your property, and photos will be imprinted to prevent unauthorized use.

Thanks!





Dr. Bill Xiamen University MBA Center
E-mail: amoybill@gmail.com
Snail Mail: Dr. William Brown
Box 1288 Xiamen University, Xiamen, Fujian PRC 361005

Click to E-mail


Readers'Letters
Last Updated: October 2007


Back to Top
Google Search