Click to Access
OUTSIDE China


Click to Access
INSIDE China


TRAVEL LINKS


Xiamen

Gulangyu


Jimei

Tong'an


Jinmen

Zhangzhou


Quanzhou

Wuyi


#1Fujian Sites!


Fujian Foto Album


Books on Fujian


Readers'Letters


Ningde

Zhouning


Longyan

Sanming


Putian

Bridges


Travel Info,


Hakka Roundhouses


Travel Agents

MISC. LINKS


Amoy People!


Darwin Driving


Amoy Tigers


Chinese Inventions


Tibet in 80 Days!


Dethroned!


Misc.Writings


Latest News


Lord of Opium


Back to Main Page
AmoyMagic--Guide to Xiamen & Fujian

Copyright 2001-7 by Sue Brown & Dr. Bill

Order Books
Main Page
Business Links
Recreation Links
Google Search
E-mail
Discover Gulangyu!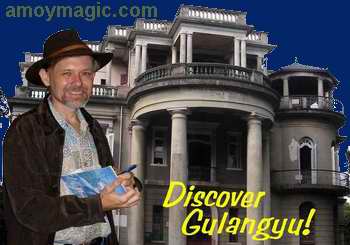 almost 400 pages, bilingual Chinese/English,B&W and color photos, drawings, maps. Buy Online or in Xiamen bookstores.
Gulangyu's Pioneer Educators (excerpts)


Gulangyu Main Page

Chinese Version


Scholar Bureaucrats

Educational Reform


Pioneering Women's Education


John Ma--Pioneer Coach of Modern Chinese Sports


7th Day Adventists Sino-American School

Sage of Singapore (Lin Wenqing)


Lu Zhuangzhang--Father of Pinyin

"Pinyin Path"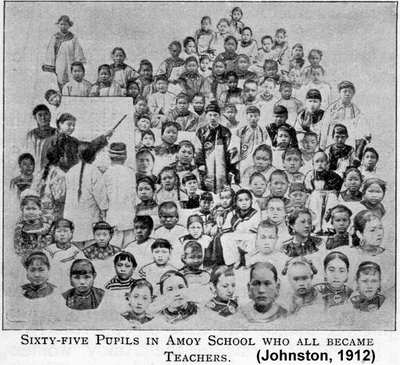 Lifelong Imperial Exams
"Failure to obtain a coveted prize never baffles or discourages the indefatigable competitor. In some cases the contest continues a lifetime with the prize never won. For example, at a single prefecture 10,000 candidates presented themselves, under the old regime, at the regular examination. Among them were found the grandfathers, sons, and grandsons, all competing for the same prize, i.e., the same degree. In 1889 the Governor General of Fukien reported that at the au-tumnal examination in Foochow there were nine candidates over eighty, and one over ninety years old. At still another, thirty five competitors were over eighty and eighteen over ninety. Such indomitable perseverance along educational lines...has been seldom witnessed outside of China. If ever her educational methods conform to Western ideas...Chinese scholarship is destined to take first rank. Rev. Philip Wilson Pitcher, "In and about Amoy," 1912, p.84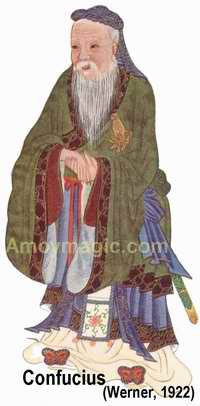 Scholar Bureaucrats For 1500 years, Chinese scholars prepared for government office by memorizing Confucian classics and composing literary treatises and couplets. But eventually Chinese realized that survival on our shrinking planet required revamping the 1500-year-old Confucian system that churned out what Chairman Mao called "scholar bureaucrats." And few places had greater impact on modern Chinese education than the tiny islet of Gulangyu.
Gulangyu has produced not only dozens of famous musicians but also internationally famous folk like the writer "Lin Yutang", the artist Teng Hiok Chiu (Zhou Tingxu), the astronomer Yu Qingsong (1897-1978), and China's first modern sports coach and athletics pioneer John Ma. Gulangyu's trailblazing in women's education helped birth talents like pioneering obstetrician Madame Lin Qiaozhi.
Back to top
Educational reform began with 19th century Protestant missionaries on Gu-langyu, who opened about 20 different schools—everything from China's first kindergartens to vocational schools and colleges. Gulangyu hosted China's first day-school, started in 1845 by Rev. Lyman Burt Peet. William Young opened Fujian's 1st school for girls about the same time.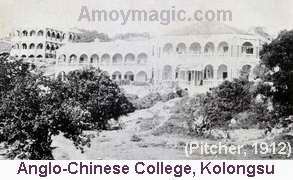 The London Missionary Society established Fujian's first seminary, "Holy College", and some of Gulangyu's earliest primary and middle schools, "Fumin Primary School" and "Chengbi Middle School". While Chinese schools' materials were edited and published by the Chinese Educational Bureau, Christian schools wrote their own materials. The American Reformed Mission's popular "3 Charac-ter Christian Primer" suggested their primary goal was evangelism, not education, but even Chinese officials admitted these programs helped revitalize Chinese education.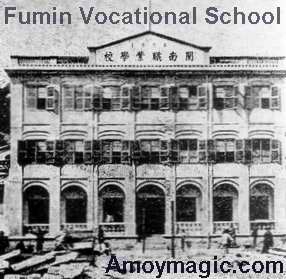 Gulangyu Huaide Kindergarten, one of the first in China, was built in early 1898 at the site of present-day Sunlight Kindergarten (Riguang You'er Yuan). Two middle schools opened on Gulangyu in 1881 were joined in 1907 to form the Union Middle School of the three Missions. [ Gulangyu's Christian missions were virtually unique in China in their close cooperation in evangelism, church building, and education—often in the face of stiff opposition by denominational leaders in their home countries. Their example set the stage for indige-nous Chinese churches' rejection of denominational molds.]
Gulangyu Yangyuan Primary School was founded in 1889 in Xiamen and moved to Gulangyu in 1929. Famous alumni included writer Lin Yutang and astronomer Yu Qingsong.
Back to top
The Tung-Wen Institute was started on Gulangyu in 1898 by Mr. A. Burlin-game Johnson, then U.S. Consul at Amoy, and relocated to larger facilities on Amoy Island in 1902. Wealthy Chinese funded the school and formed the Board of Trustees, the president of which was the resident U.S. Consul.

The Weizheng Elementary School, near the Catholic Church, was established by Ma Shouren in 1912, and after Liberation renamed Longtou School and merged into Lujiao School.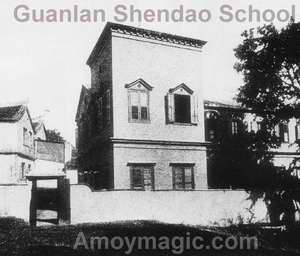 The Fumin Vocational School, founded in 1921 by Ye Guxu and others within Fumin Primary School, is now Gulangyu's Bishan Primary School. It was expanded in 1925 and renamed "South Fujian Vocational School", but closed after the Japanese invaded Xiamen in 1938.

U.S. and British church affiliated schools were suspended from 1942 until the Japanese' defeat. English and Christian lessons were forbidden, and students were forced to learn Japanese and Mahayana Buddhism. After 1949, the gov-ernment took over church-run schools. In 1952, Tianwei Women's College became the "Adjunct Primary School of Xiamen Normal School". In 1960 it was renamed "No.1 Central Primary School"and today it is the "People's Primary School". The school buildings at #18 Tianwei Road are the Xiamen Gulangyu Officer's Rest Home's dining room.
Back to top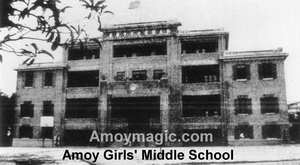 Pioneering Women's Education China had few female students and only 3 women's colleges when the American Reformed Mission opened its first primary school in Xiamen's Liaozihou in 1845 and "Amoy Women's College" in 1847; this class of 12 girls debuted Fujian women's education. The first president, Maria Talmage, was the younger daughter of missionary John Van Nest Talmage, who served in Xiamen for over 40 years.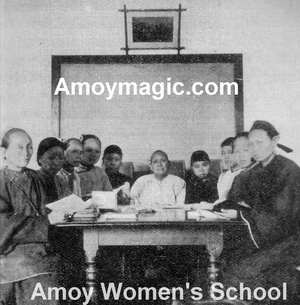 The women's college burned down in 1880 and was relocated to Tianwei and named "Tianwei Women's College," or "Huaqi Women's School". Soon afterwards, the Tianwei Women's college established the school which in 1921 became "Yude Middle School." When Xunyuan Middle School relocated to Zhangzhou in 1925, Yude took over their premises on Dongshanziding. By 1934, Yude had 299 female primary and 254 middle school students. While Yude is no more, its legacy continues in overseas Chinese communities in such countries as the Philippines.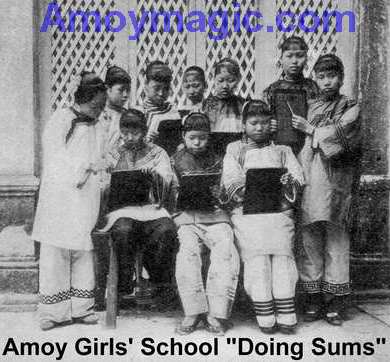 Back to top
John Ma (Ma Yuehan) Pioneer Coach of Modern Chinese Sports
Given Mao Zedong's lifelong preoccupation with health (he was 72 when he swam two miles across the Yangtze!), Mao must have really appreciated Gulangyu native Ma Yuehan, China's 1st athletics coach and pioneer in sports.
Mao Zedong on Sports
"In the educational system of our country, required courses are as thick as the hairs on a cow"… [but] Children become ill, or even die young, be-cause of studying… Students feel that exercise is shameful. According to my humble observation, this is really their major reason for disliking ex-ercise. Flowing
garments, a slow gait, a grave, calm gaze — these constitute a fine deportment, respected by society. Why should one sud-denly extend an arm or expose a leg, stretch and bend down? Is this not strange?" Mao Zedong, "A Study of Physical Education." 1917
John Ma (1882-1966) lived at #58 Zhangzhou Road, and led a tough life with his elder brother after losing his mother at age 5 and his father at age 7. When John was 13, friends and relatives helped him enter "Fumin Elementary School. When he was 22 he entered preparatory classes in Shang-hai's St. John's University and received a degree in medicine at age 29.
Back to top
Young John's swimming, and climbing Gulangyu's rocky peaks, gave him the physique to dominate the schools' soccer, swimming, tennis, baseball and track and field teams. He also had a strong will, as he showed in the Shanghai Y.M.C.A.'s "International Track and Field Sports Meet" . Angered by a haughty Japanese who was always a dozen yards ahead of him, Ma gave it everything he had and won the race, beating the Japanese by 50 yards.
Ma's degree was in medicine but he felt prevention, not cure, was the key to health, so he entered physical education. After studying in the U.S. he suc-ceeded an American as Tsinghua University's P.E. director and led his students to 20 national track and field records—surpassing the former American's record. But university president Luo Jialun saw no need for a "professor of fun and games" and demoted Ma from professor to coach.
Ma was undaunted. The next year, the Tsinghua Soccer Team won the championship in the North China Soccer Match. The team re-turned home, ecstatic students carried John Ma onto the Tsinghua campus, and after the celebration President Luo reinstated Ma as a professor.

Many people tried to persuade Ma to leave Beijing just before Liberation but he said, "No matter what party or society we have, P.E. is necessary." Ma stayed at Tsinghua, and many followed his example. Ma promoted Chinese ath-letics right up until his death in 1966, and his family has carried on his work.

John Ma's son Ma Qiwei, a champion volleyball player, was the dean of Beijing Sports College. Ma's son-in-law Mu Zuoyun played on the national basketball team, took part in the Berlin Olympic Games in 1935, and was a longtime chairman of the China Basketball Association.
Back to top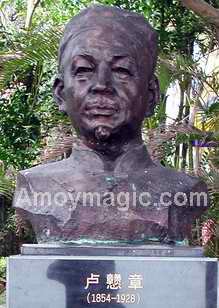 Lu Zhuangzhang--Father of Pinyin
"If characters don't perish, China must perish!" Lu Xun, 1936
Lu Zhuangzhang, Father of Pinyin & Punctuation Ever since Jesuit missionary Matteo Ricci published "Miracle of Western Letters" (Xizi Qiji) in 1605, scholars have debated Chinese char-acters' future. Fang Yizhi (1611-1671) and others complained they were too numerous and too complicated. But change in tradition-bound China was more complicated than characters, and 200 years passed before any serious attempt at reform.

Song Shu (1862-1910 ) bemoaned China's high rate of illiteracy, especially for women (he estimated only 1 in 40,000 women could read!). Song Shu wrote:

"With so few individuals able to read, how will the people ever be liberated from their accumulated distress? Now, we should emulate Japan and issue orders for education."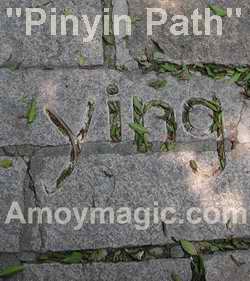 Song Shu was impressed with the impact of Kana , Japan's simplified syllabic writing system, and urged that Chinese too learn a spelling system before moving on to characters, but it was left to an Amoy boy to actually create what is known today as Pinyin Romanization.

Examine the granite stones as you ascend "Pinyin Path" (Gusheng Rd) from the beach to Anxian Hall (at Lu's grave) and you'll discover, to your surprise, that many are en-graved with punctuation marks, letters and Pinyin! These periodic carvings are an unusual but fitting tribute to Lu Zhuangzhang (1854-1928). A Tong'an native, Lu studied English in Singapore and in 1928 returned to settle down on Gulangyu, where he helped an English missionary compile a Chinese/English Dictionary.
Back to top
Like many in his day, Lu was worried about the effect of China's dismally high rate of illiteracy, and he spent his entire life seeking reform. Inspired by the missionaries' Romanized Amoy dialect, which he learned as a youth, Lu de-veloped wrote Yimu liaoran chujie (First Steps in Being Able to Understand at a Glance)—the first book by a Chinese proposing a workable spelling system for Chinese. The "Papa of Pinyin" also developed punctuation for characters (there had not been any!), and encouraged horizontal writing as opposed to vertical (though even today, the same page of a newspaper may have characters written left to right, right to left, and vertical!).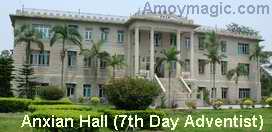 7th Day Adventists Sino-American School 7th Day Adventists were rela-tively late arrivals on Amoy (Perhaps because they waited until the 7th day?) Their work began with N. P. Keh, a Protestant pastor converted to SDA, who was joined by W.C. Hankins on Gulangyu in 1905. In 1906, Keh became the SDA's first ordained Chinese.

B.L. Andersen, an American born in Denmark in 1873, came to China in 1905 or 1907 (sources conflict) after earning a master's at the Univer-sity of Colorado. He and his wife rented a place on Quanzhou Rd. and started the "Yucui Primary School". Later renamed "Sino-American Primary School", it was unusual in having a Chinese president.

Like most SDA missionaries, the Andersen's were on a shoe-string budget, so in 1910, the U.S. Consulate helped the Andersons buy inexpensive land from the Huang family in Wugepai and the enterprising couple set up farms and dairies to fund their school and to provide work-study programs. Mrs. Andersen taught English and ran the dairy, and in 1934, after decades of pinching pennies, the couple used their savings to build the magnificent three-storey granite "Girls' School" at #18 Jishan Rd (Chicken Hill Rd.).

Gulangyu's only 3-storey building constructed entirely of solid granite blocks, Anxian Tang ("Andersen's Gift Hall") is now the Xiamen Sino-American (Meihua) Adventist Sanitarium and Retirement Center. See the Jishan Rd. chapter.

In 1938, the primary and girls' schools merged into the "Sino-American Three Studies Institute", which provided only English, Chi-nese and math courses. It ceased operation after the start of World War II, and after Liberation, Anxian Hall was used as the "Kangtai Primary School", which later became the "Gongnong Primary School".
Back to top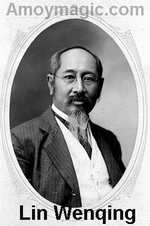 The Sage of Singapore Dr. Lim Boon-keng/Lin Wenqing (1869-1957), "Sage of Singapore" Kipling said East and West would never meet, but they did meet in the 2nd presi-dent of Xiamen University, Dr. Lin Wenqing, who was called the Sage of Singapore by Chinese and foreigners alike. Xiamen University's founder, Tan Kak Kee, wrote that Lin was "well versed in Western materialistic sciences and Chinese cultural spirit."

Educated first in a Hakka temple and then at Raffles Institution, Lin was the first Chinese awarded the Queen's Scholarship, and earned first class honors in medicine at the University of Edinburgh. But while Westerners admired Lin, the Chinese at Edinburgh spurned him because of his poor written and spoken Mandarin Chinese. According to some sources, English remained his strongest language, and when he gave a speech at Xiamen University in 1926 he had to use an interpreter! But we know that he did master at least Minnan Dialect and Cantonese.

In 1905, Lin set up a private hospital for prostitutes and founded the Anti-Opium Society (ironic, since both his father and China-born grandfather were opium farmers). Lin excelled at business, particularly the rubber industry, ship-ping and banking, and helped found the Singapore Chinese Chamber of Commerce. A pioneer Chinese financier, he partnered with Huang Yizhu to start the Hefeng Bank and Overseas Chinese Bank. Westerners and Chinese alike sought the Sage's wisdom. He was adviser to the British in the Legislative Council and the Chinese Advisory Board, and attended the coronations of King Edward VII in 1902 and King George V in 1911. Lin really showed his colors during World War I when he raised funds for the Prince of Wales relief fund and for war planes, and in 1918 was awarded the Order of the British Empire.

In 1900, Lin helped found the Straits Chinese British Association (of which he was elected president twice). He also started the Chinese "Philomathic" So-ciety for the study of Chinese language, Western Music, and English literature, and the Singapore Chinese Girls' School. And perhaps because of his own dif-ficulty in mastering Mandarin, he urged that Chinese children be taught in Mandarin, even going so far as to organize Mandarin language classes in his own home.
Back to top
Lin was president of Xiamen University from 1921 until 1937, but after re-turning to Singapore he suffered greatly at the hands of the Japanese, who tortured his wife to force him into working for them. In 1949, Lin became the first president of the China Society, and supported that work until his death on New Year's day in 1957. He left 3/5 of his estate, including his Brush Mountain home, to Xiamen University. The estate is run down nowadays, but still holds a special place in the hearts of those grateful for this man who wrought great change in the lives of Chinese both at home and abroad.
Back to top
TRAVEL LINKS

Favorite Fujian Sites

Fujian Foto Album

Xiamen

Gulangyu

Fujian Guides

Quanzhou

Z
hangzhou

Longyan

Wuyi Mtn

Ningde

Putian

Sanming

Zhouning

Taimu Mtn.

Roundhouses

Bridges

Jiangxi

Guilin

Order Books

Readers' Letters

Click to E-mail


Readers'Letters

Last Updated: May 2007


Back to Top


DAILY LINKS


FAQs Questions?


Real Estate


Shopping

Maps


Bookstores


Trains

Busses


Car Rental


Hotels

News (CT)


Medical & Dental


YMCA Volunteer!


XICF Fellowship


Churches


Expat Groups


Maids

Phone #s
EDUCATION


Xiamen University


XIS(Int'l School)


Study Mandarin


CSP(China Studies)


Library

Museums


History
DINING


Restaurants

Asian


Veggie

Junk Food


Chinese

Italian


International


Visas 4 aliens
RECREATION


Massage!


Beaches

Fly Kites


Sports

Boardwalk


Parks

Pets


Birdwatching


Kung Fu

Hiking


Music Events


Festival&Culture


Humor&

Fun Fotos


BUSINESS


Doing Business


Jobs!(teach/work)


Hire Workers


Foreign Companies


CIFIT (Trade Fair)


MTS(Translation)



Back to Top