Click to Access
AMOY MAGIC SITE from
OUTSIDE China


Click to Access Amoy Magic Site from
INSIDE China


TRAVEL LINKS


Xiamen

Gulangyu


Jimei

Tong'an


Jinmen

Zhangzhou


Quanzhou

Wuyi


#1Fujian Sites!


Fujian Foto Album


Books on Fujian


Readers'Letters


Ningde

Zhouning


Longyan

Sanming


Putian

Bridges


Travel Info,


Hakka Roundhouses


Travel Agents

MISC. LINKS


Amoy People!


Darwin Driving


Amoy Tigers


Chinese Inventions


Tibet in 80 Days


Amoy Vampires!


Dethroned!


Misc.Writings


Latest News


Lord of Opium


Back to Main Page
Copyright 2001-7 by Sue Brown & Dr. Bill

Order Books


Amoy Mission Main Page Amoy Magic (Guide to Xiamen) Main Page iE-mail


Note: Please click thumbnails for larger photos


Hills' Photo Album!

Bio of Jessie M. Johnston

Amoy Mission Bibliography

Christ in Chinese Artists' Eyes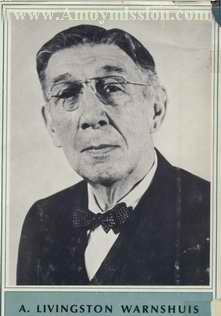 Abbe Livingston Warnshuis
Warnshuis had a great influence not only on Christian work in China but also on the lives of people like the great writer Lin Yutang. For this page's material I am indebted to Norman Goodalll's "Christian Ambassador: A Life of A. Livingston Warnshuis," (see Amoy Mission Bibliography)

An "Interesting" Story Behind A.L. Name Livingston Warnshuis was born in 1877 in Clymer, New York. When Jan Willem Warnshuis tried to raise money for the Clymer church, Margaret Livingston Abbe, of the First Reformed Church in Albany, gave a generous contribution. When Jan wrote to tell Abbe that the church had been renamed Abbe Reformed Church of Clymer, Mrs. Abbe, she offered another $100 to be put into a New Albany savings bank in Jan Willem's son's name if they woule call him Abbe Livingston, and that he would eventually sign his name as A. Livingston Warnshuis. The family happily accepted this (21 years later, a theological student named A. Livingston Warnshui withdrew from the Albany bank $360--the original $100, plus interest).

Jan Willem was not just a pastor and preacher but a shrewd raiser of funds for good causes. The year after A.L.'s birth, they moved to Alton, Iowa. Two years later, when raising funds for the Alton church, a Mrs. Cook in New York made a donation. Jan Willem thanked Mrs. Cook, and mentioned he'd had another son, and suggested that his son could be named Cook. Sure enough, Mrs. Cook coughed up more cash--but only $50. Goodall wrote, "And for many years afterwards, Abbe Livingston Warnshuis and Frederick Cook Warnshuis debated their respective cash values at birth."

Livingston Warnshuis obtained his Bachelor's degree from Hope College in 1897, and entered New Brunswick Theological Seminary, where he obtained his master's on May 17th, 1900 (and received an honorary D.D. years later). He was ordained on June 21st, married three weeks later in the Reformed Church in Holland, Michigan, to Ms. Anna DeVries, a young schoolteacher. On September 9th, he sailed for China--at the very height of the Boxer Uprising, in which an estimated 30,000 Catholics and 3 to 4,000 Protestants perished, including 47 Catholic missionaries (5 were bishops) and 134 Protestant missionaries (52 of whom were children). Fujian was the safest province for foreigners, but still, nothing was certain in China.
Goodall notes that when Warnshuis revisted Amoy in 1931 he marvelled at the modern city it had become, but when he arrived, he described it thus:
"The streets in Old Amoy were six and eight and ten feet wide, paved with uneven stones, and through the cracks between the stones one could see the filthy open sewer that made the air thick with odors so that it was almost impossible to breathe. The streets were always wet and slippery, but in the rainy season I remember that I was accustomed to wear knee-high rubber boots when going to the old Sin-Koe-a Church. On more than one occasion after a torrential rain storm, I remember wading through the streets in water and filth that reached almost to the top of my boots. The streets were crooked, so that the stranger walking in them was soon lost as in a maze. Up and down the hillside they were built, with stone steps, and there were such street names as "Twenty-one Steps," "Eighteen Steps," and "Top of Five Steps." Of course, there were no wheeled vehicles, and one usually walked, pushing his way through the crowds of people and perspiring burden bearers, or stepping into a shop to let a sedan chair pass, with its bearers shouting to clear the way." (Goodall, p.26)

Still, even then the city, in spite of its squalor, was wealthy, and Kulangsu was "a competitor for the reputation of being the 'wealthiest square-mile in the world.'" In spite of this, Warnshuis wrote during his first year:
"One of our recent letters told me that some people learning of what we were doing thought it quite a snap to be a missionary...Perhaps those people would enjoy being where fleas are so thick that one hand is kept constantly busy chasing them; where rats own the house...; where ants get into all your food...; where cock-roaches are an inch-and-a-half long and not only crawl but fly. We are just entering into a period where all our clothes are packed away in tin-lined boxes to keep them from molding and shoes turn green in a night....And there is one more thing to which we have not been able to reconcile ourselves. This is the exile from home... In our experience this exile from home is hardest to bear. I can't describe it. You that are at home can form not the slightest idea of it. You cannot imagine that awful longing which sometimes comes to get away from all these smells, from all this filth, and all this misery and wickedness, and to go where we can have all the pleasure that the 20th century ingenuity can devise, to have all the comforts, and to be at home among friends."
"All you can do," he wrote, "is to grind away at the endless taks of learning Chinese." His language learning paid off. In 1911, he co-authored with Henry P. De Pree the "Lessons in the Amoy Vernacular." He was also a member of the Committee of Revisers of the Bible in Amoy, and wrote marginal references for the Amoy New Testament.

In his second year, he was sent to work 60 miles upriver from Amoy in Siokhe. Warnshuis was much impressed by the Chinese pastor at Poa-a, and by one of his small boys, who was a pupil in the local mission school. This boy was to become the world-famous author, Lin Yutang. A.L. had great influence on young Lin, and after A.L.Warnshuis died, Lin Yutang sent Warnshuis' wife a copy of his autobiography, "From Pagan to Christian" (he turned from Christianity, and then returned to it decades later). Within the book he inscribed the words: "In memory of your great and genial husband who helped so much to open up the mental horizon of my family."

In this book, Lin Yutang recalls how, in Warnshuis,
"my father had met his match and they became great friends, for Mr. Warnshuis had discovered in my father a voracious appetite for all that was western and new. He introduced us to a Christian weekly called the Christian Intelligencer, printed on very shiny paper, with greasy, oily ink. He sent us all kinds of pamphlets and books about the western world and western science which the Christian missions in Shanghai had put out. In this way western learning came to our family." (quoted in Goodall, p.36)

Young Warnshuis was zealous and energetic--and sometimes impatient with decisions made by a distant mission board that he felt might not really be in touch with the realities of the field. When the board transferred Warnshuis to Kulangsu to engage in thelogical instruction and educational work, many Amoy missionaries were unsupportive of the move. Warnshuis proved up to the responsibility, however, of starting a normal school, editing a monthly church magazine, and performing editing and publishing work for the Chinese Tract Society, as well as engaging in the business management of a hospital, care of mission properties, and organizing of evangelistic activities. In his copious free time, he taught six hours a week in the seminary, and helped lead policy discussions for the three missions' efforts to improve Amoy's educational work. And on the side, he engaged in business such as selling windmills and pumps to raise funds. He wrote to a former classmate, "With all this work on hand, it is impossible not to be happy!" In 1912, he started a canning operation in Amoy, with the view that better paid Chinese Christians could better support their own churches. He also accepted an invitation to work with the Chinese Anti-opium Society, as well as joined the Amoy Municipal Council (he was Secretary, which may have been an overwhelming task, as the previous Secretary had committed suicide).
In March, 1916, Warnshuis left Amoy for Shanghai (to the dismay of other Amoy missionaries), to work with the China Continuation Coimmittee, which sought to unify the work of the Church in China.
To learn more about Warnshuis, please refer to Norman Goodall's "Christian Ambassador: A Life of A. Livingston Warnshuis" (Channel Press, Inc. New York, 1963).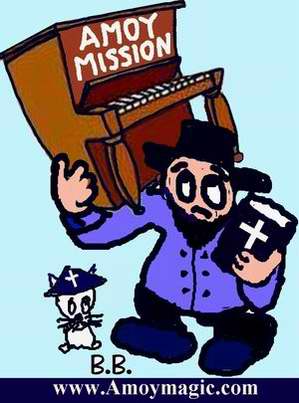 Please Help the "The Amoy Mission Project!" Please share any relevant biographical material and photos for the website and upcoming book, or consider helping with the costs of the site and research materials. All text and photos will remain your property, and photos will be imprinted to prevent unauthorized use.

Thanks!





Dr. Bill Xiamen University MBA Center
E-mail: amoybill@gmail.com
Snail Mail: Dr. William Brown
Box 1288 Xiamen University, Xiamen, Fujian PRC 361005

TRAVEL LINKS

Favorite Fujian Sites

Fujian Foto Album

Xiamen

Gulangyu

Fujian Guides

Quanzhou

Z
hangzhou

Longyan

Wuyi Mtn

Ningde

Putian

Sanming

Zhouning

Taimu Mtn.

Roundhouses

Bridges

Jiangxi

Guilin

Order Books

Readers' Letters New: Amoy Vampires! Google Search

Click to E-mail


Readers'Letters
Last Updated: October 2007


Back to Top
Google Search
AMOY MISSION LINKS



A.M. Main Menu


RCA Miss'ry List


AmoyMission-1877


AmoyMission-1893


Abeel, David


Beltman


Boot Family


Broekema, Ruth


Bruce, Elizabeth


Burns, Wm.


Caldwells


DePree


Develder, Wally


Wally's Memoirs!


Douglas, Carstairs


Doty, Elihu


Duryea, Wm. Rankin


Esther,Joe & Marion


Green, Katherine


Gutzlaff, Karl


Hills,Jack & Joann
.

Hill's Photos.80+
..

Keith H.

Homeschool


Hofstras


Holkeboer, Tena


Holleman, M.D.


Hope Hospital


Johnston Bio


Joralmans


Karsen, W&R


Koeppes, Edwin&Eliz.


Kip, Leonard W.


Meer Wm. Vander


Morrison, Margaret


Muilenbergs


Neinhuis, Jean


Oltman, M.D.


Ostrum, Alvin


Otte,M.D.

Last Days


Platz, Jessie


Pohlman, W. J.


Poppen, H.& D.


Rapalje, Daniel


Renskers


Talmage, J.V.N.


Talman, Dr.


Veenschotens
.

Henry V.

Stella V.
.

Girard V.


Veldman, J.


Voskuil, H & M


Walvoord


Warnshuis, A.L.


Zwemer, Nellie


Fuh-chau Cemetery


City of Springs
(Quanzhou, 1902!!)


XM Churches


Church History


Opium Wars


A.M. Bibliography


YMCA Volunteer!


XICF Fellowship


Temples


Mosques


Christ in Chinese
Artists' Eyes

DAILY LINKS


FAQs Questions?


Real Estate


Shopping

Maps


Bookstores


Trains

Busses


Car Rental


Hotels

News (CT)


Medical & Dental


Expat Groups


Maids

Phone #s
EDUCATION


Xiamen University


XIS(Int'l School)


Study Mandarin


CSP(China Studies)


Library

Museums


History
DINING

Tea Houses


Restaurants

Asian


Veggie

Junk Food


Chinese

Italian


International


Visas 4 aliens
RECREATION


Massage!


Beaches

Fly Kites


Sports

Boardwalk


Parks

Pets


Birdwatching


Kung Fu

Hiking


Music Events


Cinema


Festival&Culture


Humor&

Fun Fotos


BUSINESS


Doing Business


Jobs!(teach/work)


Hire Workers


Foreign Companies


CIFIT (Trade Fair)


MTS(Translation)



Back to Top