Click to Access
OUTSIDE China


Click to Access
INSIDE China


TRAVEL LINKS


Xiamen

Gulangyu


Jimei

Tong'an


Jinmen

Zhangzhou


Quanzhou

Wuyi


#1Fujian Sites!


Fujian Foto Album


Books on Fujian


Readers'Letters


Ningde

Zhouning


Longyan

Sanming


Putian

Bridges


Travel Info,


Hakka Roundhouses


Travel Agents

MISC. LINKS


Amoy People!


Darwin Driving


Amoy Tigers


Chinese Inventions


Tibet in 80 Days!


Dethroned!


Misc.Writings


Latest News


Lord of Opium


Back to Main Page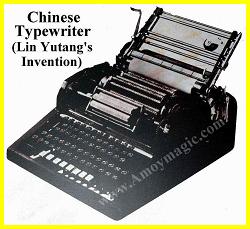 Click Thumbnail for Larger Image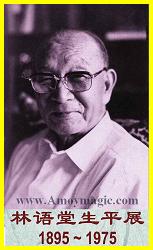 Click thumbnail for Larger Image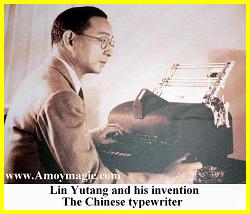 Click thumbnail for Larger Image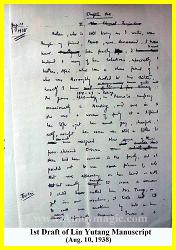 Click Thumbnail for Larger Image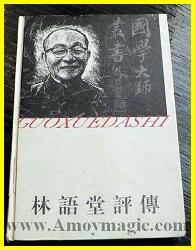 Click Thumbnail for Larger Image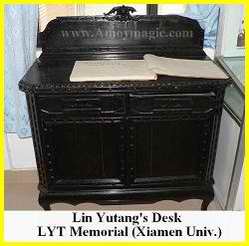 Click Thumbnail for Larger Image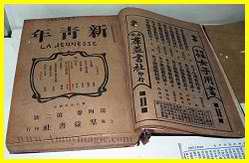 Click Thumbnail for Larger Image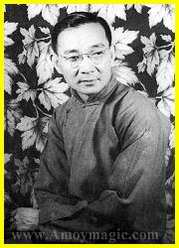 Click Thumbnail for Larger Image
AmoyMagic--Guide to Xiamen & Fujian

Copyright 2001-8 by Sue Brown & Dr. Bill

Order Books
Main Page
Amoy Mission Main Page
Dr. Lin Yutang
An International Chinese Writer

Click Images for Larger Photos




Adapted from Discover Gulangyu

Lin Yutang Photo Album
Lin Yutang, who was schooled on Gulangyu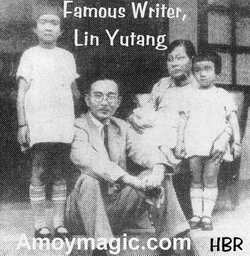 and taught at Xiamen University from 1926-1927, was the first Chinese author to reach the top of the New York Times bestseller list. Pearl S. Buck had to urge the anxious author to publish his 1935 bestseller "My Country and my People," but Lin went on to do more than any one in his generation to bridge the gulf between East and West.

"However inclined one may be to regard the Chinese as strange, peculiar, fantastic, or impossible, for no other reason than that one has never been fortunate enough to gain their friendly, intimate acquaintance, the reading of Mr. Lin's book will very soon dissipate any notion of uncertainty and assure one of the truth[s] of the Confucian statement, that 'Within the four seas all men are brothers.'" "The East Speaks to the West," The New York Times review of "My Country and My People" 8 December, 1935
Lin was born the seventh of a Presbyterian minister's eight children in Longxi on October 10th, 1895. Like his father, Lin read everything he could lay his hands on. An Amoy missionary, Abbe Livingston Warnshuis, ardently promoted higher education to develop leaders for the new China he believed was coming, and fueled the family's intellectual fire by sending them books and pamphlets on both Christian and scientific issues. It was a blessing for young Lin Yutang, but led to tragedy for his second oldest sister and best friend, Mei-Kung.
Back to top Or Click Here for Lin Yutang Photo Album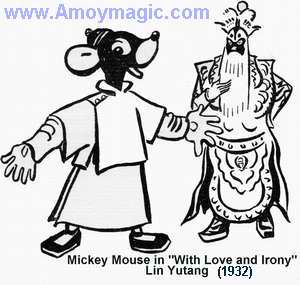 Lin's father refused to let Mei Kong attend college because, as Lin wrote, "college education for a girl was a luxury which our family simply could not afford." Denied an education, the bright girl married at age 22, and when Lin left for college she gave him forty cents and said,

"…you are going to college. Don't waste your opportunity. Be a good man, a useful man, and a famous man… That is your sister's wish for you.' Knowing her desire so well, I felt the full force of these simple words. It made me guilty about the whole thing. They burned into my heart with the oppressive weight of a great load, so that I had the feeling I was going to college in her place."
Just a year later, the 7-months pregnant Mei-Kung died of the plague, and a haunted Lin strove to become not only "useful and famous" but also to fight injustice, especially against women.
Back to top Or Click Here for Lin Yutang Photo Album
When Lin was ten, he and his two brothers studied in Amoy at the American Reformed Mission's Yangyuan Elementary School and the Xunyuan School. In 1912, he entered the Theological School of Shanghai's St. John University. He excelled at athletics, and even par-ticipated in the 1916 Far Eastern Olympics in Shanghai, but he was an unorthodox scholar. He often skipped classes, and though he gained a reputation as an avid reader, the books he devoured often had no relation to his classes (he wrote of how he secretly read history books during a civil law class).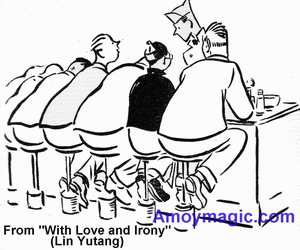 Lin gradually came to resent that Western education had denied him his Chinese roots, and as he dove into Chinese studies, he abandoned his Christian faith . He left the Theological School, though he remained in St. John's until his graduation in 1916, after which he taught at Beijing's prestigious Tsinghua University. He wrote,

"To live in Peking then was to come into contact with authentic Chinese society, to see, as it were, ancient China made manifest….Peking was China, authentic China, with its yellow-roofed palaces and terra-cotta temple walls and its Mongolian camels and nearness to the Great Wall and the Ming tombs."
Back to top Or Click Here for Lin Yutang Photo Album

Lin longed for the East but never quite let go of the West. He continued teaching Christian Sunday School even while delving into Chinese philosophy. Torn, he wrote in a couplet,
"One mind seeks the learning of ancients and moderns;
Two legs straddle the cultures of East and West."

Lin went to Harvard in 1919 but before graduation left for Europe, where he completed his M.A. and, ironically, a Ph.D. in Chinese studies in the University of Jena in Leipzig, Germany. Lin enjoyed studying abroad, but he had qualms about Westerners' preoccupation with logic and scientific method. In "My Country and My People" he wrote,

"It is easy to see why the Chinese mind cannot develop a scientific method; for the scientific method, besides being analytical, always involves an amount of stupid drudgery, while the Chinese believe in flashes of common sense and insight. And inductive reasoning, carried over to human relationships (in which the Chinese are primarily interested) often results in a form of stupidity not so rare in American universities. There are today doctorate dissertations in the inductive method which would make Bacon turn in his grave. No Chinese could possibly be stupid enough to write a dissertation on ice-cream, and after a series of careful observations, announce the staggering conclusion that 'the primary function of sugar [in the manufacture of ice-cream] is to sweeten it'; or after a methodical study in 'Time and Motion Comparison on Four Methods of Dishwashing' happily perceive that 'stooping and lifting are fatiguing'…."
Back to top Or Click Here for Lin Yutang Photo Album

"This sort of stupidity, although useful to business advertisement, could really be arrived at, I think, just as correctly by a moment of Chinese common sense and 'intuition.'".
In his 1937 bestseller "The Importance of Living", Lin emphasized the "spirit of reasonableness" over logic.
"In contrast to logic, there is common sense, or still better, the Spirit of Rea-sonableness. …The Reasonable Age, if that should ever come about, will be the Age of Peace….The Sprit of Reasonableness is the best thing that China has to offer the West….Humanized thinking is just reasonable thinking. The logical man is always self-righteous and therefore wrong, while the reasonable man suspects that perhaps he is wrong and is therefore always right."
Lin delighted readers around the globe with essays on such profound subjects as his love for loafing, and his insistence that, bottom line, we are all alike:
"I am interested only in presenting [in this book] a view of life and of things as the best and wisest Chinese minds have seen it and expressed it in their folk wisdom and their literature. It is an idle philosophy born out of an idle life, evolved in a different age, I am quite aware. But I cannot help feeling that this view of life is essentially true, and since we are alike under the skin, what touches the human heart in one country touches all."
Lin wrote widely during the 20s and by 1930, the New York Times was writing commentaries on his works. Lin worked with Song Qingling, widow of Sun Yatsen, to create the China Democratic Rights Insur-ance League, and after 1938 he lived and traveled in Europe, where he wrote the trilogy consisting of "Peking Cloud" , "Wind and Crane's Tear", and "The Red Door".
Lin returned to the U.S. in 1936 and in 1959 began attending New York City's Madison Avenue Presbyterian Church. Lin settled down in Taiwan in 1966 and passed away in March, 1976, at the age of 80. The New York Times obituary noted,
Lin Yutang, poet, novelist, historian and philosopher, had no peer as an interpreter to Western minds of the customs, aspirations, fears and thoughts of his people and their country, China, the great and tragic land.

LINKS
Click Here for David Harris' Lin Yutang Page (includes full bibliography) David also offers a zip file of a degree thesis about Lin Yutang by Ryan Murray, of the U.S.A.
Click Here for Lin Yutang House (Taiwan) Site

For more on Magic Amoy's wonderful peoples and places, read "Amoy Magic--Guide to Xiamen and Fujian!"

(another 20+ photos)

TRAVEL LINKS

Favorite Fujian Sites

Fujian Foto Album

Xiamen

Gulangyu

Fujian Guides

Quanzhou

Z
hangzhou

Longyan

Wuyi Mtn

Ningde

Putian

Sanming

Zhouning

Taimu Mtn.

Roundhouses

Bridges

Jiangxi

Guilin

Order Books

Readers' Letters

Click to E-mail


Readers'Letters

Last Updated: May 2007


Back to Top


DAILY LINKS


FAQs Questions?


Real Estate


Shopping

Maps


Bookstores


Trains

Busses


Car Rental


Hotels

News (CT)


Medical & Dental


YMCA Volunteer!


XICF Fellowship


Churches



Temples


Mosque


Expat Groups


Maids

Phone #s
EDUCATION


Xiamen University


XIS(Int'l School)


Study Mandarin


CSP(China Studies)


Library

Museums


History
DINING


Restaurants

Asian


Veggie

Junk Food


Chinese

Italian


International


Visas 4 aliens
RECREATION


Massage!


Beaches

Fly Kites


Sports

Boardwalk


Parks

Pets


Birdwatching


Kung Fu

Hiking


Music Events


Festival&Culture


Humor&

Fun Fotos


BUSINESS


Doing Business


Jobs!(teach/work)


Hire Workers


Foreign Companies


CIFIT (Trade Fair)


MTS(Translation)



Back to Top