Click to Access
AMOY MAGIC SITE from
OUTSIDE China


Click to Access Amoy Magic Site from
INSIDE China


TRAVEL LINKS


Xiamen

Gulangyu


Jimei

Tong'an


Jinmen

Zhangzhou


Quanzhou

Wuyi


#1Fujian Sites!


Fujian Foto Album


Books on Fujian


Readers'Letters


Ningde

Zhouning


Longyan

Sanming


Putian

Bridges


Travel Info,


Hakka Roundhouses


Travel Agents

MISC. LINKS


Amoy People!


Darwin Driving


Amoy Tigers


Chinese Inventions


Tibet in 80 Days


Amoy Vampires!


Dethroned!


Misc.Writings


Latest News


Lord of Opium


Back to Main Page
Copyright 2001-7 by Sue Brown & Dr. Bill

Order Books


Main Page E-mail

This page contents copyright 2007 by Walter deVelder Family



A Missionary Journey Over Nine Decades
By Walter deVelder
.... This fascinating memoir was provided by Joann Hill. Enjoy!



Part 1: 1900-1910

Part 2: 1910-1920

Part 3: 1920-1930


Part 4: 1930-1940

Part 5: 1940-1950

Part 6: 1950-1960


Part 7: 1960-1970

Part 8: 1970-1980


Return to The Amoy Mission

I Remember "Wally"

Part 1: 1900-1910
I was born on May 17, 1907 on a farm two and a half miles west and South of the Village of Boyden, Iowa. My father was Franklin Dirk (Dick) deVelder. My grandfather Jan Willem deVelder came to the U.S. in 1847 with great grandfather Jon deVelder, when he was two years old they settled in Pella, Iowa. They came from Rotterdam with the Scholte group of immigrants via New Orleans up the Mississippi River to St. Louis, Missouri, and then overland to the Iowa prairie about forty miles from DesMoines. When grandpa was thirty-five in 1880, he took his family of Grandma deVelder and four children to Douglas County in South Dakota, where he was given a 640 acre Homestead a mile West of the Village of Harrison. My dad was eight years of age then.

On our last visit to South Dakota in 1993, a cousin asked me how it was possible that grandpa built such a large house in the late 1800's? We think it was possible because grandpa was very industrious and also he may have still retained some gold bars from the Nederlands. The family in 1847 had been robbed of many possessions in St.Louis, but apparently had some gold left over. I remember the house very well with the attic and turret where we kids loved to play. In 1993 we saw a very fine colored picture 6'x4' in a cousin's home of the old homestead taken from the air. The place now is in the hands of a great grandson.

Grandpa was a wonderful man. I remember him giving me a new shiny dime, when I sang a Dutch Psalm at age five. He wore flannel (red) underwear in winter, and at night a white nightgown and a red "slaap-mutts" (nightcap), which made him look like Santa Claus. He was an ardent Democrat in a sea of Republicans. He loved horses and we grandchildren were thrilled to go with him on rides in his beautiful carriage.

My mother was a VerHoef. She was born in Pella in 1970, but at the age of six months she was taken to Sioux County, Iowa. Her mother, Trientje Klein, came from Utrecht in the Nederlands. I never knew grandpa VerHoef, but grandma lived to be 86 in the town of Boydan. She was very small and she was known to be "Little Grandma". She lived with Aunt Jen who was 14 years younger than my mother. Aunt Jen married Uncle Ed, who was an "import" into Boyden from Cadilac, Michigan. He was considered a "foreigner". He fell in love with Aunt Jen. Grandma VerHoef did not like that very much, but Uncle Ed said to her, "I love your daughter and wish to marry her, and I promise to take care of you the rest of your life". This he did for forty years. I shall never forget "Little Grandma" and the town of Boyden mourned a dear lady when the church bell tolled 86 times in the year 1923.

In 1907 I had three older siblings. Tena (Trientje) born in 1897, Delia (Dirkje) in 1900, and John (Jan) in 1902. I was (Wouter) Walter, and so I end the first decade with a bit of family history.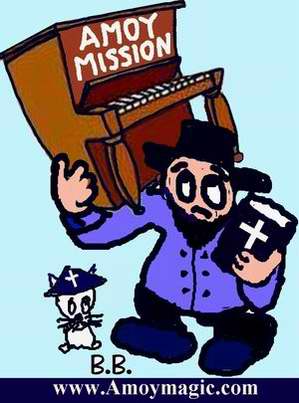 Please Help the "The Amoy Mission Project!" Please share any relevant biographical material and photos for the website and upcoming book, or consider helping with the costs of the site and research materials. All text and photos will remain your property, and photos will be imprinted to prevent unauthorized use.

Thanks!





Dr. Bill Xiamen University MBA Center
E-mail: amoybill@gmail.com
Snail Mail: Dr. William Brown
Box 1288 Xiamen University, Xiamen, Fujian PRC 361005

Click to E-mail


Readers'Letters
Last Updated: October 2007


Back to Top
Google Search
AMOY MISSION LINKS



A.M. Main Menu


RCA Miss'ry List


AmoyMission-1877


AmoyMission-1893


Abeel, David


Beltman


Boot Family


Broekema, Ruth


Bruce, Elizabeth


Burns, Wm.


Caldwells


DePree


Develder, Wally


Wally's Memoirs!


Douglas, Carstairs


Doty, Elihu


Duryea, Wm. Rankin


Esther,Joe & Marion


Green, Katherine


Gutzlaff, Karl


Hills,Jack & Joann
.

Hill's Photos.80+
..

Keith H.

Homeschool


Hofstras


Holkeboer, Tena


Holleman, M.D.


Hope Hospital


Johnston Bio


Joralmans


Karsen, W&R


Koeppes, Edwin&Eliz.


Kip, Leonard W.


Meer Wm. Vander


Morrison, Margaret


Muilenbergs


Neinhuis, Jean


Oltman, M.D.


Ostrum, Alvin


Otte,M.D.

Last Days


Platz, Jessie


Pohlman, W. J.


Poppen, H.& D.


Rapalje, Daniel


Renskers


Talmage, J.V.N.


Talman, Dr.


Veenschotens
.

Henry V.

Stella V.
.

Girard V.


Veldman, J.


Voskuil, H & M


Walvoord


Warnshuis, A.L.


Zwemer, Nellie


Fuh-chau Cemetery


City of Springs
(Quanzhou, 1902!!)


XM Churches


Church History


Opium Wars


A.M. Bibliography


YMCA Volunteer!


XICF Fellowship


Temples


Mosques


Christ in Chinese
Artists' Eyes

DAILY LINKS


FAQs Questions?


Real Estate


Shopping

Maps


Bookstores


Trains

Busses


Car Rental


Hotels

News (CT)


Medical & Dental


Expat Groups


Maids

Phone #s
EDUCATION


Xiamen University


XIS(Int'l School)


Study Mandarin


CSP(China Studies)


Library

Museums


History
DINING

Tea Houses


Restaurants

Asian


Veggie

Junk Food


Chinese

Italian


International


Visas 4 aliens
RECREATION


Massage!


Beaches

Fly Kites


Sports

Boardwalk


Parks

Pets


Birdwatching


Kung Fu

Hiking


Music Events


Cinema


Festival&Culture


Humor&

Fun Fotos


BUSINESS


Doing Business


Jobs!(teach/work)


Hire Workers


Foreign Companies


CIFIT (Trade Fair)


MTS(Translation)



Back to Top