Click to Access
AMOY MAGIC SITE from
OUTSIDE China


Click to Access Amoy Magic Site from
INSIDE China


TRAVEL LINKS


Xiamen

Gulangyu


Jimei

Tong'an


Jinmen

Zhangzhou


Quanzhou

Wuyi


#1Fujian Sites!


Fujian Foto Album


Books on Fujian


Readers'Letters


Ningde

Zhouning


Longyan

Sanming


Putian

Bridges


Travel Info,


Hakka Roundhouses


Travel Agents

MISC. LINKS


Amoy People!


Darwin Driving


Amoy Tigers


Chinese Inventions


Tibet in 80 Days


Amoy Vampires!


Dethroned!


Misc.Writings


Latest News


Lord of Opium


Back to Main Page
Copyright 2001-7 by Sue Brown & Dr. Bill

Order Books


Amoy Mission Main Page Amoy Magic (Guide to Xiamen) Main Page
Note: Please click thumbnails for larger photos

Elihu & Eleanor Doty RCA Missionaries to China--1844-1864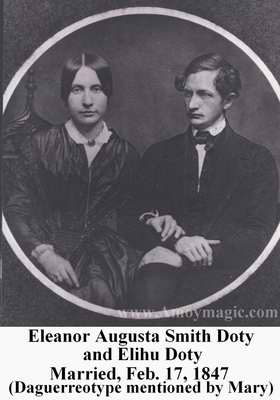 Mr. Elwood, Geiger, descendant of Elihu Doty, kindly provided the Doty photos, and permission to use Mary Doty's story.
Ms. Jean Watson, Secretary, New Jersey Postal History Society, and author of "Doty's Garden", providing the copy of Mary Augusta Doty Smith's fascinating 80-page account of her first eight years of life on Amoy: "The China Story--Recollections... Click link below to read!


A Little Girl's Life in Amoy(1851-1859)

Elihu Doty was missionary, architect, acting U.S. Consul, linguist, compiler of first Amoy dictionary, etc. Doty's 2nd wife, Eleanor (who had Amoy's first piano!) died in February, 1858, and in 1860 Elihu Doty left his chilren in the care of his wife's family in the U.S. while he returned to Amoy. Four years later, when returning to his children, he died within 4 days of reaching port.

THE DOTY-DOTEN FAMILY: THE FAMILY OF EDWARD DOTY
from The Doty-Doten Family in America. Desc. of Edward Doty, An Emigrant by the Mayflower, 1620. By Ethan Alien Doty. 1035pp. 1897 reprinted 1984
[Provided by Ms. Jean Walton]

367. ELIHU DOTY, son Stephen Holmes Doty and Phebe Nelson, b. Berne, N. Y., Sept. 20,1809; m., 1st, New York City, May 18, 1836, Clarissa Dolly Ackley, b. Washington, Ct., Dec. 7, 1806, dau. Hezekiah Ackley and Jemima, his wife. She d. Borneo. East Indies, Oct. 5, 1845. He m., 2d, Parsippany. N. J., Feb. 17, 1847, Eleanor Augusta Smith, b. Troy, N. J.. July 27, 1823, dau. Hiram Smith and Mary Alien Osborne. She d. Amoy, China, Feb. 28, 1858.

The following sketch of his life is from the pen of one of his accomplished daughters: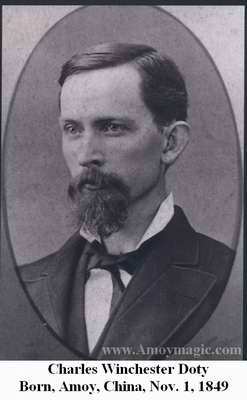 Early in life he felt it to be his mission to preach the Gospel to the heathen, and studied for the ministry with that aim In view, being prepared in his studies at Rutgers's College and New Brunswick Theological Seminary. An historical pamphlet of the Sabbath school of the Reformed Church at Berne, N. Y., says: "On November 3, 1832, Elihu Doty, one of our scholars, entered into full communion with this church on confession of faith. In April, 1833, he was recommended as a fit person for the ministry. He graduated from Rutgers's College, 1835, and from the Theological Seminary at New Brunswick, N. J., in 1836."

Quoting from a "Manual of the Reformer Church in America:" " His first aspirations after missionary life were formed in the Sabbath school. In his studies he was known for his faithful application and excellent [p. 109] scholarship°™not showy, but solid°™developing excellent judgment and great balance of mind, and winning respect and confidence by his earnest and decided piety. He was somewhat advanced in age when be began his preparation for the ministry, and by the advice of others overleaped two years of his college course.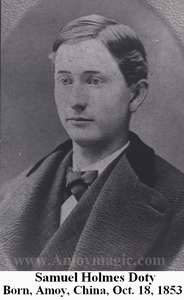 "His integrity, intellectual and moral, was complete, and no one ever dreamed of questioning his conscientiousness. His missionary ardor was increased by the magnetic presence and contagious enthusiasm of David Abeel." He graduated from the seminary in 1836, being licensed to preach by the Classis of Schoharie. N. Y., in the same year, and in June he sailed for Java, in company with Elbert Nevius, William Youngblood and Jacob Ennis, under the care of the Board of Foreign Missions of the Reformed Church, which believed the Dutch Government established there would show some interest in the missions of a church whose fathers had come from Holland. But, on arriving at Batavia in September, they found no friendly welcome or protection, so finally Borneo was assigned as their location, and they reached Sambas, Borneo, June 19, 1839, after three years of disheartening labor and delay in Batavia and Singapore, only to meet further disappointments, for, in a few months, Mr. Nevius was obliged to leave on account of his wife's broken health, and Mr. Ennis proved himself a very unfit man. Notwithstanding his mental endowments, he was dismissed and finally deposed from the ministry, thus leaving the work so newly established to be carried forward by Mr. Youngblood and Mr. Doty.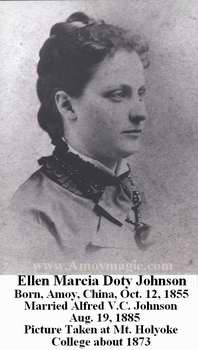 Messrs. Pohlman and Thompson soon joined them, when the former and Mr. Doty devoted themselves to the Chinese who came to Borneo for purposes of trade; but after a few years' residence in Sambas and Pontianak, it became evident they could do more efficient work among the Chinese, if in their own land; accordingly they went to Amoy, China, in 1844, reaching this seaport town in Southern China at the close of June.

Shortly before leaving this country in 1836, Mr. Doty married Clarissa D. Ackley of Washington, Ct., a lady highly spoken of and esteemed. Upon their arrival In China, when their little family must have been knit together closely and peculiarly, among a strange people, these two were shown there were other ties to break than leaving home, lands and friends tried and true, for, after three weeks, they laid away their only son, six years of age, and memory recalls, even now, the peculiar tenderness with which that father would speak, in years long after, of this child, who went out from them then, and in the October following, 1845, Mrs. Doty died, leaving two little girls whom their father brought to this country, together with the motherless children of Mr. Pohlman, in March, 1846. These having been left with kind friends, he married Eleanor A. Smith of Troy, N J., in 1847, and returned to Amoy in August of that same year.

Although so discouraged in the outset of their work, the missionaries felt greatly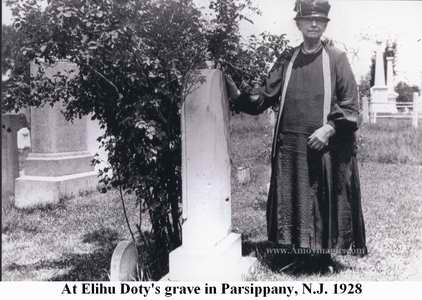 encouraged in China, those who embraced Christianity in most cases showing by the fruit of their lives the genuineness of their conversion, and through the course of Mr. Doty's life from this date his was the work [p. 110] of building up that for which he, with his associates in the earlier days, laid the foundation; also the widening of the field and work back into the country. His experiences were much the same that all laborers in foreign fields have felt: there were the discouragements of blind prejudice and Ignorance, and of the naturally wicked heart in these heathen, as in all others of humanity; there were the outbreaks and the riots instigated by the priests against the Christians, both foreign and native, and the civil wars imperiled life at times, as in 1853, when it raged through that part of the Empire, and the City of Amoy was besieged, and all the horrors of war among a half-civilized people were perpetrated on its streets, and in its harbor filled with war junks, during the cannonading of which many balls and bullets lodged in Mr. Doty's house, one of which just escaped hitting Mrs. Doty and an infant in her lap.

Mr. Doty was very much engaged during the later years of his life in translations into the Chinese language of such works as were deemed suitable. The "Manual," quoted from before, says: "He was admirably fitted for this department, by his habits of accuracy, his candor, judgment, and freedom from caprice and prejudice. He was a laborious man; there was no romance In his character. A stern, determined worker, he sturdily pressed on. He met difficulties with a quiet heroism, but turned not aside. He never spared himself until his friends compelled him."

His publications were : Anglo-Chinese Manual of the Amoy Dialect, Translation and Revision Into Amoy Dialect of Milner's Thirteen Village Sermons, including Milner's Tract on the' Straight Gate," Some Thoughts on the Proper Term for " God" in the Chinese, Narrative of a Tour in Borneo, Translation of Sacramental and Marriage Forms of Reformed Protestant Dutch Church into Amoy Colloquial.
It was during 1858 that Mr. Doty acted as American Consul during the absence of the appointed Consul, Mr. Hyatt, and his judgment was so clear and just that throughout his life he was constantly sought for advice and counsel. The necessities of a missionary's life tend to develop one's genius in every channel, and in the absence of a dentist Mr. Doty often rendered assistance In that line, and by performing slight surgical operations, while his knowledge of Natural Philosophy often aided others and himself in securing comforts and helps which seemed little short of witchery to the simple natives. His publications were also bound under his supervision and direct aid, the press being In his study. At certain seasons of the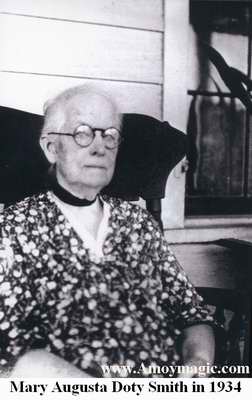 year he was a great sufferer from asthma, many times being unable to lie down or rest in any position, while at all times he was never robust. Death entered this fold also, taking the oldest and the then only son, again and later the babe for whom the mother gave her life for, in February, 1858, Mrs. Doty died, leaving the tender mother-father the solicitude of four other little ones whom he brought to the care, so kindly and generously offered, of his wife's parents and sister, in 1860.

After spending one year in this country, recruiting in health and starting his children in their education, he again turned his face to the work to which he gave himself for life, and continued in arduous [p. Ill] labors, through different vicissitudes, national and ecclesiastical, until his gradual but certainly failing physical powers told him his work was done. Then with mingled feelings he embarked on the "N. B. Palmer" for the United States, on November 30th, 1864, and as he stood on her deck, bade farewell to the home of his adoption, the land where be had lived into nearly the whole of his life experiences, where most of his associations were formed, and where he had passed through the deeper passions that stir one's soul, the joys too deep for utterance and the sorrows in which "the heart knoweth its own bitterness;" but within four days of his destination the worn-out body could no longer hold the fettered spirit, and breaking its bonds he was with his God, and at rest, March 18th, 1865. The funeral services were held at the Middle Dutch Church, Lafayette Place, New York City, and also in the church in Parsippany N. J., and his precious remains lie in the cemetery in that place.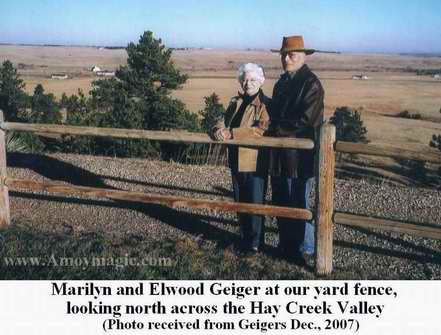 Children by Elihu Doty's first wife:
752. i. FERRIS HOLMES, b. Singapore, India, July 10, 1838; d. Amoy, China, July 19, 1844.
753. ii. CLARISSA ELIZA, b. Pontianak, Borneo, Jan. 14, 1843.
754. iii. AMELIA CAROLINE, b. Amoy, China, Jan. 21, 1845; was adopted
by Rev. John Dubois, and is known by his name; lives Wurtsboro, N. Y. And by his second wife, b. Amoy, China :
755. iv. EDWARD SMITH, b. Dec. 11,1847; d. July 14, 1848.
756. v. CHARLES WINCHESTER, b. Nov. 1, 1849.
757. vi. MARY AUGUSTA, b. Sept. 16, 1851.
758. vii. SAMUEL HOLMES, b. Oct 18, 1853.
759. viii. ELLEN MARCIA, b. Oct. 12, 1855; not m.; lives Summit, N. J.
760. ix, ELMIRA LOUISA, b. Feb. 10, 1858; d. July 2, 1858.
[OCR version Aug 2007 - some transcription errors may still be present.]
Doty Genealogical information from The Doty-Doten Family in America. Desc. of Edward Doty, An Emigrant by the Mayflower, 1620. By Ethan Alien Doty. 1035pp. 1897 reprinted 1984
Note from Jean Walton: I have included these pages because the information here conflicts with some in the DeJong history of the China Mission. [I have never seen the whole book - was sent selected pages.]
Bill's note: perhaps another minor error in DeJong: he wrote that Dr. John Otte's son, Frank Otte, was a Colonel, but Frank's daughter, Joanne Finley, M.D., has insisted to me that he was a Major.
Note from Mr. Elwood Geiger, a Doty descendant: A well-known historian claims Commodore Perry never visited Amoy--but Mary remembers his visit, and even monogrammed a handkerchief for him!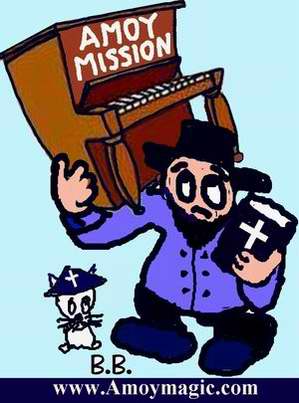 Please Help the "The Amoy Mission Project!" Please share any relevant biographical material and photos for the website and upcoming book, or consider helping with the costs of the site and research materials. All text and photos will remain your property, and photos will be imprinted to prevent unauthorized use.

Thanks!





Dr. Bill Xiamen University MBA Center
E-mail: amoybill@gmail.com
Snail Mail: Dr. William Brown
Box 1288 Xiamen University, Xiamen, Fujian PRC 361005

Click to E-mail


Readers'Letters
Last Updated: October 2007


Back to Top
Google Search
AMOY MISSION LINKS



A.M. Main Menu


RCA Miss'ry List


AmoyMission-1877


AmoyMission-1893


Abeel, David


Beltman


Boot Family


Broekema, Ruth


Bruce, Elizabeth


Burns, Wm.


Caldwells


DePree


Develder, Wally


Wally's Memoirs!


Douglas, Carstairs


Doty, Elihu


Duryea, Wm. Rankin


Esther,Joe & Marion


Green, Katherine


Hills,Jack & Joann
.

Hill's Photos.80+
..

Keith H.

Homeschool


Hofstras


Holkeboer, Tena


Holleman, M.D.


Hope Hospital


Johnston Bio


Joralmans


Karsen, W&R


Koeppes, Edwin&Eliz.


Kip, Leonard W.


Meer Wm. Vander


Morrison, Margaret


Muilenbergs


Neinhuis, Jean


Oltman, M.D.


Ostrum, Alvin


Otte,M.D.

Last Days


Platz, Jessie


Pohlman, W. J.


Poppen, H.& D.


Rapalje, Daniel


Renskers


Talmage, J.V.N.


Talman, Dr.


Veenschotens
.

Henry V.

Stella V.
.

Girard V.


Veldman, J.


Voskuil, H & M


Walvoord


Warnshuis, A.L.


Zwemer, Nellie


Fuh-chau Cemetery


City of Springs
(Quanzhou, 1902!!)


XM Churches


Church History


Opium Wars


A.M. Bibliography


YMCA Volunteer!


XICF Fellowship


Temples


Mosques


Christ in Chinese
Artists' Eyes

DAILY LINKS


FAQs Questions?


Real Estate


Shopping

Maps


Bookstores


Trains

Busses


Car Rental


Hotels

News (CT)


Medical & Dental


Expat Groups


Maids

Phone #s
EDUCATION


Xiamen University


XIS(Int'l School)


Study Mandarin


CSP(China Studies)


Library

Museums


History
DINING

Tea Houses


Restaurants

Asian


Veggie

Junk Food


Chinese

Italian


International


Visas 4 aliens
RECREATION


Massage!


Beaches

Fly Kites


Sports

Boardwalk


Parks

Pets


Birdwatching


Kung Fu

Hiking


Music Events


Cinema


Festival&Culture


Humor&

Fun Fotos


BUSINESS


Doing Business


Jobs!(teach/work)


Hire Workers


Foreign Companies


CIFIT (Trade Fair)


MTS(Translation)



Back to Top