Click to Access
AMOY MAGIC SITE from
OUTSIDE China


Click to Access Amoy Magic Site from
INSIDE China


TRAVEL LINKS


Xiamen

Gulangyu


Jimei

Tong'an


Jinmen

Zhangzhou


Quanzhou

Wuyi


#1Fujian Sites!


Fujian Foto Album


Books on Fujian


Readers'Letters


Ningde

Zhouning


Longyan

Sanming


Putian

Bridges


Travel Info,


Hakka Roundhouses


Travel Agents

MISC. LINKS


Amoy People!


Darwin Driving


Amoy Tigers


Chinese Inventions


Tibet in 80 Days


Amoy Vampires!


Dethroned!


Misc.Writings


Latest News


Lord of Opium


Back to Main Page
Copyright 2001-7 by Sue Brown & Dr. Bill

Order Books


Amoy Mission Main Page Google Search E-mail




This page's material was submitted by Ms. Joann Hill, Henry's daughter. Stella helped give Amoy its reputation as the "Isle of Music!"




Also see Amoy Vignettes by Dr. Girard Veenschoten:


My Story

Dad's Practicality

Ah Beng

Our Amoy Animals

Chinese New Year Related:

Hill Family

Hill Photos

Click Photos for Larger Images
BIOGRAPHICAL SKETCH
REV. HENRY M. VEENSCHOTEN and MRS STELLA E. VEENSCHOTEN
by Girard Veenschoten, M.D.
281 Borden Drive, Battle Creek, Michigan
November 7, 1989
In memorium for the Rev. Henry M.Veenschoten and the Mrs. Stella E Veenschoten, Missionaries of the Reformed Church in America,A Protestant Denomination,to the Amoy Mission (Xiamen, Fujian,China).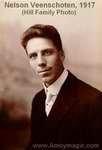 Mother and father were born within two months of each other in 1892. Mother tived to be 7O years old.She died in 1962. My Father lived another 12 years. He passed away in 1974. I was born in 1919. Joann L. Hill was born in 1923. The third child, Mrs. Elin A. Moerland, was born in 1930.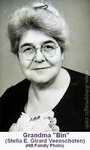 Dad was graduated from Western Theological Seminary, Holland, Michigan, U.S.A.in 1917. My Parents were married that same summer and were called to go to China as missionaries of the Reformed Church. After two years of language study, they were placed by the Mission at the Chang Chow (Zhang Zhou, Fujian) Station about 30 miles west of Amoy.
Dad¡¯s primary interest always was Evangelism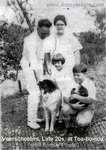 . He would strike up a conversation with an individual on a park bench or in a store. I remember him organizing evangelistic Teams to preach on market days or at Chinese New Year.Before he left China he had a hand in the founding of Talmage College, the ChangChow Christian Middle School. He was a teacher in the Seminary. He was appointed b~ the Synod of South Fukien Church to be moderator of a very large district. There were years when he walked over a thousand miles, counseling, and supporting the local churches. He spoke fluent Chinese and was loved by all who knew him.
He was held prisoner of war by the Japanese for eighteen months and was repatriated on the Norwegian liner, the SS GRIPSHOLM in 1943.His Passion was to return to China. This he was able to do in 1945.

My Mother, who remained in the United States during the Japanese Conflict, was able to return to Amoy with my father in 1946. However they were again forced to leave five years later.
They were sent to Manila, P.I., where they served the Amoy-speaking Chinese. They were asked to produce the TEMPLE TIME EVANGELISTIC HOUR OF THE REFORMED CHURCH into Amoy Chinese.
Mother was asked to organize the young People at the Amoy Evangelical Church, a large Protestant Church of Amoy speaking Chinese in Manila. In developing this talent, she used soloists, quartets, Men and women ensembles, and Choirs. For them mother harmonized the finest church music. In 1955, for one of her final efforts, she edited a thorough revision of the Romanized Amoy Chinese Hymnal, printed in hard¡ªcover.

Mother was a great, hard working, dedicated Christian: meso-soprano, voice teacher, choir organizer, director, harmonizer, and pianist. My parents attracted people like iron filings to a magnet. My parents retired in 1955. However they returned to Manila for another year of Post-retirement service.

Please Help the "The Amoy Mission Project!" Please share any relevant biographical material and photos for the website and upcoming book, or consider helping with the costs of the site and research materials. All text and photos will remain your property, and photos will be imprinted to prevent unauthorized use.

Thanks!




Dr. Bill Xiamen University MBA Center
E-mail: amoybill@gmail.com
Snail Mail: Dr. William Brown
Box 1288 Xiamen University, Xiamen, Fujian PRC 361005

Click to E-mail


Readers'Letters
Last Updated: October 2007


Back to Top
Google Search
AMOY MISSION LINKS



A.M. Main Menu


RCA Miss'ry List


AmoyMission-1877


AmoyMission-1893


Abeel, David


Beltman


Boot Family


Broekema, Ruth


Bruce, Elizabeth


Burns, Wm.


Caldwells


DePree


Develder, Wally


Wally's Memoirs!


Douglas, Carstairs


Doty, Elihu


Duryea, Wm. Rankin


Esther,Joe & Marion


Green, Katherine


Gutzlaff, Karl


Hills,Jack & Joann
.

Hill's Photos.80+
..

Keith H.

Homeschool


Hofstras


Holkeboer, Tena


Holleman, M.D.


Hope Hospital


Johnston Bio


Joralmans


Karsen, W&R


Koeppes, Edwin&Eliz.


Kip, Leonard W.


Meer Wm. Vander


Morrison, Margaret


Muilenbergs


Neinhuis, Jean


Oltman, M.D.


Ostrum, Alvin


Otte,M.D.

Last Days


Platz, Jessie


Pohlman, W. J.


Poppen, H.& D.


Rapalje, Daniel


Renskers


Talmage, J.V.N.


Talman, Dr.


Veenschotens
.

Henry V.

Stella V.
.

Girard V.


Veldman, J.


Voskuil, H & M


Walvoord


Warnshuis, A.L.


Zwemer, Nellie


Fuh-chau Cemetery


City of Springs
(Quanzhou, 1902!!)


XM Churches


Church History


Opium Wars


A.M. Bibliography


YMCA Volunteer!


XICF Fellowship


Temples


Mosques


Christ in Chinese
Artists' Eyes

DAILY LINKS


FAQs Questions?


Real Estate


Shopping

Maps


Bookstores


Trains

Busses


Car Rental


Hotels

News (CT)


Medical & Dental


Expat Groups


Maids

Phone #s
EDUCATION


Xiamen University


XIS(Int'l School)


Study Mandarin


CSP(China Studies)


Library

Museums


History
DINING

Tea Houses


Restaurants

Asian


Veggie

Junk Food


Chinese

Italian


International


Visas 4 aliens
RECREATION


Massage!


Beaches

Fly Kites


Sports

Boardwalk


Parks

Pets


Birdwatching


Kung Fu

Hiking


Music Events


Cinema


Festival&Culture


Humor&

Fun Fotos


BUSINESS


Doing Business


Jobs!(teach/work)


Hire Workers


Foreign Companies


CIFIT (Trade Fair)


MTS(Translation)



Back to Top