Click to Access
AMOY MAGIC SITE from
OUTSIDE China


Click to Access Amoy Magic Site from
INSIDE China


TRAVEL LINKS


Xiamen

Gulangyu


Jimei

Tong'an


Jinmen

Zhangzhou


Quanzhou

Wuyi


#1Fujian Sites!


Fujian Foto Album


Books on Fujian


Readers'Letters


Ningde

Zhouning


Longyan

Sanming


Putian

Bridges


Travel Info,


Hakka Roundhouses


Travel Agents

MISC. LINKS


Amoy People!


Darwin Driving


Amoy Tigers


Chinese Inventions


Tibet in 80 Days


Amoy Vampires!


Dethroned!


Misc.Writings


Latest News


Lord of Opium


Back to Main Page
Copyright 2001-7 by Sue Brown & Dr. Bill

Order Books


Amoy Mission Main Page Amoy Magic (Guide to Xiamen) Main Page iE-mail


Note: Please click thumbnails for larger photos


Hills' Photo Album!

Bio of Jessie M. Johnston
Theodore V. Oltman, M.D.--RCA's Last Missionary in Amoy


Oltman's 1942 REPORT ON CONDITIONS IN AMOY CHINA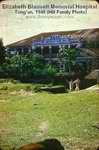 Click Photos for Larger Images
Brief Intro to Dr. Oltman Dr. Oltman served at the Blauvelt Memorial Hospital, replacing Dr. Harold Veldman, who returned to the U.S. for health reasons in 1930. Oltman served in the Amoy area until World War II, and returned to China after the war. As a Major, Dr. Oltman also served as a military medical officer in the U.S. base in Kunming. Oltman returned to the Fagg Memorial Hospital in Leng-na in 1947. Dr. Clarence Holleman and Oltman worked together to get the hospital up to snuff again. Members of the "First Presbyterian Church in Newton, Kansas (where Oltman had once practiced) provided funds for surgical instruments and supplies." (De Jong 1992, p.311-312). Over half of the work performed at Fagg Hospital was charity. Oltman remained there until expelled in October, 1951; he was the last Reformed missionary to leave China. But though he stayed on at the hospital after 1949, he was able to do little work. De Jong quotes Oltman, "I was beat. Not beatne, but I mean, I was in poor health. I think I weighed 119 pounds. My clothes hung like rags on me." (De Jong 1992, p.338. His departure marked the end of 109 years of the Reformed Church of America's mission in Amoy.
REPORT ON CONDITIONS IN AMOY CHINA
by Theodore V. Oltman, M.D. (Provided by Jack and
Joann Hill)
Written on board the S.S. Gripsholm, August 6, 1942

INTRODUCTION: General Situation
On December 8, 1941 there were about seventy American, British, and Dutch nationals residing in the International Concession of Kulangsu, an island in the harbor of Amoy. Of these there were fourteen adult Americans and six American children. Twelve of the American adults were missionaries (ten belonging to the Mission of the Reformed Church of America, two of the Seventh-day Adventist Mission). The other two adults were Mr. L. C, Altaffer, American Vice-Consul and Mr. G, Sevra, of the U.S. Navy, attached to the American Consulate as Radio Operator.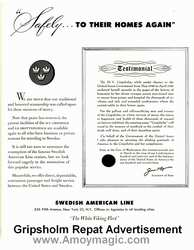 Before Dec. 8, 1941 there were no Japanese Military or Naval Forces on the Island of Kulangsu, The Concession was governed by the Kulangsu Municipal Council, composed of one American, chairman, one British subject, one Dutch subject and two Japanese subjects. However, Japanese influence was strong, due to the following:

(l) The presence of Japanese Naval forces in Amoy and controlling all the waters around Amoy.
(2) A number of Formosan police in the Concession police force.
(3) A force of Japanese Consular Police and Plain Clothesmen.
(4) A large Formosan population that terrorized the native Chinese.

For a month and a half before Dec. 8th there were no travel communications between Kulangsu and the Mainland, which is held by the Chinese, and is only about 1000 yards across the bay from Kulangsu. Previous to this-time private motor boats of the Standard Oil Company, The Asiatic Petroleum Company and the Reformed Church Mission plyed between the International Settlement and the Mainland under a "Pass" system imposed by the Japanese Naval Forces.
THE FIRST WEEK OF WAR
At 4 A.M. Monday morning, December 8, 1941 armed Japanese Marines crossed the narrow harbor from Amoy and landed in the International Settlement of Kulangsu. With the aid of Consular police and Formosan interpreters began to round up all American and European Nationals. They proceeded, first to the American and British Consulates and the residences of the Netherlands Indies and Hongkong Shanghai Bank officials where they arrested the foreign staffs at the point of bayonet or pistol end. Before day break a large number of other Americans and Europeans were similarly routed out of their house by armed Marines and Japanese Consular Police, and as the day wore on, all Americans and Europeans except two or three overlooked or exempted for reasons of health were rounded up. All of these Individuals except the Consuls were taken to a large building ¡ª an empty Japanese hospital ¡ª the neutrals were registered and released, to return to their homes. British, Dutch and Americans, men, women and children were forced to remain in this building with no food and no bedding. Chinese servants were finally allowed to bring in these necessary things. Armed sentries with fixed bayonets were on constant guard in the hallways and around the building. No violence was inflicted on anyone but there was a general indifference to hardships suffered by women and infirmed people. Mothers with children were released on the first day and allowed to go home.

On the third day the American doctor was released and allowed to reside in his own home and go to and from the American hospital, which he was permitted to continue to operate.

During the six days between Dec. 8 to Dec. 12 various Americans and other Nationals were taken to the schools, banks or other institutions which they had supervised and were made to hand over accounts, records and undergo examinations.

Finally on Dec. 13 all British, Dutch and American Nationals, exclusive of Consular Staffs were released and permitted to reside in their own homes and warned not to appear on the streets without special permission. During the detention period the American, British, and Dutch members of the Municipal Council were forced to resign.

Upon return to their houses it was evident to the residents that their houses and premises had been thoroughly searched. Radios, Camera photographic equipment and firearms had been confiscated. In some cases, receipts for the confiscated articles were issued. There was some evidence of petty pilfering by the Japanese searchers. Articles such as, soap, food stuffs and trinkets being missing. No large scale loss of such articles occurred except in the case of the American Vice-Consul and the case of Mr. Maclntyre of the Seventh-Day Adventist Mission, who was not allowed to return to his home as it was in a strategic area facing the mainland. He sustained fairly heavy losses in food stores, clothing stolen by the Japanese searchers. He was permitted to reside in another American residence.

All American, British and Dutch employees of the Chinese Maritime Customs were discharged but salary was paid them through December.
The American doctor was chosen to represent all Americans in matters of communications from the various Japanese authorities.
Similarly one Dutch and three British nationals were chosen. These five persons were given identification arm bands and were free to go around to the various residences of their own nationals. From time to time they went to the Japanese consulate or other Japanese offices.
BANKS AND FINANCIAL
All foreign and Chinese National government banks were closed. On or about December 23 and for the succeeding three days these banks were temporarily opened and personal accounts could be drawn on to the extent of $500. CNC per single account. They were again reopened in mid February 1942 for a period of 4 days. A maximum of $2000. CNC per personal account was permitted to be withdrawn.
Chinese National Dollars continued to be the medium of exchange. Formosan Yen were somewhat in use, telegraphic and water bills being payable in Yen.

Before Dec. 8th three CNC dollars were worth one Yen. The rate gradually changed and became 9 to 1 in about three months. This was controlled and fixed each time by the Japanese. This amounted to a deliberate decreasing of the CNC dollar value. Prices rose proportionally.

At the onset of the war American citizens were as a group well
supplied with money, sufficient to last them for two months or more.

The first bank opening allowed them to draw sums adequate to last
another month. In addition, Chinese friends gave gifts and made
loans so that at no time was the group of Americans pressed for money.

In March 1942 the Japanese consulate required all American, British and Dutch citizens to report their income and debts from Dec. 8th through March. On the basis of these reports the Japanese issued money on the basis of $500. CNC. per month for January, February and March, minus the reported income for each month, plus sums to cover debts outstanding as of Dec. 31st. By this some individuals received no money, some such as heads of families received up to five or six thousand dollars. These sums were paid on a loan basis, with a note signed by the recipient and the group represented and written to be payable in the settlement at the end of the war. It is to be remarked that these loans would have been entirely unnecessary had the business firms and Missions been able to draw from their funds in safes and in bank accounts. These accounts however, were firmly frozen and repeated applications for release were denied by the Japanese Authorities.

In this manner about $15,000. CNC. and $3,522. US of the American Reformed Church Mission and $13,000. CNC. of the Seventh-day Adventist Mission and $6,000. CNC. of the Mission hospital were withheld or appropriated by the Japanese. The amount of such sums held by American business firms and the American Consulate is not known by me. Safes of Missions, institutions and Consulates were sealed and no withdrawals of money was permitted except in two or three cases where personal cash had been in such safes.

At the middle of May, when the last repatriates left for Shanghai, the remaining 7 U.S. citizens had enough cash to last six months or more. They will probably be able to get more money from time to time from Chinese friends.

INSTITUTIONS AND BUILDINGS AND LAND
All property, residences, Missions schools, the hospital, British, American and Dutch firms, etc. were taken over and placarded and stated to be the property of the Japanese. In most cases, Americans, British and Dutch Citizens were permitted to live in their accustomed houses.

In late December complete inventories of Mission, business and personal property, lands, buildings, equipment were required by the Japanese Enemy Property Custodian Committee. All such property other than personal was declared to be Japanese. Personal property was not allowed to be moved or sold without special Japanese permission. There were 10 Mission schools in Kulangsu, teaching about 9,000 pupils. These schools were closed on Dec. 8th. The Japanese reorganized the school teaching staffs and about two months later opened 5 of these schools. American, British and Dutch Citizens were naturally excluded from participation in school administration or teaching. Chinese teachers were compelled to continue.

The 150 bed Mission Hospital was permitted to run without internal control, by the Japanese. No Japanese or their sympathizers were on the staff. Severe restrictions were put on from the outside that prevented patients from entering the hospital, so that by May first only a skeleton staff and 20 patients were left. In January the ground floor of the hospital was taken over as a concentration camp for British Citizens and Neutral Europeans captured in vessels off the China Coast near Amoy, in the first week of the war. This group reached fifty four in number. The hospital was guarded by armed marines and Municipal detectives day and night.
In the middle of May when the American doctor was forced to evacuate, the hospital was taken over and closed by the Japanese.

TREATMENT OF THE CHINESE
Chinese of British, Dutch and Filipino nationality were temporarily detained in the same camp with the ABD white citizens and for the same length of time. Several school teachers, one nurse and one Christian pastor were imprisoned for periods of two to fourth months, presumably because pro-American or pro-Chungking activities. Treatment of the general populace by the Japanese was one of indifference except for some propaganda in the way of mass meetings where anti-ABD fulminations were uttered by the Japanese. Some forced contributions of several thousands of dollars were solicited from wealthy Chinese.

The attitude of 99% of the native Chinese was friendly and sympathetic toward ABD nationals.

FOOD
There was rice and wheat flour stored in warehouses and shops sufficient to last the populace (60,000) of Kulangsu for about five months. The Japanese commandeered staple foods, fixed prices and regulated sale of these articles.
TREATMENT OF AMERICAN CONSULAR STAFF
On December 8th, 1941, Mr. Leland C. Altaffer, American Vice-Consul, and Mr. George Sevra, Radio Operator were arrested and taken from the Consulate to the Amoy Club Building in Kulangsu, where, in company with the British Consul-General, they were kept until December 30, 1941. They were not provided with food or money. Their Chinese servants were permitted to bring them food. On December 30 Mr. Altaffer and Mr. Sevra were sent back to the Consulate and were allowed to live at first in three rooms on the ground floor, the rest of the building being sealed off. Later two more contiguous rooms were opened for their use. They were not permitted to leave the grounds. Armed sentries guarded the locked gate. Depending on the affability or insolence of the guards, treatment of the American staff and their servants was accordingly pleasant or the opposite. At one time on mild remonstrance over the action of one guard who monopolized space in the kitchen so as to interfere with the cook's work, the guard flared up, and left the premises to make a report to the Naval authorities. Messrs. Altaffer and Sevra were that day taken to Naval Headquarters in Kulangsu, beaten with leather straps and furiously berated by a Junior Naval officer. Thereafter no physical violence of marked insolence was exhibited. But no apology for this unwarranted action was forthcoming.

The American staff had to live on remaining food stores - a fair quantity of foods and beverages had been stolen by the Japanese and borrowed money and credit until the 24th of February when money was given them by the Japanese.

The American group representative was occasionally able to visit Messrs. Altaffer & Sevra, depending upon the laxity or severity of the sentries.

(The foregoing account of the treatment of Consular officials is in bare outline as Mr. L.C. Altaffer will have made his own report and account to the State Department.)

EVACUATION
In the middle of March application forms regarding evacuation were distributed among ABD nationals. Essentially, it was required to indicate the desire to be repatriated or the desire to remain (indefinitely?) in Kulangsu, Amoy. There was no compulsion except in the case of ABD gov't officials. There was "unofficial" urging to go. Of the American group, exclusive of officials, six adults, including one Danish subject, mother of two American children, decided to go, making a total, including five children, of eleven persons. The prospective evacuees were permitted to take personal effects, linens, silverware and Yen 1,000. or its equivalent in other currencies. Before leaving, sale of personal and household goods by auction was permitted.

Evacuation from Amoy to Shanghai occurred in two groups, the first group leaving Amoy April 16, 1942 and the second group leaving on May 14, 194-2, the vessel evacuating the repatriatees being the S.S' Sungshan Maru. On the day of the second evacuation the American doctor was called to the Japanese Consulate and told that he must go. No reasons were given. This was the only case of forced evacuation. Conditions on the evacuation ship were very poor. Baggage had to be carried on board by the repatriates; coolies were not allowed to help. On each trip, about fifty evacuees (including such from Canton and Swatow) were lodged in a ¡°hold¡±, dirty, dark, and airless in rainy weather. Food was wretched, one third of adequate quantity, and service & treatment by stewards and "boys" was insolent to a degree never before experienced by anyone. Attempt was made each trip to levy exhorbitant tips. The Japanese captain and officers seemed indifferent to our treatment. Each trip from Amoy to disembarkation in Shanghai took seven days.

Respectfully submitted,
Theodore V. Oltman, U.D,
on board S.S. Gripsholm
August 6, 1942

-10-
APPENDIX
American Citizens left in Kulangsu Amoy:
Rev. H.A. Poppen - American Reformed Church Mission.
Rev. H. M. Veenschoten - ARCM
Miss K.R. Green - ARCM
Miss E. E. Beekman - ARCM
Miss J. Veldman - ARCM
Note: Miss Veldman was Nurse in American Hospital. When American doctor was forced to evacuate, he requested permission for Miss Veldman to evacuate also; request was refused.
Rev. B.L. Anderson - Seventh-Day Adventist Mission.
Master Robert Hulse, American, son of British subject. Robt.
Hulse is an invalid; his mother chose to remain with him in Amoy.
(2) Military Dispositions & Activities, December 8th, 1941-to to May, 1942.
Military dispositions on Amoy island could not be ascertained. The airfield was being improved and enlarged.
In Kulangsu, Local Naval Headquarters were established in the Hong Kong & Shanghai Bank residence & grounds on a hill in the northwest quarter of the island. I was in these grounds several times but saw no artillery emplacements. There were probably machine gun nests behind these grounds on a rocky eminence.
The western end of the island was a forbidden zone. Artillery and machine gun emplacements were located there. These faced the nearest point of the mainland where Chinese machine gun nests and entrenchments were located.

Floodlights were strung along about one half of the island coast and a system of forced patrol by native Chinese was inaugurated. This precaution was taken after a raid on January 8th by Chinese from the mainland in which they killed several marines and a Japanese police.

Japanese Naval vessels entered the harbor very occasionally. Supply ships came in on the average of two to three a week.
(3) Health Conditions in Amoy & Kulangsu.
Cholera - none for two years, rare sporadic before.
Smallpox - none for one year; rare before.
Leprosy - moderate number of lepers; low incidence (?)
Trachoma - moderate incidence.
Typhus - none.
Tuberculosis - high annual incidence and death rate.
Typhoid - high annual incidence, July to November.
Dysentery, Amebic & Bacillary - endemic.
Malaria - low incidence in Kulangsu; variable in some small villages on Amoy island.

Water Supply: Good water impounded in an artificial lake on Amoy; carried in water-boats to Kulangsu and pumped into reservoirs About 70 (?) fresh water wells in Kulangsu; many residences have rain water tanks. All types of water must be boiled for drinking purposes.
Respectfully submitted,
Theodore V. Oltman M.D,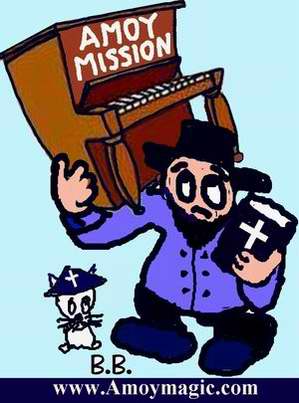 Please Help the "The Amoy Mission Project!" Please share any relevant biographical material and photos for the website and upcoming book, or consider helping with the costs of the site and research materials. All text and photos will remain your property, and photos will be imprinted to prevent unauthorized use.

Thanks!





Dr. Bill Xiamen University MBA Center
E-mail: amoybill@gmail.com
Snail Mail: Dr. William Brown
Box 1288 Xiamen University, Xiamen, Fujian PRC 361005





Click to E-mail


Readers'Letters
Last Updated: October 2007


Back to Top
Google Search
AMOY MISSION LINKS



A.M. Main Menu


RCA Miss'ry List


AmoyMission-1877


AmoyMission-1893


Abeel, David


Beltman


Boot Family


Broekema, Ruth


Bruce, Elizabeth


Burns, Wm.


Caldwells


DePree


Develder, Wally


Wally's Memoirs!


Douglas, Carstairs


Doty, Elihu


Duryea, Wm. Rankin


Esther,Joe & Marion


Green, Katherine


Gutzlaff, Karl


Hills,Jack & Joann
.

Hill's Photos.80+
..

Keith H.

Homeschool


Hofstras


Holkeboer, Tena


Holleman, M.D.


Hope Hospital


Johnston Bio


Joralmans


Karsen, W&R


Koeppes, Edwin&Eliz.


Kip, Leonard W.


Meer Wm. Vander


Morrison, Margaret


Muilenbergs


Neinhuis, Jean


Oltman, M.D.


Ostrum, Alvin


Otte,M.D.

Last Days


Platz, Jessie


Pohlman, W. J.


Poppen, H.& D.


Rapalje, Daniel


Renskers


Talmage, J.V.N.


Talman, Dr.


Veenschotens
.

Henry V.

Stella V.
.

Girard V.


Veldman, J.


Voskuil, H & M


Walvoord


Warnshuis, A.L.


Zwemer, Nellie


Fuh-chau Cemetery


City of Springs
(Quanzhou, 1902!!)


XM Churches


Church History


Opium Wars


A.M. Bibliography


YMCA Volunteer!


XICF Fellowship


Temples


Mosques


Christ in Chinese
Artists' Eyes

DAILY LINKS


FAQs Questions?


Real Estate


Shopping

Maps


Bookstores


Trains

Busses


Car Rental


Hotels

News (CT)


Medical & Dental


Expat Groups


Maids

Phone #s
EDUCATION


Xiamen University


XIS(Int'l School)


Study Mandarin


CSP(China Studies)


Library

Museums


History
DINING

Tea Houses


Restaurants

Asian


Veggie

Junk Food


Chinese

Italian


International


Visas 4 aliens
RECREATION


Massage!


Beaches

Fly Kites


Sports

Boardwalk


Parks

Pets


Birdwatching


Kung Fu

Hiking


Music Events


Cinema


Festival&Culture


Humor&

Fun Fotos


BUSINESS


Doing Business


Jobs!(teach/work)


Hire Workers


Foreign Companies


CIFIT (Trade Fair)


MTS(Translation)



Back to Top