Click to Access
AMOYMAGIC SITE from
OUTSIDE China


Click to Access AmoyMagic Site from
INSIDE China


TRAVEL LINKS


Xiamen

Gulangyu


Jimei

Tong'an


Jinmen

Zhangzhou


Quanzhou

Wuyi


#1Fujian Sites!


Fujian Foto Album


Books on Fujian


Readers'Letters


Ningde

Zhouning


Longyan

Sanming


Putian

Bridges


Travel Info,


Hakka Roundhouses


Travel Agents

MISC. LINKS


Amoy People!


Darwin Driving


Amoy Tigers


Chinese Inventions


Tibet in 80 Days


Amoy Vampires!


Dethroned!


Misc.Writings


Latest News


Lord of Opium


Back to Main Page
Copyright 2001-7 by Sue Brown & Dr. Bill

Order Books


Homeschooling in Amoy
Forward by Bill B: Educating our sons Shannon and Matthew was a challenge in the early days. Xiamen International School,did not start until 1997, so we first tried Chinese kindergarten and primary school, but eventually switched to homeschooling. Sue used Calvert School for grades 1 thru 8 and Univ. of Nebraska, Lincoln, High School program for grades 9-12. Calvert has been around since the 1890s! Dr. Woodward, who married Sue and I in Taipei, Taiwan in 1988, used Calvert as a child, as did the remarkable Caldwell family, who lived in Fujian from 1899 until 1950 or so. And Joann Hill, who was born in Hope Hospital on Gulangyu, grew up in the Amoy area, and returned to Tong'an with her physician husband in the 1940s, used homeschooling. Joann shares her experiences...
My Experience of Home-Schooling (by Joann): My mother had used Calvert for a year or two with my brother (older than me by 4 years) when I was ready for school. She had a difficult struggle with him -- still don't know just what the problems were but he did not take well. So he was sent up to Shanghai American School starting with the 5th grade.

I think I was a bit more eager and ready. My earliest memory was the day I learned to spell my name--J o a n V e e n s c h o t e n. (Nothing simple like Bill Brown!!) All during afternoon siesta I kept rolling it through my mouth! Loved the "taste" of it.

I know she used the Calvert system (using the materials from my brother's class) the first year. I remember the phonics sort of ladder-tapestrip especially. Unfortunately it didn't stick very well as far as spelling goes. I'm the world's most original speller! (Thank goodness for Word-Spelling check!!!)

Apparently even in my early schooling she often had piano & voice students as well as a stream of callers even in the morning, so that even in the early grades she would give me my assignment to do in my "class-room" on the upstairs porch, while she taught down-stairs at the livingroom piano. If I had a question I just went downstairs and got instructions or whatever. That year's schooling was finished when my birthday came around the middle of May. Then my reward was to have my best friend who lived on Kulangsu ( and was taught by her mother with the Calvert system) came to spend a week with me, or I went down to Amoy to spend the time with her! I think the only difference in what I was learning was that she had some FineArt (pictures) study that I didn't -- and sort of missed.

My 4th grade year was spent in Holland Michigan at Washington School. I don't remember whether I was excited about going there or not. I was a "loner" even then, though I had a couple of friends, mostly neighbor kids nearby with whom I played. I remember one occasion when we were assigned seat-work. I settled down and got on with it, only to be sharply brought up with "Joann, stop your whistling". And then made to go up to the front of the class and sit at a table. Embarrassing! I hadn't realized that I was whistling -- I was concentrating on what I was doing. Must have done that alot when I studied alone. Needless to say I was just as glad to get back to ChangChow. By that time my mother was getting her school materials from Shanghai American School and I was looking forward to going there with the "big kids", which I did starting in the 8th grade. By that time my brother was a Senior at SAS and looked out/after me! and, on the whole, I appreciated it.

During the following summer, things heated up politically in North China --Mukden Incident (I think, tho hazy). Anyway the US Consulate strongly recommended that american wives and children return to the States. Many of our RCAers did, except my mother and Alma Vandermeer and buddy missionary friend in the same station. Based on their experience with the politics of war-lords, they decided to go to the Philippines --Baguio where there was an episcopalian boarding school: Brent. We were enrolled as day students. Six months later, things had calmed down and my mother and younger sister returned to Changchow, but I stayed on with "Aunt Alma". Classes were small at Brent --we had 4 or 5 in our nineth grade class. I found that I could maintain my ranking as 2nd in the class with almost little extra effort! What a lovely discovery!

My 10th and 11th grade uneventful years were spent back at SAS --careful to maintain at least a "C" in all subjects so I'd not have to go to study-hall in the evenings. Great motivation! I did earn pin-money working for the laundry --putting clean clothes in student boxes. Got really quite good at shooting rolled-up sox into owner-boxes! Also found out I was not competative at sports, but did enjoy music and singing --even played for Wednesday evening chapel.

The summer of 1940, my folks went on furlough to stay in a mission-house in Holland,MI. I graduated from Holland High -- not particularly well integrated into the culture. Just happy to get it over and proceeding to Wayne U. in Detroit, as a pre-med student, and where my brother entered Wayne Medical School. My mother set up housekeeping there because the US Gov't wasn't allowing wives and children to go to China, tho my father did and got caught on Kulangsu before he was able to get transportation to ChangChow in "free China". The year was 1941 and Pearl Harbor was December 7th!

Regarding Home-schooling in the Philippines-- we investigated a correspondance course(out of Chicago, I think) for our oldest son when he was ready for 7th grade and Brent seemed too expensive. The Cebu American (Elementary) School, where our 5 children went, used the Calvert system to start with. Don't know what arrangements they made with Calvert to use their materials.The classes were very small and it was a good experience for our children.

This saga extends far beyond home-schooling! But it gives you some perspective.
This is more than you probably wanted to know!!
As ever, Joann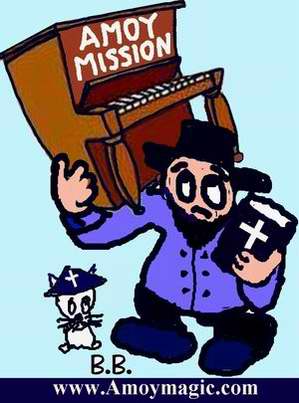 Please Help the "The Amoy Mission Project!" Please share any relevant biographical material and photos for the website and upcoming book, or consider helping with the costs of the site and research materials. All text and photos will remain your property, and photos will be imprinted to prevent unauthorized use.

Thanks!


Dr. Bill Xiamen University MBA Center
E-mail: amoybill@gmail.com
Snail Mail: Dr. William Brown
Box 1288 Xiamen University, Xiamen, Fujian PRC 361005

Click to E-mail


Readers'Letters
Last Updated: October 2007


Back to Top
Google Search
AMOY MISSION LINKS



A.M. Main Menu


RCA Miss'ry List


AmoyMission-1877


AmoyMission-1893


Abeel, David


Beltman


Boot Family


Broekema, Ruth


Bruce, Elizabeth


Burns, Wm.


Caldwells


DePree


Develder, Wally


Wally's Memoirs!


Douglas, Carstairs


Doty, Elihu


Duryea, Wm. Rankin


Esther,Joe & Marion


Green, Katherine


Gutzlaff, Karl


Hills,Jack & Joann
.

Hill's Photos.80+
..

Keith H.

Homeschool


Hofstras


Holkeboer, Tena


Holleman, M.D.


Hope Hospital


Johnston Bio


Joralmans


Karsen, W&R


Koeppes, Edwin&Eliz.


Kip, Leonard W.


Meer Wm. Vander


Morrison, Margaret


Muilenbergs


Neinhuis, Jean


Oltman, M.D.


Ostrum, Alvin


Otte,M.D.

Last Days


Platz, Jessie


Pohlman, W. J.


Poppen, H.& D.


Rapalje, Daniel


Renskers


Talmage, J.V.N.


Talman, Dr.


Veenschotens
.

Henry V.

Stella V.
.

Girard V.


Veldman, J.


Voskuil, H & M


Walvoord


Warnshuis, A.L.


Zwemer, Nellie


Fuh-chau Cemetery


City of Springs
(Quanzhou, 1902!!)


XM Churches


Church History


Opium Wars


A.M. Bibliography


YMCA Volunteer!


XICF Fellowship


Temples


Mosques


Christ in Chinese
Artists' Eyes

DAILY LINKS


FAQs Questions?


Real Estate


Shopping

Maps


Bookstores


Trains

Busses


Car Rental


Hotels

News (CT)


Medical & Dental


Expat Groups


Maids

Phone #s
EDUCATION


Xiamen University


XIS(Int'l School)


Study Mandarin


CSP(China Studies)


Library

Museums


History
DINING

Tea Houses


Restaurants

Asian


Veggie

Junk Food


Chinese

Italian


International


Visas 4 aliens
RECREATION


Massage!


Beaches

Fly Kites


Sports

Boardwalk


Parks

Pets


Birdwatching


Kung Fu

Hiking


Music Events


Cinema


Festival&Culture


Humor&

Fun Fotos


BUSINESS


Doing Business


Jobs!(teach/work)


Hire Workers


Foreign Companies


CIFIT (Trade Fair)


MTS(Translation)



Back to Top