Click to Access
AMOY MAGIC SITE from
OUTSIDE China


Click to Access Amoy Magic Site from
INSIDE China


TRAVEL LINKS


Xiamen

Gulangyu


Jimei

Tong'an


Jinmen

Zhangzhou


Quanzhou

Wuyi


#1Fujian Sites!


Fujian Foto Album


Books on Fujian


Readers'Letters


Ningde

Zhouning


Longyan

Sanming


Putian

Bridges


Travel Info,


Hakka Roundhouses


Travel Agents

MISC. LINKS


Amoy People!


Darwin Driving


Amoy Tigers


Chinese Inventions


Tibet in 80 Days


Amoy Vampires!


Dethroned!


Misc.Writings


Latest News


Lord of Opium


Back to Main Page


Copyright 2001-8 by Sue Brown & Dr. Bill

Order Books

Note: Please click thumbnails for larger photos!!

Amoy Hill's Photos
Amoy Mission in 187
7
Xiamen--Birthplace of Chinese Protestantism (Click Thumbnails for lar

ger pics)

Jehovah Nissi Christian Bookstore

Trinity Church Website (Gulangyu)

Directory of Xiamen's 40+ churches

XICF

Bamboo Church Website (great photos)

Xiamen YMCA & YWCA

Photos of Fujian churches & activities.

Click for Bio of Jessie Johnston, Missionary to Amoy (1885-1904)

Click for Biography of Caldwell Family (Fujian missionaries, 1899 to 1949)

Click for "Life of Christ by Chinese Artists!" (1940)

Click Here for "City of Springs" (about Quanzhou, in 1902)

China Studies Program

Rev. John Sung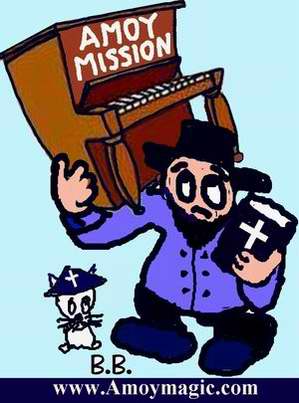 Judges in the 2002 Livcom competition in Germany, home of the Reformation, were surprised when I told them that Xiamen was the "Birthplace of Chinese Protestantism. David Abeel started the Amoy Mission, and Xiamen's New Street Chapel (нÖÀñ°ÝÌã©, built in 1848, was China's first Protestant church. But S. Fujian has a very long tradition of religious diversity and tolerance. ..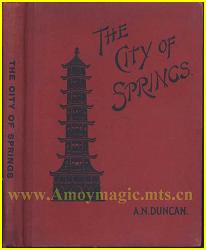 Let me give you a brief overview of S. Fujian's phenomenal international religious heritage, and then I'll finish with the more recent history (1840s onward) of Chinese protestantism in S. Fujian.
Note: for the best insight on Fujian's amazing contributions to global seafaring, commerce, and cultural and religious exchange, visit Quanzhou's UNESCO-sponsored Maritime Museum!

The Alexandria of Asia! 1,000 years ago, S. Fujian was the start of the Maritime Silk Road--the southern gateway to China, from which Chinese sailed all over the known world. It was also the destination of diplomats, merchants and missionaries from all over the world. The almost mythical port of Quanzhou (of which Xiamen was a part) was called Zaytun by the Arabs, who claimed that it was the port of call for even legendary heroes like Sinbad the Sailor! The largest port in the world, rivaling Alexandria, Egypt, Marco Polo said that for every shipload of pepper sailing to Christendom, 100 ships or more sailed to Quanzhou! But S. Fujian was also a great center for religion and philosophy.
Back to top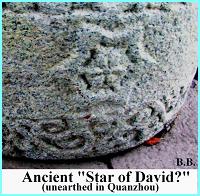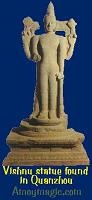 The Jerusalem of Asia! S. Fujian hosted every known religion, from Nestorian Christianity, Tibetan Buddhism, and Hinduism, to Franciscan Catholicism, Jainism and Judaism. Hindus had at least one temple, largely because of close ties with Tamil traders (you can even see parts of the Hindu temple that were used to rebuild Kaiyuan Temple). Even today, Quanzhou has the only remaining temple to Manichaeanism (the Persian religion that St. Augustine followed for a decade until he became a saint and wrote a best-selling set of tracts against the religion of "light and dark"). And if the legends are true, Quanzhou has what must be one of the oldest Islamic communities on the planet.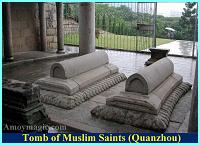 Mohammed, facing persecution at home, sent disciples abroad. Of the 4 who came to China, one went to Guangzhou, one to Yangzhou, and two to Quanzhou. 1,000 years ago, Quanzhou had 40,000 Muslims, and at least 7 Mosques (only the Ashab Mosque, circa 1008 A.D., remains today). The Muslims, of course, were the master traders, merchants and adventurers of the ancient world, and many rose to high levels in the provincial government. The two tombs to the right, on "Spirit Hill" in the east of Quanzhou City, are said to contain the remains of Mohammed's disciples. Whether true or not, the spindle-shaped granite columns show the tombs date to at least the Tang Dynasty 1000 years ago, and historical records show that the great Muslim Chinese admiral, Zhenghe, paid homage to the tombs.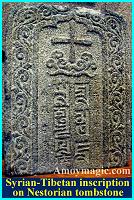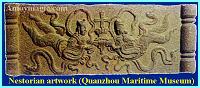 Nestorian Christians were right on the Muslim's heels. Alopen, a Persian Bishop, started the first Nestorian work in China's capital of Chang'an in 635 A.D., and in 638 he finished his first Chinese work, "The Sutra of Jesus the Messiah. Shortly afterwards, Quanzhou was also a major center for these amazing people who were 1,000 years ahead of their time--at least in terms of missionary strategy.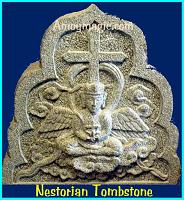 Doctors & Surgeons Like missionaries of the 1800s, many Nestorians were doctors and skilled surgeons, and welcomed wherever they went for their healing skills. In addition, they set up language schools, where they not only learned local languages but also translated the Bible into the various tongues. (Click Here to see how they translated some ideas!) They were also politically savvy!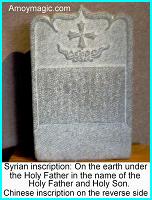 Alopen's first Chinese work was careful to point out that the Christian faith had nothing that was subversive or contrary to China's traditions, and that in fact Christians emphasized both filial piety and loyalty to the state. He went so far as to paint Emperor Tai Cong's portrait on the walls of the Nestorian church (just as Byzantine monks painted Emperor Justinian's portrait on the walls of the church in Ravenna). The emperor was evidently impressed, because he decreed that Alopen be known as Spiritual Lord, Protector of the Empire, and ordered a Nestorian monastery built in the extreme west of the city.

While the Nestorian stele (which you can see in Xi'an today!) may have exagerrated somewhat, they claimed the faith was throughout China, and monasteries were in hundreds of Chinese cities, and we know that Bishop Gabriel arrived in Canton by at least 713 A.D., and worked with Persian merchants. When Nestorians reached Quanzhou I'm not sure, but the large number of Nestorian relics unearthed there suggests it was quite early, and they may have survived to the day of Marco Polo, who wrote of Hangzhou's beautiful Nestorian church (which was built in 1281 by Mar Sargis, of Samarkand, whom Kublai Khan had appointed as governor of what is now Jiangsu).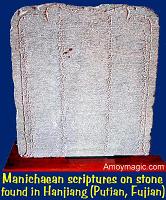 The Religion of Light! Nestorians, who were laregly from Persia, were influenced by another Persian religion--Manichaeanism. This religion flourished throughout China--at least until the Emperor banned the "Religion of Light" (called Ming Jiao) for having the same name as the new dynasty, Ming (ironic, because the Manichaeans helped put the new Ming emperor in power--but it at least proves the Chinese' early concern with intellectual property rights). The Manichean religion taught that reality was an eternal battle between the powers of light and darkness, and that we mortals were just the battleground. St. Augustine followed this religion for a decade because he saw this war in himself. He often partied by night, and prayed by day, "O Lord, give me chastity--but ot yet!" He left the religion of light after the death of his illegitimate teenage son, became a Catholic Bishop, and eventually even a saint. Whether he ever achieved chastity is not clear.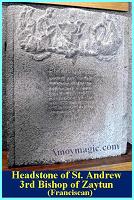 Franciscan Catholics were in Quanzhou within a century of St. Francis' death, and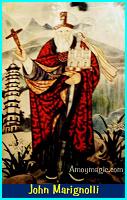 the city has at least 3 Catholic cathedrals. The Emperor not only welcomed these foreign faiths but actually subsidized them! For an amazing account of the emperor's openmindedness and generosity, read the letter home written by St. Andrew of Perugia, 3rd Bishop of Zaytun (in Mystic Quanzhou--City of Light--or click here to read Bishop Andrew's letter online).
After China closed her doors, most foreign religions largely disappeared, except for Islam and Buddhism (which, contrary to popular belief, is also imported). The Catholics did maintain isolated outposts throughout Fujian, but had little impact until the Opium Wars.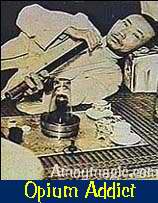 Opium Opens Amoy The West hungered for Chinese silk, tea and porcelain, but had a problem paying for it because it had little that China wanted or needed--except silver! To help balance their trade deficit, Western countries smuggled opium into China. China, not the U.S., started the first "Just Say No!" to drugs campaign, but Britain (backed by France, the U.S. and other Western powers) countered with a "Just Say Yes!" campaign, and fought two Opium Wars to make their point. Read my brief overview of the Opium Wars, and I suspect that, like me, you'll feel both shame and relief (relief that the Chinese are a forgiving people!).
Back to top

5 Treaty Ports After China was defeated in the first Opium War, she agreed to open 5 ports to foreign "trade" (ironically, the treaty never mentioned the word "opium"). The treaty also gave missionaries access to these 5 ports, two of which were in Fujian (Fuzhou and Amoy).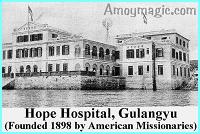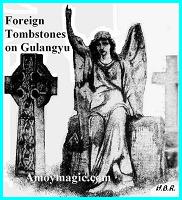 Some people claim that missionaries came with the Bible in one hand and opium in the other. That's not exactly true. What is true, unfortunately, is that the missionaries did come in on opium ships, and often had close relations with opium dealers, whose ships provided much-needed supplies. So in Chinese eyes, missionaries and opium dealers were cut from the same cloth--though in fact many missionaries fought fiercely against the opium trafficking, and set up hospitals and schools to help heal and educate the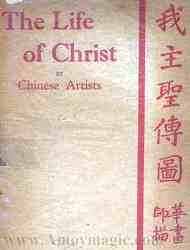 Chinese. It should also be noted that most Westerners, by far, opposed the opium trade. In fact, the entire British parliament opposed the 2nd Opium War! The prime minister simply dissolved parliament and went to war anyway. By the 1920s, fully half of Western profits in Asia derived from opium! Britain did not give up its opium monopoly in Hong Kong until 1945, when the embarrassment outweighed the benefit.
Why S. Fujian? Only a few months ago did I learn why missionaries converged upon S. Fujian! When China was closed to Christianity, missionaries went to other S.E. Asian countries. Most of these countries had overseas Chinese, most of whom came from S. Fujian and spoke the Minnan dialect (same as Taiwan dialect). So the missionaries learned Minnan, and when China opened up, they quite naturally went to the people with whom they could communicate--the Southern Fujianese! ...Click Here to see how the Rev. Carstairs Douglas literally worked himself into the grave over the Amoy Dialect! David Abeel done himself in as well.
Back to top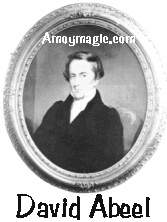 David Abeel, Amoy's 1st missionary, started the Amoy Mission in 1842, but our beautiful little island did a number on him as well and he returned home in 1845 and died in 1846. (No wonder Xiamen was called the "White man's graveyard!) Click Here for more about David Abeel.
Protestants started several churches on Amoy and Gulangyu Islands. Catholics were busy too. The Vicariate Apostolic of Amoy (created in 1883 under the ominicans) oversaw 11 European and 8 Chinese priests, 32 churches or chapels, 3 orphanages, and 13 schools (and included Taiwan in its domain). The piano played an integral part in all religious services-and Gulangyu folk have been hooked on them ever since. So missionaries came with the bible in one hand and pianos, not opium, in the other!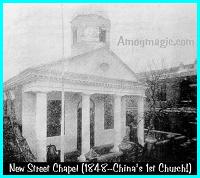 1st Church of China (Xinjie Libaitang) Every two-horse-town in America has a First Baptist or a First Methodist, but there is only one First Church of China – right in Xiamen! China's oldest Protestant church, XinJie Church was built in 1848 at # 29 Tai Guang Street, which is now at the corner of Zhongshan Rd. and Siming Rd. Phone: (0592) 207-2383. Note the plaque on the front of the church. It says "First Church in China." Authors of a pictorial on Western religious architecture stated that this showed how arrogant the church members were because they boasted of being the most important church in China! I would have thought people writing a book on Western churches would have researched their sources a little better. I wrote them about it, but they never responded!
The same year that Xinjie was built, 1848, saw the first two Chinese to be baptized—a maker of silk flowers, in his sixties, and his son.
Back to top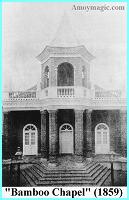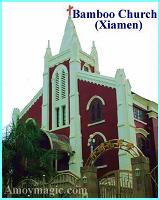 The Bamboo Church, built in 1859, is just off the harbor near the intersection of XiaHe Rd and Lujiang Rd. (the road that runs along the harbor, past the Gulangyu ferry). The church has been beautifully restored, and I hear they have a great music program on Sundays.
Bamboo Church Website
Click Here to Read About John Sung -- considered by many to be the 20th century's greatest evangelist (topping even Billy Sunday and Billy Graham!).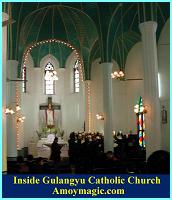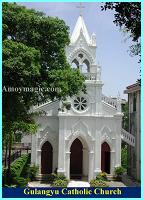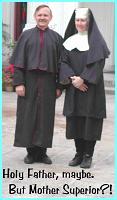 The Catholic church on Gulangyu Island has English services. Check out the intricately arched green wooden ceilings! Sue and I once acted in a Sino-Japanese TV series filmed here (Sue played a Mother Superior and I played a Holy Father!). But the nuns in the church were furious about the camera equipment set up in the sanctuary. They said it was irreverent.
Gulangyu's Trinity Church (Protestant Church) is packed out each Sunday, and their annual Christmas music programs are popular with Christians and nonChristians alike. Now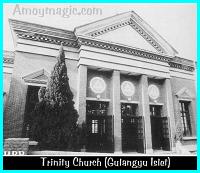 that Gulangyu will be turned into a tourist resort, they are considering relocating to Xiamen Island, possibly on the Island Ring Road, near Zeng Cuo'an Village. A pity to give up their historical location--but more practical in the long run.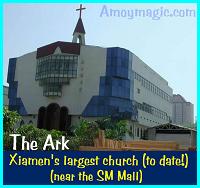 The Ark! Jiangtou District, near SM Mart, has Xiamen's largest church--the Good News Church. This 10 million Yuan edifice looks like Frank Lloyd Wright's version of Noah's Ark. But the architect should have taken some advice from Noah, because this ark is sinking! It once stood proud and tall in an empty field, but now is slowly submerging in a rising sea of skyscrapers. Taller cross, perhaps? With 3,000 in attendance on Sundays, it's almost standing room only, so get there early (take the #7 bus from the train station). Xiamen even has a 7th Day Adventist Church! (off Zhongshan Rd., near the #7market).
Back to top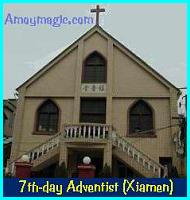 Fujian Churches (click here for photos!) Fujian has churches, old and new, all over the province. In fact, I've seen so many scattered around the mountains and valleys that it reminds me of an oriental New England.
Quanzhou alone has 173 registered churches! Click here to see photos of churches from Quanzhou and other places around the province, as well as photos of some of the many Christian activities (Christmas programs, pastor retreats, youth fellowships, etc.).

And now, just for fun....

Pew Perils Xiamen church pews are packed on Easter and Christmas, when even the Buddhists enjoy the choirs' special music. Get there half an hour early for a good seat. At Christmas especially, the time will pass quickly as you listen to recordings of such classic holiday hymns as Silent Night, The First Noel, Frosty the Snowman and Jingle Bells. (They fit right in with the "Santa Bless You" Christmas cards sold in book stores.)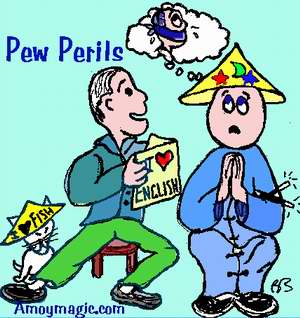 Do get there early! Otherwise, Laowai-loving ushers will oust some 90 year old granny from her front row pew so the foreign friend can see the service better, and so everyone else can see the foreign friend better. Of course, you can always gallantly refuse the granny's seat and perch on a red plastic stool on the front porch. But then you're a sitting duck for that sect which believes 'speaking in tongues' means mastering English. They'll grab a stool and pull it up beside you and spend the entire hour, nonstop, practicing English. I've actually had prayers go like this:
"Our Father who art in –"
"—What country are you from?"
"Thy kingdom come, thy will be –"
"—Where do you work?"
"Give us this day our –"
"—How much money do you make?"
"And lead us not into temptation."
Like murder!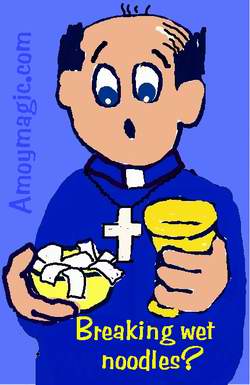 Chinese Communion… For 2000 years, Western Christians have 'broken bread ' together during Communion. But what about those folk who don't have bread to break?

When we first came to Xiamen, Christians celebrated communion with little squares of noodles. I liked the chewy texture, and the Chinese wine did more for you than the grape juice we sip back home (though I learned why communion cups are so tiny; enough of that wine and you're in the spirits, not in the Spirit).

Alas, Xiamen has modernized, and that includes churches. Now they use the round, flat imported bona fide communion wafers that look and taste like Styrofoam. Granted, they look nice, with the little cross stamped on them. It would be tough stamping crosses on wet noodles. Still, I kind of miss the noodles.
Back to top

Laowai 3rd Degree In 1990, an American complained, "I'm tired of nosy Chinese! They ask me almost non-stop, 'Going to work?' 'Coming home?' 'Going shopping?' 'Eaten yet?'"
I looked about furtively, then whispered, "Do you know why they ask Laowai so many questions?"
He looked surprised, and whispered back, "No. Why?"
"Because they're Communists, and they have to report on us."
"Really?" His eyes widened as paranoia took a toehold.
"Not really!" I said, laughing. "That's just how Chinese greet one another!"
Westerners usually greet one another with a simple and non-invasive "Hello" or "Good Morning" or "Nice weather today!" But not the Chinese. They are seldom content with "Ni Hao" (How are you?) or "Zao Shang Hao" (Good morning). Rather, they ask what you are doing. And unlike Americans, who don't want an honest answer to "How are you?" Chinese do expect an answer.
I've never asked anyone how much money they make. I don't even know my own sister's salary. But Chinese have no qualms homing in on a strange Laowai and firing off in rapid order the Laowai 3rd Degree:
1) "Hello, what is your name?" 2) "Where are you from?"
3) "Is it cold in America?" 4) "Where do you work?"
5) "How much do you earn?" 6) "Will you teach me English?"
It's culture, not nosiness. But with 1.3 billion Laonei pitted against a handful of Laowai, it gets to you sometimes...
Back to top
Laowai Radar I was standing armpit to sweaty armpit on a hot bus when it screeched to a halt to let on a youth. He still had one foot in the door when his Laowai Radar picked me out of the crowd. With an ear-to-ear grin and eyes nailed to me as if I were the Holy Grail (or the Worshipful Wok), he wormed his way towards me, the Laowai 3rd Degree on the tip of his tongue. As he sidled up under my arm and opened his mouth I preempted him with, "I'm Pan Wei Lian from America, which is like China. Hot in the south, cold in the north. I work in Xiamen University, and earn enough to pay taxes but not enough to avoid them. Have I missed anything?"
So much for Sino-American friendship. His jaw dropped, he slunk away, I felt like a cad, and I have regretted it ever since.

The Solution! Nowadays I just answer the questions, with a smile. But I have a solution! Make life easier for Laowai and Laonei alike by just printing the answers to the Laowai 3rd Degree on the back of your business cards, and keep a stack at all times. But even though Chinese have no qualms in asking "personal" questions, they also have no aversion to answering them. In a way, their candor is refreshing, and we Laowai could learn from it. But not in Church, please!
Back to top

The Amoy People In August 1889, the missionary John Macgowan published his "The Story of the Amoy Mission" in London. I marvel at how he captured the heart and soul of the Amoy people, whom he so clearly admired. He wrote frankly of the poverty and problems, and of the problems between Laowai and Laonei, but he also brought to life the Amoy people's passion and drive and, above all, their "English sense of fair play." So rather than subject you to my own impoverished prose, here is a selection from his marvellous memoir!
"Chinese stare at the foreigner, sometimes with skepticism or even thinly veiled contempt, but once they know you, "The crowd becomes sympathetic. The sneer dies out of their faces. There is nothing that touches the Chinese heart so mightily as practical benevolence. It is a virtue they highly appreciate. Their stolid, emotionless features begin to light up with genuine feeling, and the eyes of some are twinkling and flashing as their hearts are moved…[what] has just happened has been a mighty revelation. It has brought you closer to the Chinese heart than you were before, and it has revealed to you the wondrous possibilities of the future…"

"The Amoy people… are sturdy representatives of their race….They are very fiery and passionate when any injustice or wrong is attempted, but generally they are fair-minded and amenable to reason. They have an Englishman's sense of fair play, and they have an intense respect for virtue and goodness of every kind, and they will pay devout homage to any one in whose lives these are conspicuous."
Back to top

Rev. Carstairs Douglas
The Man Who Opened Amoy Dialect for Westerners
Rev. Carstairs Douglas, who did more for Westerner's understanding of the Minnan Dialect than perhaps any other man, was in excellent health one day and dead of virulent cholera the next. Talmadge, an Amoy missioanry, wrote of Douglas,


"By overwork he had worn himself out, and made himself an old man while he was yet comparatively young in years. He came to China quite young and at the time of his death was only about forty-six years of age, and yet men who had recently become acquainted with him thought him over sixty… he did more work during the twenty-two years of his missionary life than the most of men accomplish in twice that time…"

"Recently, especially during the last year, it was manifest, at least to others, that his physical strength was fast giving way. Yet he could not be prevailed upon to leave his field for a season for temporary rest, or even to lessen the amount of his work.

"I never knew a more incessant worker. He was a man of most extensive general information. I think I have never met with his equal in this respect. He was acquainted with several modern European languages and was a thorough student of the original languages of Holy Scripture, as witness the fact of his study of the Hebrew Bible, even after his last sickness had commenced. As regards the Chinese language, he was already taking his place among the first sinologues of the land."
Back to top

Nestorian Translation The Nestorians were a millennium ahead of their time in not just medical work but also translating skills. They worked tirelessly to translate the gospel into other languages, and knew enough to avoid a word-for-word translation. They sought to capture the spirit and emotion of the texts, paraphrasing when necessary. In Chinese, the "Holy Spirit" became the "Pure Wind," and Christ's resurrection became the "Holy Transformation." Where Taoists speak of "The Way" (the literal meaning of "Tao"), Nestorians also spoke of "The Way," deliberately evoking the ideas of Taoism. But by the 9th century they had gone too far, and the Sutra of Mysterious Peace and Joy had pretty much lost all Christian content. It speaks of Christ sharing divine mysteries with the disciples who surrounded him, and after his lectures they were joyful and withdrew ceremoniously. As for the content of the "sermon on the mount?" This sutra had Christ giving a Buddhist-like sermon on overcoming desire to obtain inner joy and peace!

While Buddhism thrived because of syncretism (offering something for everyone) the same strategy helped spell the end of Nestorian Christianity in China.
Back to top

David Abeel--Amoy's 1st Missionary
David Abeel was born in New Brunswick, New Jersey, 12 June, 1804, and died in Albany, New York, 4 September, 1846. He was educated at Rutgers College, New Brunswick, New Jersey, and studied at the Theological Seminary of the Reformed church in that place. He first pastored in Athens, New York, for two years, then sailed to Canton, China, in October, 1829, as part of the Seaman's Friend Society. A year later, he transferred to the American Board of Commissioners for Foreign Missions, and visited Java, Singapore, and Siam. He studied Chinese, but his health gave way (and no wonder; Chinese language study could do anyone in!), and he returned home via Europe in 1833. As he passed through Switzerland, France, Holland and other countries, he urged Westerners to be concerned about the gospel reaching other nations, and in England he helped found a society for promoting the education of women in Asia.

Upon his return to America, Abeel published "The Claims of the World to the Gospel," "Residence in China," and "The Missionary Convention at Jerusalem." In 1839 he visited again Malacca, Borneo, and parts of Asia, and in 1842 established a mission at Amoy, but by 1845 his health had given out and he returned home to die. In 1845 his health gave way altogether, and he returned home, where died in 1846. Two years later, Xiamen built Xinjie Church, the first Protestant Church in China.
Please Help the "The Amoy Mission Project!"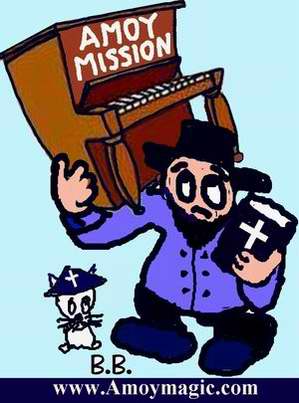 Please share any relevant biographical material and photos for the website and upcoming book. All text and photos will remain your property, and photos will be imprinted to prevent unauthorized use.
Thanks!
Dr. Bill Xiamen University MBA Center
E-mail: amoybill@gmail.com
Snail Mail: Dr. William Brown
Box 1288 Xiamen University, Xiamen, Fujian PRC 361005
TRAVEL LINKS

Favorite Fujian Sites

Fujian Foto Album

Xiamen

Gulangyu

Fujian Guides

Quanzhou

Z
hangzhou

Longyan

Wuyi Mtn

Ningde

Putian

Sanming

Zhouning

Taimu Mtn.

Roundhouses

Bridges

Jiangxi

Guilin

Order Books

Readers' Letters New: Amoy Vampires! Google Search

Click to E-mail


Readers'Letters
Last Updated: October 2007


Back to Top
Google Search
AMOY MISSION LINKS



A.M. Main Menu


RCA Miss'ry List.


AmoyMission-1877


Abeel, David


Burns, Wm.


Develder, Wally


Wally's Memoirs!


Douglas, Carstairs


Doty, Elihu


Duryea, Wm. Rankin


Esther,Joe & Marion


Hills,Jack & Joann
.

Hill's Photos.80+
..

Keith H.

Homeschool


Holleman, M.D.


Johnston Bio


Karsen, W&R


Kip, Leonard W.


Meer Wm. Vander


Muilenbergs


Oltman, M.D.


Otte,M.D.

Last Days


Poppen, H.& D.


Talmage, J.V.N.


Veenschotens
.

Henry V.

Stella V.
.

Girard V.


Warnshuis, A.L.


Fuh-chau Cemetery


City of Springs
(Quanzhou, 1902!!)


XM Churches


Church History


Opium Wars


A.M. Bibliography


YMCA Volunteer!


XICF Fellowship


Temples


Mosques


Christ in Chinese
Artists' Eyes

DAILY LINKS


FAQs Questions?


Real Estate


Shopping

Maps


Bookstores


Trains

Busses


Car Rental


Hotels

News (CT)


Medical & Dental


Expat Groups


Maids

Phone #s
EDUCATION


Xiamen University


XIS(Int'l School)


Study Mandarin


CSP(China Studies)


Library

Museums


History
DINING

Tea Houses


Restaurants

Asian


Veggie

Junk Food


Chinese

Italian


International


Visas 4 aliens
RECREATION


Massage!


Beaches

Fly Kites


Sports

Boardwalk


Parks

Pets


Birdwatching


Kung Fu

Hiking


Music Events


Cinema


Festival&Culture


Humor&

Fun Fotos


BUSINESS


Doing Business


Jobs!(teach/work)


Hire Workers


Foreign Companies


CIFIT (Trade Fair)


MTS(Translation)



Back to Top