Copyright 2001-7 by Sue Brown & Dr. Bill

Order Books

iE-mail


Note: Please click thumbnails for larger photos!!




Amoy Hill's Photos
Amoy Mission in 187
7
Letter by Andrew of Perugia, 3rd Franciscan Bishop to Ancient Zayton (Quanzhou)1326 A.D. !




Jehovah Nissi Christian Bookstore

Trinity Church Website (Gulangyu)

irectory of Xiamen's 40+ churches

Xiamen Int'l Christian Fellowship XICF

Bamboo Church Website (great photos)

Xiamen YMCA & YWCA

Photos of Fujian churches & activities.

Click for Bio of Jessie Johnston, Missionary to Amoy (1885-1904)

Click for Biography of Caldwell Family (Fujian missionaries, 1899 to 1949)

Click for "Life of Christ by Chinese Artists!" (1940)

Click Here for "City of Springs" (about Quanzhou, in 1902)

China Studies Program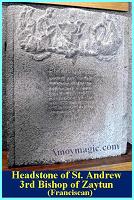 Letter Home, February 1326
"Friar Andrew of Perugia, of the Order of Minor Friars, by Divine permission to the Bishop, to the revered father the Friar Warden of the Convent of Perugia, health and peace in the Lord for ever!
"…through much fatigue and sickness and want, through sundry grievous sufferings and perils by land and sea, plundered even of our habits and tunics, we got at last by God's grace to the city of Camballech, which is the seat of the Emperor the Great Chan, in the year of our Lord's incarnation 1308, as well as I can reckon.
"There, after the Archbishop was consecrated…we obtained an Alafa from the emperor for our food and clothing. An Alafa is an allowance for expenses which the emperor grants to the envoys of princes, to orators, to orators, warriors, different kinds of artists, jongleurs, paupers, and all sorts of people of all sorts of conditions. And the sum total of these allowances surpasses the revenue and expenditure of several of the kings of the Latin countries.
"As to the wealth, splendor, and glory of this great emperor, the vastness of his dominion, the multitudes of people subject to him, the number and greatness of his cities, and the constitution of the empire, within which no man dares to draw a sword against his neighbor, I will say nothing, because it would be a long matter to write, and would seem incredible to those who heard it. Even I who am here in the country do hear things averred of it that I can scarcely believe…

"There is a great city on the shores of the Ocean Sea, which is called in the Persian tongue Zayton; and in this city a rich Armenian lady did build a large and fine enough church, which was erected into a cathedral by the Archbishop himself of his own free-will. The lady assigned it, with a competent endowment which she provided during her life and secured by her will at her death, to Friar Gerard the Bishop, and the friars who were with him, and he became accordingly the first occupant of the cathedral."

The cathedral was taken over by Friar and Bishop Peregrine, who died July 7th, 1322, and was succeeded by Andrew, who continues:

"I caused a convenient and handsome church to be built in a certain grove, quarter of a mile outside the city, with all the offices sufficient for twenty-two friars, and with four apartments such that any one of them is good enough for a church dignitary of any rank. In this place I continue to dwell, living upon the imperial dole before-mentioned… Of this allowance I have spent the greatest part in the construction of the church; and I know none among all the convents of our province to be compared to it in elegance and all other amenities…
"'Tis a fact that in this vast empire there are people of every nation under heaven, and every sect, and all and sundry are allowed to live freely according to their creed. For they hold this opinion, or rather this erroneous view, that everyone can find salvation in their own religion. Howbeit we are at liberty to preach without let or hindrance. Of the Jews and Saracens there are indeed no converts, but many of the idolators are baptized; though in sooth many of the baptized walk not rightly in the path of Christianity….
"Farewell in the Lord, father, now and ever. Dated at Zayton, A.D. 1326, in the month of January."

Back to Xiamen--Birthplace of Chinese Protestantism
Back to Amoy Magic.com Main Menu
Alternative spellings:these are alternative spellings of Fukien (Fujian) spellings, as foreigners writing about this place 100 to 150 years ago did not use standardizes spellings: Fokyen Zayton Zaytun Zaitun
Please Help the "The Amoy Mission Project!"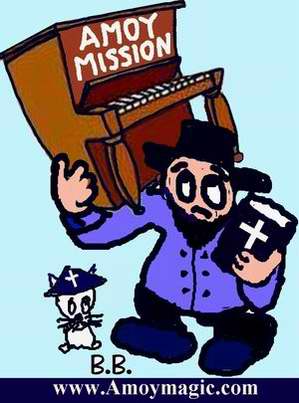 Please share any relevant biographical material and photos for the website and upcoming book. All text and photos will remain your property, and photos will be imprinted to prevent unauthorized use.
Thanks!
Dr. Bill Xiamen University MBA Center
E-mail: amoybill@gmail.com
Snail Mail: Dr. William Brown
Box 1288 Xiamen University, Xiamen, Fujian PRC 361005
TRAVEL LINKS

Favorite Fujian Sites

Fujian Foto Album

Xiamen

Gulangyu

Fujian Guides

Quanzhou

Z
hangzhou

Longyan

Wuyi Mtn

Ningde

Putian

Sanming

Zhouning

Taimu Mtn.

Roundhouses

Bridges

Jiangxi

Guilin

Order Books

Readers' Letters New: Amoy Vampires! Google Search

Click to E-mail


Readers'Letters
Last Updated: October 2007


Back to Top
Google Search