Click to Access
OUTSIDE China


Click to Access
INSIDE China


TRAVEL LINKS


Xiamen

Gulangyu


Jimei

Tong'an


Jinmen

Zhangzhou


Quanzhou

Wuyi


#1Fujian Sites!


Fujian Foto Album


Books on Fujian


Readers'Letters


Ningde

Zhouning


Longyan

Sanming


Putian

Bridges


Travel Info,


Hakka Roundhouses


Travel Agents

MISC. LINKS


Amoy People!


Darwin Driving


Amoy Tigers


Chinese Inventions


Tibet in 80 Days!


Dethroned!


Misc.Writings


Latest News


Lord of Opium


Back to Main Page
AmoyMagic--Guide to Xiamen & Fujian

Copyright 2001-7 by Sue Brown & Dr. Bill

Order Books
Main Page
Business Links
Recreation Links
Google Search
E-mail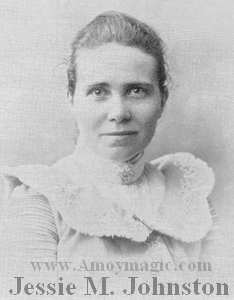 Jin Ko-Niu -- A BRIEF SKETCH OF THE LIFE OF JESSIE M. JOHNSTON FOR EIGHTEEN YEARS W.M.A. MISSIONARY IN AMOY, CHINA
BY HER SISTERS META AND LENA WITH A PREFACE BY HER MOTHER
PUBLISHED BY T. FRENCH DOWNIE 21 WARWICK LANE, LONDON, E.G. 1907
Scanned by Dr. Bill Brown Box 1288 Xiàmén University Xiàmén Fújiàn, PRC 361005

Note: This book has dozens of great 19th century photos of Gulangyu, Amoy and nearby areas, which I'll scan and upload soon. I will also, when I have time, upload other old China books from my library.
Click Here to Download PDF file of "Jin Ko-Niu"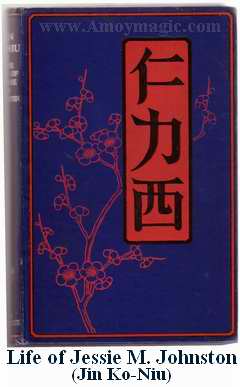 Click Here for "Xiamen--Birthplace of Chinese Protestantism (Amoy Missions, History)
Click Here for more info on Gulangyu Islet

Jin Ko-Niu Links
Contents, List of Illustrations, Early Days, Call to China
Part 2 In China (1885-1904)
PREFACE
PROBABLY many into whose hands this little in memoriam may fall will, not unnaturally, exclaim, "Where is its raison d'etre? The life sketched in the following pages is devoid of novelty or even of special incident." This was also the feeling of those dearest to Jessie, combined with the difficulty of reproducing her personality, joyous and eager in the days of health—patient and cheery when deprived of it, the only uniqueness being that in both she was so natural: no haloed saint, but a happy Christian girl and woman.
Our friends, however, and her own, seemed to wish that some little record of her life and work should be attempted, and suggestions to the same effect came from various quarters, one of which may be given as a sample:

vi PREFACE
"Surely no more beautiful sermon was ever preached than her life has been through all this time of weary suffering, and I pray that it may be used to lead many to the Saviour, Whom she loved and served. I hope some one will write an account of her life. I am sure it would be a help to many, and you must not think of the human shrinking from publicity she might have had on earth—she is far above all that now, and will only desire what may bring glory to God!"
So it comes that this little book, consisting mostly of fragments, in which Jessie is allowed to tell her own story by quotations from letters, etc., goes forth with the prayer that to those who knew her it may recall the little energetic missionary whom they loved, and to others, be an incentive to be ready to do the Master's will, and to all, prove a call to more prayer for China and the Chinese.
The characters, "Jin Lek-se," on the cover, represent the name by which she was known to the Chinese, the surname Jin (love)Back to top http://www.amoymagic.mts.cn (in China) http://www.amoymagic.com (outside China) Amoy Magic -- Guide to Xiamen and Fujian
PREFACE vii
being the nearest approach to Johnston, and Lek-se (strength of the West) very nearly representing the sound "Jessie." The whole simply and beautifully conveyed the idea that the keynote of her life was love in action,
Hearty thanks are due to those who have helped us by contributing material and photographs, especially to Miss M. E. Talmage, and to W. W. Callender, Ksq., for his most kind and able assistance.
E. B. J.
December, 1907.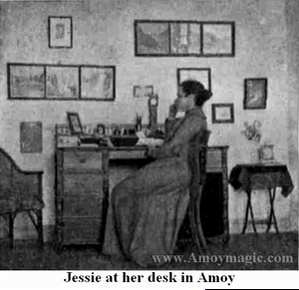 CONTENTS
Page
Early Days (M.L.J.,) 1861-1885 I
THE CALL TO CHINA (J. M. J.) 17
A MESSAGE TO CHILDREN 19
CALL TO MISSIONARY SERVICE 23
IN CHINA (L. E. J.), 1885—1904 31
BEGINNINGS 33
UP-COUNTRY TRIPS 42
HOSPITAL VISITING 60
SCHOOL WORK 66
FIRST FURLOUGH (1893-1894) 98
SECOND TERM (1895-1900) 103
FURLOUGH IN 1900 113
LAST YEARS (1901-1907) 116
EXTRACTS FROM LETTERS (J. M. J.).
1904—1907 123
STORIES (J. M. J.) 155
BUEY'S STORY 157
AMOY : NOTES OF A SERMON AT CREEK END 167
NAU-A 172
A NIGHT-SCHOOL IN CHINA 177
"BLACK SILK" AND "BLACK SATIN" 182
DARKNESS AND DAWN 186
CONTRASTS 200
ixBack to top http://www.amoymagic.mts.cn (in China) http://www.amoymagic.com (outside China) Amoy Magic -- Guide to Xiamen and Fujian

LIST OF ILLUSTRATIONS
Jin Ko-niu (Jessie Johnston), 1900 .... Frontispiece
"The Family removed to Upper Norwood" 12
At her Desk in Amoy 20
Tee-a with her Husband and Family 28
"Our First Visit was to the School" 34
Kolong-su, Amoy 38
"Red-tiled Cottages amongst the Banyans" 44
"Dreadfully Ignorant!" 50
"Such a Contrast!" 51
"What good Fortune to have seen Foreigners!" 54
Amoy Women's School 35
Group of Women and Children on Dispensary Day 61
Teacher and Matrons 67
"Pigtails sticking out all round" 68
"We had such Fun arranging flanks!" 70
A Lesson in Geography 73
Pupils in Girls' School, Amoy—Doing Sums 74
Pupils in Girls' School, Amoy—Washing Day 75
"Brides from the School" 83
65 Pupils in Amoy School who all became Teachers87
"Managed to get a Chair" 90
Women at their Doorway; Spinning 91
Some of the Forty Children in the Amoy Home 93
"Home" 99
Eh-mung-kang 104
Pastor and Family—Eh-mung-kang 105
Women's Conference at Amoy 109
xi
Back to top http://www.amoymagic.mts.cn (in China) http://www.amoymagic.com (outside China) Amoy Magic -- Guide to Xiamen and Fujian
xii LIST OF ILLUSTRATIONS
"In Appearance Syrian Children surpassed Chinese" 114
Up a River near Amoy 118
Schoolgirls Marching 139
Moa and Buey 140
"Those Twins" 145
"Buey was soon at Work" 158
Buey and Four of her Pupils 159
"The Unwieldy Sails were Spread" 163
Some of the Audience on the Women's Side 168
Nau-a 173
Black Grunters 174
Night school Material 178
"A Few Yards of Sandy Soil which he Cultivated" 183
Hair Ornaments of Country Women (North) 186
Hair Ornaments of Country Women (South) 187
"He is of no Use: He is Blind!" 188
"We thought of Merry Party in Children's Home" 189
"Vendor of Sugar-cane, Pea-nuts, etc." 190
"The Roof of the Temple looked Picturesque" 191
"Motley Groups" 193
"Many Women came from Villages" 195
Koai-a some Years later 198
Graves 201

EARLY DAYS
M. L. J. 1861 — 1885

EARLY DAYS
JESSIE M. JOHNSTON was born in Mentieth Row, Glasgow, on October 8th, 1861. She was a minister's bairn, and a missionary's too, for her father, James Johnston, had spent the first years of his ministry in Amoy, China, and it was only when compelled to give up the long-cherished hope of returning to work there that he settled down to be the hardworking pastor of St. James1 Free Church, a large congregation in that great Scottish city. How much these two facts coloured her life and determined its bent it would be hard to say. The daily arrival of the white-haired beadle with peppermint rock in his pocket; the importance and solemnity of the high-backed corner pew; the sacred quiet of the busy Sabbath days, when "father" must not be disturbed; the long silent walks to church, and the sense of freedom and rest on the homeward way when the two long services were ended and tongues were free to chatter
Back to top http://www.amoymagic.mts.cn (in China) http://www.amoymagic.com (outside China) Amoy Magic -- Guide to Xiamen and Fujian6 by Dr.
4 JIN KO-N1U
—all went to form the atmosphere in which she and her companion sister were brought up. The life-long devotion of that much-revered father lo all the wider interests of the kingdom of Christ, and early familiarity with queer Chinese soapstone figures and ornaments, no doubt had lasting influence.
Even in those early days companionship counted for much in her life. The long summer afternoons at play on the terrace as an eager leader in all childish games were times of unmixed delight, and woe-begone and disconsolate was the face flattened against the rain-washed panes when wet days kept the little girls at home. Even then, however, there were the reels of cotton in the old nurse's workbox, that could be duly named and made to serve as playmates, and the large family of dolls to fall back upon, failing more lively company.
Happy days followed, too, when younger brothers and sisters came into the home. The lively nursery, with its cosy fire and tea-table, was always a favourite spot, and Jessie's advent there was a signal for plenty of noise and frolic.
Her craving for the society of girl-friends made school-life a source of unending interest. Lessons never gave her any trouble beyond the drudgery of learning to spell. But, delightful as it was to come home "dux," or to
EARLY DAYS 5
tell of the keen rivalry in the large classes of the Scottish public day-schools, the doings and sayings of "the girls" counted for much more. It was this innate love of her kind, be they black, white, or yellow, that made life so interesting to her, and kept her heart and thought busy to the last. It was this same natural gift consecrated, which gave her so warm a place in the affections of those among and for whom she worked in later days. But that is to anticipate.
For a winter or two the long walks or bus drives to the West End were given up, and home-lessons took their place. The young student tutor found his work very entertaining, and used to enjoy rousing his pupils to eager defence of their heroes or their principles. They, on their part, were much concerned for his orthodoxy, and plied him with arguments based on a thorough grounding in the Shorter Catechism. He opened a new world to them by his enthusiastic appreciation of Milton and Carlyle, and his philosophizing over men and matters. It was then, too, that she turned eagerly to the library bookshelves and became an omnivorous reader. Poetry, travel, and storybooks were eagerly devoured; biography was keenly relished; and the Memoirs of the Wesley Family was so notable a find that hours were spent over it, and meals were
Back to top http://www.amoymagic.mts.cn (in China) http://www.amoymagic.com (outside China) Amoy Magic -- Guide to Xiamen and Fujian
6 JIN KO-NIU
a distressing interruption. Owing to the father's serious illness, the parents were away from home that winter (1875-76), and their absence brought new responsibilities to the elder sisters. The faithful nurse, who took charge in the home, was ready and able to conduct family prayers with the children, but objected to doing so if her fellow-servants were present. The sisters were quite clear that this dividing of the household would not be a faithful carrying out of their parents' wishes, but to take the duty upon themselves was a great ordeal. With much trepidation it was, however, undertaken, and this first attempt at leading others in praise and prayer was always looked back to as a definite step forward in the path of confession and service.
When books failed, many a long hour was beguiled in "telling story"; for the two sisters had a world of their own, to which they retired at will, peopled by "families" of their own invention, whose history was followed for years, and added to day by day. When the days seemed uneventful or dull, some very thrilling experiences had to be introduced into the "families" to supply the lacking interest. "Making poetry" was another delight very early indulged in, and some of the verses written in her girlhood gave expression to the deeper thoughts that
EARLY DAYS 7
lay beneath. For, though Jessie was a very natural child, dearly loving fun and excitement, and not too fond of steady work or the drudgery of practising or sewing, she never remembered the lime when she did not consciously love the Lord Jesus and wish to please Him.
She had, too, a wakeful conscience, which insisted on being attended to or made her very unhappy. The visit of Messrs. Moody and Sankey to Scotland in 1872-73 brought a new clement into the religious life of Glasgow, and the Saturday meetings for children were much enjoyed. Perhaps it was in those days of fervour that the thought of service became more prominent, though it had never been altogether absent. Her birthday verse, as she called Prov. xxxi. 8,* was always looked upon almost as a personal command and prophecy. Many a long talk was carried on in low tones under the bedclothes concerning the ways and means of carrying out what she even then hoped would be her life-work, and very fervent was the deep desire suggested by one of her father's sermons—to be among " those who turn many to righteousness," who shall shine " as the stars for ever and ever."
The family left Glasgow for Bridge of
* "Open thy mouth for the dumb in the cause of all such as are appointed to destruction."

8 J1N KO-NIU
Allan in 1877. and while there Jessie was asked by a friend of her mother's to help in a small mission Sunday-school. It was her first experience of such work, and the little class of boys and girls became a great interest to her. It was quite hard to give them up when, in the spring of 1878, she went to Switzerland to study French and German in a Lausanne boarding-school.
How she did enjoy that year! The language study was a real pleasure to her, and her quick memory stood her in good stead. In addition to the pages of literature and history that had to be learned by rote, she would commit long poems for pleasure, and coax "Fraulein" to teach her nursery rhymes and Weihnachts-lieder. But it was not only the opportunity for a favourite study that made life in Lausanne so pleasant: every phase of school-life was a new pleasure, and she shared in all with zest, from the little prayer-meeting organized among the girls to the gatherings of the "Poetical Society" which met in the attic, and to which the following lines were among her contributions:
Back to top http://www.amoymagic.mts.cn (in China) http://www.amoymagic.com (outside China) Amoy Magic -- Guide to Xiamen and Fujian
AN INCIDENT AT THE PARTY.
In the cold deserted schoolroom, Where the midnight shadows fall,
And weirdly in the moonlight Dance on the ink-stained wall,
EARLY DAYS 9
There, alone in the darkness,
Silent and sad she lay,
In the silver light of the moonbeams—
Was she watching the shadows play?
Or heard she the sounds of music
In the distant halls below,
And the laughter of girlish voices
As they flitted to and fro?
Was she dreaming of former splendour,
And hopes now past and lied,
As she lay in the April stillness,
While the shifting moonbeams sped ?
Softly around her, her garments
In creamy whiteness hang,
For the form alone in the darkness
Is but the last meringue!
There, too, her love of girl society was fully met. She was a universal favourite with teachers and scholars, teased and petted in turns by all, but making, at the same time, true, earnest friendships which have stood the test of years and distance. Many of these were renewed during the long months of her illness, and photographs of her friends, and afterwards of their children, were among her treasured possessions, any additions to the store being hailed with eager pleasure and subjected to much friendly scrutiny and comment.
Hut while busy in many ways, Jessie was often sorely dissatisfied with herself and her

10 JIN KO-NIU
attainments. Perhaps being the eldest of eight made her feel older than she really was. There is something amusing and almost pathetic in the lines written in the summer of I879. They would be more appropriate to eighty than eighteen! But she wrote them in dead earnest, and the feeling they expressed was a real one.
Eighteen years!
Why, the acorns sown
Those eighteen years ago
Will have sprouted and shot up woody trees,
With knotted trunks and rugged knees, Where sweet birds chant soft melodies,
When the morning star sets low.
Eighteen years! to have lingered here,
A name upon God's earth,
While the work and the tears arc throbbing on,
And restless days and hours are gone-
Are weary, sobbing, helpless, gone
To God, who gave them birth !
This craving for some definite work was very happily answered by Him Who was guiding this child of His in ways that she knew not.
When school-days were over, there were home duties to be taken up. Younger brothers and sisters had to be helped with their lessons, and soon Jessie had a schoolroom party in her charge. Lessons in that schoolroom may have been somewhat erratic, but they certainly were never dull. She had

EARLY DAYS 11
the happy knack of finding anything that she undertook to be of paramount interest. Her scholars, whether English or Chinese, were always apt to be prodigies. "My pupils," she writes, " arc the admiration of all—as good as gold !" The methods she used were not always of the orthodox pattern. There were novel rewards and punishments, and wonderful shouting choruses to enliven the time. The mother of one of these early pupils writes: "How fond ——— was of 'Miss Jessie'! ... I am sure her Christian influence and example has affected her life, for she is such a good, earnest, Christian wife and mother, bringing up her little ones for Christ."
It was in 1880 that the family removed to Upper Norwood, and there a new and absorbing interest came into Jessie's life in connexion with the Young Women's Christian Association. After taking secular classes on week evenings at the rooms of the Institute, and helping in her mother's large Friday evening Bible-class, she became teacher of the Sunday afternoon class, and remained keenly interested in it until she left for China in the autumn of 1885. "Going to the Institute" was a real treat to her. She loved to count up the girls who came, and to account for absent ones. Many little notes were written to members in business houses
Back to top http://www.amoymagic.mts.cn (in China) http://www.amoymagic.com (outside China) Amoy Magic -- Guide to Xiamen and Fujian
PHOTO: GIPSY HILL, UPPER NORWOOD.
(The Y.W.C.A. (to the right.)

EARLY DAYS 13
reminding them of different classes, or inviting them to some special event. "I have been writing charming notes all the week, and actually visiting absentees! Delightful work!" she writes in a characteristic letter to a sister, in which she speaks of her French class as "so enthusiastic!" Her own naive-enthusiasm was infectious. Though by no means fond of early rising, she arranged for long country walks with the members on summer mornings, and entered con amore into every scheme for making the Institute home-like, and a happy gathering-place. She really loved the girls, and enjoyed being with them, and the Sunday teas in the interval before evening service were appreciated as heartily by her as by any member of her large class. Certainly the work there was very helpful to the young teacher. She learned much while aiding others. At one time of revival, when special services were being held in the Y.W.C.A., she and her sister agreed together to pray definitely for a number of girls known to them as not yet having decided for Christ, and it was with awe and wonder that they noticed one after another of these profess themselves on the Lord's side until each name on the list was accounted for. This was a lesson on the efficacy of prayer not soon forgotten. But it was only one of many lessons learned in that happy training-
Back to top http://www.amoymagic.mts.cn (in China) http://www.amoymagic.com (outside China) Amoy Magic -- Guide to Xiamen and Fujian
14 JIN KO-NIU
ground. The love and labour so freely bestowed on the young members was very warmly reciprocated. On the great event of the Annual Gathering Jessie's favourite post was that of doorkeeper, and there was always a merry group of "helpers" at that end of the hall. Some were with difficulty persuaded to come any further in! And when she left for China she was followed by the prayers and interest of many. Indeed, all through her years of absence they kept in touch with her, sending contributions to the Baby Home in Amoy, which are continued even now for her sake.
In the meantime her lifelong desire was forming into a definite purpose, and not Africa, with its attractive black babies, but China, where her father's missionary service began, was to be the sphere of work for her also. How this call came, and the training for it, she has told herself in a paper written during her illness, and in a message written, by request, for the children of the English Presbyterian Church, and reprinted now by kind permission,
"I have had such a happy life!" was her own verdict in looking back over it when first she knew that her call Home was at hand. Yet it might so easily have been otherwise but for the grace of God, Who early gave her an anchorage of trust in Him.
EARLY DAYS 15
Like many who share in her brightness of disposition and gay spirits, she had varying moods, and was very susceptible to all outside influences. It was from her own experience that she wrote as a girl:
It was April, and April tear-drops
Were beating against the sun.
And April sorrow had filled the earth,
As its gladness before had done.
I stood by the open casement,
Watching the rain —
How it dimpled the tiny pools in the road,
And kissed them smooth again.
The little white daisies were smiling
Down in the grass,
Dreaming of golden sunshine hours
When the showers should pass.
And I, too, was dreaming and smiling,
As I watched the rain,
Till a shadow seemed to fall from the clouds
And settle over the lane.
It frightened the baby daisies
Till they quite forgot to smile,
And it entered the casement softly,
And stole o'er my heart the while.
It came like a dim foreboding
Of a sorrow far away,
Like the mist that shadows the river
At the dying of the day.
She was so imaginative that her more matter-of-fact sister was often hard put to it to allay the fears she would conjure up and

16 JIN KO-NIU
torment herself with. She was keenly sensitive to praise and blame, and her love of popularity was often a temptation, and might easily have become a source of trouble to herself and others. She was naturally timid, too, in many ways, and her nervous shrinking from such objects as mice and cockroaches, dead or alive, was only too well known to her brothers and sisters, and tempted them to many a prank. Long after, she wrote from a Chinese village:" I couldn't possibly live in China, if I could not pray about rats!" Though very plucky in bearing the few physical pains of which she had any experience until the last long ill-ness, she had the greatest dread and apprehension of sickness for herself or others, and one felt how true it was when she wrote: "Had I known beforehand that I would be like this, it would have shadowed my whole life"; and yet, thanks to her leather's goodness to His child, she could add, "but now it is simply nothing to me."
Back to top http://www.amoymagic.mts.cn (in China) http://www.amoymagic.com (outside China) Amoy Magic -- Guide to Xiamen and Fujian
THE CALL TO CHINA ....J. M. J.
A MESSAGE TO CHILDREN
ONCE there was a little girl who was given a pretty blue book to read before going to bed. There was a little prayer in the book which she liked very much, and used nearly every day of her life. Would you like to know it?
"Lord, prepare me for what Thou art preparing for me,"
We can help to prepare ourselves for some things. This little girl, when quite tiny, hoped some day to be a missionary, but she hated sums. Once her mother said: "What sort of missionary will you be if you can't keep accounts?" Neither did she like waking up in the morning. Her mother said: "Who do you expect will waken you when you are a missionary?"
She had not thought before that doing sums and getting up punctually were ways of preparing to be a missionary. Later, when she had to keep the accounts of the Women's
20 JIN KO-NIU
Missionary Association in Amoy, she was very glad that she had learnt arithmetic.
"Can do" is easily carried about, and it is well worth while to prepare ourselves for life in every way possible.
Still, there are so many things that we
PHOTO: AT HER DESK IN AMOY
Back to top http://www.amoymagic.mts.cn (in China) http://www.amoymagic.com (outside China) Amoy Magic -- Guide to Xiamen and Fujian
cannot prepare for, and the little prayer covers all these.
This little girl was very strong. Even when she grew older she thought it would be dreadful to be ill, and have to stay in bed and never go out. And yet God knew that this was what was preparing for her. So

A MESSAGE TO CHILDREN 21
when one day in Amoy she found, on getting up, she could not stand nor move, and the doctors said she must leave China, and would never be well again, she found, too, that her favourite little prayer had been answered, and that one can be ready for anything when God has prepared the heart. Then, even to be ill is not dreadful at all.
The Chinese speak of the heart's eye. Is it not nice that with our heart's eyes we can see all over the world? The missionary who was once that little girl now lives at St. Leonard's, but her heart's eyes see the merry school-children in Amoy and the dear little girls in the Baby Home there. They see the women weaving and spinning in the villages, and the Bible-women with fans and hymn-books visiting and teaching them, and sin: wonders whom God is preparing to help them in her place. 1'crhaps He is preparing a missionary life for some of you. It is the very happiest and grandest thing in the world to be a missionary—at least, she thinks so; only one must have the prepared heart.
Many children in Amoy are giving their hearts to the Lord Jesus this year. One little girl writes: "I wish very much to trust in the Saviour, and that all I do may please Him." And Golden Flower says: "I know surely that God has already forgiven my sins, and that I truly belong to the Lord

22 JIN KO-NIU
Jesus, and have entered His sheepfold. I thank God unceasingly for His goodness."
Giving our hearts to God is the very best way to prepare for life. If you do this, and ask God to prepare you for what He is preparing for you, you need not be afraid of anything the future may bring, for the peace of God will be yours, and His peace passeth all understanding.
When your editor asked me for a message for the children, I thought I would pass on the little girl's prayer. I ought to know her very well—better than anyone else did. Perhaps some of you can guess how that is.
[Footnote: JESSIE M. JOHNSTON. March, 1905.
(Reprinted by kind permission from the "Messenger for the Children of the Presbyterian Church of England")]

THE CALL TO MISSIONARY SERVICE
THE question with, I think, nearly every missionary is: How is it that so few offer to fill up gaps in the ranks for foreign service?
It may be that with many earnest, capable, and educated Christian girls the real reason is that they do not realize when the time for decision has come. This was the case with the small child whose story was in the Children's Messenger for March, and perhaps the sequel may influence some.
Her father had been a Chinese missionary, and from babyhood the drawing-room chiffonnier, with its contents, was a familiar object: the odour of Buddhist prayer-beads, the compass pointing South, the wonderful silk robes, and many other things, even to the little yellow slippers with turned-up toes, which were sometimes worn to children's parties, were all strangely attractive. Al-
Back to top http://www.amoymagic.mts.cn (in China) http://www.amoymagic.com (outside China) Amoy Magic -- Guide to Xiamen and Fujian
24 JIN KO-NIU
though nothing was said by anyone, she always expected to be a missionary.
However, when about eight years old, interest in China declined. She was taken to a meeting at Mrs. Murray Mitchell's, where a most delightful lady spoke on Africa, and told stories of little black girls with funny, mischievous ways, especially of a naughty little one who had played some very ridiculous prank. It seemed little heathen children were just like English girls. It must be delightful to be a missionary in Africa! So, later on, when the missionary lady met her toiling upstairs, carrying a drawing-room chair, and asked, "Would you not like to be a missionary in Africa some day?" although far too shy to answer, that missionary must have seen "Yes" in the shining eyes and little hot face.
Then came school-days and other days, all full and interesting. With seven brothers and sisters life cannot be dull. When, later on, work for the Y.W.C.A. and such-like was taken up, other things seemed to slip the memory. And although every time a Communion Service came round the prayer went up, "Lord, let me be a missionary," it came almost as a shock one day when the mother said: "You used to speak a good deal about being a missionary. I do not wish to urge you in any way, but if you

THE CALL TO MISSIONARY SERVICE 25
are still thinking of it, it is about time to prepare." There was a little talk, and the preference for Africa came up. In mentioning the various pros and cons, the difficulty of the Chinese language was spoken of. This proved quite an attraction, and when the thought of China having been her father's former field was added, as well as that it was the place where many missionaries whom she knew were working, the scales turned in its favour.
Not very long after came a visit from a missionary, who put the question point-blank, and then the real difficulty came to the front. "Indeed, I am not worthy. I have no common sense. M. is the one with common sense. Just ask mother."
On saying "Good night" the missionary remarked: "How cold your hands arc, child!" Was it any wonder, with so much to think about and decide? Fortunately there was the old refuge of prayer, and a saying of the grandmother was remembered: "One has no right to be without common sense. It can be had by prayer, just as other things can."
As twenty - two was considered rather young, a six months' course at the Normal Training School in Gray's Inn Road was proposed. This proved invaluable. As a rule, many years of teaching are not desirable
Back to top http://www.amoymagic.mts.cn (in China) http://www.amoymagic.com (outside China) Amoy Magic -- Guide to Xiamen and Fujian
26 J1N KO-NIU
as a preparation for missionary life. Both circumstances and pupils are very different on the mission-field from at home, and it is difficult for those who have long taught, to adapt themselves to the new conditions; but a short course is of the greatest help, as one must not only teach in schools, but in women's classes, village and city homes, and hospital wards. Knowledge of the best methods of educational work, of discipline, of interesting pupils, of asking and answering questions—all are priceless.
Lessons in singing, in first aid and nursing, in cooking, and dressmaking—all found a place.
Although the servant difficulty is not great in most of our districts in South China, it is always well to know how a thing should be done.
Of the preparation, farewell meetings, and good-byes, little need be said.
Two of the chief fears of this missionary were that she might have to go to the bazaars and cater for the boarders, as "madame" had done in the Swiss school, and that she might have to teach cutting-out and sewing of Chinese garments. Both these fears proved groundless, as most of one's fears are. Difficulties there are, which some feel much more keenly than others. There was a missionary who used to run up and down
THE CALL TO MISSIONARY SERVICE 27
stairs to make a little noise in the quiet house to which she was so little accustomed. Later on she abandoned this practice! In the writer's opinion, one of the chief difficulties a. missionary experiences is to be able to adapt herself to every circumstance and every person, and on every occasion to be prepared, smiling and friendly. The first, and middle, and last lesson to be learned is readiness to do the Master's will, and that her own wishes and inclinations are of no importance whatever. The first year or two, before methods are understood or appreciated, are always the hardest. Rut if there were ten times the difficulties or hardships, would it not be well worth while? Let me prove it.
To the big girls' boarding-school in Amoy came a very dirty and unpleasant little girl, Tee-a by name—so disagreeable in her habits that no one would associate with her; so intractable that she climbed, not only the trees in the garden, but found her way up the outside of the latticed veranda to the roof; so undisciplined that the Ko-niu had to be called down after midnight to stop a stand-up fight with her neighbour.
Some years later there was a women's conference in Amoy, the first held in South China. As the five-minute bell rang, one after another rose to speak or report on the different subjects under discussion.
28 JIN KO-NIU
Amongst others, a sweet-looking girl advanced to the platform, with hair neatly coiled and dress prettily arranged. She was a
Back to top http://www.amoymagic.mts.cn (in China) http://www.amoymagic.com (outside China) Amoy Magic -- Guide to Xiamen and Fujian
PHOTO: TEE-A WITH HER HUSBAND AND FAMILY.
teacher in a country school far removed from foreigners and with few Christian companions. Her subject was, "Shall we admit Heathen Children to Christian Day-Schools?" And

THE CALL TO MISSIONARY SERVICE 29
she gave instance after instance of heathen children in her school who had benefited by the teaching received.
The school matron was sitting beside me. She was a trustworthy woman, but had little faith in schoolgirls, being, perhaps, rather old to understand them. She turned with tears in her eyes. "Do you know," she said, "that is Tee-a?"
The hospital ward for women in Amoy was crowded and noisy. After the Gospel talk many gathered round to have a further chat. Amongst them came an old woman. She had attended irregularly for many months. Her disease was incurable, and the doctor could only give a little medicine to alleviate the pain. She was very poor. When I first saw her she was very wretched. That day she came with a beaming face. "Ko-niu," she said, "I cannot come again, but I know that what you have told me is true. I know that the Heavenly Father will receive me, and that 1 shall meet you again there some day."
You may have disappointments in the mission-field, you may meet with discouragements, but what does disappointment count for, or what discouragement, or what does anything matter in the face of facts like these?

Click Here for Part Two: In China (1885-1904)
TRAVEL LINKS

Favorite Fujian Sites

Fujian Foto Album

Xiamen

Gulangyu

Fujian Guides

Quanzhou

Z
hangzhou

Longyan

Wuyi Mtn

Ningde

Putian

Sanming

Zhouning

Taimu Mtn.

Roundhouses

Bridges

Jiangxi

Guilin

Order Books

Readers' Letters

Click to E-mail


Readers'Letters

Last Updated: May 2007


Back to Top
AMOY MISSION LINKS



A.M. Main Menu


RCA Miss'ry List


AmoyMission-1877


AmoyMission-1893


Abeel, David


Beltman


Boot Family


Broekema, Ruth


Bruce, Elizabeth


Burns, Wm.


Caldwells


DePree


Develder, Wally


Wally's Memoirs!


Douglas, Carstairs


Doty, Elihu


Duryea, Wm. Rankin


Esther,Joe & Marion


Green, Katherine


Gutzlaff, Karl


Hills,Jack & Joann
.

Hill's Photos.80+
..

Keith H.

Homeschool


Hofstras


Holkeboer, Tena


Holleman, M.D.


Hope Hospital


Johnston Bio


Joralmans


Karsen, W&R


Koeppes, Edwin&Eliz.


Kip, Leonard W.


Meer Wm. Vander


Morrison, Margaret


Muilenbergs


Neinhuis, Jean


Oltman, M.D.


Ostrum, Alvin


Otte,M.D.

Last Days


Platz, Jessie


Pohlman, W. J.


Poppen, H.& D.


Rapalje, Daniel


Renskers


Talmage, J.V.N.


Talman, Dr.


Veenschotens
.

Henry V.

Stella V.
.

Girard V.


Veldman, J.


Voskuil, H & M


Walvoord


Warnshuis, A.L.


Zwemer, Nellie


Fuh-chau Cemetery


City of Springs
(Quanzhou, 1902!!)


XM Churches


Church History


Opium Wars


A.M. Bibliography


YMCA Volunteer!


XICF Fellowship


Temples


Mosques


Christ in Chinese
Artists' Eyes

DAILY LINKS


FAQs Questions?


Real Estate


Shopping

Maps


Bookstores


Trains

Busses


Car Rental


Hotels

News (CT)


Medical & Dental


Expat Groups


Maids

Phone #s
EDUCATION


Xiamen University


XIS(Int'l School)


Study Mandarin


CSP(China Studies)


Library

Museums


History
DINING

Tea Houses


Restaurants

Asian


Veggie

Junk Food


Chinese

Italian


International


Visas 4 aliens
RECREATION


Massage!


Beaches

Fly Kites


Sports

Boardwalk


Parks

Pets


Birdwatching


Kung Fu

Hiking


Music Events


Cinema


Festival&Culture


Humor&

Fun Fotos


BUSINESS


Doing Business


Jobs!(teach/work)


Hire Workers


Foreign Companies


CIFIT (Trade Fair)


MTS(Translation)



Back to Top