Jehovah Nissi Christian Bookstore

Trinity Church Website (Gulangyu)

irectory of Xiamen's 40+ churches

Xiamen Int'l Christian Fellowship XICF

Bamboo Church Website (great photos)

Click for Bio of Jessie J, Amoy (1885-1904)

Click for BioCaldwells (Fujian 1899 to 1949)

Click for "Life of Christ by Chinese Artists!" (1940)

Click Here for "City of Springs" (Quanzhou, in 1902)

(Fujian Church Photos)

China Studies Program
Life of Christ by Chinese Artists! (1938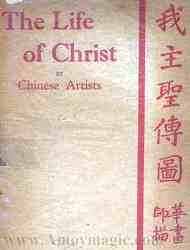 )
Click thumbnails for larger photos
From Introduction by Rosamund Essex (1940, 15th printing)


Here is a book which its owner will hesitate to lend, for fear of losing a treasured possession [so I'm uploading it!]. This pictured life of Christ is the answer to an urgent need. We all know of Church men and Church women who have sought for worthy representation of the New Testament narrative, to help them at their prayers and their meditation. Here they are! Numbers of teachers have longed for a picture book of the Gospel stories, straightforward in its appeal and free from "pretty sentimentality." Here it is! It would be difficult to turn to any opening in the book's sequence of miracle or homely scene and not feel the better for it.
Back to top Amoy Magic--Guide to Xiamen & Fujian

"The Life of Christ by Chinese artists" comes the more gratefully at this time, when Western artists have either put the Bible storeis aside as subjects for their art, or have blended with their work a harshness that wounds or a sentimentality that offends. The Chinese artist is never harsh and never sentimental. He catches the spirit of the Evangelists' narrative. The genius of the East lies in the power of suggestion: indeed impressionism was employed in China before the word had any meaning in the art of the West. Above all, the figures, though they may be placed in a setting of abrupt peaks or plunging torrents, carry a sense of infinite peace.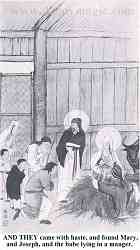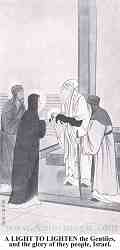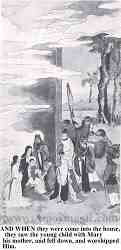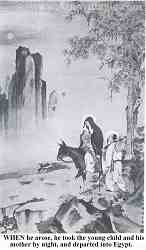 I should very regretfully lend my copy of this book. Ont he other hand, I should feel a niggard if I kept its serenity and its beauty to myself I suggest, therefore, that other Western Christians may have the chance of turning its pages and of being entranced, as I have already been entranced, by its rare insight and fine workmanship. Rosamund Essex.

"The Life of Christ by Chinese Artists," The Society for the Propagation of the Gospel. 15 Tufton Street, Westminster, S.W.1 1940 Distributing Agents for the U.S.A., Krug Chinese Imports, 2227 St. Paul Street, Baltimore, Maryland, U.S.A.
Back to top Amoy Magic--Guide to Xiamen & Fujian

ABOUT THE PICTURES (from the book)
WAR in China has made it impossible to find out many details about this series of pictures. They are a small selection from a very large number of photographs sent from Peking. The originals are believed to be in churches throughout China or in private possession. All are paintings on silk, carried out in the delicate colours and with the fineness of touch so characteristic of Chinese art.
They are the work of different artists, as can be seen from the varying signatures. The characters at the side of the picture give its subject and the artists's name in a square below. An Eastern artist rarely uses his own name on his work, therefore the signatures here tell little or nothing of the painters' identity.
It is said that a non-Christian who undertook a commission to paint a series of pictures of Gospel incidents was converted by his study of Christ's life. It has not been possible to verify the details or even to discover to which pictures the story refers, but there seems little doubt of its truth. Certainly the pictures are painted with rare delicacy and instinctive reverence.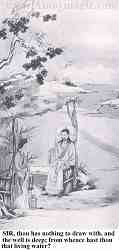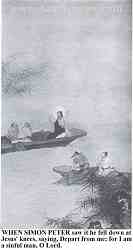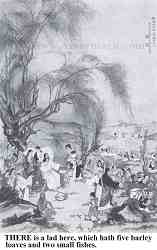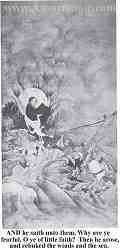 Nearly every picture includes a tree, very often the bamboo so characteristic of China, and those which have no tree are noticeably more Western in design. Probably these artists are pupils of monks from the West. The richness of detail in many of the pictures will repay close study, especially these opposite pages 8, 19, 32, and 48.
Christ is generally shown in the surroundings of well-to-do Chinese life, for many artists would feel it is irreverant to picture the Lord in poverty. So the House at Bethany and the Upper Room of the Last Supper are richly furnished.
There is no picture of the Ascension, and the search for one has so far been unsuccessful.
It is hoped that other books of Our Lord's Parables and Miracles and incidents from the Acts of the Apostles will be published later, and that in them it will be possible to include the many details of the artists and their work which are lacking here.
E.F.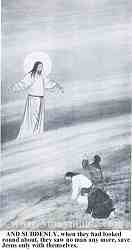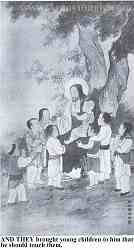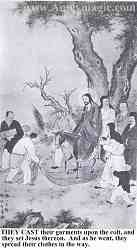 Click Here to View or Download Biography of Jessie M. Johnston, Missionary to Amoy for 18 years (1885-1904)
Click Here to View or Download Biography of Caldwell Family (missionaries in Fujian from 1899 to 1949; also famous naturalists and "Great Tiger Hunter"
(Download from Amoy Tiger page)
Click thumbnails below for larger images (hover cursor over thumbnails, without clicking, for brief descriptions)



Back to top Amoy Magic--Guide to Xiamen & Fujian

Click Here for Xiamen Int'l Christian Fellowship (XICF)


Click Here for China Studies Program (Study in China!) CSP


Click Here for Trinity Church Website (Gulangyu)


Click Here for Bamboo Church Website (great photos)


Click Here for Xiamen YMCA and YWCA (almost 100 years old)


For photos of Fujian churches & activities.




Click Here to View or Download Biography of Jessie M. Joh

nston, Missionary to Amoy for 18 years (1885-1904)
Last revised: April 19, 2006
Please Help the "The Amoy Mission Project!"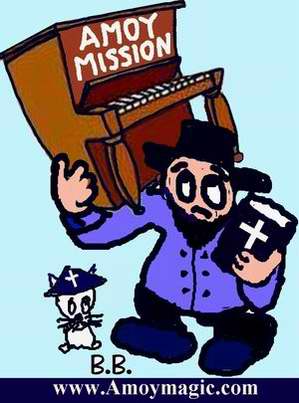 Please share any relevant biographical material and photos for the website and upcoming book. All text and photos will remain your property, and photos will be imprinted to prevent unauthorized use.
Thanks!
Dr. Bill Xiamen University MBA Center
E-mail: amoybill@gmail.com
Snail Mail: Dr. William Brown
Box 1288 Xiamen University, Xiamen, Fujian PRC 361005
TRAVEL LINKS

Favorite Fujian Sites

Fujian Foto Album

Xiamen

Gulangyu

Fujian Guides

Quanzhou

Z
hangzhou

Longyan

Wuyi Mtn

Ningde

Putian

Sanming

Zhouning

Taimu Mtn.

Roundhouses

Bridges

Jiangxi

Guilin

Order Books

Readers' Letters New: Amoy Vampires! Google Search

Click to E-mail


Readers'Letters
Last Updated: October 2007


Back to Top
Google Search