Click to Access
OUTSIDE China


Click to Access
INSIDE China


TRAVEL LINKS


Xiamen

Gulangyu


Jimei

Tong'an


Jinmen

Zhangzhou


Quanzhou

Wuyi


#1Fujian Sites!


Fujian Foto Album


Books on Fujian


Readers'Letters


Ningde

Zhouning


Longyan

Sanming


Putian

Bridges


Travel Info,


Hakka Roundhouses


Travel Agents

MISC. LINKS


Amoy People!


Darwin Driving


Amoy Tigers


Chinese Inventions


Tibet in 80 Days!


Dethroned!


Misc.Writings


Latest News


Lord of Opium


Back to Main Page
AmoyMagic--Guide to Xiamen & Fujian

Copyright 2001-7 by Sue Brown & Dr. Bill

Order Books
Main Page
Business Links
Recreation Links
Google Search
E-mail
Why "Amoy?"


An explanation for why I use "Amoy" as well as "Xiamen" in our books and websites.
"Click Here for "Mad About Mandarin" (Learning Chinese)
"Click Here for Minnan (South Fujian) Proverbs

Why "Amoy"? After a lecture to 300 students in Zhangzhou I invited questions, and one youth leaped to his feet and demanded, "Why do you say Amoy? Why not Xiamen? That's the name! Huh, huh, huh?" He glared at me like a Cultural Revolution era Red Guard about to plant a dunce cap on his teacher.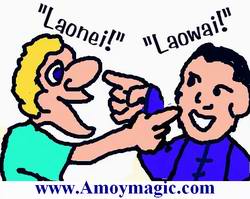 Many Chinese have asked this, but never so indignantly. I smiled, took a breath, and said, "Why do Chinese say "Jiù Jinshan?" instead of San Francisco? Huh huh huh?"

"Chinese can't pronounce "San Francisco!" the student retorted.
Yep.

The word Amoy was coined after the 1st Opium War (1839-42), when Xiamen was forced opened as a treaty port. A foreigner asked a Fuzhou customs officer the island's name and he was told it was called, in the local dialect, "Ah Mo" (like "Amen" spoken through the nose). "Amoy was as close as foreigners could get, and even today, Overseas Chinese refer to "Amoy", and Minnan Dialect is called Amoy Dialect not just by foreigners but by Chinese who speak it.
Back to top
I too prefer foreigners to learn the correct name, Xiamen, but I use "Amoy" in the book title because 1) Xiamen is still hard for foreigners to pronounce, 2) Xiamen is known even today as "Amoy" by Overseas Chinese, and 3) for those with the slightest bit of Asian history under their belt, the very word Amoy conjures up exotic vistas and tales. The world uses "Amoy Soy Sauce," not Xiamen Soy Sauce. In Hong Kong, bird flu had an outbreak on Amoy Street, not Xiamen Street. Malaysia's Equator Academy of Art is on Amoy Lane, not Xiamen Lane. And last but not least, the Latin seal of Xiamen University, which was founded not by foreigners but Chinese, says "Universitatis Amoiensis"—not "Xiamenensis!

So Amoy is not a vocable vestige of foreign imperialism. Amoy is as much a Chinese word as a foreign word—and it sure sounds more like "Ah Mo" than "Jiù Jinshan" sounds like San Francisco, so give us a break. But, out of deference to my Chinese hosts, I usually refer to our island as Xiamen, not Amoy.

As for that minority that still take umbrage at my sparing use of Amoy, I throw down the gauntlet. When Chinese start saying Washington instead of "Huashengdun", or California instead of "Jialifuniya", I will axe Amoy from my vocabulary. But until then—get a life, and be glad visitors from all over the world are once again flocking to our island, regardless of what you call her! And having said this….

Enjoy Amoy!
Dr. Bill

TRAVEL LINKS

Favorite Fujian Sites

Fujian Foto Album

Xiamen

Gulangyu

Fujian Guides

Quanzhou

Z
hangzhou

Longyan

Wuyi Mtn

Ningde

Putian

Sanming

Zhouning

Taimu Mtn.

Roundhouses

Bridges

Jiangxi

Guilin

Order Books

Readers' Letters

Click to E-mail


Readers'Letters

Last Updated: May 2007


Back to Top


DAILY LINKS


FAQs Questions?


Real Estate


Shopping

Maps


Trains

Busses


Hotels

News (CT)


Medical & Dental


YMCA Volunteer!


XICF Fellowship


Churches


Expat Groups


Maids

Phone #s
EDUCATION


Xiamen University


XIS(Int'l School)


Study Mandarin


CSP(China Studies)


Library

Museums


History
DINING


Restaurants

Asian


Veggie

Junk Food


Chinese

Italian


International


Visas 4 aliens
RECREATION


Massage!


Beaches

Fly Kites


Sports

Boardwalk


Parks

Pets


Birdwatching


Kung Fu

Hiking


Music Events


Festival&Culture


Humor&

Fun Fotos


BUSINESS


Doing Business


Jobs!(teach/work)


Hire Workers


Foreign Companies


CIFIT (Trade Fair)


MTS(Translation)



Back to Top