Click to Access
OUTSIDE China


Click to Access
INSIDE China


TRAVEL LINKS


Xiamen

Gulangyu


Jimei

Tong'an


Jinmen

Zhangzhou


Quanzhou

Wuyi


#1Fujian Sites!


Fujian Foto Album


Books on Fujian


Readers'Letters


Ningde

Zhouning


Longyan

Sanming


Putian

Bridges


Travel Info,


Hakka Roundhouses


Travel Agents

MISC. LINKS


Amoy People!


Darwin Driving


Amoy Tigers


Chinese Inventions


Tibet in 80 Days!


Dethroned!


Misc.Writings


Latest News


Lord of Opium


Back to Main Page
AmoyMagic--Guide to Xiamen & Fujian

Copyright 2001-7 by Sue Brown & Dr. Bill

Order Books
Main Page
Business Links
Recreation Links
E-mail
Discover Gulangyu!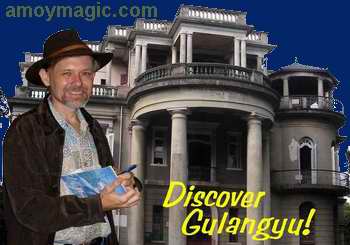 In Xiamen bookstores or Order Online.
Gulangyu--Isle of Music, Arts & Literature (excerpts)


Main Page

ÖÐÎÄ

"Music as Life in China"

"The Sounds of Music"

"Xiamen Music Academy"

"Zheng Xiaoying--Favorite Daughter"

"Gulangyu's First Family of Music"

"Conductor Zuohuang Chen"

"Xiamen Gulangyu Piano Museum"

"Gulangyu Organ Museum"

"Teng Hiok Chiu--Rediscovered Artist!"

"Lin Yutang--an International Chinese Writer"

ÖÐÎÄ

"Lin Yutang Photo Album"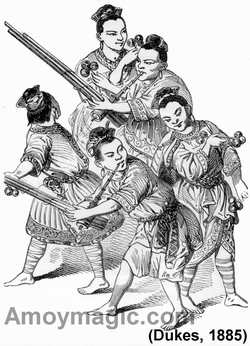 Music as Life in China
from "A Race of Green Ginger," by Anne Averil-McKenzies (Gulangyu resident in the 20s and 30s)
"In China, music had been inextricably woven into the whole pattern of life. The notes of its pentatonic scale were male and female, were each related to the compass, the planets, the elements; to substances and colors…Music not only had the powers that the West knew through Orpheus, but was held by the Chinese to be essential to the world's equilibrium. Through his musical harmonies or disharmonies, man was responsible for the balance of the earth. The welfare of the empire depended on the correctness of the pitches and scales that he made. But it was in man's heart that music was born, and 'it is the heart that works the miracles, the great heart that in music finds its voice and form.' Music, the ancient Chinese believed, affected government and government affected music. Fourteen centuries before Christ, the psychological and therapeutic value of music was not only recognized but accepted as part of the apparatus of rule, as it was later in classical Greece. The Emperor Wu who lived in the first century B.C. created an imperial office of Music, with special departments for the composition of the various kinds necessary, not to entertainment, but to ritual and to rule."
Anne-Averil McKenzie, "A Race of Green Ginger," 1920s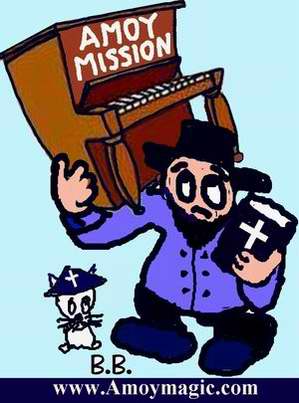 Back to top
The Sounds of Music Gulangyu folk have been hooked on pianos ever since missionaries arrived with Bibles in one hand and pianos in the other (very big hands!).

China's "Piano Islet" now has more pianos per capita than anywhere else in China, as well as Asia's largest piano museum and what will soon be the world's largest organ museum.

Gulangyu's dozens of famous pianists and musicians have included Zhou Shuan in the '20s, Lin Junqing in the '30s, Wu Tianqiu in the '50s, and Xu Feixing in the 60s. Gulangyu is also the hometown of acclaimed conductor Chen Zuohuang, and Yin Chengzong, whom the New York Times has deemed the best Chinese pianist on the planet. In the 80s, Mr. Xu Feiping, a postgraduate student of the Juilliard School of Music, won many international prizes, including the Gold Medal in the 4th Arthur Rubinstein International Piano Master Competition in 1983 in Israel. And Gulangyu is still churning out globally acclaimed prodigies, thank to the Xiamen Music Academy.
Back to top
Xiamen Music Academy (Xiamen Yinyue Xuexiao), founded in 1988, has a staff of over 100 experienced teachers and professors teaching over 500 students of keyboards, strings, wind instruments, Chinese instruments, and vocals.

The school has fruitful exchange programs with schools and organizations in Australia, Japan, America, Germany, Russia, Malaysia, and Singapore, and has recruited prodigies from throughout the world. One of the school's first students, Miss Yao Lan is typical of Gulangyu's newest talents.

Yao Lan moved with her parents from neighboring Jiangxi Province to Xiamen and, intrigued by the home's large piano, began lessons at age four. She won first prize in a children's piano competition at age ten and was accepted into a primary school attached to Beijing's Central Conservatory of Music. She received a scholarship for the Royal Academy of Music in London and during graduate and postgraduate studies won several competitions in Britain. A Polish company produced an album of her performance in the 14th International Chopin Piano Competition.

After Yao Lan gave a performance in Xiamen in 2004, she said she hopes to eventually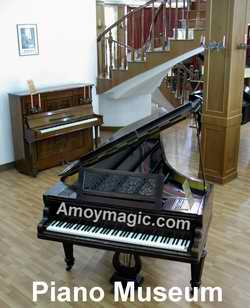 settle down on the island that today, more than ever, deserves the name "Isle of Music."
Back to top
Xiamen Gulangyu Piano Museum Given Gulangyu's musical heritage, it is no surprise that Australian Overseas Chinese Mr. Hu Youyi chose his ancestral home for Asia's largest piano museum, which has over 70 pianos from the U.K., France, U.S., Germany, Australia, and Austria, and over 100 priceless piano lamps.

The Gulangyu Piano Museum's two halls are set within the tropical flowers and trees of a 2,000 square meter tract of land on the hill overlooking Shuzhuang Garden and the sea.

A perfect way to finish the museum tour is to sit on one of the piano benches before the ceiling-to-floor plate glass windows and savor the scenery while listening to piped in classical piano pieces.

Mr. Hu's collection includes a French street musician's barrel piano (I half expected to see an organ grinder and a monkey), the Broadwood & Sons piano that won a golden medal at the Paris International Fair, a grand piano with ivory keys from an English palace, and a piano cherished by president Lincoln.
Back to top
The first of the two halls, opened January of 2000, has the collection's oldest piano. Few pianos were actually built by pianists, but this instrument was crafted in 1801 by visionary composer Muzio Clementi (1752-1832).

Clementi crafted both uprights and grands on which to perform his more than 106 sonatas (46 were for violin, cello or flute), as well as countless smaller pieces. Clementi is also remembered for the horrifying tale in which George Grove visited Clementi's nephew, a vicar in south-east England, and found the maid lighting a fire with Clementi's manuscript! I wonder if she was fired?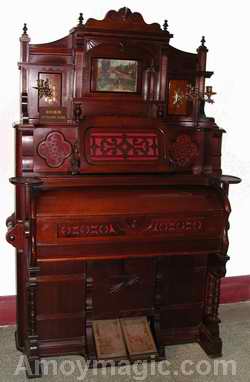 Hall #1 also has the world's tallest upright piano (an 1824 Broadwood & Sons, from London), and Hall No. 2 showcases the development of the piano with exhibits like the 1928 Haines. The most expensive piano of its era, this American marvel was completely automatic, able to perfectly imitate the styles of many well known pianists. As of this writing, the Haines is played for visitors daily at 4 pm. Address: No.45 Huangyan Rd (Shuzhuang Garden)
Gulangyu Organ Museum The only such museum in China and soon to be the largest of its kind in the world, it opened in early 2005 in the red-domed Bagua Building with exhibits donated by the Piano Museum's founder, Mr. Hu Youyi. Vivian Zhang quoted Hu as saying at the museum's opening concert,
"Pipe organs are acclaimed as the most sublime and divine musical instrument in the west. I hope one day organ lovers from all over the world will come on a music pilgrimage to my hometown, Gulangyu, to appreciate its beauty."
Back to top
The organ played at the opening concert was a historic "Norman & Beard" made in 1909. The 6 meter high instrument has 1,350 pipes, 3 layers of keyboards and 21 organ stops, and took Ian Wakeley, an Australian organ technician, over a month to restore and tune. Ian explained why the organ

was in such good shape:
"It is made of the best materials by the best builders with the best techniques and is representative of the highest level at that time. And that is why, after nearly a century, it still remains in amazingly good condition while most other instruments of its age have long since decayed."
This organ was formerly in England's Cradley Heath Methodist Church, where Paul Carr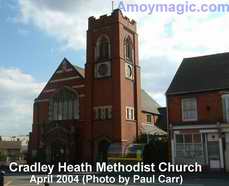 [Click Here to visit his website] gave his 100th and final concert on it in June 2003. Carr seems happy with its new home. He wrote, "as the organ will not be squashed into a corner, as it was at Cradley Heath, it could sound up to 50% louder!"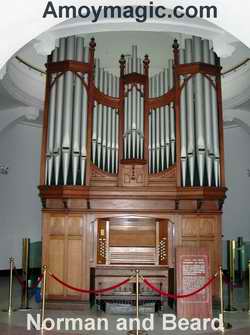 The church was to be closed, so organist Mark Checkley spread the word on the internet that the venerable instrument needed a home, but after 18 months and 250 responses, the best offer was from a local organ builder who wanted to dismantle the beauty and salvage pipes and parts for a future organ. But finally they heard that Ian Wakeley was seeking an organ for a Chinese client, and within a couple of weeks the organ was destined for Gulangyu.

The day after the church's final service on Sunday, July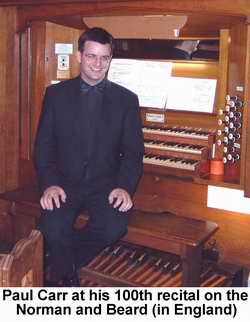 18th, Ian and two assistants began 4 days of carefully dismantling the instrument and packing the components into crates custom made on the spot. Organist Paul Carr said it took four men six hours just to load the parts onto the truck, where it was hauled to Southhampton Dock, loaded onto the slow boat to China—and reassembled on Gulangyu.

Visit this remarkable instrument—and ask the attendants to play it for you!
Click Here to visit organist Paul Carr's Website
Click Here to e-mail Paul Carr
Back to top
Zheng Xiaoying-- the Isle of Music's Favorite Daughter The brightest star today in Gulangyu's firmament of musical talent is Madame Zheng Xiaoying, who according to Western media is "the best woman conductor in the world." Madame Zheng has performed at home and throughout Hong Kong, Taiwan and Macao, as well as in Russia, Japan, Australia, the U.S., Italy, Finland, Singapore, France, Holland, Germany, the U.K., Sweden, Estonia and Thailand.

Madame Zheng is the first Chinese musician to make popularizing the symphony her lifelong goal, and she has given over 2,000 performances with lectures to an estimated 300,000 people in mainland China.
Back to top
In a concert just days before her 75th birthday Madame Zheng still exemplified the exuberance that helped generations of her Hakka forebears succeed in China and abroad. And like all traditional Hakka, she values education, and uses her "Zheng Xiaoying System" to teach not only musicians but audiences to better understand and enjoy symphony. And as she learned early on in Xiamen, audiences do indeed need that education.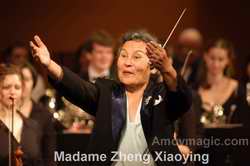 Before Madame Zheng was invited to Xiamen in 1998 to create China's first international model professional orchestra, Xiamen's symphony orchestra performances were lucky to get a couple dozen attendees a week. But with funding from local enterprises, Madame Zheng left her position as chief conductor of China's Central Opera Theater and Dean of the Department of Conducting at China's Central Conservatory of Music to create the Xiamen Philharmonic Orchestra. It was a blind leap of faith, but in just 6 short years her 30-member orchestra has grown to over 80 members, and has made a name for itself both in China and abroad. As of this writing, the Xiamen Philharmonic has given over 450 performances with a repertoire of over 100 symphonies and symphonic suites, 100 concertos for various instruments, and over 200 overtures, symphonic poems and other pieces.

Madame Zheng was the first nationally recognized female conductor in China, and the first Chinese conductor to take the podium of an opera theater abroad or to conduct a foreign opera company. She took advanced studies at the National Conservatory of Music in Moscow, where she received the French Literature and Arts Medal of Honor. Madame Zheng founded the Women's Philharmonic Orchestra (Ai Yue Nu, ), which became China's first women's chamber and symphony orchestra, and in 1995 in Beijing, she conducted both the orchestra and the chorus as they performed Beethoven's "Ode to Joy" for the opening of the United Nations 4th World Conference on Women.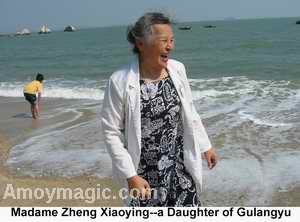 Back to top
On November 23, 2002, in Middletown, Connecticut, Madame Zheng conducted the Wesleyan University Orchestra in "Echo of Hakka Earthen Buildings". She was accompanied by the symphony's composer, Liu Yuan, and two famous Fujian folk musicians—mountain vocalist Li Tiansheng ("King of W. Fujian Mountain Songs") and Qiu Shaochun, the famous Fujian "leaf player," who blew the audience away with music produced with nothing more than a natural leaf (I wonder how often he has to turn over a new leaf?).

The Wesleyan orchestra spent half a year preparing, but Madame Zheng had only one week for on-site rehearsals, and the chorus rehearsed the finale, "A Song of Hakka (in Hakka dialect, no less!) only once, for one hour. The performance still earned a standing ovation, and Madame Zheng returned home, happy she had helped forge another link between East and West by teaching Americans about China, and helping Chinese better appreciate symphony.

A music student wrote of the Wesleyan concert, "Mixing a Western-looking orchestra with Asian feel was very emotional and thought-provoking, especially because it involved aspects of Europe, Asia and America." Another student said, "The music evoked a sense of awe and pride."

While Madame Zheng has had a busy professional life she has always kept her family as a high priority—and music appears to run in her family even as it has the Yin's for the past seven decades. Her daughter Su Zheng is a highly regarded ethnomusicologist.
Back to top
Gulangyu's First Family of Music—the Yin's The Yin family, led by its banker patriarch, arrived on Gulangyu in the '30s and settled easily into the world of privilege that the International Settlement afforded foreigners and wealthy Chinese. The Yins were Christians, and since all Gulangyu churches had at least one piano, they quickly took to music, producing decades of talented musicians and vocalists. A female soprano made Christian recordings in the 1930s, and a male Yin became a famous baritone and settled in Los Angeles in the 1980s. Yin Chengdian is a music teacher and founder of the Xia-men Music School. But the most famous member of the family is Yin Chengzong, whom the New York Times has said is "China's best pianist", with an "absolutely beautiful command of piano color."

Yin was born on Gulangyu in 1941 and began piano at age 7—virtually self-taught. He gave his first recital at age 9, and at 12 enrolled in the Shanghai Conservatory of Music. At 18 he won a gold medal in the piano competition of the World Youth Peace and Friendship Festival in Vienna. He enjoyed qu`ite a reputation—until the Cultural Revolution's Red Guards denounced all things Western, including philosophy, literature, and music—and those who indulged in such decadence. The savvy Yin rolled a piano into Tiananmen Square and for three days played revolutionary tributes to Chairman Mao, saving not only his own hide but also his prized bourgeois instrument. This, perhaps more than anything else, not only stopped Red Guards from beating pianists and violinists but also moved China to adopt these instruments for the revolutionary cause.
Back to top
Mr. Yin helped write the revolutionary "Yellow River Concerto," which is popular even today, but after the Cultural Revolution he was again persecuted and banned from playing for several years.

Yin Chengzong moved to the U.S. in 1983, settled down in Manhattan, and put politics, but not China, behind him. In 2003, Chengzong made a concert tour of China, and now plans to help Gulangyu's renovation of architecture and emphasis of its musical heritage. Visit the Yin's Villa at #16 Jishan Rd.

Conductor Zuohuang Chen The world famous conductor Zuohuang Chen was born in 1947 in Shanghai but grew up on Gulangyu Islet—so we claim him. Chen graduated from the Central Conservatory of Music's middle school in 1965—just in time to be sent to the countryside during the Cultural Revolution. Western literature and music were banned, so he toiled in fields by day and by night furtively studied music he'd smuggled from Beijing.
Chen received his conducting degree in 1981, and took a master's class with Seiji Ozawa, music director of the Boston Symphony Orchestra. He then studied in the U.S. at the Tanglewood Music Center and the University of Michigan's School of Music. In 1985, at the University of Michigan, he became the first Chinese to earn a Doctor of Musical Arts. In 1986, during two years of directing the University of Kansas Symphony Orchestra, he received the HOPE award for outstanding teaching.
Back to top
In 1987, Chen became conductor of the Central Philharmonic Society in Beijing, and after touring 24 U.S. cities he led this orchestra, as well as the China Youth Symphony Orchestra and the China Junior Symphony Orchestra, on six highly successful tours of European and Asian countries.

Chen was music director and conductor for the Wichita Symphony Orchestra from 1990 to 2000, conductor of the Rhode Island Philharmonic Orchestra from 1991 to 1996, and received the Art Award and a Citation from the governors of both Kansas and Rhode Island.
In 1996, Chen became the first artistic director and principal conductor of the China National Symphony Orchestra—China's first professional orchestra to adopt a contract system and professional management of performances.

Chen has visited over 20 countries as guest conductor for 30 orchestras, including the Mexico National Symphony Orchestra, Colorado Symphony Orchestra, Zurich Tonhalle Orchestra, Vancouver Symphony Orchestra, Hungary State Symphony Orchestra, Pacific Symphony Orchestra, Hamburg Youth Symphony Orchestra of Germany, Russia Philharmonic Orchestra, Slovak Radio Symphony Orchestra, Haifa Symphony Orchestra of Israel, Hong Kong Philharmonic Orchestra, and the Taipei City Symphony Orchestra.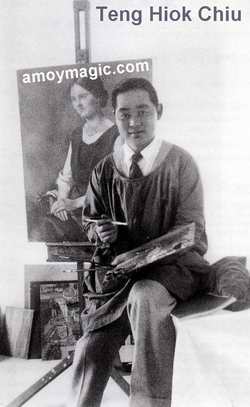 Back to top
Teng Hiok Chiu—Gulangyu's Rediscovered Artist Gulangyu's main claim to fame is music but recently we've learned the islet has also produced at least one internationally acclaimed artist!

Teng Hiok Chiu (Zhou Tingxu, 1903-1972) was born on Gulangyu into a family of wealthy tea merchants.
Chiu's youth was a time of political turmoil, but the beauty of Gulangyu opened his eyes to art. He wrote,
"Since I used to play amidst the beautiful temples and pine trees or on the sandy beach, I have wanted to appreciate the best in nature and to be able to help everyone else to do so."
At age 14 Chiu was sent to the London Missionary Society's Anglo-Chinese College in Tianjin. After graduating he moved to the U.S. in 1920, studied art history, architecture and archaeology in Harvard for a semester, and then moved on to the Museum School of Fine Arts in Boston. He went to Paris in 1923, and in 1925 won a royal family-funded scholarship for the Royal Academy of Arts. Over the next five years, Chiu won every art competition he entered. (He was also a member of Britain's Olympic basketball team!)
Back to top
But Chiu never courted fame, and after his death in 1972 the once celebrated artist's masterpieces were sold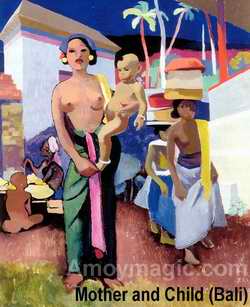 off at auctions and even garage sales, his paintings in China were destroyed by Red Guards, and the world forgot him. I was fortunate enough to learn about Chiu only because Xiamen University's Professor Tang Shaoyun gave me Rose Tang's article, "Bold Comeback," which recounted Dr. Kazimierz Z. Poznanski's rediscovery of Chiu when he came across 4 small black and white photos of Chiu's paintings in an auction catalogue.

Like many foreigners, Dr. Kaz cared little for classical Chinese paintings, and thought modern Chinese art was just a poor imitation of Western Art. He told Common Talk's Vivian Zhang, "But in the West, people don't give much attention to Chinese oil painters, assuming that Chinese artists using western techniques are just imitating instead of creating original art." But Dr. Kaz was captivated by the beauty and harmony—the innate "Chineseness"—of Chiu's Western-style oils, which he says rivals or even surpasses the best of Cezanne and Gauguin.

Dr. Kaz collected over 70 of Chiu's paintings, as well as all of the documents, letters and photos he could find, and has studied Taoist philosophy to enhance his appreciation not only of Chiu's works but of Chinese art as a whole. He has even taken up Chinese-style watercolor painting on rice paper in his own attempt to marry elements of both Chinese tradition and Western technique.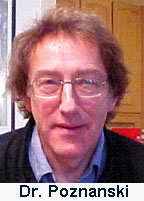 Back to top
Dr. Kaz appreciates Chiu's middle of the road approach, avoiding both imitation of classic Chinese and mindless copying of modern Western art. Professor Tang Shaoyun told Rose Tang,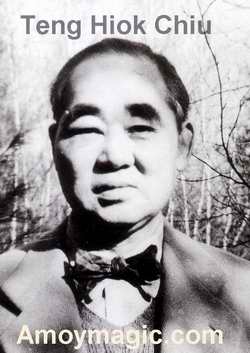 "[Chiu] was a typical Chinese artist, who was depicting the elegance and tranquility of an ideal world where humans are in harmony with nature. He was in constant dialogue with nature. He painted his calm and relaxed mood…. He was in his own fantasy world. He painted for himself. Supported by a rich family and scholarships, he didn't have to make a living by painting. One can tell from his pictures that he had little interest in wealth or fame.
"…This is why he was so rare. He kept his style by refusing to follow trends when even Picasso had to keep changing his styles to stay on top. Today China is full of avant garde artists who chase Western trends to grab attention."
In 2004, over 50,000 people attended Dr. Kaz's 3-month exhibition of Chiu's works in Seattle's Fye Art Museum. The record-breaking attendance for that museum suggested that many Americans would like to know more about Chinese art, artists, and culture. If Dr. Kaz' succeeds in opening his Gulangyu museum for Chiu's works, we too will have a chance to better appreciate this almost forgotten artist. Back to top
TRAVEL LINKS

Favorite Fujian Sites

Fujian Foto Album

Xiamen

Gulangyu

Fujian Guides

Quanzhou

Z
hangzhou

Longyan

Wuyi Mtn

Ningde

Putian

Sanming

Zhouning

Taimu Mtn.

Roundhouses

Bridges

Jiangxi

Guilin

Order Books

Readers' Letters

Click to E-mail


Readers'Letters

Last Updated: May 2007


Back to Top


DAILY LINKS


FAQs Questions?


Real Estate


Shopping

Maps


Bookstores


Trains

Busses


Car Rental


Hotels

News (CT)


Medical & Dental


YMCA Volunteer!


XICF Fellowship


Churches


Expat Groups


Maids

Phone #s
EDUCATION


Xiamen University


XIS(Int'l School)


Study Mandarin


CSP(China Studies)


Library

Museums


History
DINING


Restaurants

Asian


Veggie

Junk Food


Chinese

Italian


International


Visas 4 aliens
RECREATION


Massage!


Beaches

Fly Kites


Sports

Boardwalk


Parks

Pets


Birdwatching


Kung Fu

Hiking


Music Events


Festival&Culture


Humor&

Fun Fotos


BUSINESS


Doing Business


Jobs!(teach/work)


Hire Workers


Foreign Companies


CIFIT (Trade Fair)


MTS(Translation)



Back to Top